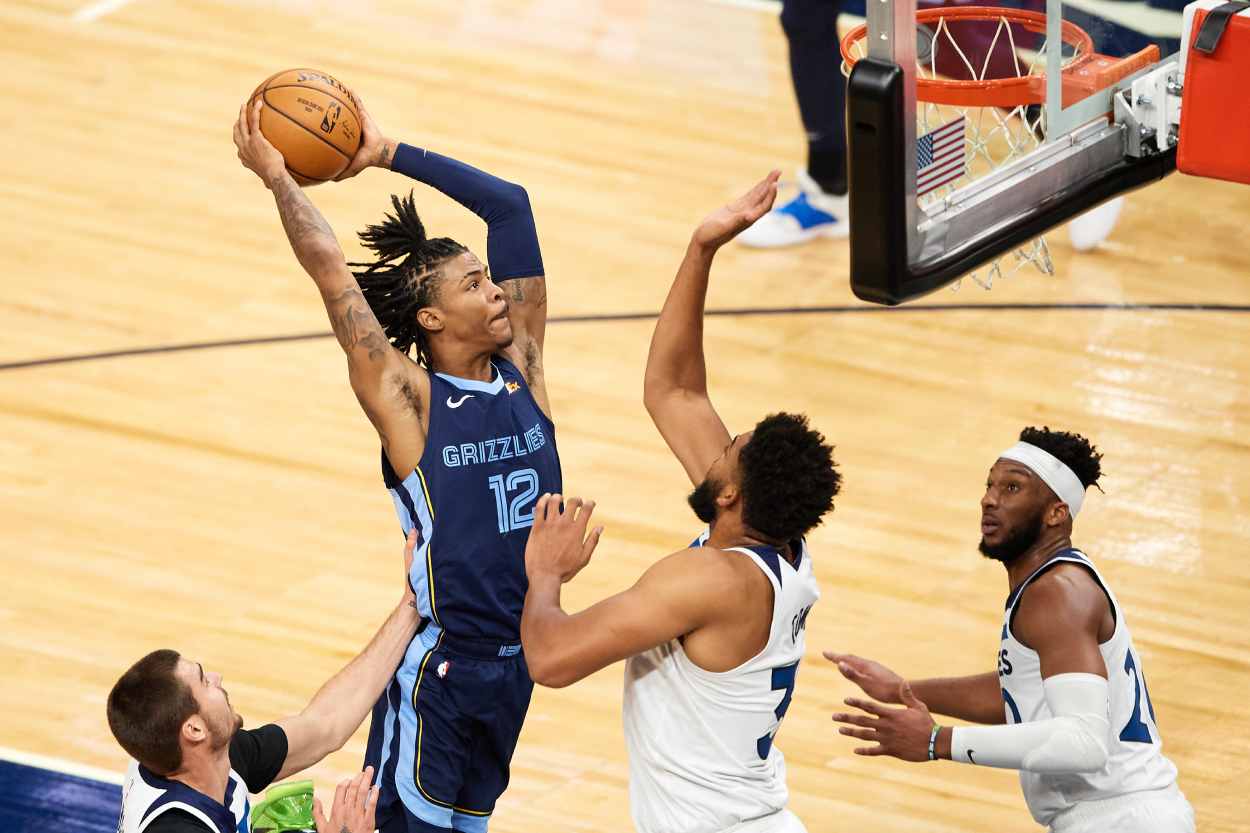 Ranking Ja Morant and the 7 Players We Want to See in the 2022 NBA Slam Dunk Contest
The 2022 NBA Slam Dunk Contest is right around the corner. So, here is a ranking of Ja Morant and seven high-flying stars we want to see in it.
It's called NBA All-Star Weekend, but it should really be called the NBA Slam Dunk Contest Weekend because that's the main event. The game and other challenges are fun, but there's something about watching the league's best athletes compete to see who can fly through the air more impressively.
So, since the competition is right around the corner, we took a minute to rank the players we want to see in the 2022 NBA Slam Dunk Contest. While there are guys like Zion Williamson who would be incredible in it, we didn't include any injured players.
The rankings are also based on the appeal each star would bring to the event, whether through name recognition or athleticism. And, of course, not all of them would be in it. Seven contestants would be a few too many to judge.
Without further ado, here's who we want to see.
7. Anfernee Simons, Portland Trail Blazers
You might be surprised to see this name on here. Anfernee Simons is somewhat of a smaller name, although he has had a breakout year for the Portland Trail Blazers, averaging 15.2 points per game and scoring 43 in a contest earlier in January. He also doesn't dunk very often, given that he's only 6 feet, 3 inches. But he proved his elite athleticism last year by winning the 2021 contest. Simons beat out Obi Toppin and Cassius Stanley for the trophy.
He may not be the name everyone wants to see, but the champ should get a chance to defend his crown. So, Simons deserves to be in the contest.
6. Obi Toppin, New York Knicks
OK, it might be a little controversial to put Obi Toppin over Simons since he lost to him in last year's contest. But Toppin needs to get his revenge and show the world why he's considered one of the league's elite dunkers.
The New York Knicks forward is having a nice sophomore year and is second on the team in dunks with 59, despite playing in only 15.7 minutes per night. He has also been going viral on Twitter for his dunks since he was in college at the University of Dayton and has continued pulling off some unreal jams during his first two pro years.
Toppin would, without a doubt, put on a show.
5. John Collins, Atlanta Hawks
Atlanta Hawks power forward John Collins has become known for pulling off some ridiculous in-game dunks. You might remember his monster alley-oop slam over Philadelphia 76ers big man Joel Embiid in the Eastern Conference semifinals last season.
He has also competed in the event before and proved he has a creative side. Collins jumped over a model airplane in the 2019 NBA Slam Dunk Contest but finished in fourth place after hitting his foot on it.
Collins' showmanship combined with his athleticism would make for great TV.
4. Anthony Edwards, Minnesota Timberwolves
Anthony Edwards has become one of the most fascinating players to watch since his electric rookie campaign last season. His athleticism and improved shot-making ability have made him a tough player to defend, and he has an engaging personality that would be perfect for the contest (the 20-year old still uses a flip-phone).
Edwards only has 37 dunks this season, but that's not a testament to his explosiveness. He's the third-ranked driving dunker on NBA 2K22 (per 2K Ratings) and has had plenty of posters that have caught fire on social media. He would be a blast to watch.
3. Jarrett Allen, Cleveland Cavaliers
You may question whether Jarrett Allen would bring more appeal to the NBA Slam Dunk Contest over John Collins or Anthony Edwards. But Allen is having a career year for the Cleveland Cavaliers, and All-Star weekend is in Cleveland this year. So, his hometown advantage alone would help make things more interesting.
Allen, who went to the Cavs in the James Harden-Brooklyn Nets trade last season, has become one of the best big man dunkers in basketball. He seems to catch unreachable alley-oops on almost every play, and his efforts have helped him rank No. 2 in the entire league in total dunks this season with 122.
The Cavs center has become an All-Star talent this year, and there isn't a better way to show the world just how exceptional an athlete he is by having him in the dunk contest.
2. Ja Morant, Memphis Grizzlies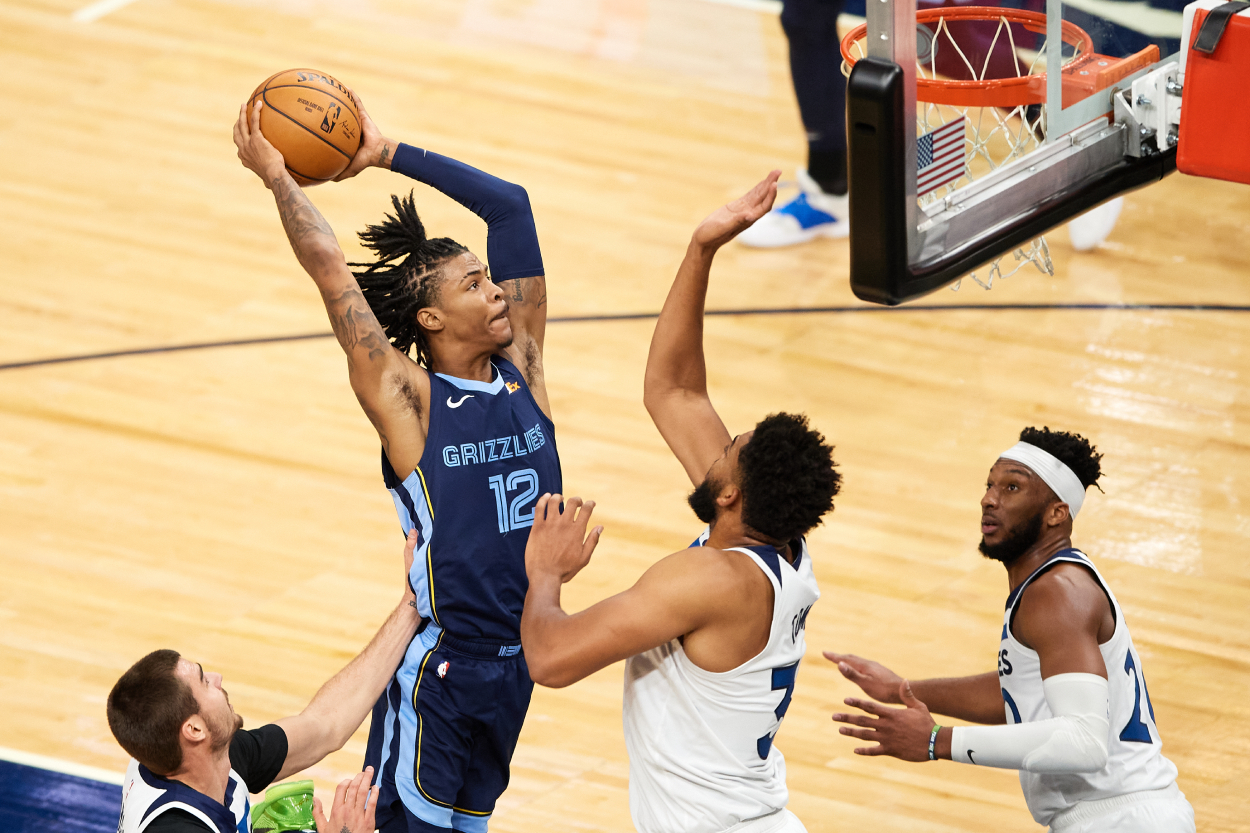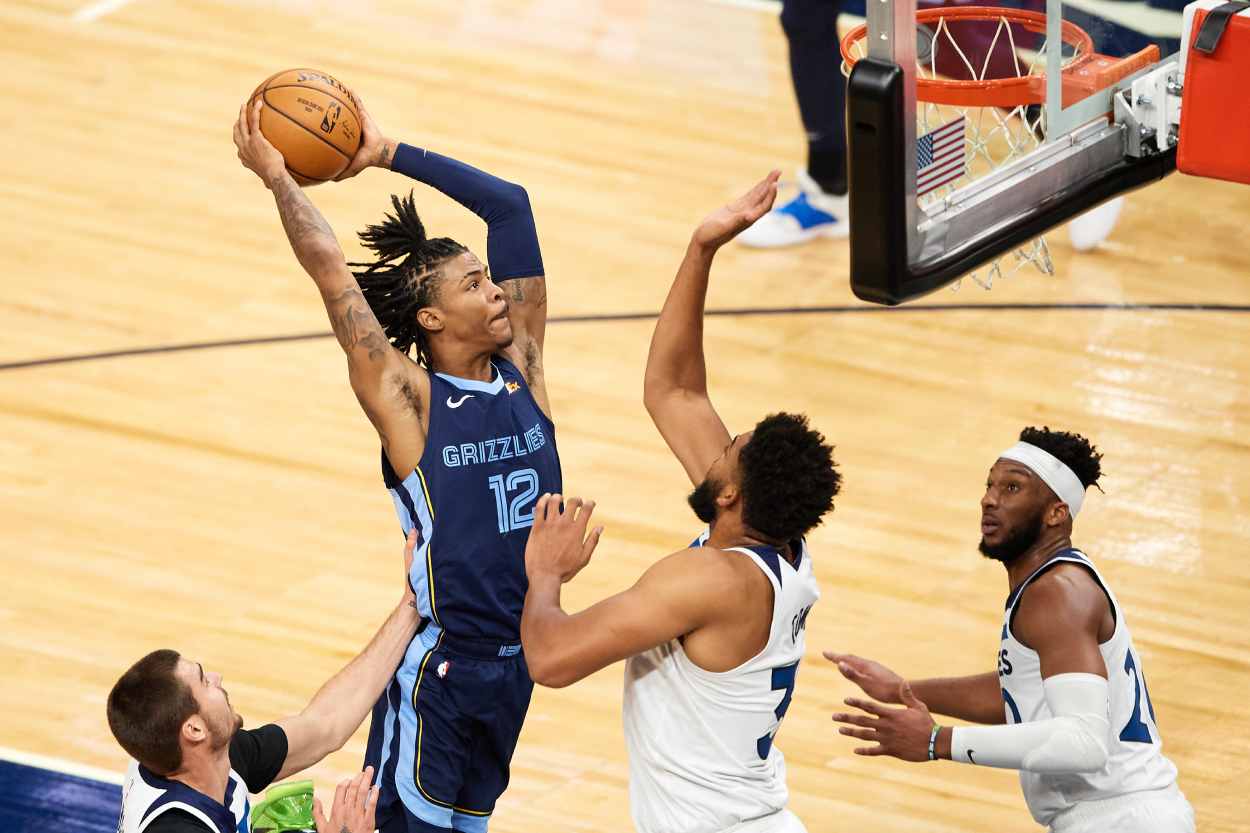 Ja Morant has been all over our Twitter timelines with his unreal athleticism ever since he was a star at Murray State. And he has continued wowing the basketball world with incredible dunks and blocks in his first three seasons with the Memphis Grizzlies.
Morant has also had an outstanding season thus far, leading the Grizzlies to a top-three spot in the Western Conference and scoring 25.3 points per game in the process. Morant, the fifth-ranked driving dunker on 2K22, has solidified himself as a legit MVP candidate and would just enhance his superstar status by competing in the dunk contest.
1. LeBron James or Giannis Antetokounmpo
OK, so we saved a longshot for the last one. There's a high chance neither one of these stars will ever participate in any upcoming slam dunk contests, so we just combined them here because getting at least one would give the competition the glory it deserves.
Fans have wanted to see LeBron James do it his entire career and he has yet to give the people what they want. He may be older, but the 37-year-old has proven he still has an elite vertical. Giannis Antetokounmpo, on the other hand, consistently bullies his way to the rim and dunks with the best of them. He's sixth in the league in total dunks this year with 90, and competed in the competition in 2015, but he wasn't a star at that time.
Having either one of these guys would bring an appeal to the contest that we haven't seen in quite a while and would make for some of the most entertaining television all year.
Stats courtesy of Basketball Reference and up to date as of Jan. 24, 2022.