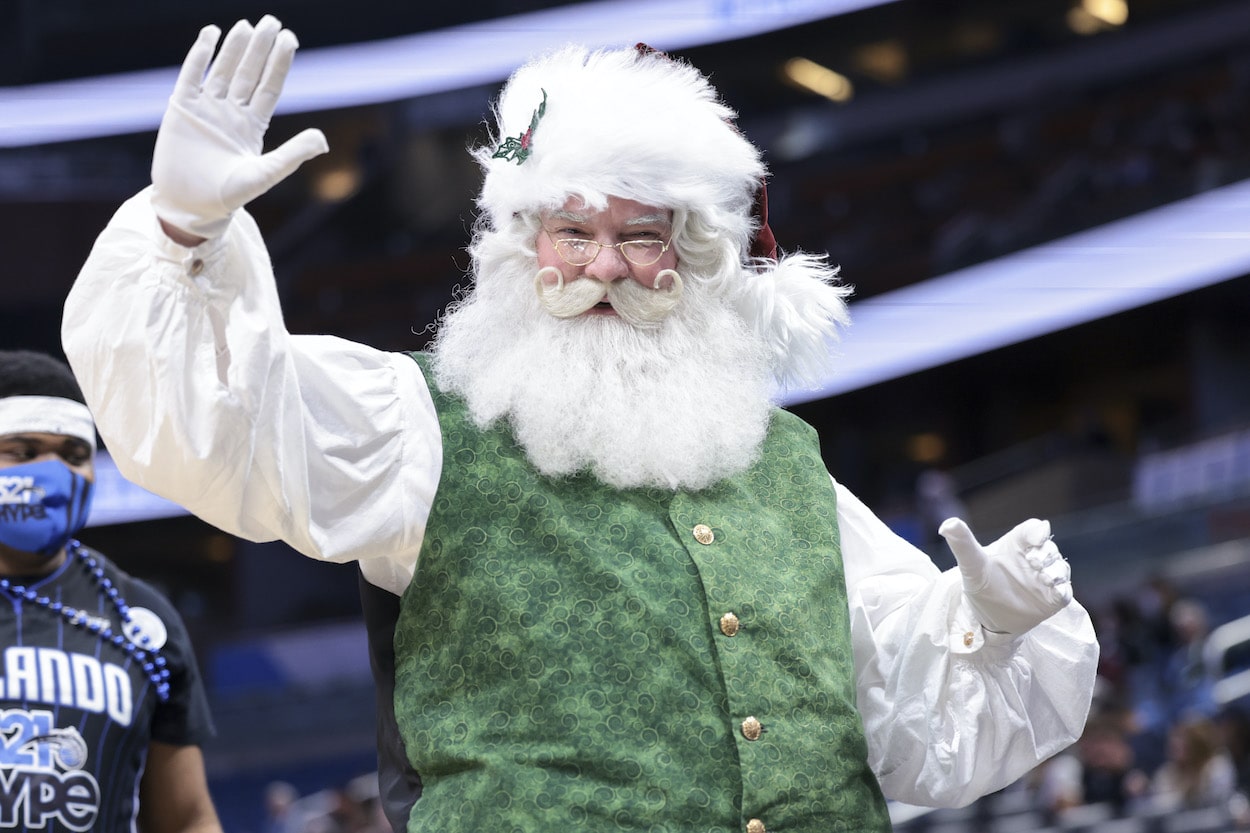 Ranking the 5 Best NBA Christmas Commercials of All Time
Where does "Jingle Hoops" rank in the five best NBA Christmas commercials ever?
NBA Christmas Day is right around the corner, which means NBA Christmas commercials are sure to pop up on your Twitter timeline over the next few days leading up to the five-game slate. The Christmas ad this season wasn't much to write home about, but we've seen some classics over the years.
So, let's go through and rank the five best NBA Christmas commercials of all time.
5. BIG: Color – 2012
The NBA's 2012 commercial was made to promote the new color rush-styled uniforms for Christmas Day. Although the jerseys weren't exactly a smash hit for fans, this commercial is simple and just clever enough to crack the top five.
The commercial features Dwight Howard, Carmelo Anthony, Russell Westbrook, Dwyane Wade, and Joe Johnson — yes, Joe Johnson — dribbling basketballs to the tune of "Carol of the Bells." NBA Christmas ads were better when the league kept it simple and didn't get too cute.
4. It's the Most Dunktastic Time of the Year – 2016
Any ad with Blake Griffin starring is going to be a hit. The former Los Angeles Clippers forward was still throwing down poster jams on a nightly basis during the 2016 season, so "It's the Most Dunktastic Time of the Year" was a perfectly selected remix. Throw in Kevin Love, Dwyane Wade, Carmelo Anthony, Draymond Green, Zach LaVine, Victor Oladipo, and D'Angelo Russell singing their own lines, and you've got a top-four commercial on your hands.
3. Ballin' in a Christmas Wonderland – 2019
This commercial is a classic. Not only does it feature a fun basketball remix of "Winter Wonderland," but the special effects might be the best we've ever seen. The ball in the highlights transforms into a snowball, the courts are dusted with snow, and the backboards are littered with Christmas lights.
"Ballin' in a Christmas Wonderland" is a strong, strong commercial.
2. NBA's Greatest – 2011
There's no way around it. The NBA's 2011 Christmas commercial is an absolute masterpiece.
In the league's return from the infamous 2011 lockout, it threw together a perfect ad blending the biggest stars of that time with the legends that came before them. If you haven't seen this one, give it a watch. It'll give you chills.
1. Jingle Hoops – 2013
The 2011 "NBA's Greatest" commercial has a valid argument to be in the No. 1 spot, but nothing can top "Jingle Hoops." This seriously is one of the greatest commercials of all time. Derrick Rose, Kevin Durant, Stephen Curry, James Harden, and Steve Nash draining threes to the tune of "Jingle Bells" will never get old, and the jolly-oop (yes, I just made that up) to LeBron James at the end caps the ad off in style.
The GOAT NBA Christmas commercial.