Ranking the All-Time Fantasy Football Lineups for Every NFL Franchise
Who makes the all-time fantasy football lineup for your favorite NFL franchise?
Some organizations have to choose between a litany of Hall of Famers at a single position. Others have no choice but to start Blake Bortles at quarterback — maybe just for the time being, of course. But each and every one of the 32 teams has a complete historical lineup popping up in the rankings here.
Building the rosters required a relatively simple process. We created a typical fantasy lineup (one quarterback, two running backs, two wide receivers, one tight end, one FLEX, and one kicker in the starting lineup with the composition mirrored for the backups) and filled in each position with the top-scoring player in a point-per-reception (PPR) format throughout the franchise's history.
But we're not content merely unveiling the rosters. Instead, we're highlighting each franchise's top-ranked skill position, lowest-rank skill position, and set of current contributors who could break into the lineup during the 2022 season.
Carve out some time to dive through all 32 squads and remember that each name was determined objectively.
32. Jacksonville Jaguars: 3,840.4 fantasy points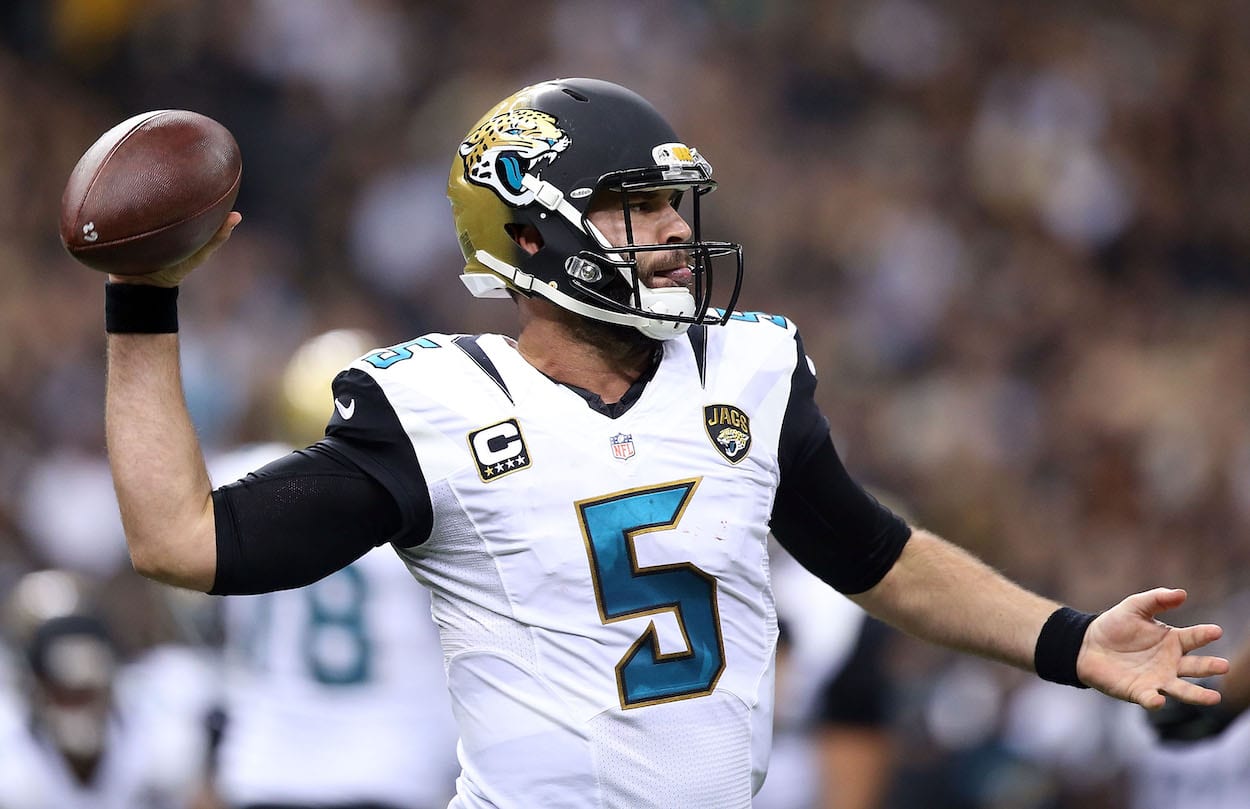 Starters
QB: 2015 Blake Bortles (316.1)
RB1: 2009 Maurice Jones-Drew (323.5)
RB2: 1998 Fred Taylor (306.4)
WR1: 1999 Jimmy Smith (315.6)
WR2: 2015 Allen Robinson (304.0)
TE: 2010 Marcedes Lewis (184.0)
FLEX: 2019 Leonard Fournette (259.4)
K: 1997 Mike Hollis (138.0)
Bench
1996 Mark Brunell (272.3)
2020 James Robinson (250.4)
1999 James Stewart (196.9)
2001 Keenan McCardell (240.0)
2019 DJ Chark Jr. (225.8)
2000 Kyle Brady (156.9)
2015 Allen Hurns (225.1)
2019 Josh Lambo (126.0)
Strongest Skill Position: Quarterback (No. 27)
It's bad news that Blake Bortles — even the version of the first-round bust who played like an actual first-round pick — is the leading single-season fantasy quarterback in the history of the Jacksonville Jaguars. It's worse news that quarterback is still the franchise's leading position, coming in at a putrid 27th overall.
Weakest Skill Position: Running back (No. 31)
At their peaks, Maurice Jones-Drew and Fred Taylor both sat among the upper echelon of NFL running backs, but the organizational history doesn't give them much support, especially with Leonard Fournette's best season dropped into the FLEX. James Robinson rushed for 1,070 yards as an undrafted rookie, but he's not an ideal all-time member, especially when joined on the bench by the forgettable James Stewart.
Current Threats: Trevor Lawrence, Travis Etienne Jr., Christian Kirk
Trevor Lawrence put up just 199.0 points as a rookie under the disastrous supervision of Urban Meyer, and shifting into Doug Pederson's friendlier system should yield immediate dividends. Don't be surprised if he displaces Bortles and helps both Travis Etienne Jr. and Christian Kirk jump into the featured lineup.
31. Houston Texans: 3,892.9 fantasy points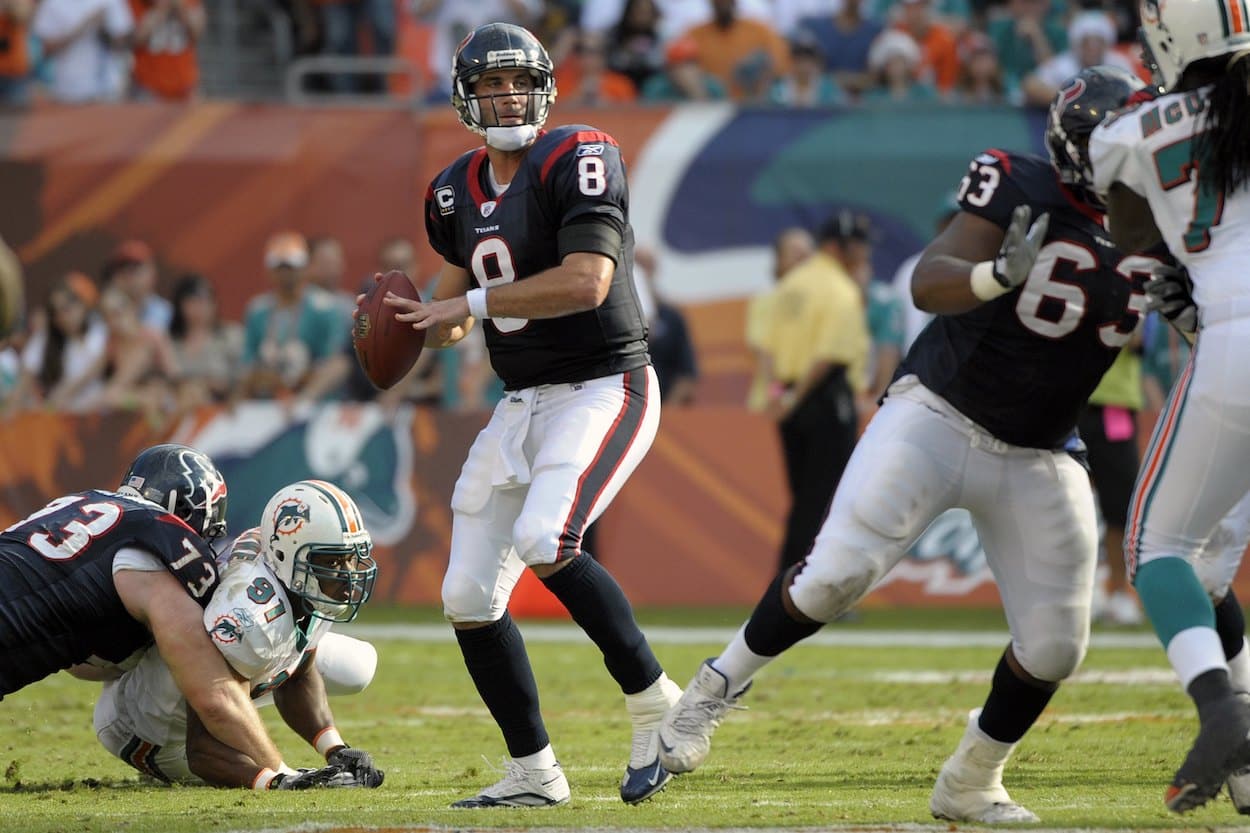 Starters
QB: 2020 Deshaun Watson (369.3)
RB1: 2010 Arian Foster (392.0)
RB2: 2004 Domanick Williams (323.6)
WR1: 2018 DeAndre Hopkins (333.5)
WR2: 2008 Andre Johnson (320.5)
TE: 2012 Owen Daniels (169.5)
FLEX: 2008 Steve Slaton (271.9)
K: 2018 Ka'imi Fairbairn (158.0)
Bench
2009 Matt Schaub (280.5)
2017 Lamar Miller (193.5)
2020 David Johnson (179.5)
2020 Brandin Cooks (232.0)
2008 Kevin Walter (200.2)
2016 C.J. Fiedorowicz (133.9)
2020 Will Fuller V (188.9)
2012 Shayne Graham (146.0)
Strongest Skill Position: Quarterback (No. 17)
Houston Texans fans might not want to spend much time thinking about Deshaun Watson these days, but racking up a league-high 4,823 passing yards and 33 touchdown tosses gave him the lead at his position with plenty of room to spare. Matt Schaub is a respectable backup option for this young franchise, though he might not hang onto the placement too much longer.
Weakest Skill Position: Tight end (No. 32)
No tight end group fares worse than the one-two punch of 2012 Owen Daniels and 2016 C.J. Fiedorowicz. Together, they combined for 116 catches, 1,275 yards, and 10 touchdowns. For the sake of comparison, Travis Kelce recorded 105 receptions for 1,416 yards and 11 touchdowns by himself in 2020.
Current Threats: Davis Mills, Dameon Pierce
Davis Mills might not be the most intriguing long-term option, but his right arm has enough juice that he may spend a few years entrenched as a lower-level starter. That alone could be enough to supplant Matt Schaub, though Dameon Pierce capitalizing on his sterling preseason and making immediate noise as a fourth-round rookie is more likely.
30. New York Jets: 3,921.9 fantasy points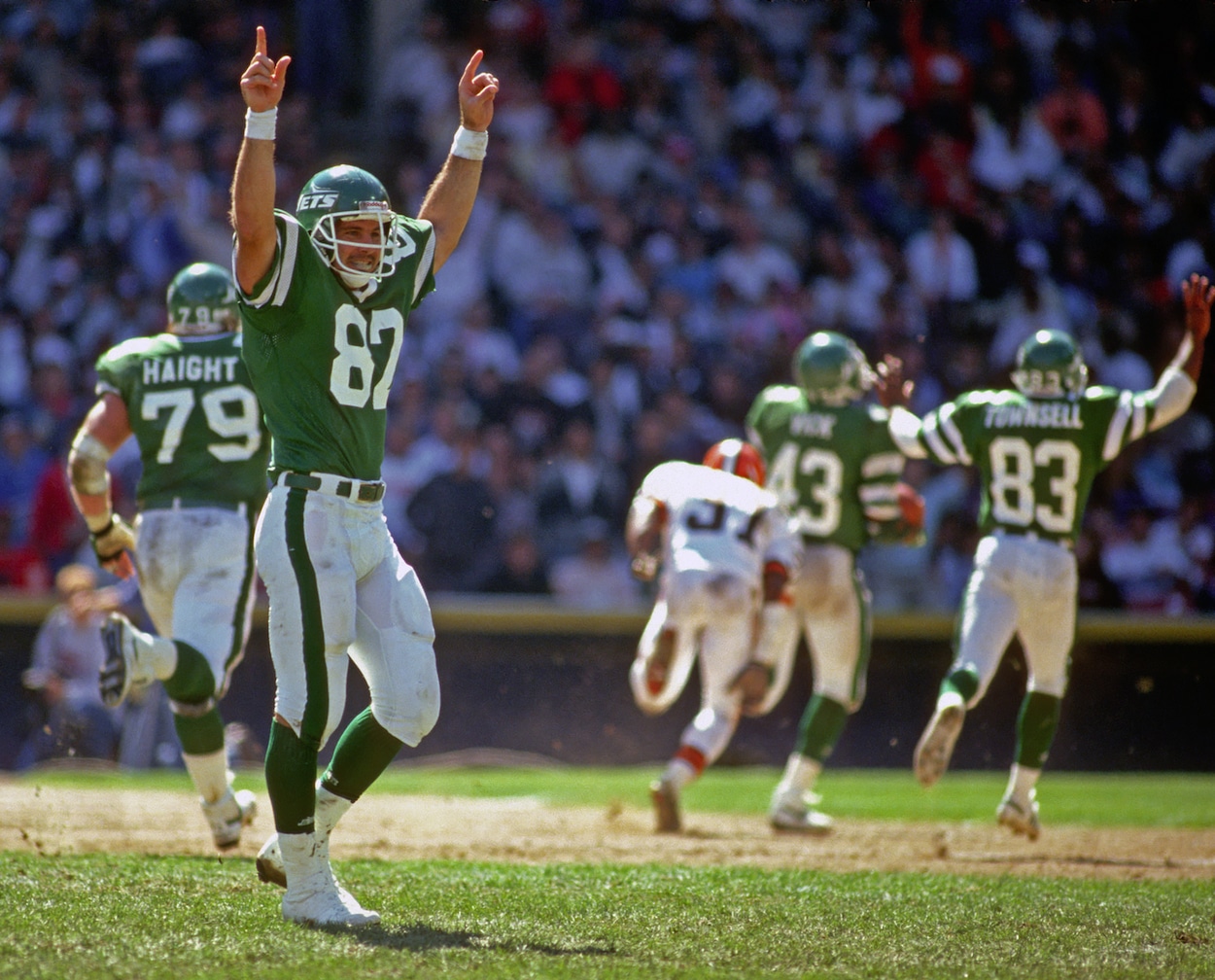 Starters
QB: 2015 Ryan Fitzpatrick (285.2)
RB1: 2004 Curtis Martin (319.2)
RB2: 2008 Thomas Jones (275.9)
WR1: 2015 Brandon Marshall (339.2)
WR2: 1967 Don Maynard (277.2)
TE: 1985 Mickey Shuler (204.9)
FLEX: 1960 Art Powell (269.7)
K: 1968 Jim Turner (145.0)
Bench
1998 Vinny Testaverde (242.6)
1985 Freeman McNeil (234.8)
1993 Johnny Johnson (232.2)
1998 Keyshawn Johnson (268.1)
2015 Eric Decker (252.7)
1972 Rich Caster (182.9)
2002 Laveranues Coles (251.3)
2018 Jason Myers (141.0)
Strongest Skill Position: Tight end (No. 20)
Even the biggest "standout" position isn't much to write home about for the New York Jets. Two-time Pro Bowler Mickey Shuler claims the top tight end spot by virtue of a 1985 season in which he racked up 76 catches for 879 yards and seven scores, and that puts him well above Rich Caster and the rest of the uninspiring options.
Weakest Skill Position: Running back (No. 32)
Though Curtis Martin deserves plenty of credit for leading the NFL in rushing yards during the 2004 season, scampering for 1,697 yards and 12 trips to the end zone, he's not receiving enough support here. Thomas Jones is a fine RB2, but the backups leave plenty to be desired. Johnny Johnson, for example, never even managed to hit four digits on the ground in a single campaign.
Current Threats: Zach Wilson, Breece Hall, Elijah Moore, Garrett Wilson
Don't bet against any of the young up-and-comers, especially considering the relatively low barrier to entry. Breece Hall, assuming he carves out a workhorse role at the expense of Michael Carter, may well be the top candidate to make the all-time squad, but Elijah Moore and Garrett Wilson only have to beat out Laveranues Coles, while Zach Wilson should have his sights reasonably set on Vinny Testaverde.
29. Cleveland Browns: 4,011.1 fantasy points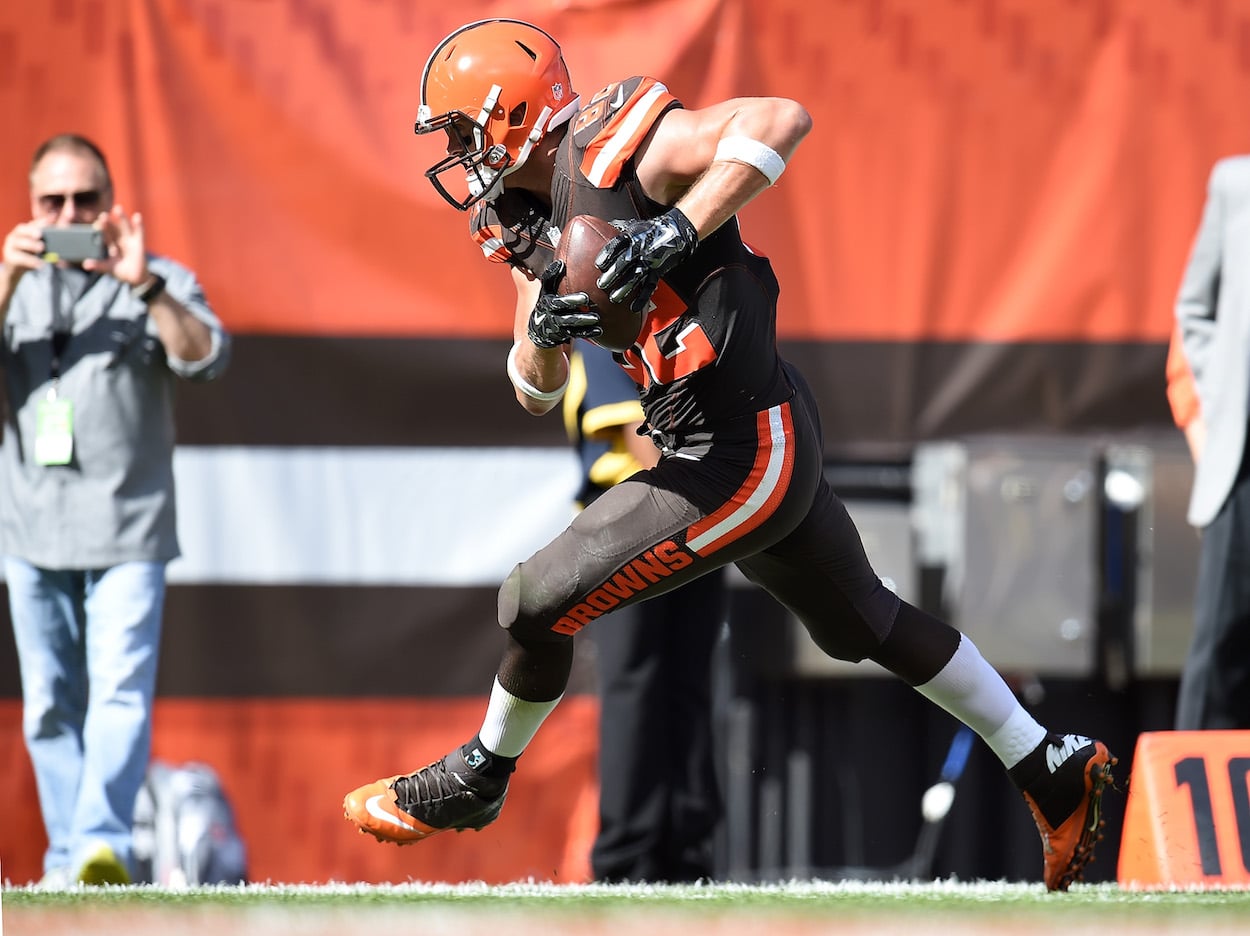 Starters
QB: 1980 Brian Sipe (265.8)
RB1: 1965 Jim Brown (320.1)
RB2: 1968 Leron Kelly (295.0)
WR1: 2013 Josh Gordon (314.4)
WR2: 2007 Braylon Edwards (300.9)
TE: 2015 Gary Barnidge (237.3)
FLEX: 2010 Peyton Hillis (294.9)
K: 2012 Phil Dawson (130.0)
Bench
2007 Derek Anderson (252.5)
1979 Mike Pruitt (267.6)
2019 Nick Chubb (255.2)
2001 Kevin Johnson (247.7)
2019 Jarvis Landry (237.4)
2007 Kellen Winslow (222.6)
2012 Trent Richardson (254.7)
1964 Lou Groza (115.0)
Strongest Skill Position: Tight end (No. 12)
Remember when Gary Barnidge was a thing? Prior to his 2015 breakout, he'd accumulated 44 catches for 603 yards and three touchdowns over the first six years of his career — not including a 2011 campaign lost entirely to a broken ankle. After 2015, he caught 55 passes for 612 yards and two scores in 2016 before the Browns released him, and he never latched on with another organization. But at least that one standout campaign was a memorable one that landed him a Pro Bowl spot and placement within a peer-voted set of top-100 rankings.
Weakest Skill Position: Quarterback (No. 32)
Would you expect anything else? Cleveland has infamously cycled through a never-ending stream of lackluster quarterbacks, going literal decades without an entrenched signal-caller. Of course Brian Sipe and Derek Anderson take home the two spots for an embarrassingly poor positional group.
Current Threats: Amari Cooper
If and when Deshaun Watson plays a full season not cut short by a suspension, he'll likely take the Browns' quarterback room out of the basement. But neither he nor Jacoby Brissett will in 2022, and Nick Chubb is already featured. Amari Cooper is the only logical candidate to break into the all-time lineup, and passing Jarvis Landry feels entirely reasonable.
28. Miami Dolphins: 4,036.5 fantasy points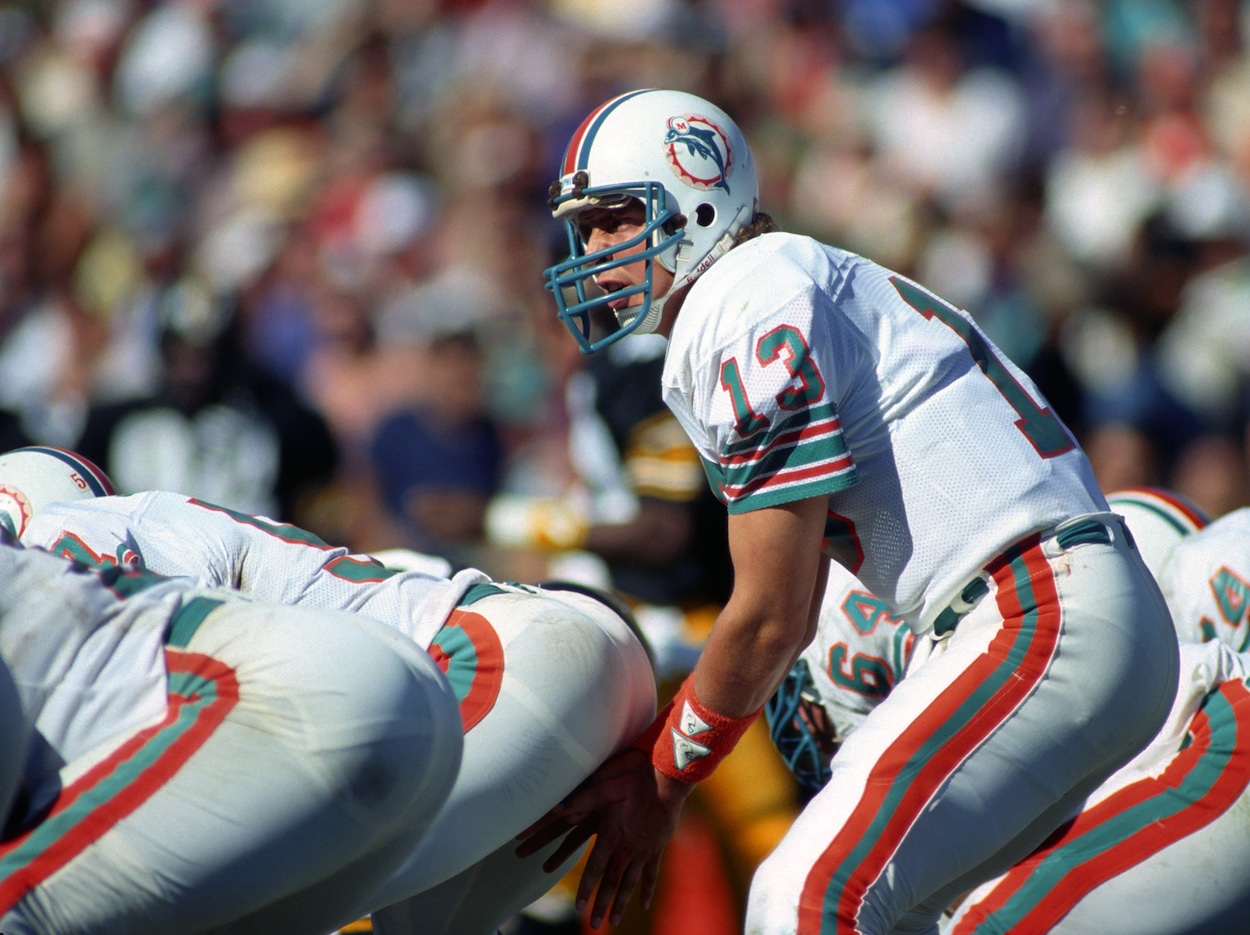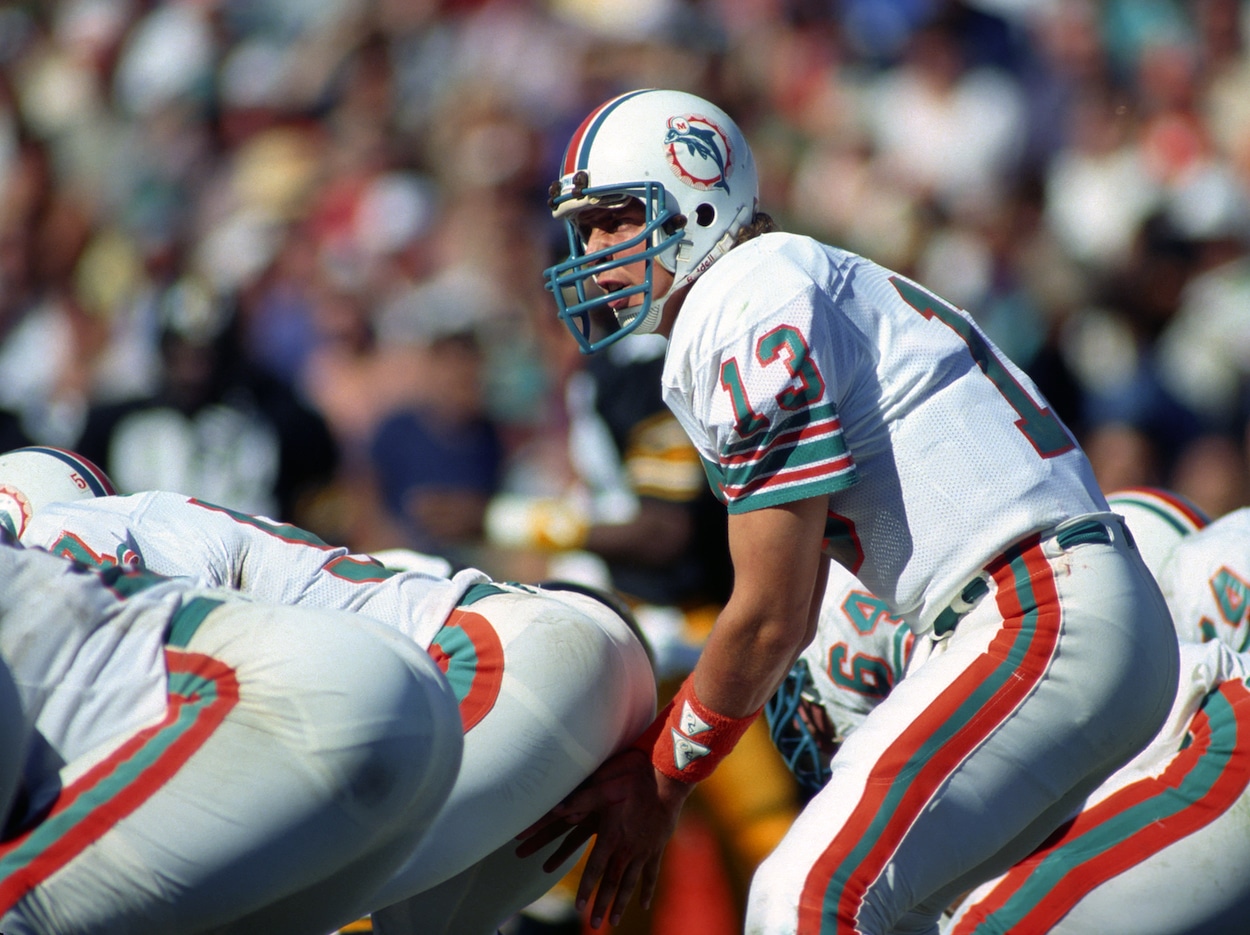 Starters
QB: 1984 Dan Marino (354.7)
RB1: 2002 Ricky Williams (362.6)
RB2: 1986 Lorenzo Hampton (256.6)
WR1: 1984 Mark Clayton (319.4)
WR2: 2015 Jarvis Landry (275.4)
TE: 2013 Charles Clay (188.4)
FLEX: 2005 Chris Chambers (265.0)
K: 2020 Jason Sanders (160.0
Bench
2014 Ryan Tannehill (279.5)
2000 Lamar Smith (255.0)
1997 Karim Abdul-Jabbar (236.3)
1985 Mark Duper (263.3)
2019 DeVante Parker (246.2)
2004 Randy McMichael (178.1)
1994 Irving Fryar (246.0)
1999 Olindo Mare (150.0)
Strongest Skill Position: Quarterback (No. 21)
Having Dan Marino helps, but the rest of the Miami Dolphins' history at quarterback isn't particularly notable. Fun fact: Miami has sent a signal-caller to the Pro Bowl 17 times, and all 17 were either Marino or Bob Griese, who played in such a run-heavy era that Ryan Tannehill still makes the cut as a backup.
Weakest Skill Position: Running back (No. 27)
Ricky Williams is doing a lot of heavy lifting here just to get Miami to No. 27. Lorenzo Hampton, Lamar Smith, and Karim Abdul-Jabbar all had fairly comparable top seasons in a Dolphins uniform, none of which resulted in any notable accolades. Abdul-Jabbar did have a unique go-round in 1997, somehow turning 283 carries into 892 yards and a league-leading 15 scores (plus another through the air).
Current Threats: Tua Tagovailoa, Tyreek Hill, Jaylen Waddle, Mike Gesicki
Prepare yourself for some offensive explosions as Tua Tagovailoa gets to operate in an offensive system under new head coach Mike McDaniel that plays to all of his strengths. Tyreek Hill and Jaylen Waddle should rack up yards after the catch in the creative scheme, and they might draw enough defensive attention for Mike Gesicki to challenge Charles Clay and Randy McMichael for tight end supremacy. Hill is the most likely candidate to break into the all-time roster, but don't be surprised if multiple new entrants are featured at this time next year.
27. Baltimore Ravens: 4,119.2 fantasy points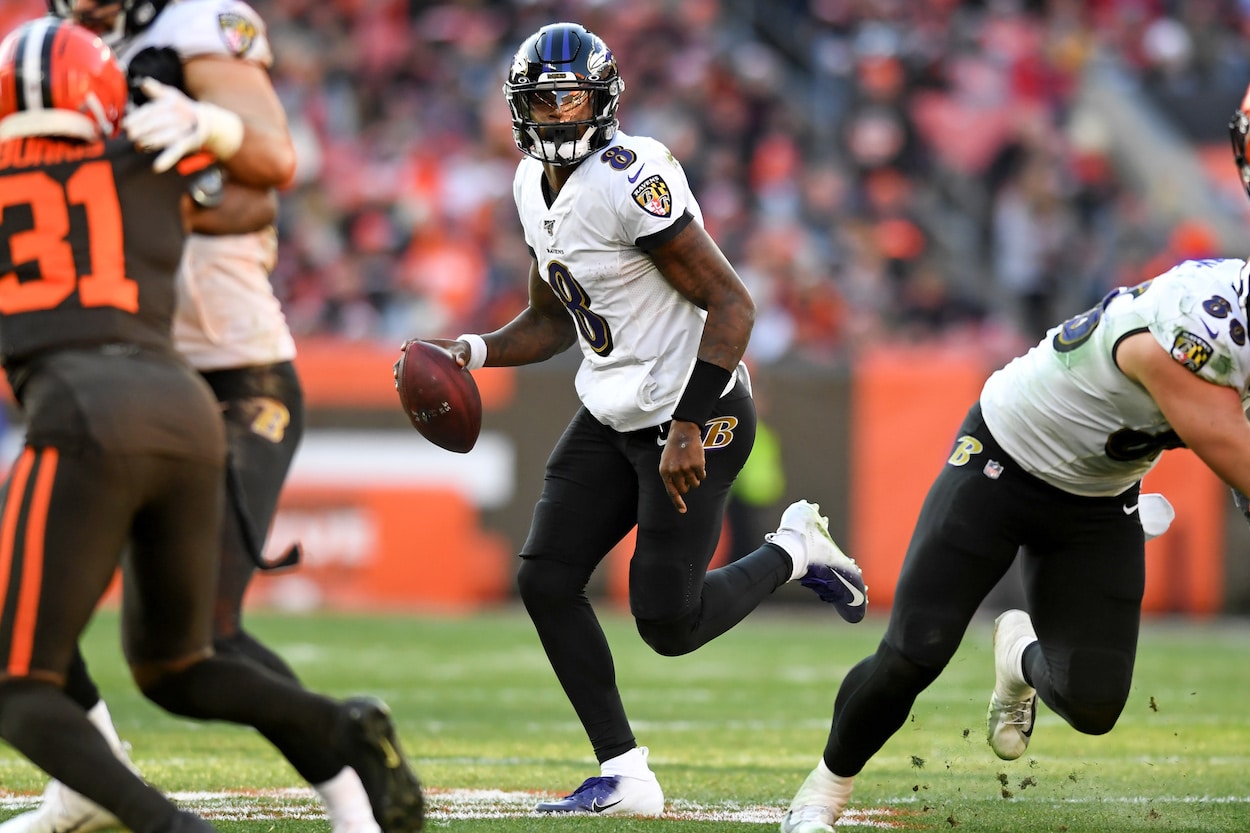 Starters
QB: 2019 Lamar Jackson (415.7)
RB1: 2011 Ray Rice (372.8)
RB2: 2003 Jamal Lewis (325.1)
WR1: 1996 Michael Jackson (284.1)
WR2: 2007 Derrick Mason (239.7)
TE: 2021 Mark Andrews (301.1)
FLEX: 2014 Justin Forsett (246.9)
K: 2016 Justin Tucker (161.0)
Bench
1996 Vinny Testaverde (285.9)
2019 Mark Ingram II (242.5)
2007 Willis McGahee (228.8)
1996 Derrick Alexander (227.9)
2021 Marquise Brown (226.3)
2005 Todd Heap (200.5)
2001 Qadry Ismail (221.9)
2000 Matt Stover (139.0)
Strongest Skill Position: Quarterback (No. 5)
Lamar Jackson's MVP-winning 2019 season was nothing short of legendary. With a league-best 36 touchdown passes and a staggering 1,206 rushing yards (and seven more trips to paydirt) on his ledger, he racked up more fantasy points than any quarterback not named Patrick Mahomes throughout NFL history. Even with Vinny Testaverde serving as an uninspiring backup — yes, in spite of Joe Flacco's "elite" status — Jackson alone is enough to push Baltimore into the positional top five.
Weakest Skill Position: Wide receiver (No. 32)
The Baltimore Ravens may be a historically strong organization, but that's largely because of their yearly defensive excellence. Though they have the occasional offensive standouts, most franchise legends play on the point-preventing side, and that's exemplified by the lack of game-changing wide receivers. If you're excited about Michael Jackson, Derrick Mason, Derrick Alexander, and Marquise Brown, prepare yourself for the names that will come as we move through the rest of the rankings.
Current Threats: J.K. Dobbins, Rashod Bateman
I guess? Lamar Jackson and Mark Andrews are already entrenched starters, but both J.K. Dobbins and Rashod Bateman may be able to take advantage of their opportunities in an explosive offensive. It's unlikely, but either is a somewhat realistic choice to displace Qadry Ismail from the final FLEX spot.
26. Seattle Seahawks: 4,129.8 fantasy points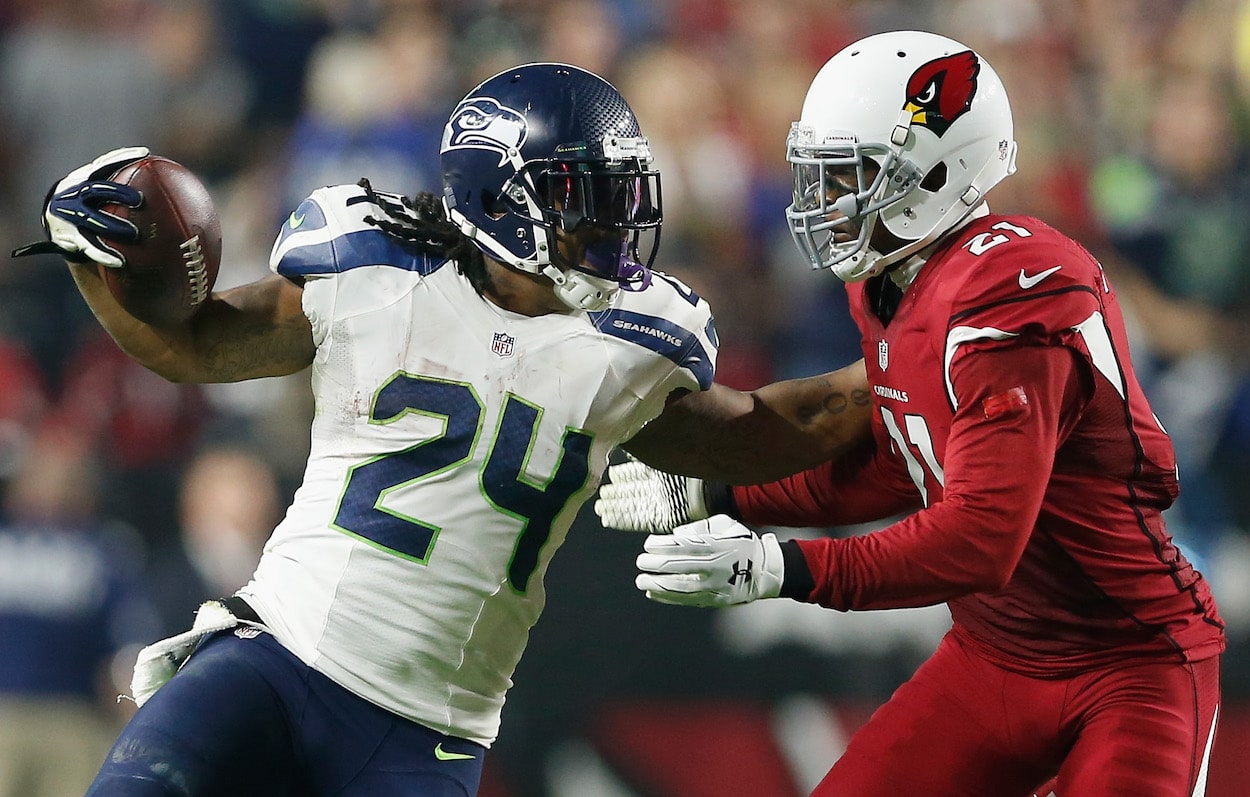 Starters
QB: 2020 Russell Wilson (359.8)
RB1: 2005 Shaun Alexander (376.8)
RB2: 2014 Marshawn Lynch (302.3)
WR1: 2020 DK Metcalf (271.3)
WR2: 2015 Doug Baldwin (268.9)
TE: 2016 Jimmy Graham (189.3)
FLEX: 2000 Ricky Watters (298.5)
K: 2013 Stephen Hauschka (149.0)
Bench
1984 Dave Krieg (252.4)
1983 Curt Warner (297.4)
1994 Chris Warren (287.8)
2020 Tyler Lockett (265.4)
1984 Steve Largent (262.4)
2009 John Carlson (147.7)
1979 Sherman Smith (264.8)
1999 Todd Peterson (136.0)
Strongest Skill Position: Running back (No. 15)
Shaun Alexander and Marshawn Lynch as a one-two punch? Yes, please. Ricky Watters was a phenomenal dual-threat back, but he's still moved into the FLEX spot thanks to the ground-game prowess of the two most notable backs in franchise history. They're strong enough to carry the Seattle Seahawks into the top half of the positional rankings despite a forgettable group of backups.
Weakest Skill Position: Wide receiver (No. 31)
Even though the Seattle Seahawks' wide receivers sit just one spot above the positional group of the Baltimore Ravens, the gap between them is rather wide. Thanks to DK Metcalf, Doug Baldwin, Chris Warren, and Tyler Lockett, they're 90 points ahead of Baltimore. For perspective, 90 points is larger than the chasm between Seattle and the No. 18 squad in the wide receiver hierarchy.
Current Threats: None
DK Metcalf and Tyler Lockett already have featured spots. Drew Lock and Geno Smith aren't beating out anyone. Noah Fant still has to establish himself, though he might still be the top current threat. If it's not him, it's whoever emerges from the Rashaad Penny vs. Kenneth Walker III backfield competition.
25. Cincinnati Bengals: 4,151.1 fantasy points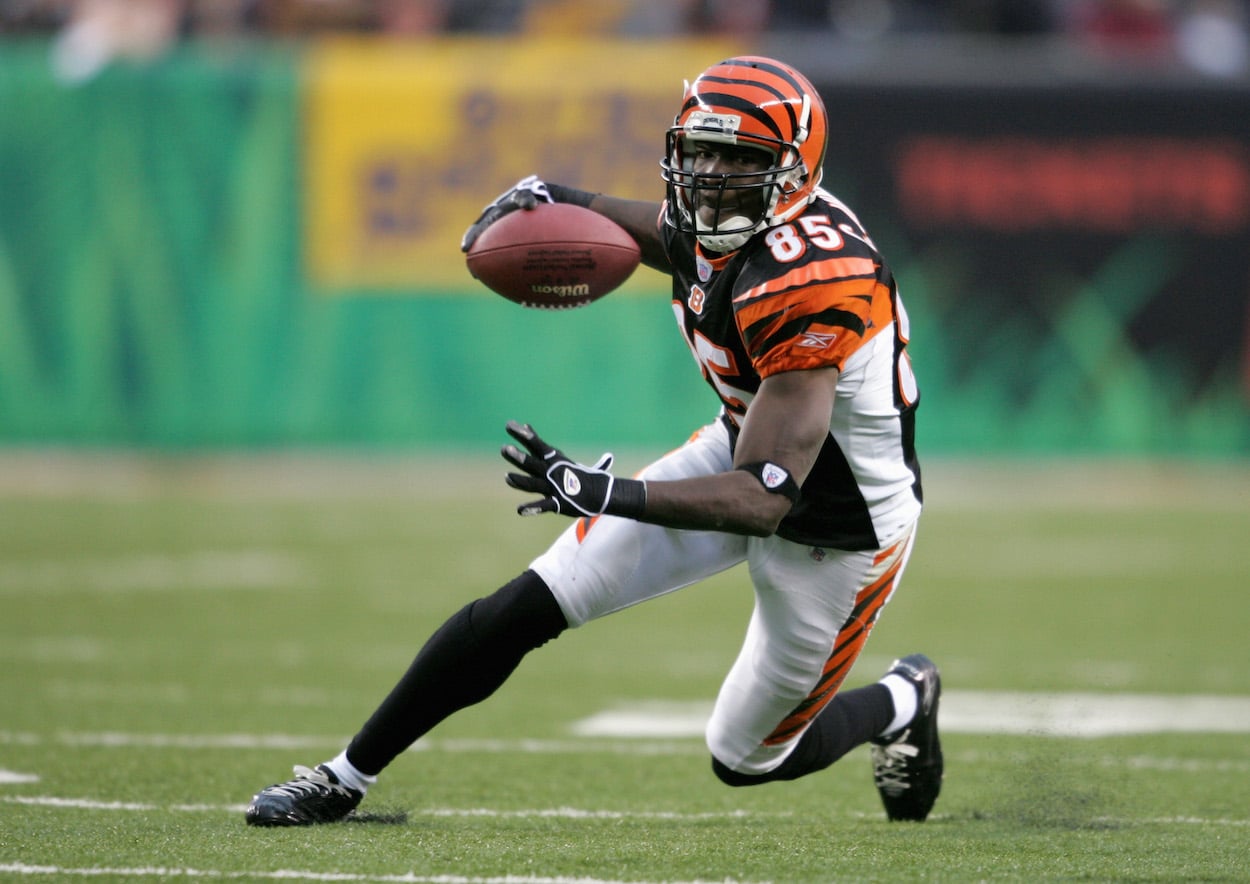 Starters
QB: 2021 Joe Burrow (314.2)
RB1: 2021 Joe Mixon (287.9)
RB2: 1986 James Brooks (283.3)
WR1: 1995 Carl Pickens (325.0)
WR2: 2013 A.J. Green (306.6)
TE: 2015 Tyler Eifert (191.5)
FLEX: 2021 Ja'Marr Chase (304.6)
K: 2021 Evan McPherson (148.0)
Bench
2013 Andy Dalton (288.0)
1981 Pete Johnson (277.7)
2001 Corey Dillon (258.3)
2007 T.J. Houshmandzadeh (297.7)
2005 Chad Johnson (297.5)
1981 Dan Ross (189)
2005 Rudi Johnson (249.8)
2011 Mike Nugent (132.0)
Strongest Skill Position: Wide receiver (No. 12)
When T.J. Houshmandzadeh and Chad Johnson are relegated to bench spots because three wideouts put together superior performances, you know you're in good shape. Plus, the group might get even stronger if Ja'Marr Chase provides an encore that leaves his rookie efforts in the dust. Carl Pickens, as a two-time Pro Bowler who never sniffed the Hall of Fame, might seem like a weird figure to lead the positional group, but 99 catches for 1,234 yards and 17 touchdowns is nothing to sniff at.
Weakest Skill Position: Running back (No. 28)
Between Joe Mixon, Corey Dillon, and Rudi Johnson, the Cincinnati Bengals have had plenty of top-tier running backs throughout their history, but they've never had a true legend at the position. It's that lack of high-end value that pushes them down toward the bottom of the standings in spite of the name recognition.
Current Threats: Tee Higgins, Tyler Boyd
If Ja'Marr Chase draws enough defensive attention, either Tee Higgins or Tyler Boyd could rack up enough counting stats as the No. 2 option to challenge Rudi Johnson for the final spot on the bench. Don't count on it, but they're both good enough from a skill perspective and just need opportunities in a loaded offense helmed by up-and-coming star quarterback Joe Burrow.
24. Tampa Bay Buccaneers: 4,169.9 fantasy points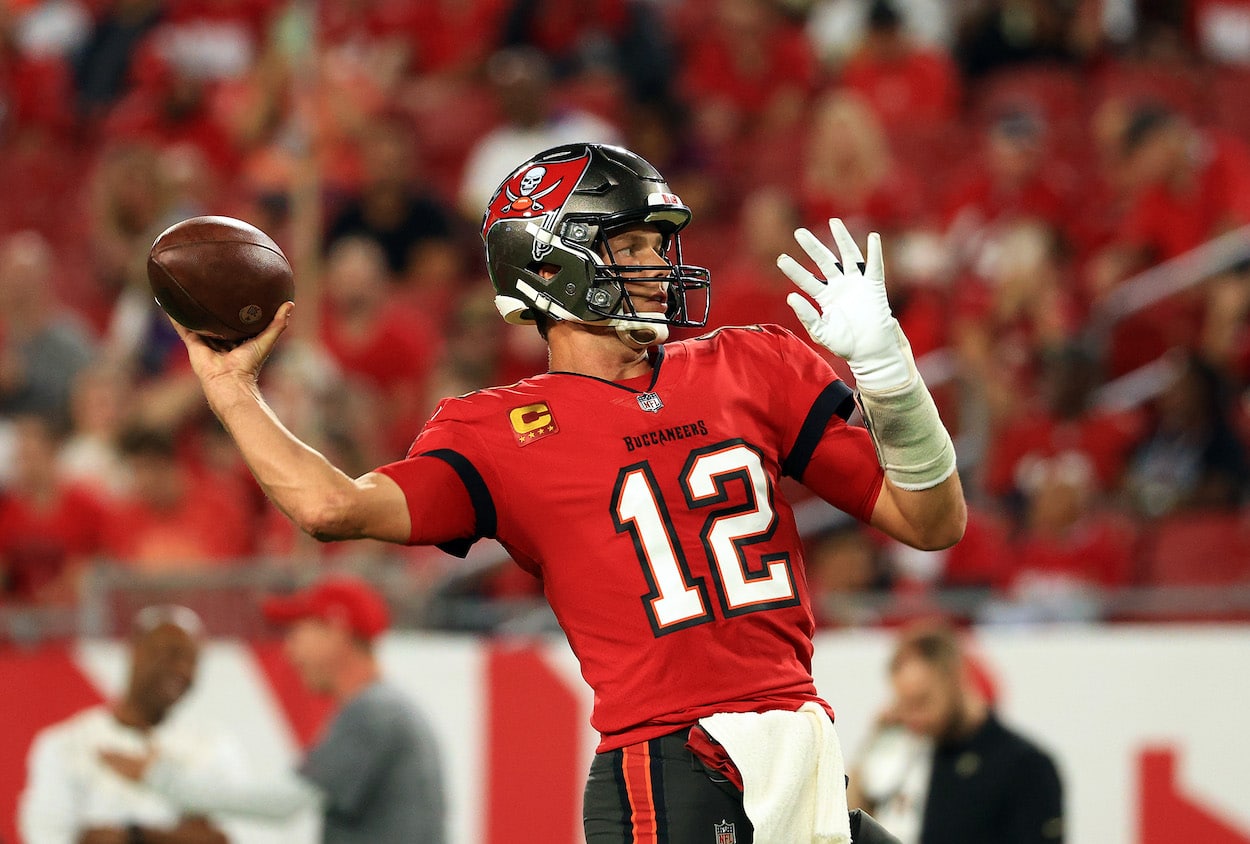 Starters
QB: 2021 Tom Brady (374.7)
RB1: 1984 James Wilder (380.5)
RB2: 2012 Doug Martin (311.6)
WR1: 2016 Mike Evans (304.1)
WR2: 1989 Mark Carrier (281.2)
TE: 2009 Kellen Winslow (196.1)
FLEX: 2019 Chris Godwin (276.1)
K: 2002 Martin Gramatica (138.0)
Bench
2019 Jameis Winston (305.4)
2021 Leonard Fournette (255.6)
2000 Warrick Dunn (251.5)
2005 Joey Galloway (272.1)
2012 Vincent Jackson (260.4)
2021 Rob Gronkowski (171.2)
2003 Keenan McCardell (253.4)
2020 Ryan Succop (138.0)
Strongest Skill Position: Quarterback (No. 10)
Kudos to Tom Brady for turning everything around, even if Jameis Winston's gun-slinging habits made him a high-scoring option in spite of his interception woes. Prior to the GOAT coming to town and posting the top two seasons in franchise history, Winston had the two leading campaigns with Josh Freeman as an underwhelming backup option. Winston and Freeman together would've ranked 28th.
Weakest Skill Position: Tight end (No. 24)
Brady could save the Tampa Bay quarterbacks, but Rob Gronkowski couldn't save the Buccaneers tight ends. He jumped past 1981 Jimmie Giles, but only by a meager 1.6 points, which isn't nearly enough to elevate the position when 2009 Kellen Winslow — already past his peak — is the entrenched starter.
Current Threats: None
Tom Brady, Mike Evans, Chris Godwin, and Leonard Fournette are already on the squad. Do you really think Russell Gage, post-prime Julio Jones, or Cameron Brate are going to move past anyone listed above? We didn't think so.
23. Washington Commanders: 4,192.8 fantasy points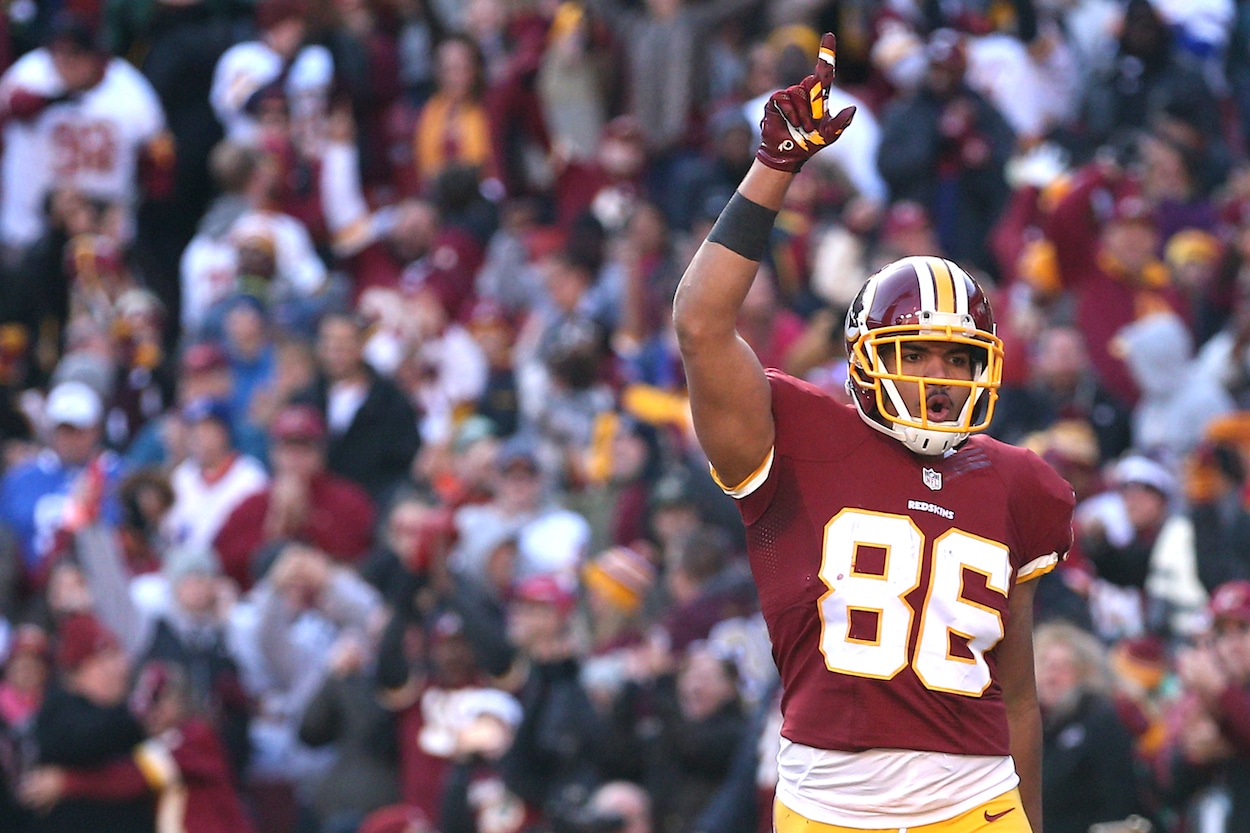 Starters
QB: 2012 Robert Griffin III (317.5)
RB1: 1996 Terry Allen (308.7)
RB2: 1983 John Riggins (281.6)
WR1: 1984 Art Monk (286.0)
WR2: 2005 Santana Moss (284.0)
TE: 2015 Jordan Reed (244.2)
FLEX: 1962 Bobby Mitchell (277.9)
K: 1983 Mark Moseley (163.0)
Bench
2016 Kirk Cousins (300.3)
1999 Stephen Davis (276.6)
2007 Clinton Portis (272.7)
2013 Pierre Garcon (277.5)
1991 Gary Clark (264.0)
1967 Jerry Smith (221.9)
1972 Larry Brown (263.9)
1991 Chip Lohmiller (153.0)
Strongest Skill Position: Tight end (No. 10)
Let's just stop for a moment and appreciate how good Jordan Reed was in 2015. He may have fallen shy of 1,000 yards, picking up 952 on 87 catches, but he turned 11 of those receptions into end-zone trips. Had injuries — most notably a string of concussions — not prevented him from following that up with even more production, the Washington Commanders might have enjoyed a single-digit number here.
Weakest Skill Position: Running back and wide receiver (No. 25)
The Washington Commanders largely fall into good-not-great territory. They've featured plenty of running backs and wide receivers who made Pro Bowls and successfully challenged the 1,000-yard threshold, but they haven't produced MVP candidates who stood the test of time as legendary figures.
Current Threats: Carson Wentz, Terry McLaurin
Consider this less a vote of confidence in Carson Wentz — and, by proxy, his leading pass-catching threat — and more a recognition that Kirk Cousins didn't set the highest bar. The mercurial incoming quarterback earned 258.0 fantasy points during his lone season with the Indianapolis Colts, and he could easily exceed that given his ability with his legs and the skill-position players around him.
22. Carolina Panthers: 4,205.8 fantasy points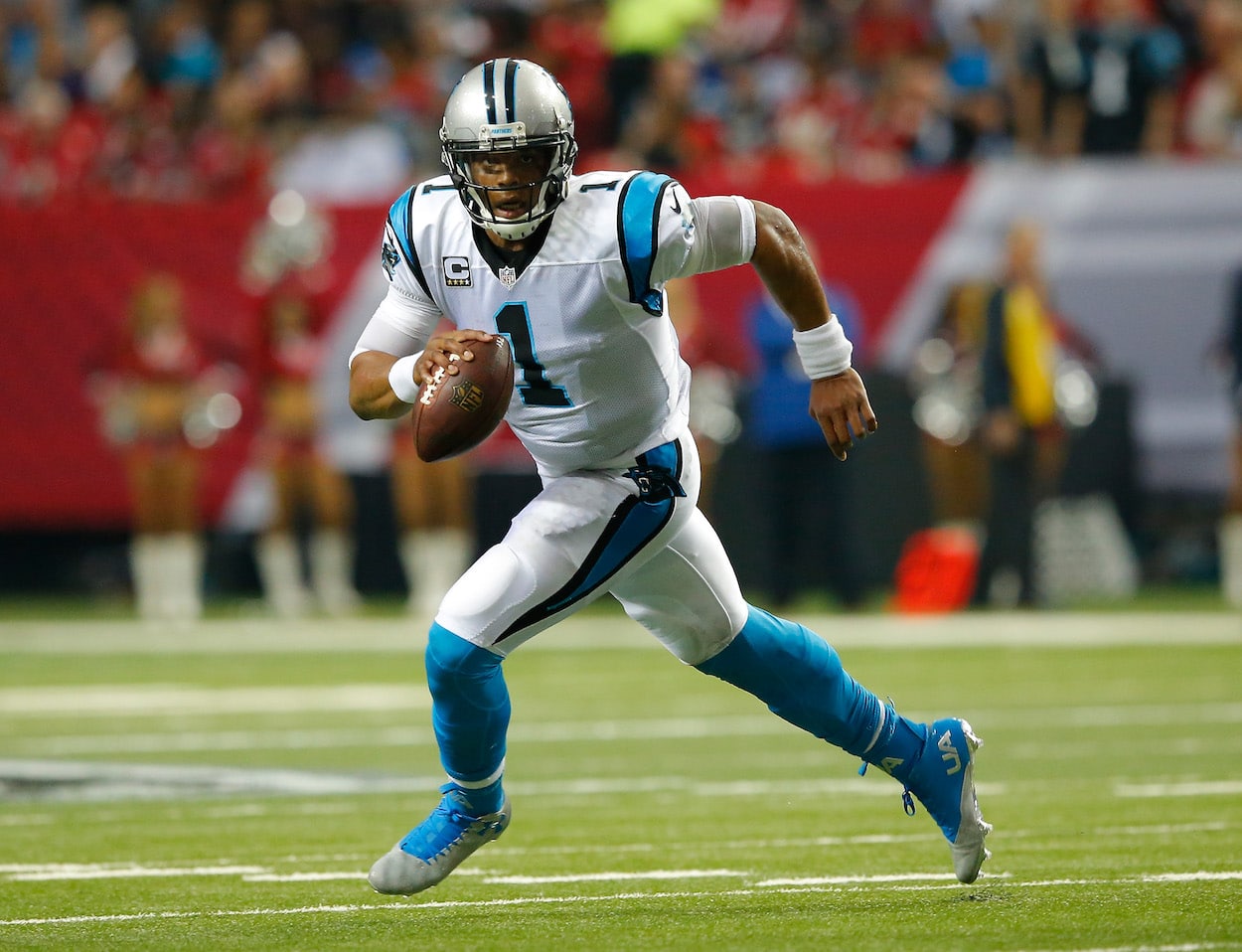 Starters
QB: 2015 Cam Newton (389.1)
RB1: 2019 Christian McCaffrey (471.2)
RB2: 2008 DeAngelo Williams (307.6)
WR1: 2005 Steve Smith Sr. (337.8)
WR2: 2004 Muhsin Muhammad (329.0)
TE: 2015 Greg Olsen (227.4)
FLEX: 1999 Patrick Jeffers (244.8)
K: 1996 John Kasay (151.0)
Bench
1999 Steve Beuerlein (299.8)
2003 Stephen Davis (216.3)
2009 Jonathan Stewart (207.2)
2021 D.J. Moore (237.5)
2014 Kelvin Benjamin (225.8)
1999 Wesley Walls (215.2)
2020 Robby Anderson (224.1)
2020 Joey Slye (122.0)
Strongest Skill Position: Quarterback (No. 7)
Once upon a time, well before a diminished version of the Auburn product struggled to reach prior levels both with the Carolina Panthers and New England Patriots, Cam Newton was that guy. Throwing for 3,837 yards and 36 touchdowns while compiling 636 yards and another 10 scores on the ground was enough for him to earn MVP honors and carry this Carolina positional group into the top 10 even with Steve Beuerlein as the entrenched backup.
Weakest Skill Position: Wide receiver (No. 22)
Christian McCaffrey has the two highest single-season catch totals in Panthers history, which basically says it all considering he's a dual-threat running back rather than a wide receiver or tight end. Steve Smith Sr. is the only player with more than 1,500 receiving yards in a season, which limits the upside of the pass-catchers.
Current Threats: None
With Christian McCaffrey and D.J. Moore already in the lineup, the options are inherently limited. Baker Mayfield is more of a game-manager than a numbers-generator, and that's if he even makes every start under center. Unless injuries strike and Robby Anderson, D'Onta Foreman, or Chuba Hubbard steps into a featured role and excels, no one is bumping up the Panthers' all-time score in 2022.
21. Chicago Bears: 4,226.8 fantasy points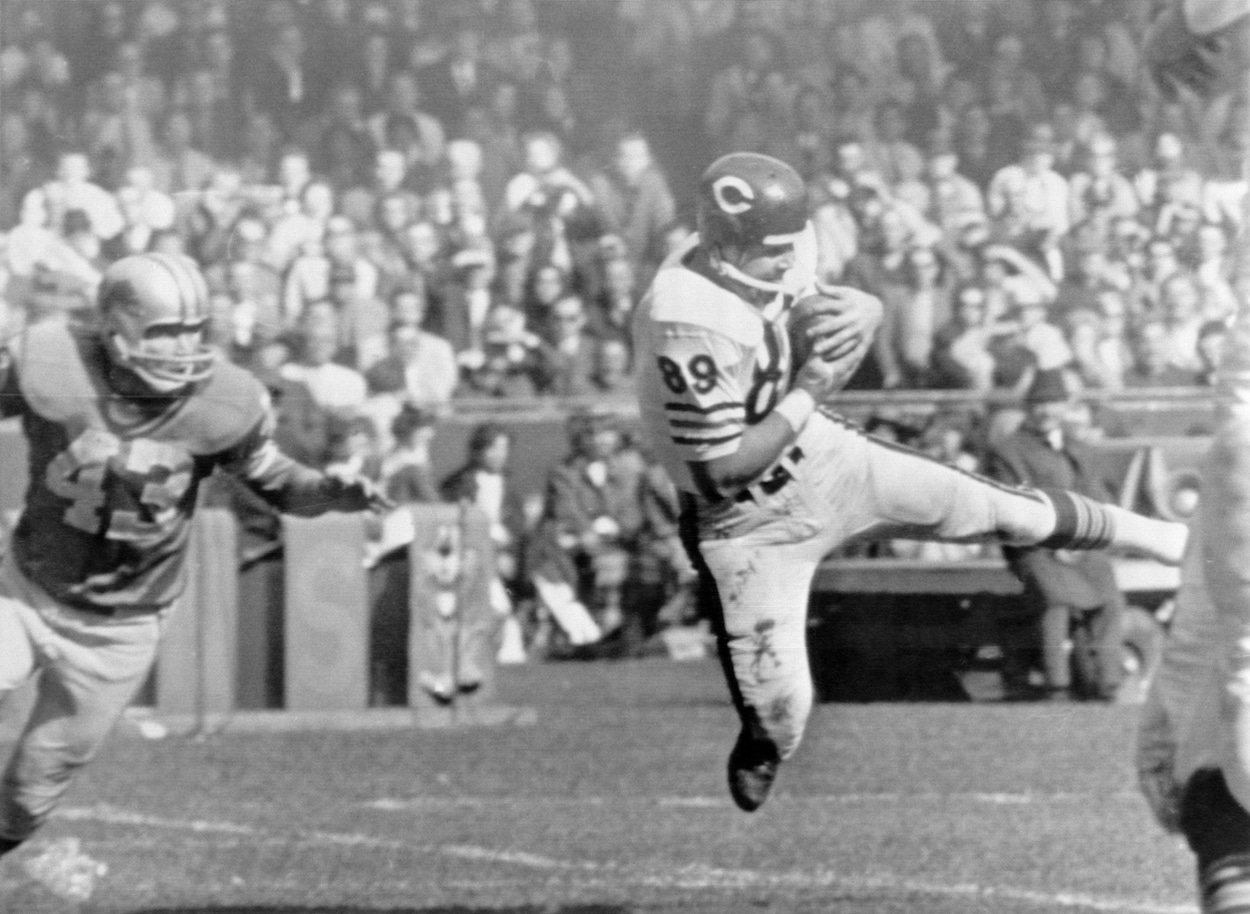 Starters
QB: 2018 Mitchell Trubisky (263.0)
RB1: 2014 Matt Forte (346.6)
RB2: 1977 Walter Payton (324.1)
WR1: 2012 Brandon Marshall (334.6)
WR2: 2013 Alshon Jeffery (283.6)
TE: 1961 Mike Ditka (233.6)
FLEX: 1989 Neal Anderson (305.9)
K: 1985 Kevin Butler (144.0)
Bench
2014 Jay Cutler (255.6)
1965 Gale Sayers (293.5)
2020 David Montgomery (264.8)
1999 Marcus Robinson (278.0)
1964 Johnny Morris (272.0)
2014 Martellus Bennett (221.6)
2020 Allen Robinson II (262.9)
2006 Robbie Gould (143.0)
Strongest Skill Position: Tight end (No. 14)
Windy City legend Mike Ditka was so much more than just a two-time NFL Coach of the Year who transitioned successfuly into the broadcast booth. He spent the first six years of his Hall of Fame career in Chicago, peaking as a rookie in 1961 when he racked up 56 catches for 1,076 yards and 12 touchdowns. Martellus Bennett is a pretty solid backup option, too.
Weakest Skill Position: Quarterback (No. 31)
Can you tell the Chicago Bears have historically won on the back of a dominant defense rather than through an aerial assault? The two-man combination of Mitchell Trubisky — yes, the all-time leader in spite of the disappointment most frequently associated with his name — and Jay Cutler checks in just 0.3 fantasy points above the Cleveland Browns' pairing of Brian Sipe and Derek Anderson. But at least Chicago has immediate hope for improvement.
Current Threats: Justin Fields, Darnell Mooney
Could Darnell Mooney move past Allen Robinson II and into the bench lineup? Possibly. Could Justin Fields relegate Jay Cutler to a non-featured spot? In all likelihood, he will. Thanks to the threat of his scrambling and his unquestioned hold on the starting job, Fields could play inefficient football and work his way through plenty of ups and downs while still racking up enough counting stats through sheer opportunity and raw talent.
20. New York Giants: 4,236.9 fantasy points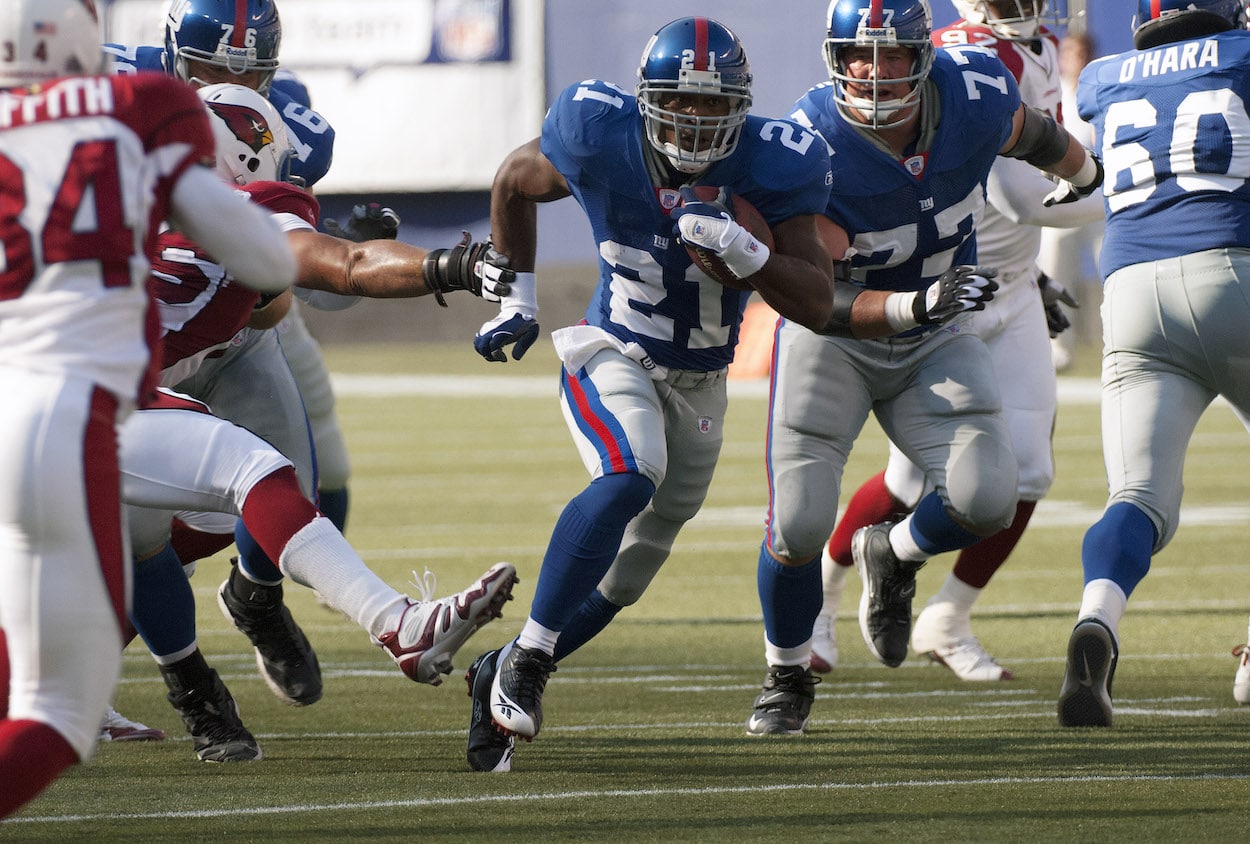 Starters
QB: 2015 Eli Manning (287.4)
RB1: 2018 Saquon Barkley (385.8)
RB2: 2005 Tiki Barber (359.0)
WR1: 2015 Odell Beckham Jr. (319.3)
WR2: 2011 Victor Cruz (287.9)
TE: 2005 Jeremy Shockey (198.1)
FLEX: 1985 Joe Morris (296.8)
K: 2005 Jay Feely (154.0)
Bench
1963 Y.A. Tittle (258.7)
1972 Ron Johnson (289.3)
1949 Gene Roberts (266.5)
2009 Steve Smith (271.0)
2002 Amani Toomer (264.5)
1967 Aaron Thomas (192.7)
1967 Homer Jones (258.9)
2012 Lawrence Tynes (147.0)
Strongest Skill Position: Running back (No. 10)
In case you've forgotten because of injuries and the passage of time, respectively, Saquon Barkley and Tiki Barber were pretty darn good at running the football. The former had an NFL-leading 2,028 yards from scrimmage and 15 total touchdowns in his debut 2018 campaign, and the latter produced a league-best 2,390 total yards and 11 total touchdowns during his penultimate go-round in 2005.
Weakest Skill Position: Quarterback (No. 29)
The complete lack of modern-day options here is devastating for the New York Giants. Aside from Eli Manning, who vacillated between game-manager status and the occasional dalliance with upper-tier regular-season production, the top options from the Super Bowl era are Fran Tarkenton (240.1 in 1967), Phil Simms (223.3 in 1984), Daniel Jones (215.0 in 2019), and Kerry Collins (214.9 in 2000).
Current Threats: Daniel Jones
Jones' name is listed above, and he has a distinct chance to move past Y.A. Tittle as the latest beneficiary of today's pass-happy strategies. Of course, he has to stay healthy first. And, you know, avoid the turnoveritis that has plagued him throughout the early stages of his NFL career. Beyond Jones, though, the options are few and far between, especially if Saquon Barkley remains healthy and doesn't allow for an extreme reliance on Kadarius Toney or Kenny Golladay.
19. Detroit Lions: 4,282.7 fantasy points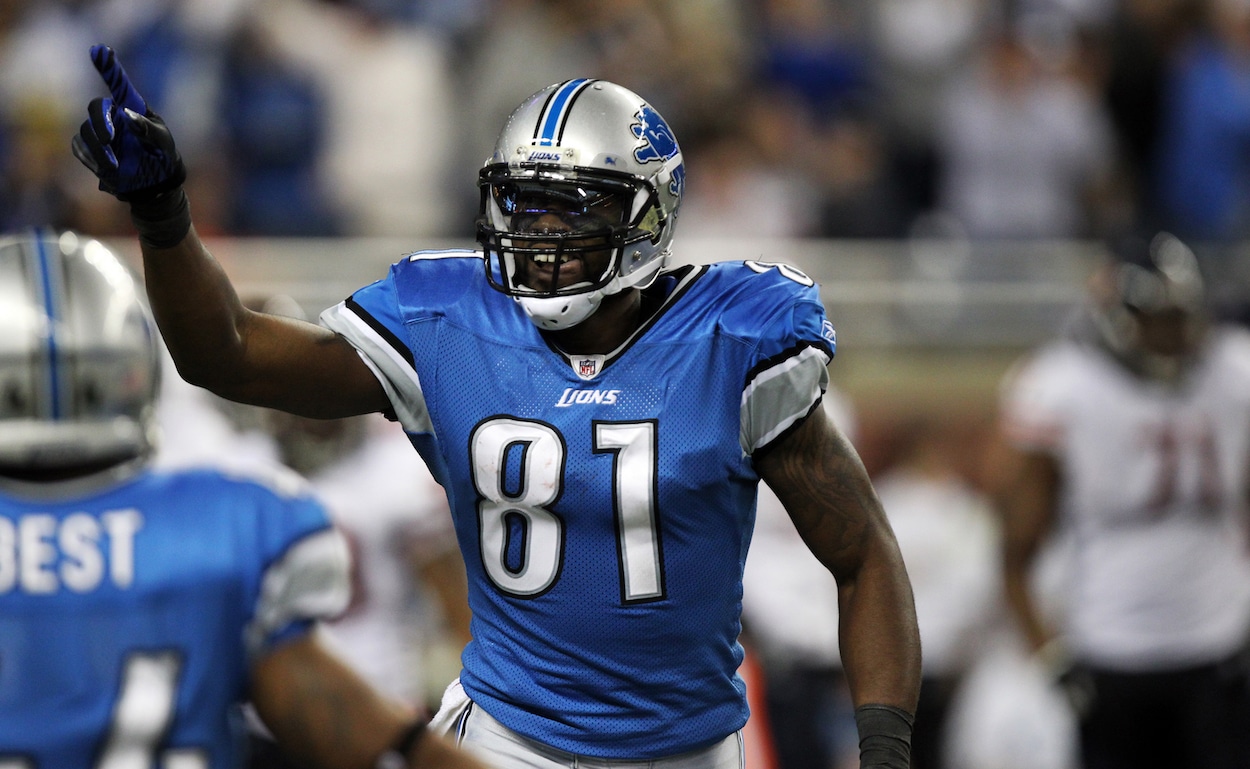 Starters
QB: 2011 Matthew Stafford (343.3)
RB1: 1997 Barry Sanders (348.8)
RB2: 1980 Billy Sims (327.4)
WR1: 1995 Herman Moore (371.6)
WR2: 2011 Calvin Johnson (359.2)
TE: 2011 Brandon Pettigrew (190.7)
FLEX: 1995 Brett Perriman (315.6)
K: 2017 Matt Prater (144.0)
Bench
1995 Scott Mitchell (307.9)
2000 James Stewart (245.1)
1984 James Jones (244.9)
1999 Germane Crowell (260.6)
2014 Golden Tate (259.1)
2020 T.J. Hockenson (175.3)
2006 Roy Williams (251.2)
2012 Jason Hanson (138.0)
Strongest Skill Position: Wide receiver (No. 8)
Calvin Johnson flirted with record-setting numbers in 2012, hauling in 122 catches from Matthew Stafford for 1,964 yards. But he only found paydirt five times, which is why his line from the previous season (96/1,681/16) reigns supreme. The fact neither effort tops 1995 Herman Moore (123/1,686/14) speaks volumes about the strength of this wide receiver corps.
Weakest Skill Position: Tight end (No. 26)
Not having a single tight end finish a season with more than 200 fantasy points is rough, though T.J. Hockenson could easily push past that threshold as he continues to develop. The 25-year-old sits behind only Brandon Pettigrew, who might also have gotten there if not for a litany of injuries that prevented him from growing after a strong start to his career.
Current Threats: D'Andre Swift, Jared Goff, Amon-Ra St. Brown
Amon-Ra St. Brown may be a bit of a stretch considering the strength of the historical wide receiver group, but added chemistry with Jared Goff could yield fruitful rewards given his work ethic and ability to both get open and complete contested catches. The more likely candidate is D'Andre Swift, who serves as the unquestioned featured back and has the easier task of displacing James Jones. Swift may well challenge Brett Perriman for the starting FLEX spot if all goes according to plan.
18. Buffalo Bills: 4,315.5 fantasy points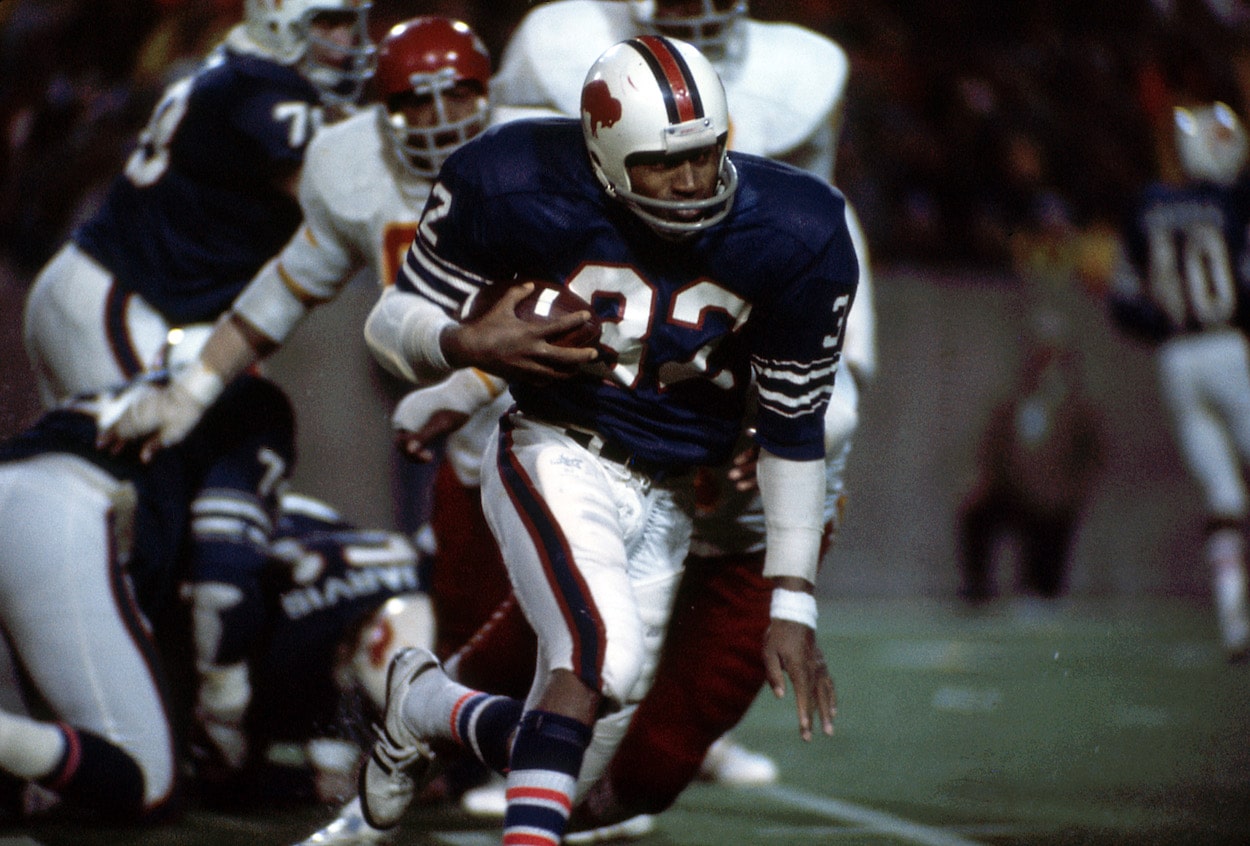 Starters
QB: 2021 Josh Allen (402.6)
RB1: 1975 O.J. Simpson (383.3)
RB2: 1992 Thurman Thomas (335.3)
WR1: 2020 Stefon Diggs (328.6)
WR2: 2002 Eric Moulds (289.9)
TE: 2021 Dawson Knox (164.1)
FLEX: 2016 LeSean McCoy (298.3)
K: 2020 Tyler Bass (149.0)
Bench
2015 Tyrod Taylor (271.6)
1962 Cookie Gilchrist (286.5)
2002 Travis Henry (283.7)
1994 Andre Reed (274.3)
2002 Peerless Price (269.9)
2011 David Nelson (156.8)
1983 Joe Cribbs (276.6)
2014 Dan Carpenter (145.0)
Strongest Skill Position: Running back (No. 11)
When LeSean McCoy is in the FLEX spot because O.J. Simpson and Thurman Thomas are holding down the featured spots, you're doing pretty well for yourself. The Buffalo Bills have a big drop-off on the bench — relatively, at least — but the top-end talents can compete with almost anyone.
Weakest Skill Position: Tight end (No. 31)
In their featured seasons, Dawson Knox and David Nelson combined for 320.9 fantasy points. In 2011, Rob Gronkowski single-handedly threw up 330.9 fantasy points. That's not to say the Bills should expect their tight ends to be Gronk simulacrums, but it's not exactly an encouraging comparison.
Current Threats: None
This isn't a condemnation of the current iteration of the Bills. They just already have Josh Allen, Stefon Diggs, and Dawson Knox in the startling lineup. With Gabriel Davis and [insert member of the crowded running back rotation here] as the next-best options, no one else is going to make the cut anytime soon.
17. Las Vegas Raiders: 4,351.7 fantasy points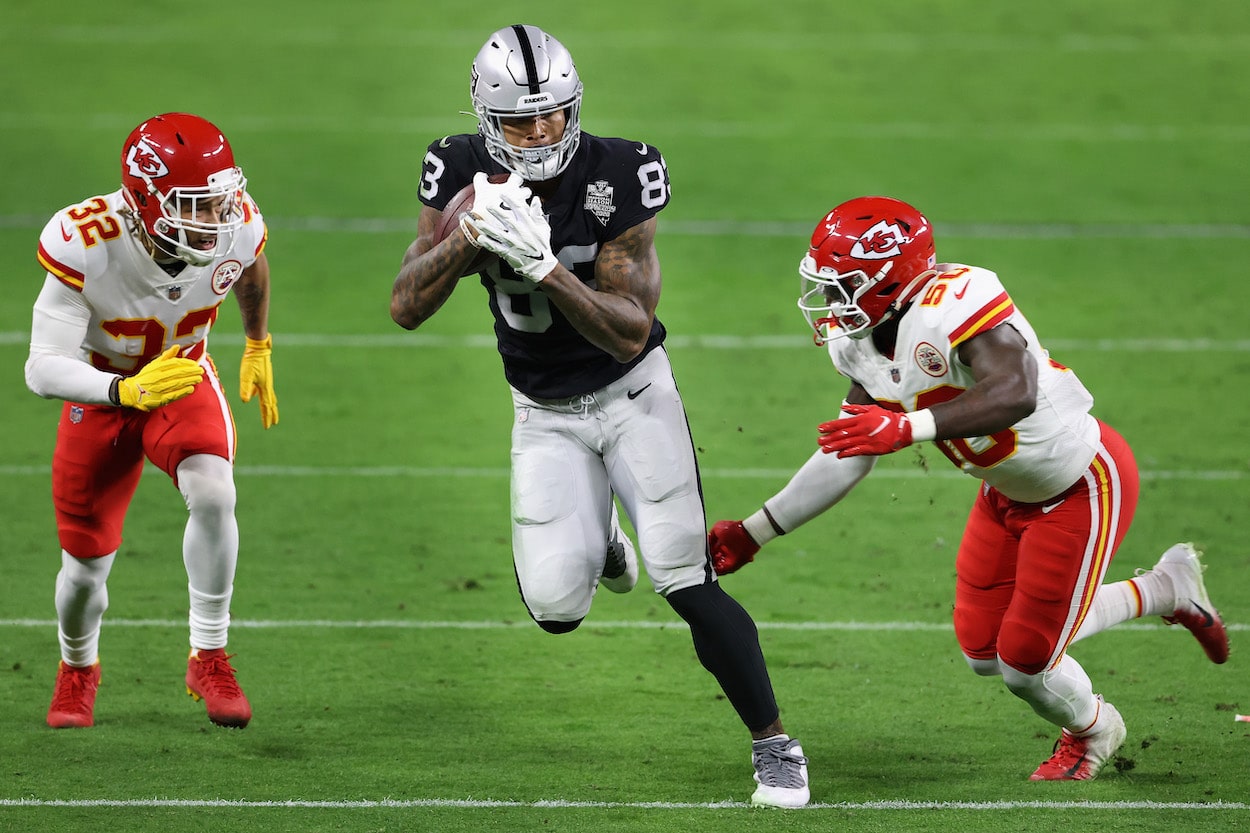 Starters
QB: 2002 Rich Gannon (303.2)
RB1: 1985 Marcus Allen (380.0)
RB2: 2002 Charlie Garner (347.3)
WR1: 1963 Art Powell (299.4)
WR2: 1995 Tim Brown (283.2)
TE: 1983 Todd Christensen (287.7)
FLEX: 2005 Lamont Jordan (294.8)
K: 2021 Daniel Carlson (162.0)
Bench
2020 Derek Carr (272.1)
2010 Darren McFadden (267.4)
2002 Jerry Rice (255.1)
2021 Hunter Renfrow (259.1)
1969 Warren Wells (256.4)
2020 Darren Waller (278.6)
1995 Harvey Williams (255.1)
2010 Sebastian Janikowski (150.0)
Strongest Skill Position: Tight end (No. 3)
Back in 1983, Todd Christensen led the NFL with 92 receptions, turning those catches into 1,247 yards and 12 touchdowns. It takes a lot to hold off Darren Waller, but he successfully did so — 37 years earlier and for now, at least.
Weakest Skill Position: Quarterback and wide receiver (No. 28)
The Raiders have a dominant set of tight ends and Nos. 7 and 18 finishes at kicker and running back, respectively, but they haven't boasted great results at either quarterback or wide receiver. Granted, both of those low finishes could look a bit more impressive by the end of 2022 thanks to the current options. Rich Gannon and every wide receiver on the roster, Art Powell and Tim Brown included, could be in danger.
Current Threats: Davante Adams
Barring injury, go ahead and lock Davante Adams into one of the lineup slots. Granted, the transition from Aaron Rodgers to Derek Carr is a significant downgrade, but the veteran wideout is a route-running savant with sure hands and the ability to excel in every area of the passing game. He put up 358.4 PPR points in 2020 and 344.3 last year, either of which would blow away the rest of the field.
16. Arizona Cardinals: 4,384.7 fantasy points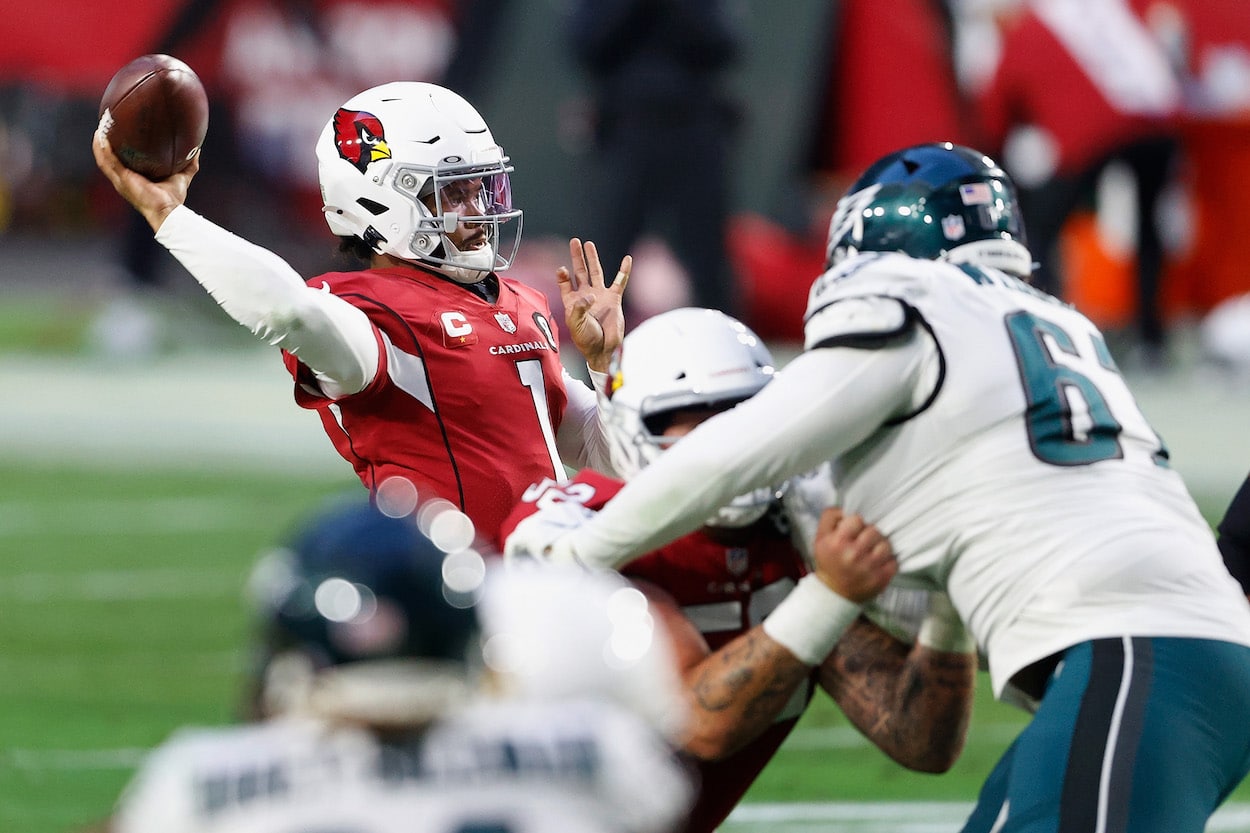 Starters
QB: 2020 Kyler Murray (378.7)
RB1: 2016 David Johnson (407.8)
RB2: 1984 Ottis Anderson (288.5)
WR1: 2008 Larry Fitzgerald (311.1)
WR2: 2001 David Boston (307.3)
TE: 1967 Jackie Smith (234.1)
FLEX: 1997 Rob Moore (305.4)
K: 2005 Neil Rackers (152.0)
Bench
2015 Carson Palmer (309.2)
1996 Larry Centers (270.1)
2021 James Conner (257.7)
1984 Roy Green (303.5)
2005 Anquan Boldin (288.7)
2021 Zach Ertz (131.8)
2020 DeAndre Hopkins (287.8)
2021 Matt Prater (151.0)
Strongest Skill Position: Quarterback (No. 8)
Carson Palmer is a strong backup option, outshining Kurt Warner, Neil Lomax, and Jake Plummer, but this is all about Kyler Murray. Though he was unable to suit up in more than 14 games during the 2021 campaign, 2019's top overall pick was following up a sophomore season in which he excelled through the air (3,971 yards and 26 touchdowns) and on the ground (819 yards and 11 touchdowns). The 25-year-old has a reasonable shot to join the 400-point club at any point during his young career.
Weakest Skill Position: Tight end (No. 27)
Unless Zach Ertz explodes while DeAndre Hopkins serves his six-game suspension to start the 2022 season, he might not have the target share to push this positional group any higher in the rankings. Then again, it's a pretty low bar to clear since he made the backup cut in just 11 games after a midseason trade away from the Philadelphia Eagles.
Current Threats: Marquise Brown
Ertz, Murray, and James Conner could all exceed the scores that already have them entrenched as members of the all-time roster, but Marquise Brown enters the 2022 season as a new member of the desert-based organization. Beating out Hopkins' 2020 efforts would take a Herculean effort, but the speedy wideout has the explosive athleticism and big-play ability to rack up a jaw-dropping touchdown tally.
15. Pittsburgh Steelers: 4,418.4 fantasy points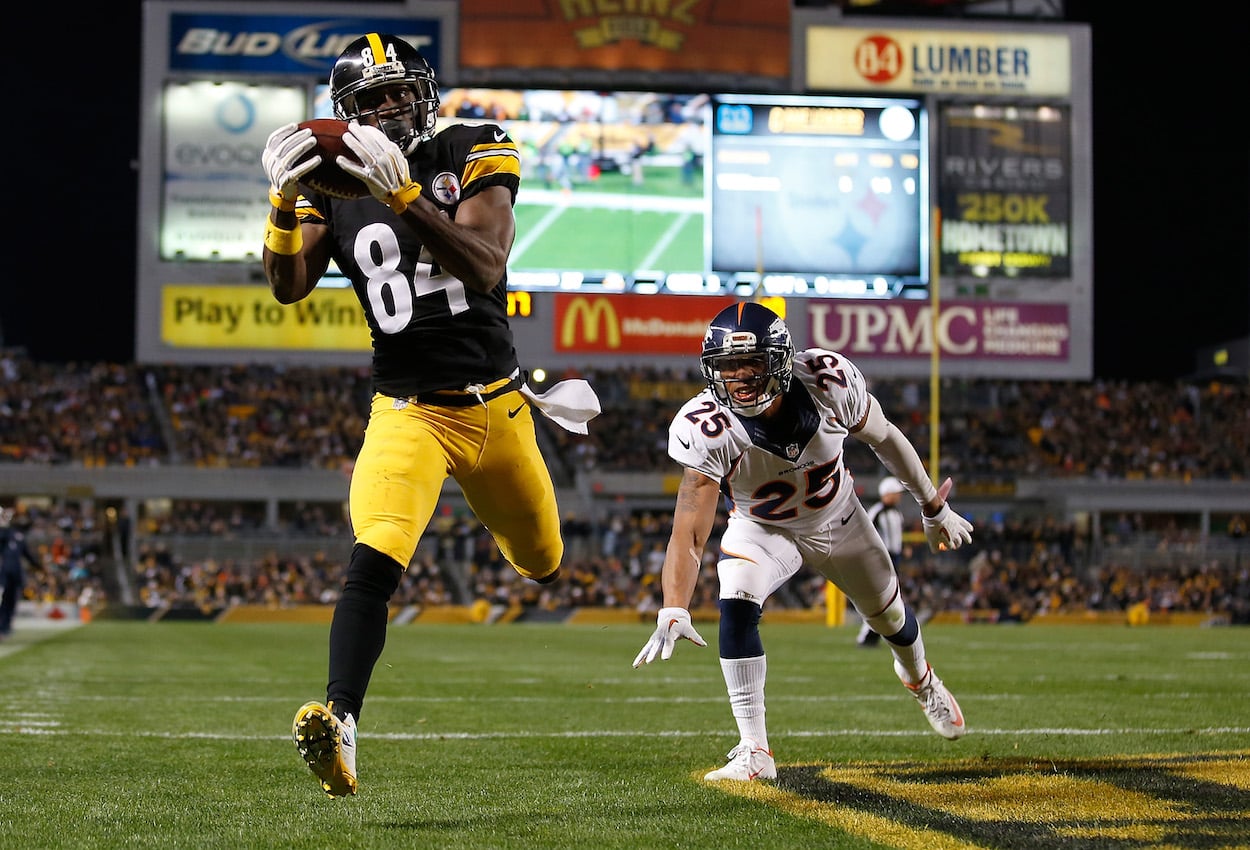 Starters
QB: 2018 Ben Roethlisberger (341.9)
RB1: 2014 Le'Veon Bell (370.5)
RB2: 2021 Najee Harris (300.7)
WR1: 2015 Antonio Brown (388.2)
WR2: 2002 Hines Ward (337.1)
TE: 2012 Heath Miller (202.6)
FLEX: 2018 JuJu Smith-Schuster (296.9)
K: 2021 Chris Boswell (151.0)
Bench
1997 Kordell Stewart (278.4)
1992 Barry Foster (296.4)
2006 Willie Parker (288.6)
1984 John Stallworth (284.5)
2021 Diontae Johnson (274.4)
1993 Eric Green (184.2)
2018 James Conner (280.0)
1995 Norm Johnson (143.0)
Strongest Skill Position: Wide receiver (No. 6)
Even with JuJu Smith-Schuster in the FLEX, the Pittsburgh Steelers are flat-out loaded at wide receiver. Diontae Johnson had an impressive 107 receptions for 1,161 yards and eight touchdowns during his Pro Bowl season in 2021, and he's still well behind the positional leaders. Of course, that's largely because Hines Ward and Antonio Brown gave Pittsburgh an abundance of top-end pass-catching talent during their primes.
Weakest Skill Position: Quarterback (No. 23)
The hidden issue with having a franchise legend at quarterback for the better part of the last two decades? No one else has had an opportunity to rack up big numbers in this pass-happy era. Such is the case for the Steelers with Ben Roethlisberger, which means we have to go back into the 20th century and highlight the relatively middling production of 1997 Kordell Stewart, who tossed 21 touchdowns and 17 interceptions for an 11-5 squad.
Current Threats: None
Check back next year when Kenny Pickett takes over for Mitchell Trubisky in full. For the time being, neither is a lock to earn all the significant snaps in 2022, which knocks both out of the running. Najee Harris and Johnson are already featured, which means Pat Freiermuth and George Pickens are the only possibilities — remote as those possibilities may be.
14. Philadelphia Eagles: 4,449.1 fantasy points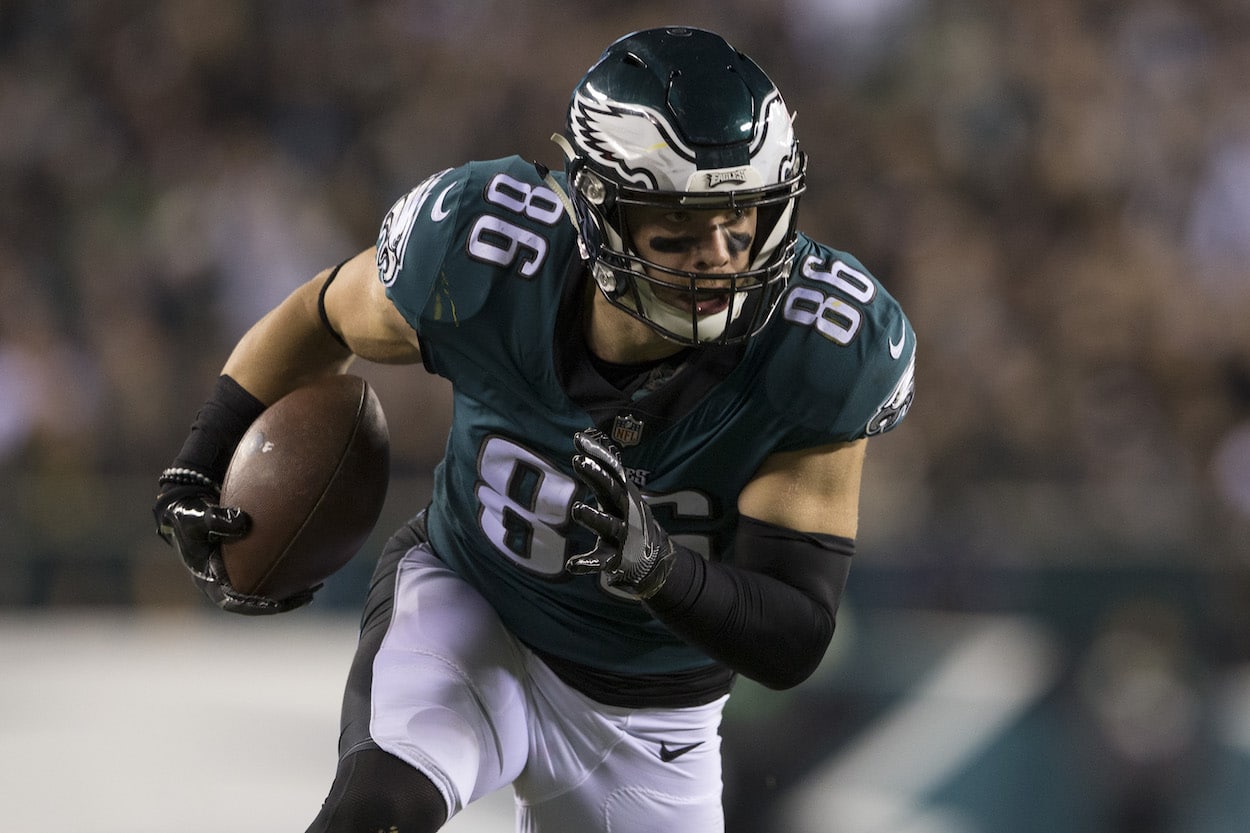 Starters
QB: 1990 Randall Cunningham (347.8)
RB1: 2007 Brian Westbrook (368.4)
RB2: 2013 LeSean McCoy (330.6)
WR1: 1983 Mike Quick (286.9)
WR2: 2004 Terrell Owens (278.5)
TE: 2018 Zach Ertz (280.3)
FLEX: 1979 Wilbert Montgomery (311.6)
K: 2014 Cody Parkey (158.0)
Bench
2021 Jalen Hurts (312.2)
1996 Ricky Watters (304.5)
2002 Duce Staley (258.0)
2014 Jeremy Maclin (276.8)
1996 Irving Fryar (273.1)
1965 Pete Retzlaff (245.0)
2013 DeSean Jackson (269.4)
2008 David Akers (148.0)
Strongest Skill Position: Tight end (No. 5)
Zach Ertz may be the backup tight end for the Arizona Cardinals, but he's the unquestioned starter for an even stronger Philadelphia Eagles unit. During the 2018 season, he exploded for 116 catches, 1,163 yards, and eight touchdowns en route to his second of three consecutive Pro Bowl appearances. Pete Retzlaff was a big-play threat who actually finished with a comparable yardage tally, but the PPR scoring leaves him well behind Ertz.
Weakest Skill Position: Wide receiver (No. 24)
The talent dries up quickly here. Well, the truly elite talent, at least. Having Jeremy Maclin, Irving Fryar, and DeSean Jackson on the bench is certainly nothing to sniff at, but not having a single 300-point option at wide receiver is basically a death knell. Fifty-four different players have cracked that threshold during the Super Bowl era, but none called the City of Brotherly Love home.
Current Threats: A.J. Brown, DeVonta Smith, Dallas Goedert
A.J. Brown and DeVonta Smith may eat into each other's production, preventing either from displacing DeSean Jackson. Throw in Dallas Goedert, and that becomes an even more likely scenario given the wealth of pass-catching options at Jalen Hurts' disposal (plus his own limitations as a passer). They're all worth listing as threats, but don't expect any of them to actually get there.
13. New England Patriots: 4,476.6 fantasy points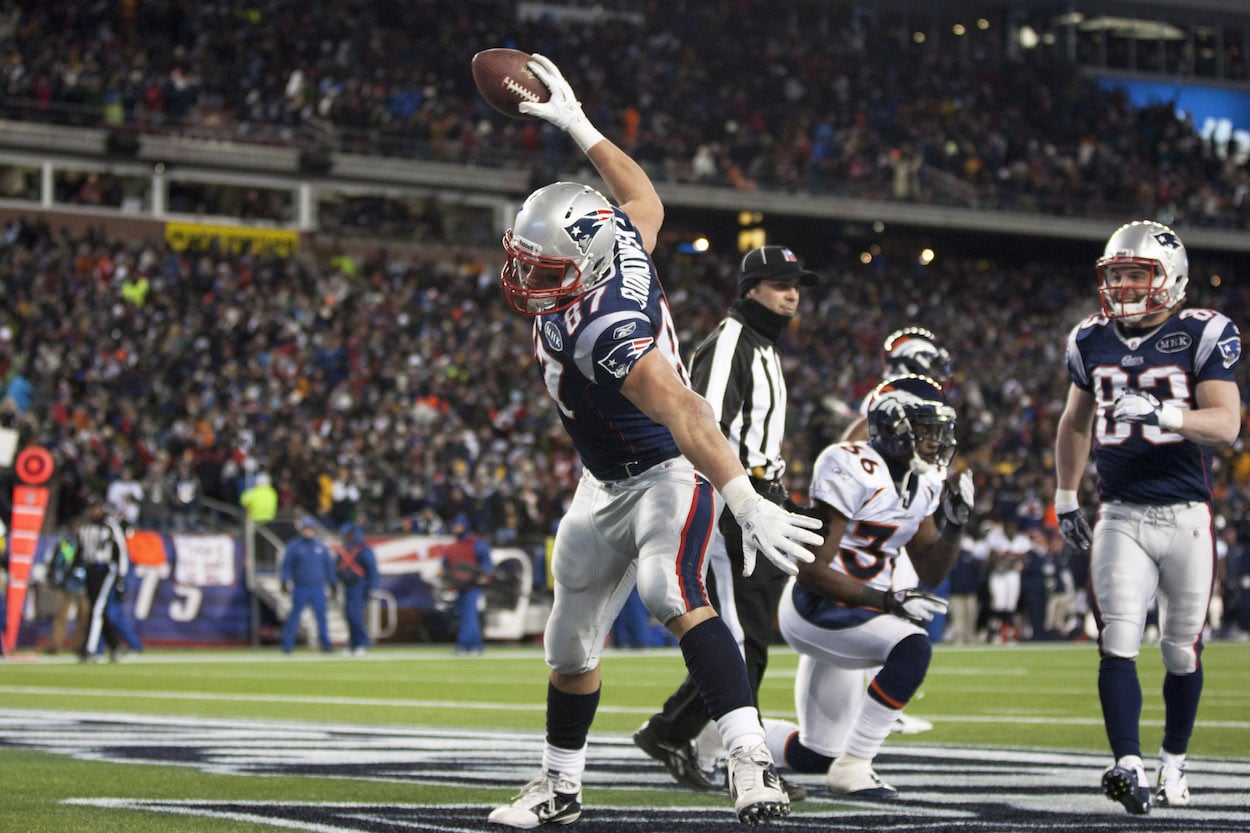 Starters
QB: 2007 Tom Brady (390.0)
RB1: 1996 Curtis Martin (292.5)
RB2: 2018 James White (276.6)
WR1: 2007 Randy Moss (385.3)
WR2: 2011 Wes Welker (335.9)
TE: 2011 Rob Gronkowski (330.9)
FLEX: 1964 Gino Cappelletti (293.2)
K: 2013 Stephen Gostkowski (168.0)
Bench
2020 Cam Newton (261.0)
2004 Corey Dillon (260.8)
1998 Robert Edwards (249.6)
1986 Stanley Morgan (293.1)
2001 Troy Brown (270.0)
1994 Ben Coates (253.4)
2019 Julian Edelman (256.3)
2021 Nick Folk (160.0)
Strongest Skill Position: Tight end (No. 1)
It's a bit surprising quarterback isn't the leading position for the New England Patriots given the unending brilliance of Tom Brady. Then again, late-career Cam Newton isn't the most inspiring backup option, dropping the positional group to No. 16 overall. Instead, tight end rises all the way to the top of the pack thanks to 2011 Rob Gronkowski (90/1,327/17) and 1994 Ben Coates (96/1,174/7).
Weakest Skill Position: Running back (No. 30)
The Patriots have never had a single 300-point running back, which is downright astounding even if head coach Bill Belichick has confused fantasy managers throughout his tenure with his ever-changing backfield decisions. Seventy-five different players have reached that threshold, but none at Foxborough. Only the Jacksonville Jaguars and New York Jets fall behind the Pats, and even they have representatives — Fred Taylor and Maurice Jones-Drew for the Jags and Curtis Martin for the Jets.
Current Threats: Mac Jones
With Damien Harris and Rhamondre Stevenson competing against one another throughout the 2022 campaign, neither is likely to crest that 300-point barrier. Just surpassing Julian Edelman for the final FLEX spot could be tough enough, and the same is true for the many good-not-great receiving options. The sophomore version of Mac Jones is the only player with a realistic shot to join the fray, though even that could be tough enough under Matt Patricia's guidance unless Belichick unexpectedly lets the quarterback air it out far more frequently.
12. Tennessee Titans: 4,477.3 fantasy points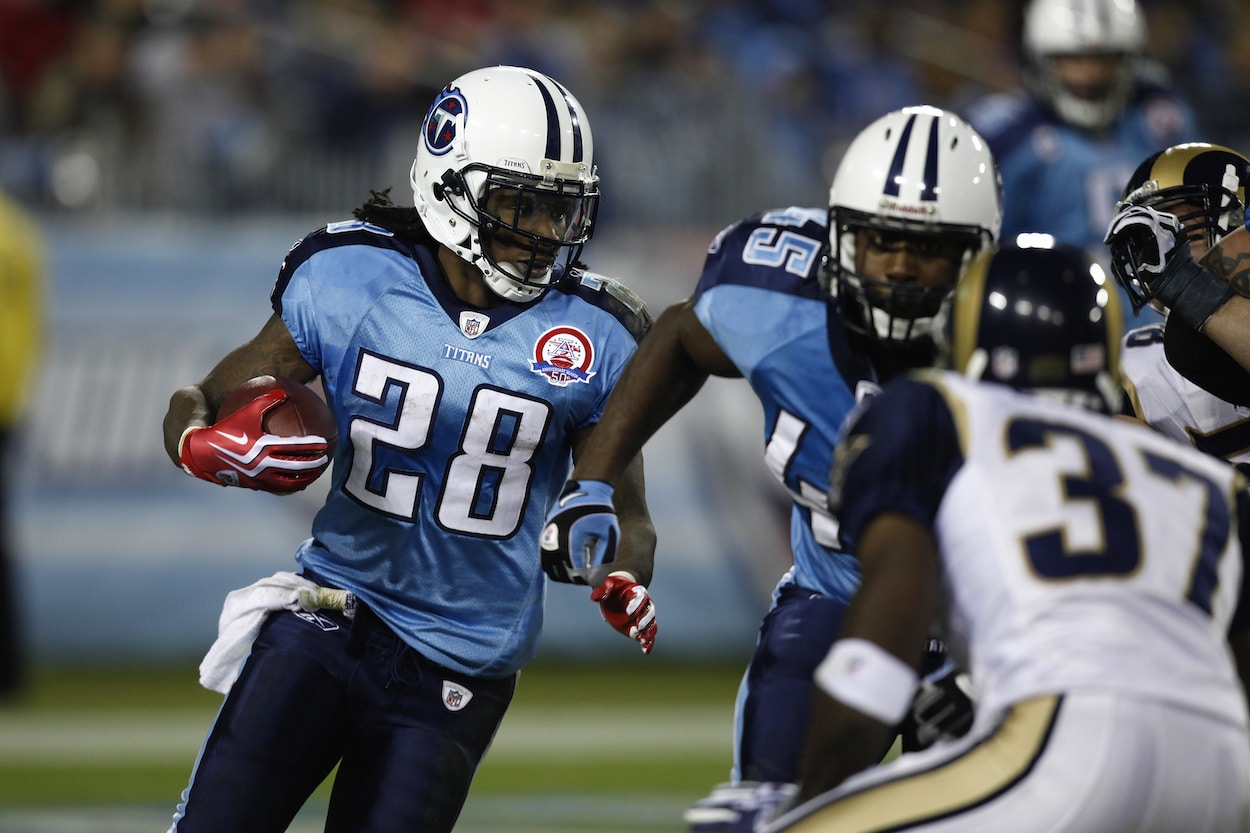 Starters
QB: 1961 George Blanda (346.8)
RB1: 2009 Chris Johnson (392.9)
RB2: 2000 Eddie George (334.2)
WR1: 1961 Charley Hennigan (328.6)
WR2: 2004 Drew Bennett (276.9)
TE: 2015 Delanie Walker (244.4)
FLEX: 2020 Derrick Henry (333.1)
K: 2007 Rob Bironas (141.0)
Bench
2020 Ryan Tannehill (344.4)
1979 Earl Campbell (301.1)
2016 DeMarco Murray (293.8)
1961 Bill Groman (275.7)
2003 Derrick Mason (274.4)
1980 Mike Barber (160.3)
1992 Lorenzo White (289.7)
2017 Ryan Succop (140.0)
Strongest Skill Position: Quarterback and running back (No. 6)
Running back rising to the top of the pile is unsurprising considering Derrick Henry was relegated to the starting FLEX spot. With Earl Campbell and DeMarco Murray on the bench backing up Chris Johnson and Eddie George, this is a ridiculously impressive group. Far more surprising is quarterback matching the backfield contributors, but that's what happens when an early-era game-changer joins the roster. George Blanda managed to throw for 3,330 yards and 36 touchdowns (both league-leading tallies) while making 16 field goals (including an NFL-best 55-yarder) and a league-high 64 extra points.
Weakest Skill Position: Wide receiver (No. 19)
This isn't a byproduct of notable wide receivers dropping into the FLEX since both spots are occupied by running backs. The Tennessee Titans just haven't had any legendary wide receivers throughout their history, with Charley Hennigan — 1961 George Blanda's go-to target — serving as the positional leader.
Current Threats: None
Robert Woods and Treylon Burks are strong receiving options, but neither of them is a significant threat to even the bottom-end receivers on the all-time team. Derrick Henry and Ryan Tannehill are already on the squad. That leaves … Austin Hooper? I guess?
11. New Orleans Saints: 4,503.9 fantasy points
Starters
QB: 2011 Drew Brees (393.6)
RB1: 2020 Alvin Kamara (377.8)
RB2: 1989 Dalton Hilliard (336.0)
WR1: 2019 Michael Thomas (374.6)
WR2: 2004 Joe Horn (301.9)
TE: 2013 Jimmy Graham (303.5)
FLEX: 2003 Deuce McAllister (311.0)
K: 2011 John Kasay (151.0)
Bench
2002 Aaron Brooks (256.2)
2017 Mark Ingram II (278.0)
2011 Darren Sproles (277.3)
2007 Marques Colston (282.2)
2015 Brandin Cooks (253.6)
2015 Ben Watson (190.5)
2006 Reggie Bush (266.7)
2019 Wil Lutz (150.0)
Strongest Skill Position: Tight end (No. 8)
Jimmy Graham and Ben Watson are impressive enough to boost the New Orleans Saints into the positional top 10 even without the luxury of an old fantasy cheat code. Even though he was always officially listed as a wide receiver, Marques Colston was also eligible at tight end during the first year of his career thanks to his collegiate position. He finished second in the Offensive Rookie of the Year voting by compiling 70 catches for 1,038 yards and eight touchdowns. We aren't giving him — or the Saints — that luxury here, but his 227.8 points would've earned him the backup spot.
Weakest Skill Position: Quarterback (No. 17)
As was the case with Ben Roethlisberger keeping the Pittsburgh Steelers in check by virtue of his remarkable run at the helm, Drew Brees prevents the New Orleans Saints from rising into the top half of the quarterback pecking order. He put up legendary numbers on his own, but we have to dive back in the archives to find the uninspiring Aaron Brooks as the featured backup.
Current Threats: Jameis Winston
Unless he suffers another injury, Jameis Winston is a virtual lock for the lineup. A torn ACL ended his first season as the NOLA starter after just seven appearances, but he was playing the best football of his career. Prorate his fantasy tally to a full 17 games, and he'd finish with 285.1 points. Now he has an even stronger lineup around him and more established chemistry with his primary targets.
10. Denver Broncos: 4,542.3 fantasy points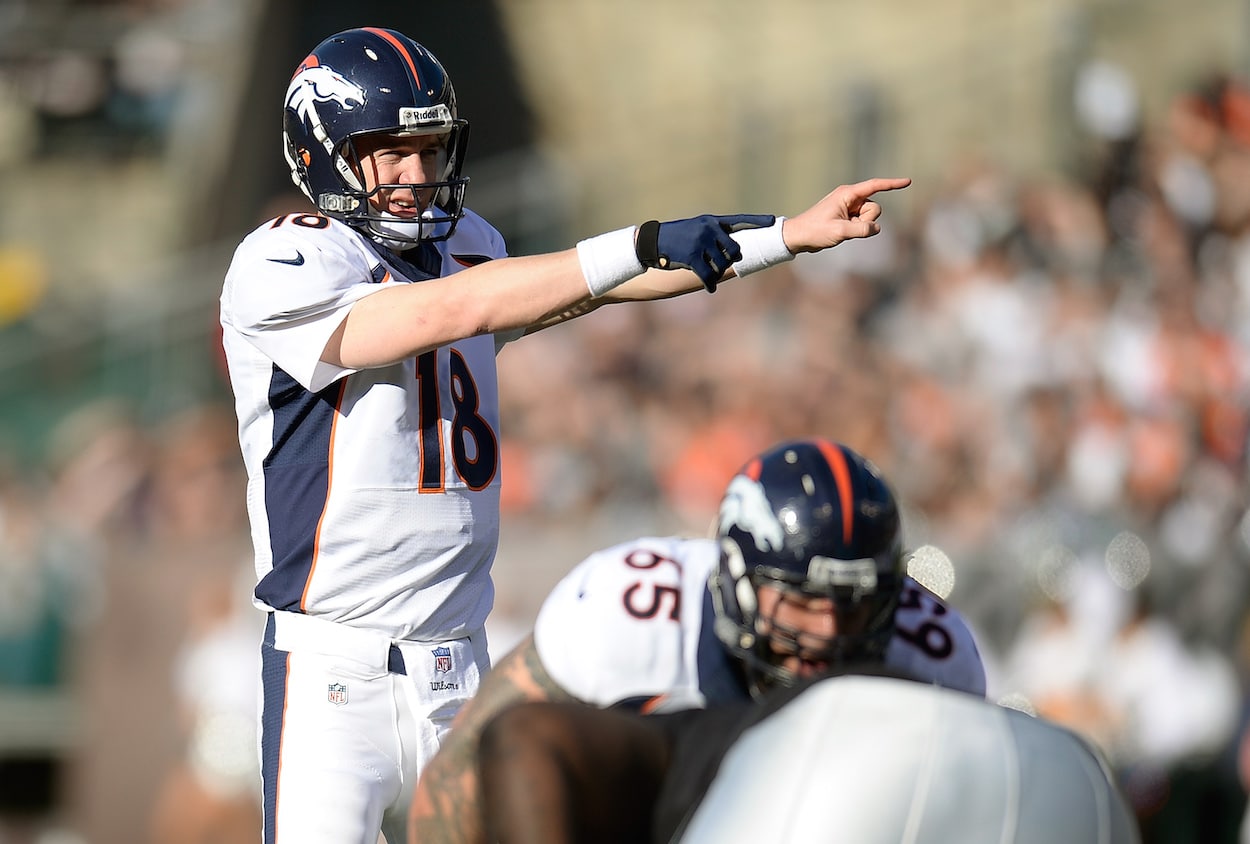 Starters
QB: 2013 Peyton Manning (410.0)
RB1: 1998 Terrell Davis (381.5)
RB2: 2002 Clinton Portis (316.2)
WR1: 2014 Demaryius Thomas (340.9)
WR2: 2000 Rod Smith (322.1)
TE: 1996 Shannon Sharpe (244.2)
FLEX: 2014 Emmanuel Sanders (301.8)
K: 2013 Matt Prater (162.0)
Bench
2008 Jay Cutler (277.0)
2013 Knowshon Moreno (296.6)
2000 Mike Anderson (272.6)
2000 Ed McCaffrey (288.7)
2010 Brandon Lloyd (286.0)
2013 Julius Thomas (215.8)
1960 Lionel Taylor (284.9)
1995 Jason Elan (142.0)
Strongest Skill Position: Quarterback and wide receiver (No. 9)
What's more shocking? Jay Cutler beating out Tim Tebow John Elway for the second of the featured quarterback spots or the group still finishing in the top 10? It's as strong a testament as any to the evolution of the passing game in recent decades, as is the overflow of 21st-century wide receivers scattered throughout the all-time roster.
Weakest Skill Position: Running back (No. 14)
Terrell Davis is a great leader for the positional group, but the drop-off comes rather quickly. Clinton Portis sits on a significantly lower rung of the all-time running back ladder, and he's still well above Knowshon Moreno and Mike Anderson. The last of those four featured backs won Offensive Rookie of the Year at age 27 in 2000, but that was the obvious peak of his career. He only topped 10 touchdowns and 1,000 yards once more in his career before fizzling out with the Baltimore Ravens.
Current Threats: Russell Wilson
Duh? The Broncos have a new future Hall of Famer at quarterback, and he has a fantastic supporting cast that should help him put up big numbers. Javonte Williams, Melvin Gordon III, Courtland Sutton, Jerry Jeudy, and Albert Okwuegbunam are all dangerous, though they'll engage in enough competition for touches that none of them has a realistic shot at supplanting a current all-time member.
9. Atlanta Falcons: 4,552.8 fantasy points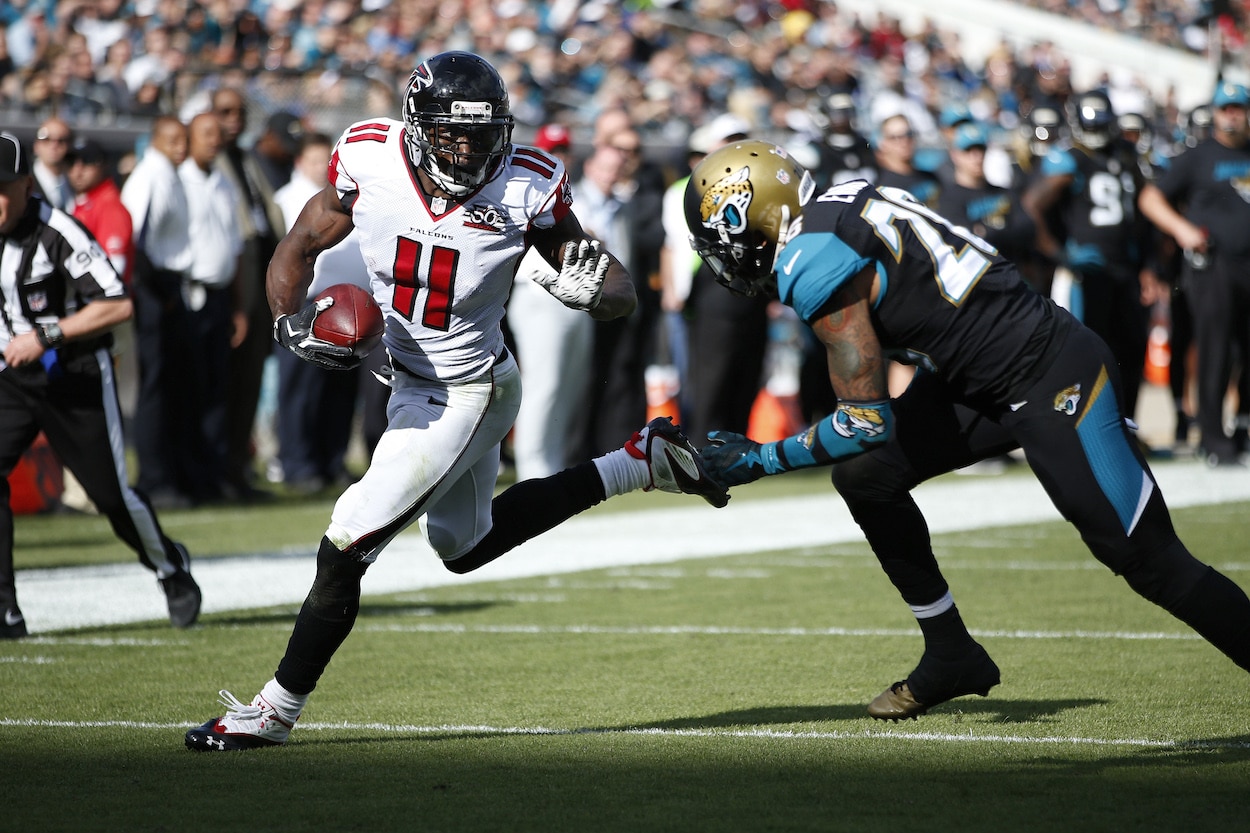 Starters
QB: 2018 Matt Ryan (355.0)
RB1: 1998 Jamal Anderson (337.5)
RB2: 1981 William Andrews (337.5)
WR1: 2015 Julio Jones (375.1)
WR2: 2010 Roddy White (316.2)
TE: 2012 Tony Gonzalez (234.0)
FLEX: 1994 Terance Mathis (315.2)
K: 2016 Matt Bryant (170.0)
Bench
2002 Michael Vick (282.7)
2015 Devonta Freeman (316.4)
1985 Gerald Riggs (291.6)
1993 Andre Rison (298.2)
1995 Eric Metcalf (290.2)
2019 Austin Hooper (191.7)
2020 Calvin Ridley (281.5)
2020 Younghoe Koo (160.0)
Strongest Skill Position: Wide receiver (No. 7)
The depth here is otherworldly. Julio Jones and Roddy White were among the best in the league at their position during their prime years. Terance Mathis may have been a one-year superstar, but a superstar he was nonetheless with 111 catches for 1,342 yards and 11 touchdowns. Even with him occupying the starting FLEX spot, the Falcons still have access to Andre Rison (86/1,242/15) and Eric Metcalf (104/1,189/8).
Weakest Skill Position: Quarterback (No. 20)
The dirty little secret here is that while Michael Vick was a scheme-altering, trendsetting quarterback during his peak years with the Atlanta Falcons, he still wasn't one of the all-time fantasy elites. During the 2002 season that's featured here, he scored 282.7 fantasy points to finish behind Daunte Culpepper (285.0) and Rich Gannon (303.2), and that was during a drastically different era.
Current Threats: Kyle Pitts, Marcus Mariota
Someone has to catch passes for the Atlanta Falcons. And though that someone could easily be standout rookie Drake London or Cordarrelle Patterson out of the backfield, Kyle Pitts is an athletic marvel and the future of the tight end position. Marcus Mariota should get him the ball frequently and might have enough opportunities — especially with Atlanta almost always playing from behind — to challenge Vick if he delays the Desmond Ridder takeover for the full year.
8. Dallas Cowboys: 4,553.8 fantasy points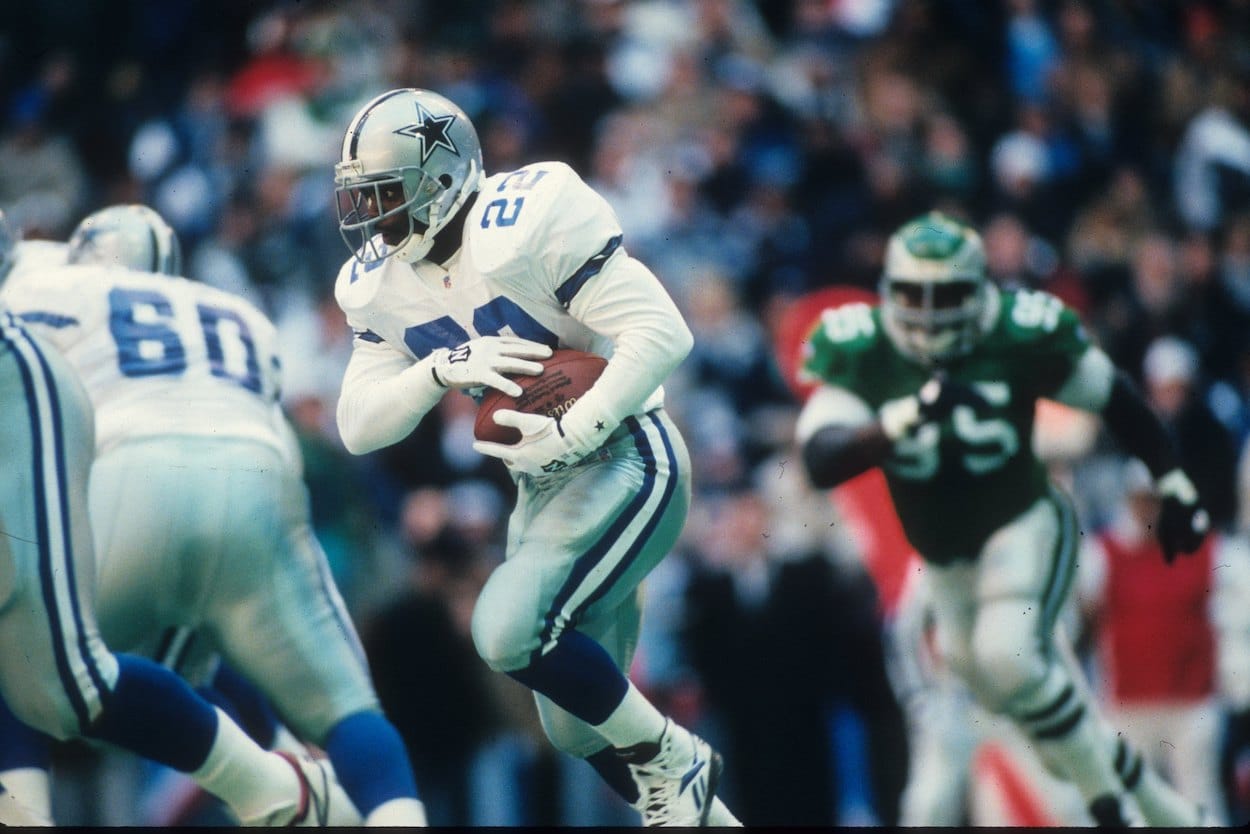 Starters
QB: 2019 Dak Prescott (337.8)
RB1: 1995 Emmitt Smith (414.8)
RB2: 2014 DeMarco Murray (351.1)
WR1: 1995 Michael Irvin (329.3)
WR2: 2014 Dez Bryant (316.0)
TE: 2007 Jason Witten (250.5)
FLEX: 2018 Ezekiel Elliott (329.1)
K: 2013 Dan Bailey (143.0)
Bench
2007 Tony Romo (295.3)
1986 Herschel Walker (312.4)
1985 Tony Dorsett (274.6)
2007 Terrell Owens (307.0)
2009 Miles Austin (278.8)
2021 Dalton Schultz (208.8)
1966 Dan Reeves (264.3)
2020 Greg Zuerlein (141.0)
Strongest Skill Position: Running back (No. 5)
Emmitt Smith? DeMarco Murray? Ezekiel Elliott? Herschel Walker? Tony Dorsett? Are you seeing these names? Enough said.
Weakest Skill Position: Quarterback (No. 22)
Between Roger Staubach, Troy Aikman, Tony Romo, and Dak Prescott, the Dallas Cowboys have had plenty of household names throughout their time as America's Team. But winning doesn't matter here — only fantasy points do — which is bad news for players who didn't rack up a disproportionate number of touchdowns or big downfield passes. Staubach played in a 14-game era in which his 23 touchdown passes led the league in 1973. Aikman only topped 20 scoring throws in a season once.
Current Threats: CeeDee Lamb
Without Amari Cooper in the picture, CeeDee Lamb should feast. The talented wideout is the clear-cut featured option for the Cowboys, and he has a chance to assert himself as one of the premier performers in the entire NFL. Considering Dak Prescott, Ezekiel Elliott, and Dalton Schultz are already on the roster, no one else is worth mentioning.
7. Los Angeles Chargers: 4,635.5 fantasy points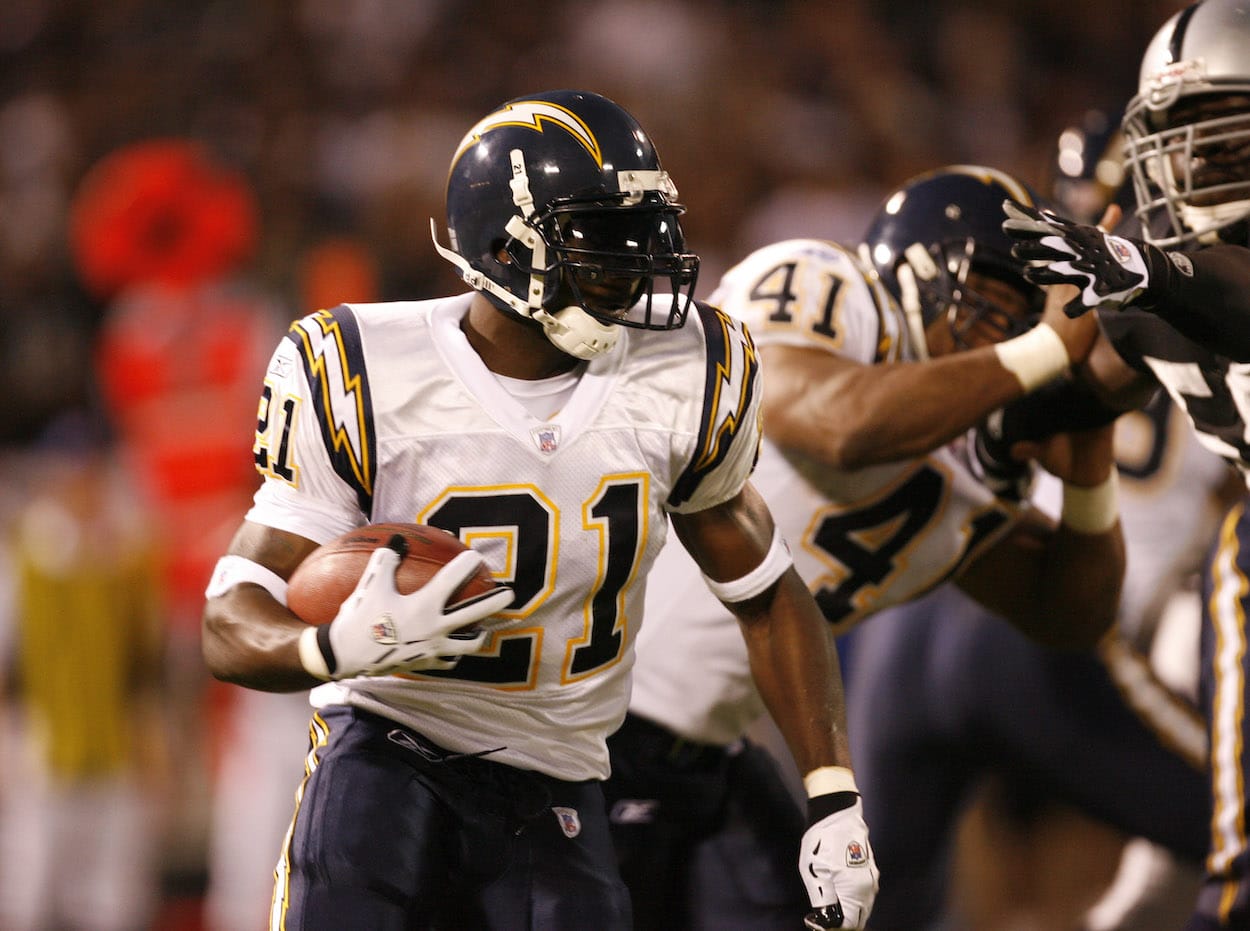 Starters
QB: 2021 Justin Herbert (380.8)
RB1: 2006 LaDainian Tomlinson (481.1)
RB2: 2021 Austin Ekeler (343.8)
WR1: 1965 Lance Allworth (310.0)
WR2: 1980 John Jefferson (295.6)
TE: 1980 Kellen Winslow (270.0)
FLEX: 1981 Chuck Muncie (302.7)
K: 2009 Nate Kaeding (152.0)
Bench
2013 Philip Rivers (287.4)
2017 Melvin Gordon III (288.1)
1985 Lionel James (279.3)
1996 Tony Martin (286.1)
2017 Keenan Allen (284.2)
2005 Antonio Gates (259.1)
1989 Anthony Miller (267.3)
2013 Nick Novak (148.0)
Strongest Skill Position: Running back and tight end (No. 4)
As much as we could wax poetic about the greatness of Kellen Winslow and Antonio Gates or the prolific stats earned by Austin Ekeler and the rest of the running backs, the focus has to be on LaDainian Tomlinson. His 2006 season remains the single greatest PPR fantasy season in NFL history regardless of position as he accumulated 1,815 yards and 28 touchdowns on the ground while catching 56 passes for 508 yards and another three scores.
Weakest Skill Position: Wide receiver (No. 15)
The Los Angeles Chargers kick off a new overall tier in the rankings, largely because they're strong across the board. Even their wide receivers fall into the top half of the positional pecking order due to the position's depth and lack of separation between the WR1 (Lance Allworth) and WR4 (Keenan Allen).
Current Threats: Mike Williams
Mike Williams has the big-play ability to capitalize on Justin Herbert's cannon of an arm, especially if Keenan Allen keeps struggling to remain healthy for the entirety of a campaign. Surpassing Anthony MIller's 1989 season would require a Herculean effort, but it's feasible given the talent of both the pass-thrower and the pass-catcher for this AFC West powerhouse.
6. Green Bay Packers: 4,666.0 fantasy points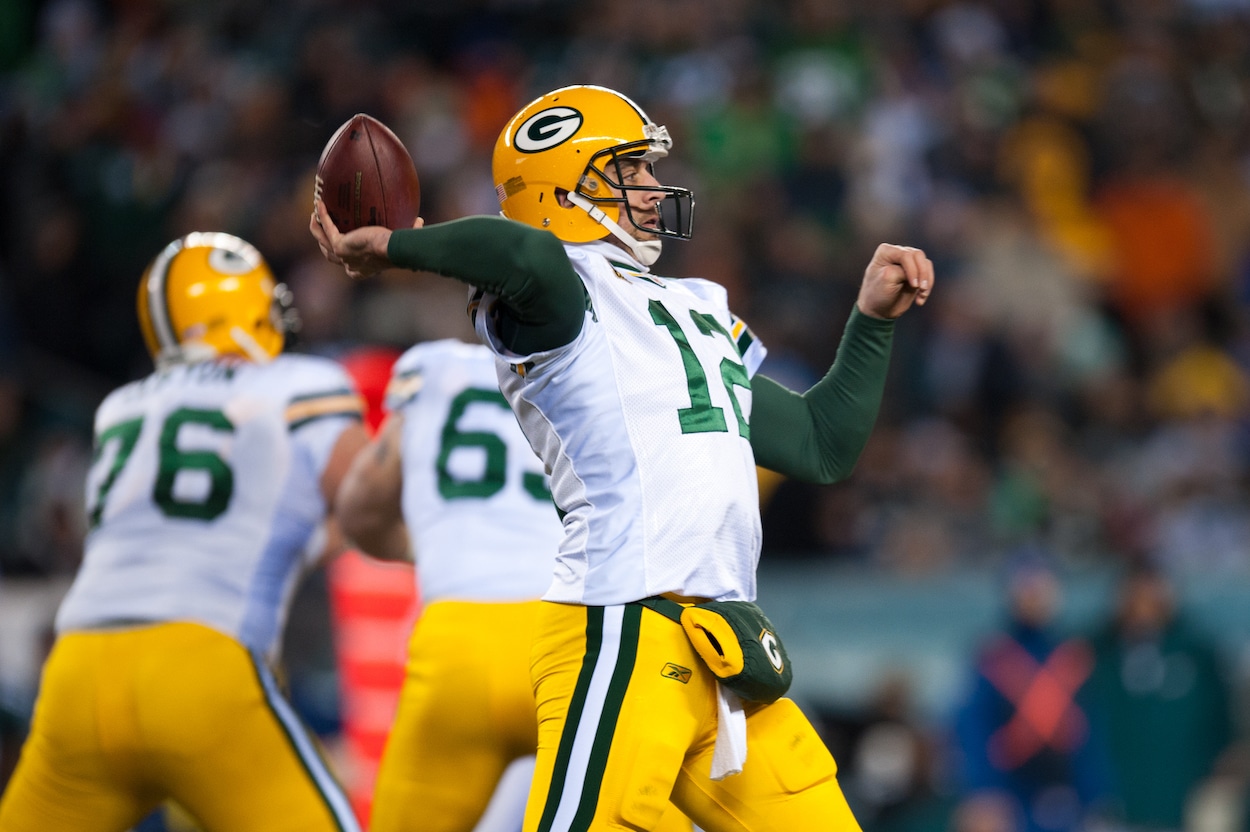 Starters
QB: 2011 Aaron Rodgers (397.4)
RB1: 2003 Ahman Green (385.0)
RB2: 2019 Aaron Jones (314.8)
WR1: 2020 Davante Adams (358.4)
WR2: 1995 Robert Brooks (331.8)
TE: 1983 Paul Coffman (200.4)
FLEX: 1992 Sterling Sharpe (330.9)
K: 2013 Mason Crosby (151.0)
Bench
1995 Brett Favre (330.6)
1960 Paul Hornung (306.5)
1997 Dorsey Levens (303.5)
2014 Jordy Nelson (327.9)
1998 Antonio Freeman (312.9)
2011 Jermichael Finley (179.7)
2004 Javon Walker (295.2)
1993 Chris Jacke (140.0)
Strongest Skill Position: Quarterback (No. 1)
To lead the — ahem — pack at quarterback, a franchise needs a legend both at starter and backup. The Green Bay Packers have exactly that with Aaron Rodgers and Brett Favre (and Lynn Dickey's 258.5 points in 1983 would make the cut for more than a few organizations). That duo is so superlative that it outpaces the second-place finisher by 15.7 points — almost as large as the gap between Nos. 2 and 6.
Weakest Skill Position: Tight end (No. 23)
If you've forgotten about Paul Coffman's career, you're forgiven. The three-time Pro Bowler peaked in 1983 with Lynn Dickey at quarterback, hauling in 54 passes for 814 yards and 11 touchdowns in 16 appearances. Those are strong numbers, but they're not ones that stand the test of time.
Current Threats: None
Aaron Rodgers and Aaron Jones are already starters in the all-time lineup. Are you betting on AJ Dillon somehow stealing the show early enough in the season to make a run at the FLEX spot on the bench? Do you think Romeo Doubs or Allen Lazard can capitalize on their opportunities playing with Rodgers to become franchise legends?
5. Minnesota Vikings: 4,760.7 fantasy points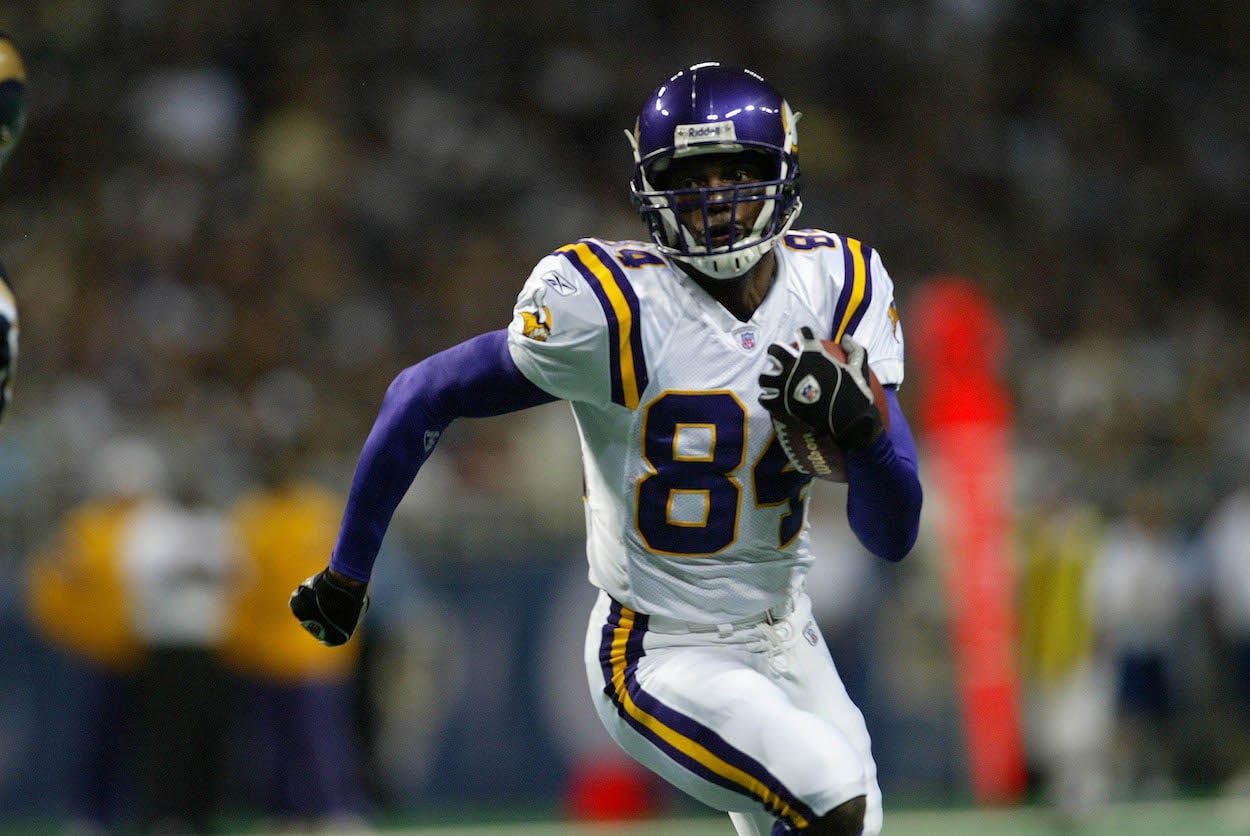 Starters
QB: 2004 Daunte Culpepper (371.3)
RB1: 1975 Chuck Foreman (369.1)
RB2: 2012 Adrian Peterson (347.4)
WR1: 2003 Randy Moss (376.0)
WR2: 1995 Cris Carter (361.1)
TE: 1981 Joe Senser (224.6)
FLEX: 2020 Dalvin Cook (337.8)
K: 1998 Gary Anderson (168.0)
Bench
2020 Kirk Cousins (306.2)
1981 Ted Brown (301.7)
1992 Terry Allen (297.9)
2021 Justin Jefferson (330.4)
2018 Adam Thielen (307.3)
2016 Kyle Rudolph (209.0)
1964 Bill Brown (291.9)
2012 Blair Walsh (161.0)
Strongest Skill Position: Wide receiver (No. 2)
Subjectively, this might be one of the most fun collections of talent at any position. Randy Moss and Cris Carter are both Hall of Famers despite drastically different playing styles. Adam Thielen has ridiculous hands and physicality to go along with his route-running prowess. Justin Jefferson may well become the best wide receiver in today's NFL thanks to his blend of physical attributes and intelligence in diagnosing a defense.
Weakest Skill Position: Tight end (No. 16)
It's hard to complain about the weakest position falling into the top half of the league — if only barely. Kyle Rudolph was dangerous enough during his prime years with the Minnesota Vikings, and Joe Senser was still (briefly) that much better in a career cut short by injuries. During his only season making 16 starts, the West Chester product went for 79 catches, 1,004 yards, and eight touchdowns en route to his first and last Pro Bowl appearance.
Current Threats: Irv Smith Jr.
Taking down Joe Senser and Kyle Rudolph is a difficult task, but the Vikings don't have any other realistic options. Justin Jefferson, Adam Thielen, Dalvin Cook, and Kirk Cousins are all already on the roster, and that eliminates just about every other choice unless you're unjustifiably bullish on Alexander Mattison 1) not getting traded and 2) taking over for Cook almost immediately.
4. San Francisco 49ers: 4,785.0 fantasy points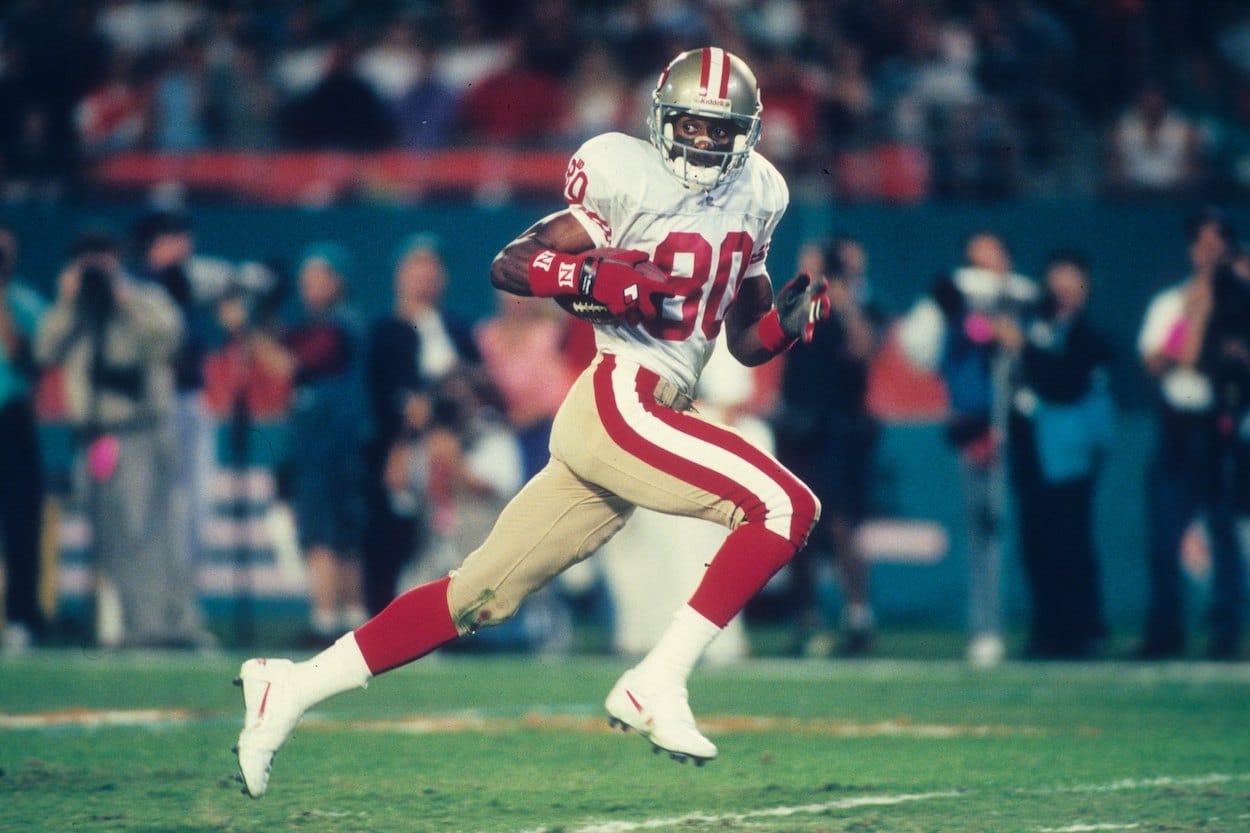 Starters
QB: 1998 Steve Young (364.2)
RB1: 1985 Roger Craig (383.6)
RB2: 2006 Frank Gore (323.0)
WR1: 1995 Jerry Rice (414.0)
WR2: 2021 Deebo Samuel (339.0)
TE: 2018 George Kittle (258.7)
FLEX: 2001 Terrell Owens (332.3)
K: 2011 David Akers (184.6)
Bench
2000 Jeff Garcia (340.5)
1995 Derek Loville (303.5)
2000 Charlie Garner (300.9)
1965 Dave Parks (285.4)
2012 Michael Crabtree (250.3)
2009 Vernon Davis (252.5)
1998 Garrison Hearst (299.5)
2017 Robbie Gould (153.0)
Strongest Skill Position: Quarterback and wide receiver (No. 4)
Breaking news: Steve Young and Jerry Rice were pretty good at the whole football thing. Of course, so was everyone else featured at these positions. Jeff Garcia may not be a Hall of Famer and may have more headlines dedicated to his feud with Mina Kimes than his play on the field lately, but he still threw for 4,278 yards and 31 touchdowns to make his first of four Pro Bowl appearances in 2000. You may also have heard of those Deebo Samuel, Terrell Owens, Dave Parks, and Michael Crabtree guys.
Weakest Skill Position: Running back (No. 8)
It's hard to criticize the San Francisco 49ers too much when each of the major positions falls into the top 10. (And for what it's worth, they rank No. 3 at the FLEX with Terrell Owens and Garrison Hearst and No. 2 at kicker with David Akers and Robbie Gould.) They do have the worst RB1 of the top four teams, though Roger Craig still tallied 1,050 rushing yards, 92 catches for 1,016 receiving yards, and 15 total touchdowns during the 1985 campaign.
Current Threats: Trey Lance
Breaking into the fray at wide receiver, running back, or tight end is nearly impossible for this organization, but Jeff Garcia is at least somewhat vulnerable. And while Trey Lance is a raw quarterback who will suffer through plenty of growing pains as he tries to maximize his dual-threat skills, he could have the sheer volume necessary to make a push — so long as high-salary backup Jimmy Garoppolo holds the clipboard rather than the pigskin all season.
3. Kansas City Chiefs: 4,788.1 fantasy points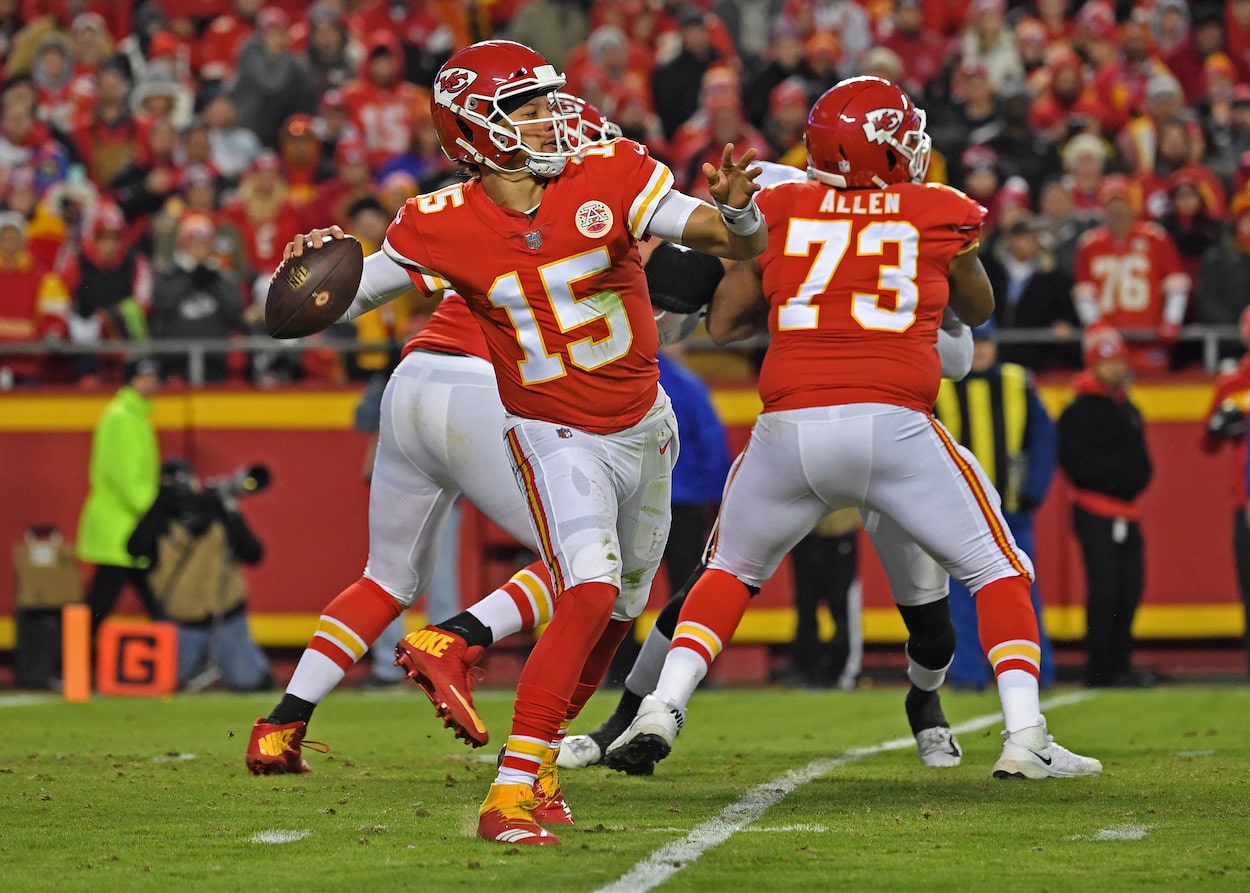 Starters
QB: 2018 Patrick Mahomes (417.1)
RB1: 2003 Priest Holmes (445.0)
RB2: 2013 Jamaal Charles (378.0)
WR1: 2018 Tyreek Hill (334.0)
WR2: 2000 Derrick Alexander (281.6)
TE: 2020 Travis Kelce (312.8)
FLEX: 2006 Larry Johnson (370.9)
K: 2019 Harrison Butker (153.0)
Bench
2017 Alex Smith (295.2)
1962 Abdner Haynes (311.2)
2017 Kareem Hunt (295.2)
2010 Dwayne Bowe (278.6)
1983 Carlos Carson (263.0)
2004 Tony Gonzalez (270.3)
2015 Jeremy Maclin (243.2)
1990 Nick Lowery (139.0)
Strongest Skill Position: Quarterback, running back, and tight end (No. 2)
Prior to the start of the Patrick Mahomes era in 2018, the Kansas City Chiefs' all-time fantasy lineup would have scored a total of 4,456 PPR points to fall in at No. 14 overall. And that lineup would still have included four players from the 2017 season. But in the last four years, they've added the top wide receiver in franchise history (Tyreek Hill), the top-scoring season by a quarterback in NFL history (Patrick Mahomes) to push the position to No. 2 overall, and the top season by a tight end in franchise history (Travis Kelce) to match the quarterback ranking.
Weakest Skill Position: Wide receiver (No. 18)
Even with Tyreek Hill taking up the WR1 spot, the Chiefs still lag a bit in this department. They've had plenty of second-tier options throughout their history, but Hill is the only one who wouldn't get laughed out of the room in a best-at-the-position debate.
Current Threats: JuJu Smith-Schuster
Patrick Mahomes and Travis Kelce are already featured, but the core got a big shakeup with Tyreek Hill's departure to the Miami Dolphins. If JuJu Smith-Schuster (or, in less likely scenarios, Skyy Moore, Marquez Valdes-Scantling, or Mecole Hardman) takes off as the No. 1 option, he could challenge Jeremy Maclin for the final FLEX position.
2. Indianapolis Colts: 4,801.9 fantasy points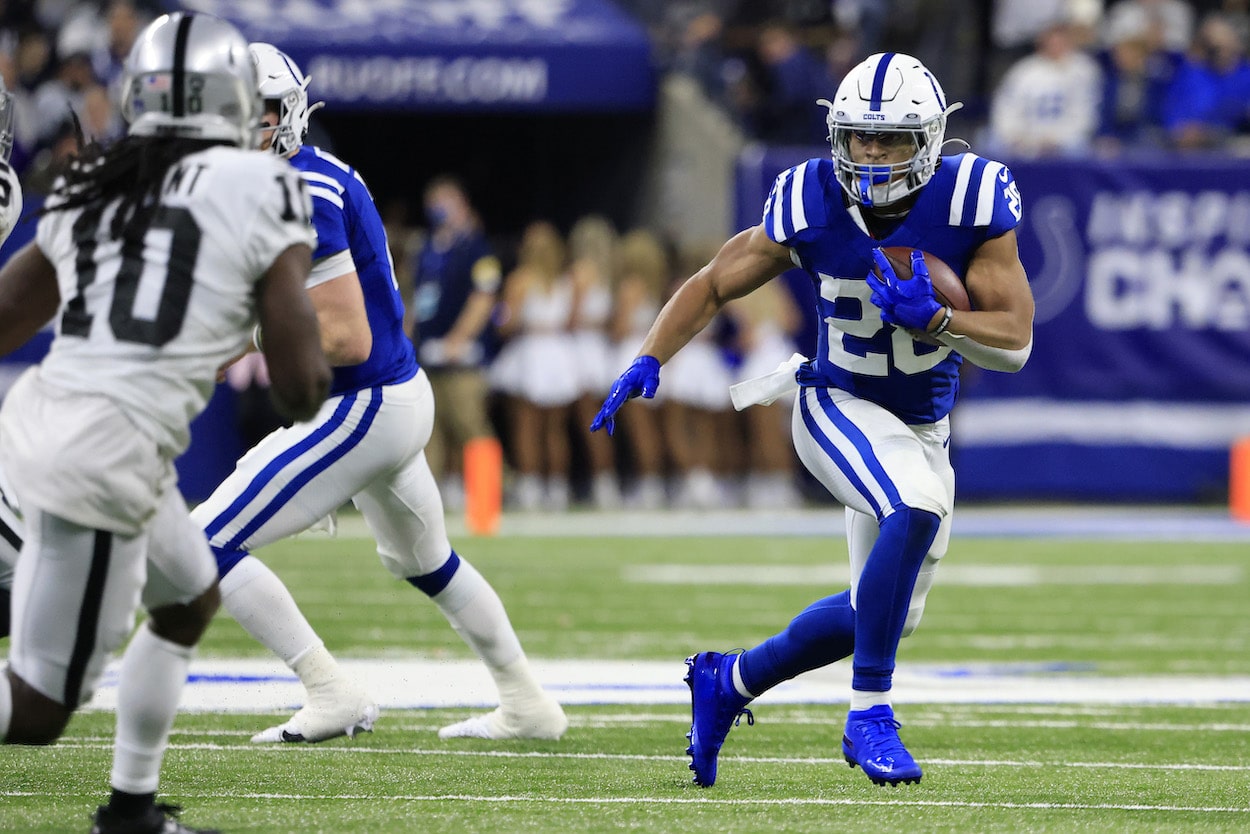 Starters
QB: 2004 Peyton Manning (360.1)
RB1: 2000 Edgerrin James (395.3)
RB2: 2021 Jonathan Taylor (373.1)
WR1: 2002 Marvin Harrison (384.2)
WR2: 2007 Reggie Wayne (309.4)
TE: 2009 Dallas Clark (271.7)
FLEX: 1998 Marshall Faulk (364.7)
K: 2003 Mike Vandervagt (159.0)
Bench
2014 Andrew Luck (351.7)
1988 Eric Dickerson (324.6)
1975 Lydell Mitchell (318.7)
2016 T.Y. Hilton (273.8)
1960 Raymond Berry (263.8)
2018 Eric Ebron (222.2)
1958 Lenny Moore (282.6)
2013 Adam Vinatieri (147.0)
Strongest Skill Position: Quarterback and running back (No. 3)
The names here are downright astounding. Edgerrin James, Jonathan Taylor, Eric Dickerson, and Lydell Mitchell all joined the 300-point club at running back, and that's with Marshall Faulk out of the equation as the starting FLEX. Peyton Manning and Andrew Luck, meanwhile, were two of the most talented signal-callers in league history.
Weakest Skill Position: Wide receiver (No. 10)
Unfortunately for the Colts, they suffer a significant drop-off after the dynamic Peyton Manning-aided duo of Marvin Harrison and Reggie Wayne. T.Y. Hilton and Raymond Berry were outstanding receivers, but they either fell a tier below (Hilton) or played in a less pass-happy era (Berry).
Current Threats: Matt Ryan, Michael Pittman Jr.
Taking down Andrew Luck will be challenging, but even a late-career version of Matt Ryan is capable of doing so if he immediately clicks with his new teammates in Indianapolis. Of course, doing so would also thrust Michael Pittman Jr. into the conversation at wide receiver since the third-year option is quite clearly going to serve as the No. 1 option for the AFC South contenders.
1. Los Angeles Rams: 5,030.7 fantasy points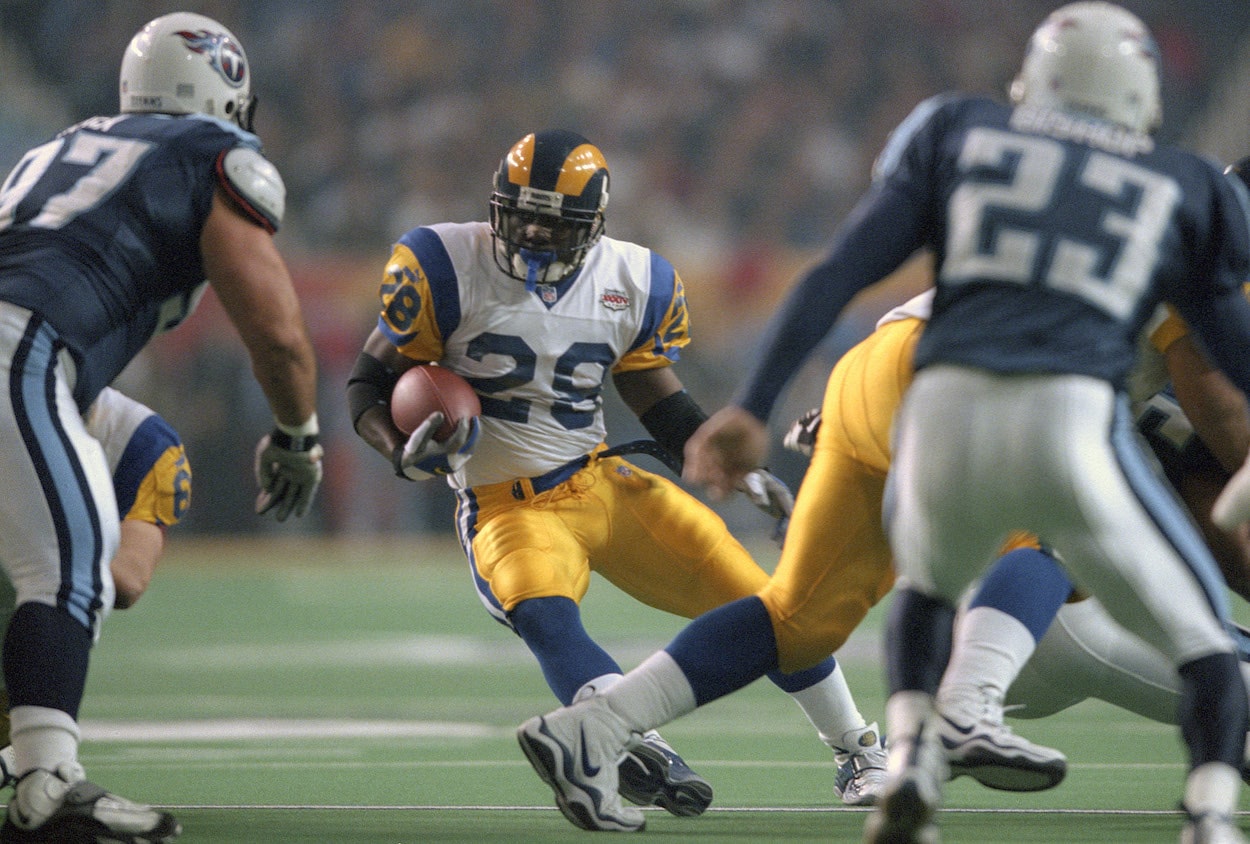 Starters
QB: 2021 Matthew Stafford (329.7)
RB1: 2000 Marshall Faulk (459.9)
RB2: 2006 Steven Jackson (415.4)
WR1: 2021 Cooper Kupp (439.5)
WR2: 1995 Isaac Bruce (376.8)
TE: 1962 Red Phillips (176.5)
FLEX: 2017 Todd Gurley (383.3)
K: 2003 Jeff Wilkins (171.7)
Bench
1999 Kurt Warner (319.3)
1983 Eric Dickerson (379.2)
1981 Wendell Tyler (287.0)
2003 Torry Holt (359.1)
1951 Elroy Hirsch (317.8)
2019 Tyler Higbee (160.4)
1988 Henry Ellard (285.1)
2017 Greg Zuerlein (170.0)
Strongest Skill Position: Running back and wide receiver (No. 1)
This is just unfair. Marshall Faulk only played 14 games in 2000 but managed to produce the third-best score by a running back in NFL history courtesy of 81 receptions, 2,189 yards from scrimmage, and a jaw-dropping 26 total touchdowns. Steven Jackson would've been the starter for almost every other organization, and the Rams sit at No. 1 even with a game-breaking Todd Gurley season relegated to the FLEX. At wide receiver, they have the top-scoring season ever thanks to Cooper Kupp, as well as ridiculous depth in the form of Isaac Bruce, Torry Holt, and Elroy Hirsch.
Weakest Skill Position: Tight end (No. 30)
Apparently, the Los Angeles Rams have dedicated so many touches to their wide receivers and running backs over the years that they've neglected the tight end position. Red Phillips and Tyler Higbee look out of place alongside the legends who populate the rest of this lineup.
Current Threats: None
With Matthew Stafford and Cooper Kupp already on the roster, there's not much room for other current members of the Rams. Fortunately for the defending Super Bowl champions, that's not really a problem and more a byproduct of the stacked lineup that checks in with the No. 1 group of starters, the No. 1 group of backups, the top set of kickers, and the leading pair of FLEX players.
Like Sportscasting on Facebook. Follow us on Twitter @sportscasting19.
RELATED: Who Is the Greatest Fantasy Football Player of the Super Bowl Era?