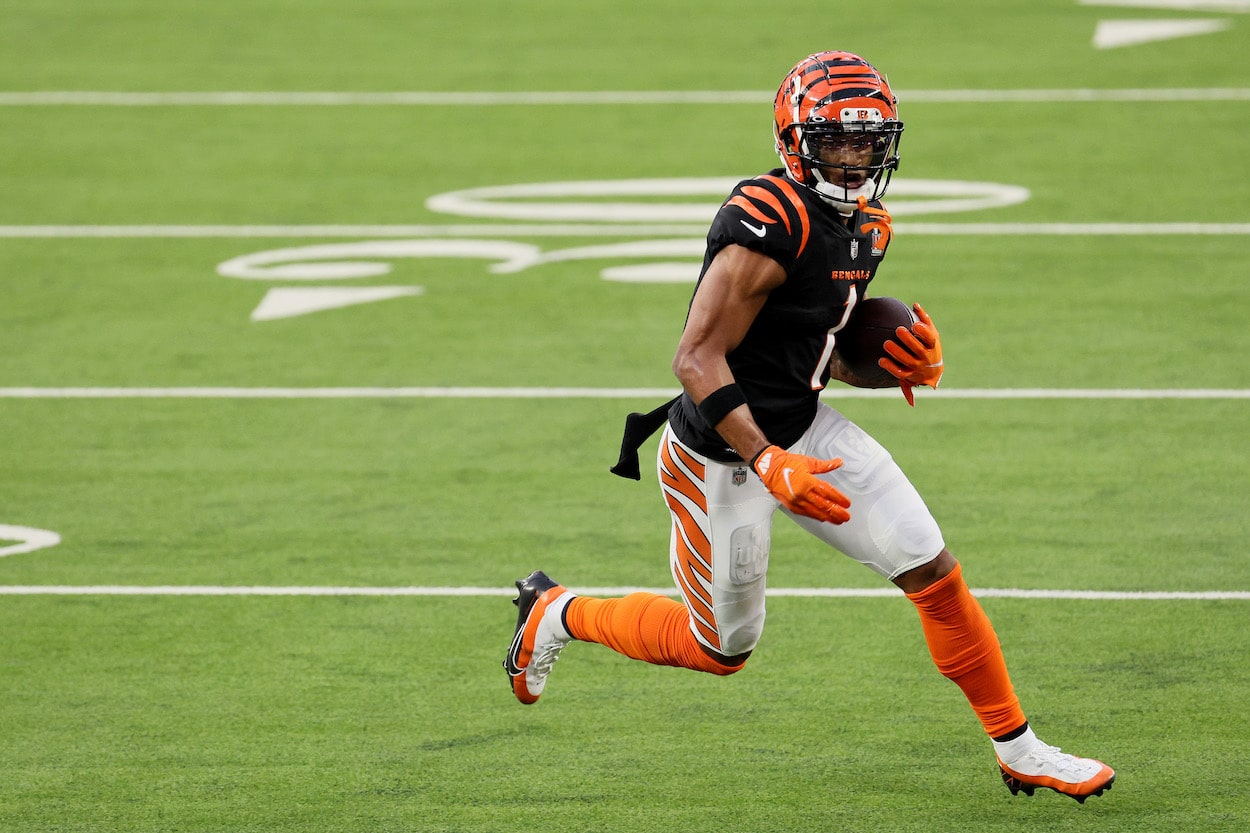 Who Will Be the Top Madden Wide Receivers by the End of 2022?
We've made our picks for the top 10 wide receivers when Madden ratings settle by the end — not the beginning — of the 2022 season.
Madden ratings are ubiquitous in the NFL world, at least partially due to the simplicity of assigning a single round number as the value of a player. But as the Madden 2023 marks make their way into the public consciousness of the football-watching (-eating, -sleeping, -breathing?) population, we're forced to confront an unfortunate reality for yet another year.
The ratings aren't perfect. It's true for quarterbacks. It's true for kickers. And it's true for the top Madden wide receivers vying to be the best of the best in the speed, route-running, and catching categories.
Well, we've got you covered.
The top 10 Madden wide receivers for the 2022 season may be out in preparation for the first edition of the legendary video game series with the iconic coach featured on the cover posthumously, but we'll tell you what they're actually going to look like by the end of the year based on expected progression and regression from the league's top pass-catching threats.
Top 10 Madden wide receivers heading into 2022
All types of wide receivers get recognized by Madden 2023, ranging from possession targets to slot options to deep threats who put pressure on defenses down the field.
Tyreek Hill has a 99 speed rating, which will make him a coveted option by everyone picking up the sticks, and he's also the lone wide receiver with 99 acceleration. Deebo Samuel's 80 strength leads the pack, and his 90 agility plays favorably but falls short of Hill's position-leading score of 98. Cooper Kupp and Davante Adams are the only two players with 99 awareness, and the same is true of their 99 catching scores.
Catch in traffic? Adams leads the pack again with a 99, narrowly edging out Mike Evans' 98 rating. Kupp earns the lone 99 for short route-running and leads the pack with 98 medium route-running, while Hill's 96 deep route-running is the top mark.
Oh, and if you're curious, Diontae Johnson is the positional leader in kicking accuracy, coming in at a remarkable 52.
It all adds up to create the top 10 overall ratings you can see below:
| Rank | Player | Team | Madden Rating | Age | Receptions | Receiving Yards | Receiving TDs |
| --- | --- | --- | --- | --- | --- | --- | --- |
| 1 | Davante Adams | Las Vegas Raiders | 99 | 29 | 123 | 1,553 | 11 |
| 2 | Cooper Kupp | Los Angeles Rams | 98 | 29 | 145 | 1,947 | 16 |
| 3 | Tyreek Hill | Miami Dolphins | 97 | 28 | 111 | 1,239 | 9 |
| 4 | DeAndre Hopkins | Arizona Cardinals | 96 | 30 | 42 | 572 | 8 |
| 5 | Stefon Diggs | Buffalo Bills | 95 | 28 | 103 | 1,225 | 10 |
| 6 | Justin Jefferson | Minnesota Vikings | 93 | 23 | 108 | 1,616 | 10 |
| 7 | Mike Evans | Tampa Bay Buccaneers | 92 | 28 | 74 | 1,035 | 14 |
| 8 | Terry McLaurin | Washington Commanders | 91 | 26 | 77 | 1,053 | 5 |
| 9 | Keenan Allen | Los Angeles Chargers | 91 | 30 | 106 | 1,138 | 6 |
| 10 | Amari Cooper | Cleveland Browns | 90 | 28 | 68 | 865 | 8 |
All stats from the 2021 NFL season
Projecting the top 10 Madden wide receivers by the end of 2022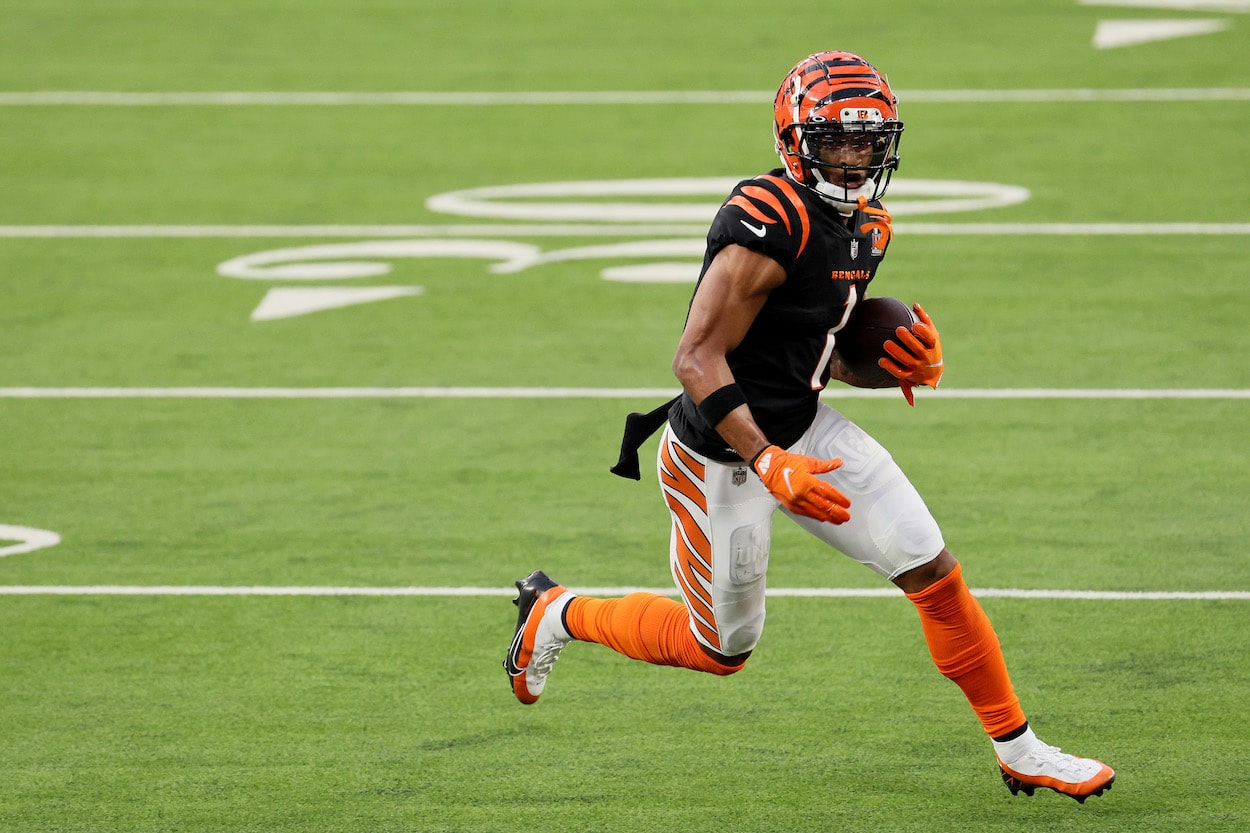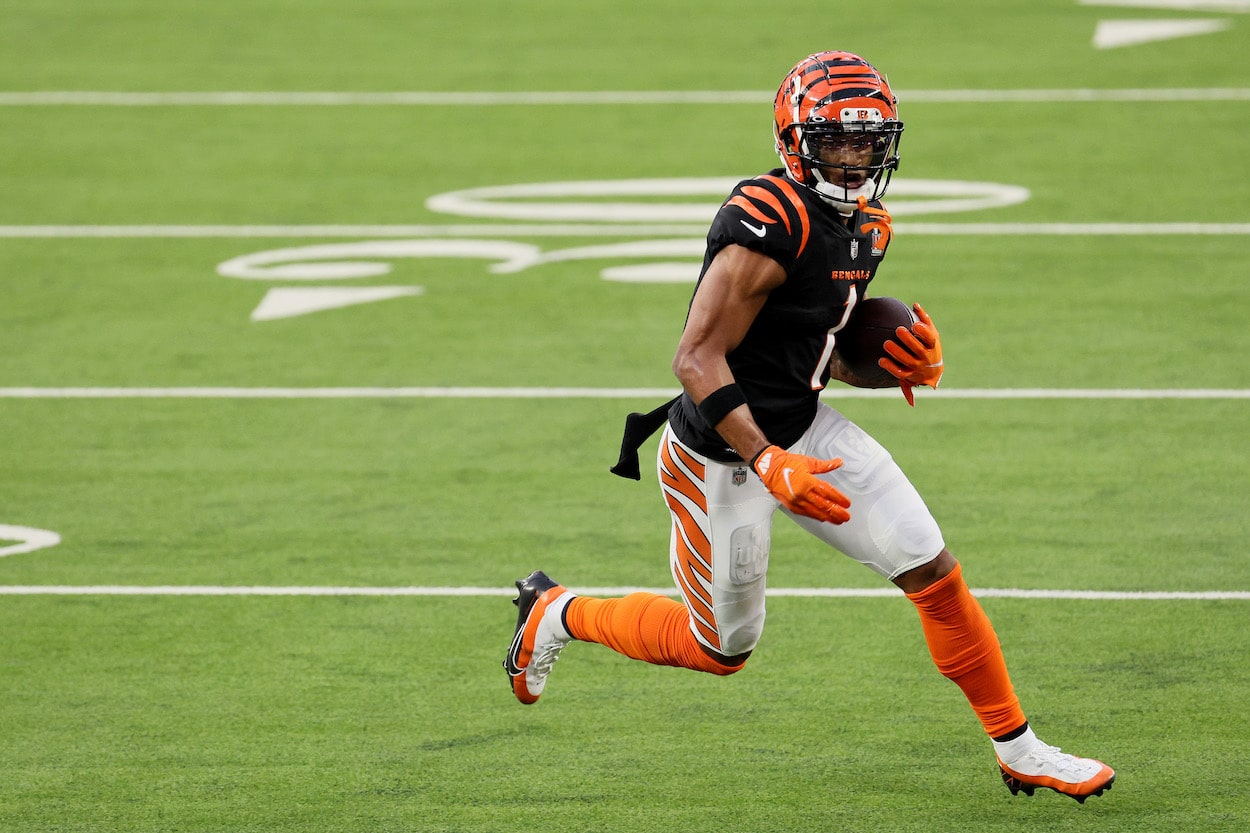 Honorable Mention: Michael Thomas, New Orleans Saints: 92 overall
Let's not forget just how good Michael Thomas is at the whole football thing. Madden itself hasn't, given his 90 overall rating, but that's still selling short the impact he's had for the New Orleans Saints whenever he's been on the field amid the myriad injuries — and bouts of drama — suffered over the last few years.
Thomas missed all of 2021 and more than half of the 2020 season with a prolonged ankle injury, but he remains a route-running genius who can dance himself open against any style of coverage and has the sure hands and physicality necessary to make contested catches.
He led the league in receptions (149) and receiving yards (1,725) during his last fully healthy season in 2019, and he'll be on the right side of 30 throughout the 2022 campaign.
10. CeeDee Lamb, Dallas Cowboys: 93 overall
Though the actual rankings have CeeDee Lamb buried down in the overall standings with an 85 rating, the 23-year-old will quickly emerge as a premier option for Dak Prescott — outpacing former teammate Amari Cooper in the process.
Lamb has experience both in the slot and lined up out wide, and he has the yards-after-catch skill to thrive even when he's not pulling down heavily contested catches well beyond the line of scrimmage.
With Cooper off to the Cleveland Browns' uncertain quarterback situation, he should emerge as the obvious No. 1 option in Dallas while still receiving sufficient coverage protection from Michael Gallup, James Washington, and Dalton Schultz.
9. Mike Evans, Tampa Bay Buccaneers: 93 overall
In case you didn't hear, Tom Brady unretired and rejoined the Tampa Bay Buccaneers during the 2022 offseason. That, of course, means Mike Evans will continue to display the chemistry that allowed him to maintain his status as a premier red-zone threat throughout the 2021 season.
You shouldn't need to be sold on his place within the top 10, though his actual 92 rating speaks to his perpetual underrated — if only slightly — status.
8. Deebo Samuel, San Francisco 49ers: 94 overall
If Madden ratings for wide receivers focused only on receiving skills, Deebo Samuel would be a justifiable exclusion from the top 10. But they don't, so he's not. (The same is true for potentially ongoing contract disputes.)
His 89 overall rating leaves him behind the actual top 10, as well as Michael Thomas (90), Tyler Lockett (90), Chris Godwin (89), and DK Metcalf (89). Frankly, that's absurd when he's 26 years old and coming off a season in which he compiled 1,770 yards from scrimmage and 14 total touchdowns even as the San Francisco 49ers were still figuring out the best way to optimize his dizzyingly wide array of skills.
7. DeAndre Hopkins, Arizona Cardinals: 95 overall
Though DeAndre Hopkins won't be on the field for a minimum of six games following a positive PED test during the offseason (and isn't a sure thing to remain healthy even when he does return to action), that won't take away from his overall skill level.
Hopkins might not produce the same season-long numbers his competitors will rack up throughout 2022, but he'll still leave plenty of viewers convinced that he coats the outside of his gloves with glue. His hands remain that good, and his footwork around the boundaries is on a similar level.
6. Tyreek Hill, Miami Dolphins: 95 overall
What happens when Tyreek Hill no longer gets to flash his eye-popping speed while on the receiving end of long bombs from Patrick Mahomes' bazooka of a right arm? He should still look the part of an elite wide receiver, especially given how much he's evolved from a pure deep threat to a target who can play like a possession receiver and move the sticks.
Still, the downgrade from Mahomes to Tua Tagovailoa (or Teddy Bridgewater) is sizable. Hill will have to do more for himself without a quarterback who can capitalize on the full extent of his speed, which should still make for a terrific campaign, albeit with fewer of the entertaining, game-breaking plays for which he's become known.
5. Ja'Marr Chase, Cincinnati Bengals: 95 overall
Let's not beat around the bush: Ja'Marr Chase was rather easily the biggest snub from Madden's original list. Not only did he find himself outside the top 10, but his 87 overall rating placed him at No. 20 in the positional pecking order with the same numerical grade enjoyed by A.J. Brown and Brandin Cooks.
Well, while Brown and Cooks might be able to enjoy that mark, Chase should be downright insulted after a rookie year that resulted in rave reviews, as well as 81 catches for 1,455 yards and 13 touchdowns in the regular season before he posted big numbers during the Cincinnati Bengals' march to the Super Bowl.
Chase is already a candidate to be known as the NFL's deadliest deep threat, and he should make magic happen in Year 2 alongside a version of Joe Burrow entering the upper echelons of the league's quarterback hierarchy. Gone are the days when his preseason drop issues threatened to curtail the (justified) hype.
4. Stefon Diggs, Buffalo Bills: 97 overall
Somehow, Madden is still selling Stefon Diggs short despite granting him a spot within the top five.
Not only does he excel at creating opportunities for Josh Allen when the burly quarterback is on the move and improvising outside the pocket, but he's also a top-notch route-runner whose skills with his feet are always on full display. Diggs can haul in tough catches on the sidelines while monitoring his proximity to white space, he can take advantage of a sprawling route tree that leaves defenders baffled, and he can execute quick plays around the line of scrimmage.
He's a complete package who deserves every penny of his new $104 million extension.
3. Davante Adams, Las Vegas Raiders: 97 overall
Davante Adams is coming off yet another ridiculous season and might be the NFL's best wide receiver at creating separation. If you need a first down, he's a great bet regardless of the situation.
But even the best wide receivers are dependent on quarterbacks having the ability to get them the ball, and that's where it's hard to buy Adams maintaining his 99 overall rating no matter how good his pure skill set may be. Going from Aaron Rodgers to Derek Carr is a big deal even if you're of the belief — which is the case here — that the latter is an underrated signal-caller whose ability tends to fly under the radar.
2. Justin Jefferson, Minnesota Vikings: 98 overall
Is this a bold call? Maybe, but Justin Jefferson's well-rounded play is deserving of it.
The explosive wide receiver has more than answered critics who claimed that he might struggle against press-man coverage, and it's now virtually impossible to find even a single scenario in which he can't thrive.
After leading the league in yards per touch (14.3) during his sophomore campaign, Jefferson should be on to even bigger and better things. He's one of the few wideouts who feels like a reliable candidate to record double-digit touchdowns because of his explosion from all areas of the field and ability to haul in contested targets within the red zone.
Oh, and the Minnesota Vikings' offensive system is shifting in his favor.
1. Cooper Kupp, Los Angeles Rams: 99 overall
Breaking news: The 29-year-old receiver going into Year 2 with a gun-slinging veteran quarterback deserves to be atop the pile after earning the receiving Triple Crown during the 2021 season.
Cooper Kupp paced all of football with 145 catches for 1,947 yards and 16 touchdowns while operating as the top option within the Los Angeles Rams' championship-winning offense, and he's got a good chance to do exactly that once again. No one is better at reading a defense and exhibiting the athletic ability and body control necessary to capitalize, which is why Kupp can often make it seem as if his man just neglected to cover him on any given play.
Now, for the full projected top 10 Madden wide receivers by the end of the 2022 NFL season:
| Projected Rank | Player | Team | Projected Rating | Age | Projected Receptions | Projected Yards | Projected TDs |
| --- | --- | --- | --- | --- | --- | --- | --- |
| 1 | Cooper Kupp | Los Angeles Rams | 99 | 29 | 121 | 1,553 | 12 |
| 2 | Justin Jefferson | Minnesota Vikings | 98 | 23 | 101 | 1,485 | 9 |
| 3 | Davante Adams | Las Vegas Raiders | 97 | 29 | 105 | 1,299 | 9 |
| 4 | Stefon Diggs | Buffalo Bills | 97 | 28 | 101 | 1,246 | 9 |
| 5 | Ja'Marr Chase | Cincinnati Bengals | 95 | 22 | 89 | 1,359 | 10 |
| 6 | Tyreek Hill | Miami Dolphins | 95 | 28 | 92 | 1,144 | 8 |
| 7 | DeAndre Hopkins | Arizona Cardinals | 95 | 30 | 59 | 730 | 6 |
| 8 | Deebo Samuel | San Francisco 49ers | 94 | 26 | 71 | 1,062 | 6 |
| 9 | Mike Evans | Tampa Bay Buccaneers | 93 | 28 | 83 | 1,152 | 11 |
| 10 | CeeDee Lamb | Dallas Cowboys | 93 | 23 | 92 | 1,226 | 8 |
Projected receiving stats for 2022 season courtesy of FantasyPros
The biggest sleepers to break into the top 10 Madden wide receivers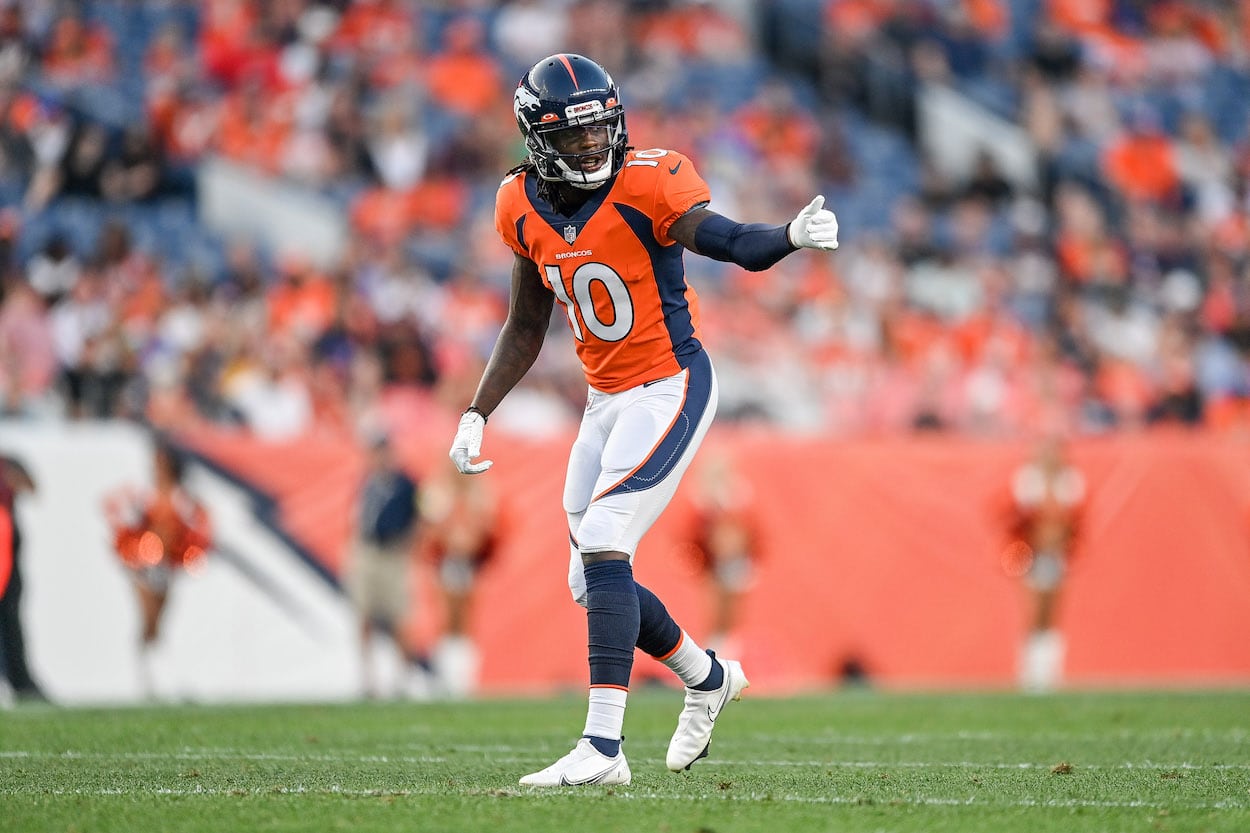 We knocked Terry McLaurin (91), Keenan Allen (91), and Amari Cooper (90) out of the rankings, and any one of them could easily justify the original top-10 spot by the end of the year. Michael Thomas (90), Tyler Lockett (90), Chris Godwin (89), DK Metcalf (89), Adam Thielen (88), DJ Moore (88), A.J. Brown (87), and a few more notable names are reasonable options, as well.
But let's dig deeper.
Maybe not as deep as a member of this year's rookie class — see: Jameson Williams (78), Chris Olave (76), Garrett Wilson (76), Drake London (75), and Jahan Dotson (75) — but deep enough that we're getting reasonably bold.
Though Jerry Jeudy came in at 82 overall, which leaves him well outside the initial top 10, he has a chance to skyrocket now that he's operating alongside Russell Wilson for the Denver Broncos.
Quarterbacks in the Mile High City had an awfully difficult time capitalizing on his downfield talents throughout the first two years of his professional career, but no such problems should exist now that he'll be on the receiving end of one of the game's best — and prettiest — deep balls.
Similarly, Jaylen Waddle (84) should benefit from an offseason personnel change made by the Miami Dolphins.
New head coach Mike McDaniel should have all sorts of fun capitalizing on the young wideout's elite speed, scheming him open all over the field and taking advantage of the over-the-top pressure put on defenses by Tyreek Hill. Training with Wes Welker can only help a receiver who has thrived around the line of scrimmage, as well.
Neither youngster has done enough to justify a spot anywhere near the top 10 at this early stage, but that will change quickly as the 2022 season takes shape.
Madden ratings courtesy of EA Sports.
Like Sportscasting on Facebook. Follow us on Twitter @sportscasting19 and subscribe to our YouTube channel.