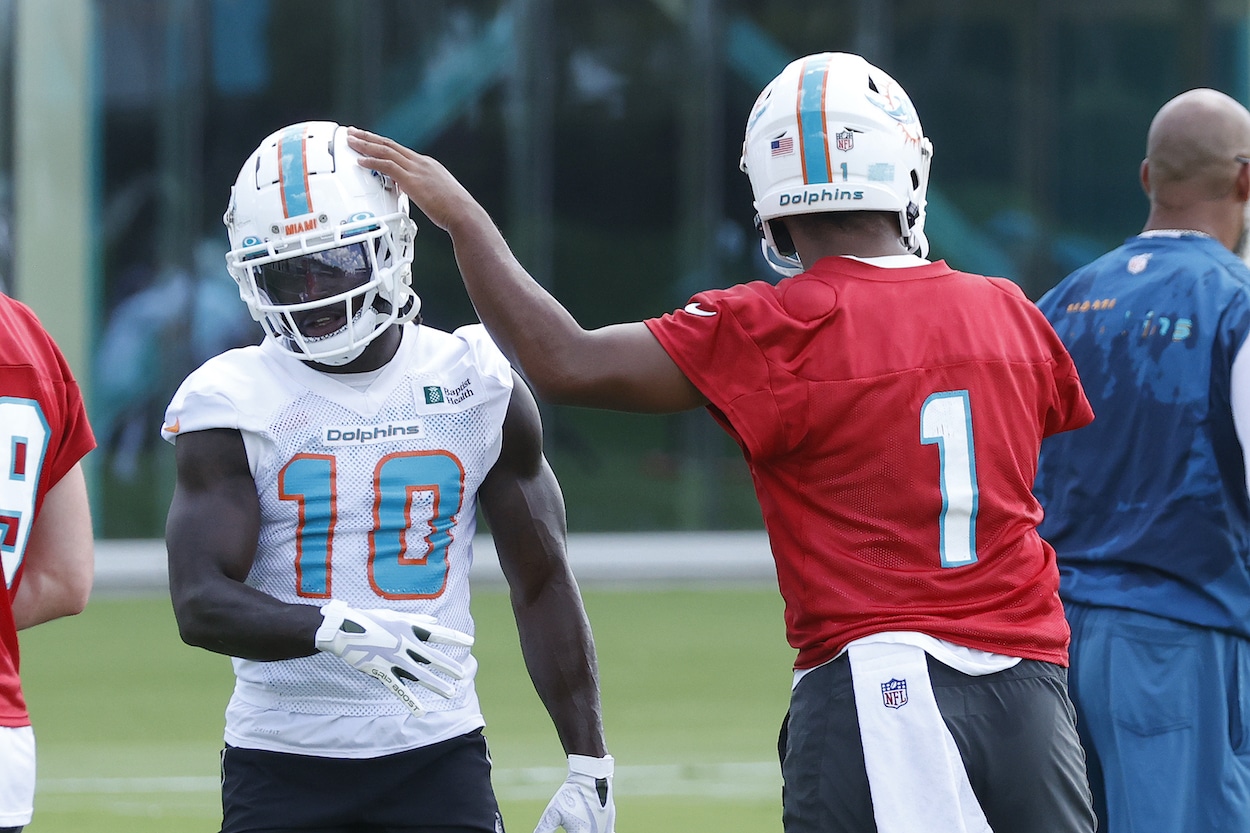 Tyreek Hill Praises Tua Tagovailoa and Slights Patrick Mahomes in 1 Surprising Sentence
Tyreek Hill says Patrick Mahomes isn't as accurate as Tua Tagovailoa.
NFL fans raised their eyebrows in unison when the Kansas City Chiefs decided to trade Pro Bowl wide receiver Tyreek Hill to the Miami Dolphins back in March. Why would the Chiefs want to say goodbye to one of the most electrifying playmakers in the league, and why would Hill want to downgrade from Patrick Mahomes to Tua Tagovailoa?
Well, the WR recently answered that question by surprisingly declaring Tagovailoa is a more accurate quarterback than Mahomes.
Tyreek Hill says Tua Tagovailoa is more accurate than Patrick Mahomes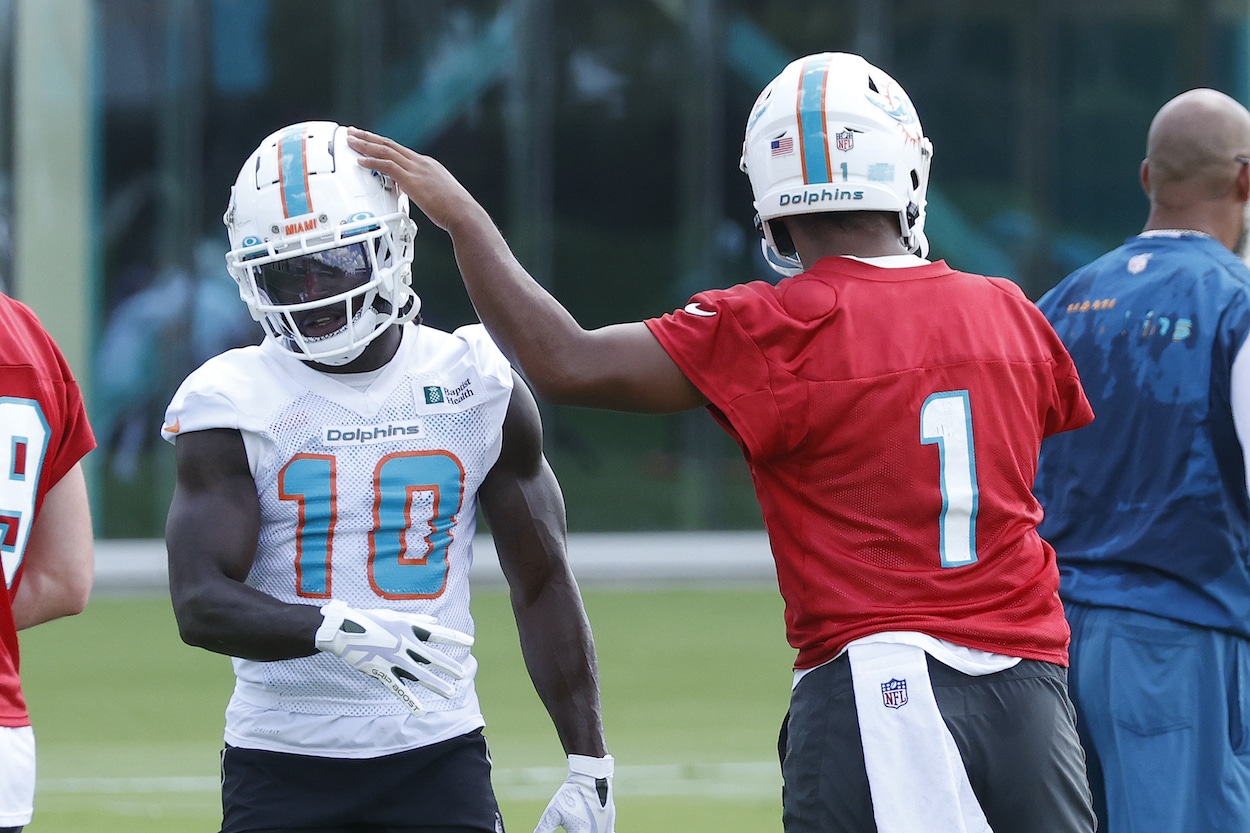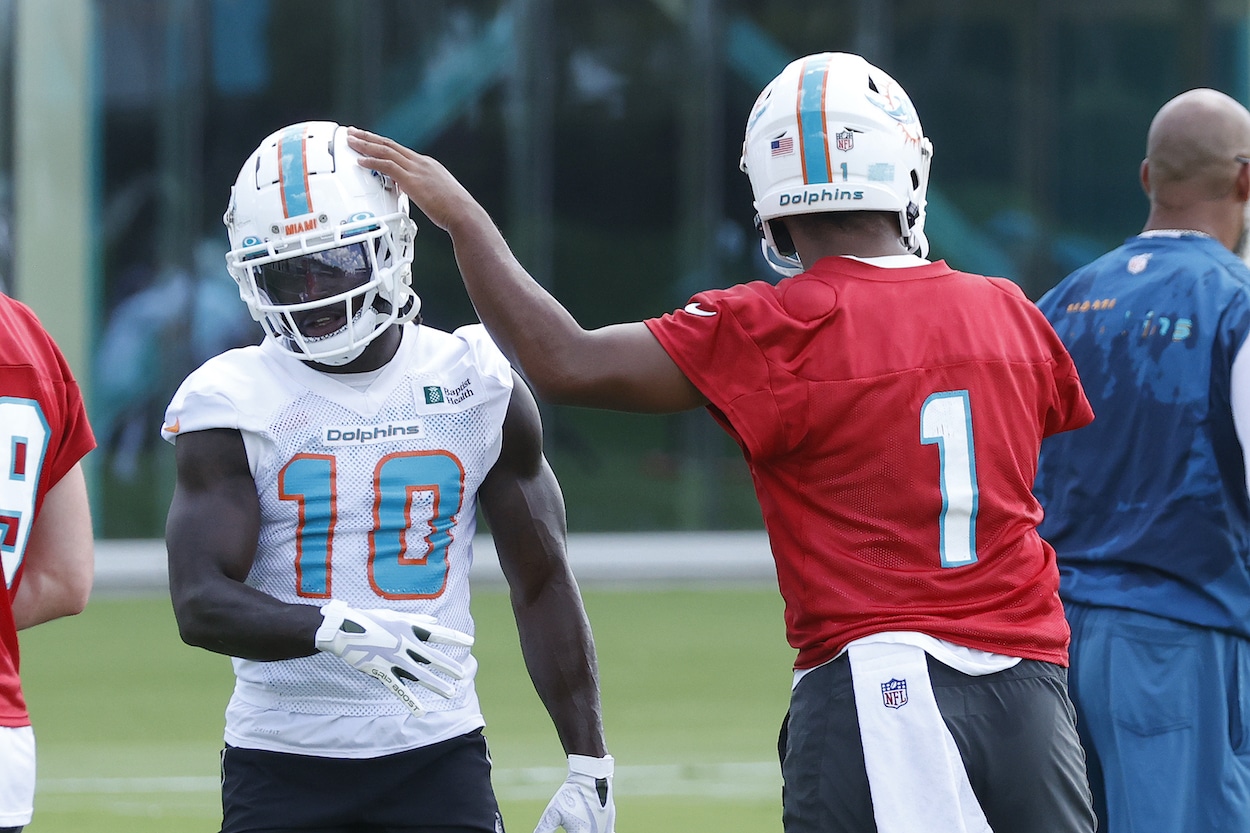 Mahomes is arguably the most talented quarterback in the NFL today. His ability to chuck the ball 70 yards in the air and complete passes from multiple arm angles is unlike anything we've ever seen in this league.
Tagovailoa, on the other hand, is a promising, young talent still trying to prove he has what it takes to be a franchise QB.
Hill has now caught passes from both gun-slingers, and he doesn't think Tagovailoa gets enough credit for his talent.
"I've had a chance to see Tua [Tagovailoa] throw the ball, to myself, but he's that dude, bro," Hill said on the first episode of his podcast, It Needed to Be Said (h/t Pro Football Talk). "Like, what a lot of people don't know, like, I'm not just saying this because he's my quarterback now… like, I'm not trying to get more targets right now, but what I'm trying to say is Tua is that deal, bro… he has a heck of an arm, bro. He's accurate. He can throw the deep ball, and he actually goes through his reads, where people are like on Twitter like saying, 'Oh, he doesn't go through his reads.' Man, this dude is that dude."
When asked to compare Tagovailoa to his old signal-caller, Hill made a surprising revelation.
"Obviously, like I'm gonna go with 15 (Mahomes) as the strongest arm, but as far as accuracy-wise, I'm going with Tua all day," Hill said.
It's a controversial take on the surface, but the stats actually back up Hill's words.
Tagovailoa is statistically more accurate than Mahomes
It feels wrong to say Tagovailoa does anything better than Mahomes on the football field, but it's true. He was a more accurate passer than the former MVP in nearly every statistical category last season.
See for yourself:
| | | |
| --- | --- | --- |
| 2021 Statistic | Tua Tagovailoa | Patrick Mahomes |
| Completion percentage | 67.8% | 66.3% |
| Poor throws | 62 | 118 |
| Poor throw percentage | 16.3% | 18.8% |
| On-target throw percentage | 80.1% | 77.5% |
Mahomes blows Tagovailoa away in yards and touchdowns, but Hill is now about to catch passes from the most accurate QB he's ever had. Don't expect the speedster's production to fall off too much going from Mahomes to Tagovailoa in 2022.
Like Sportscasting on Facebook. Follow us on Twitter @sportscasting19.