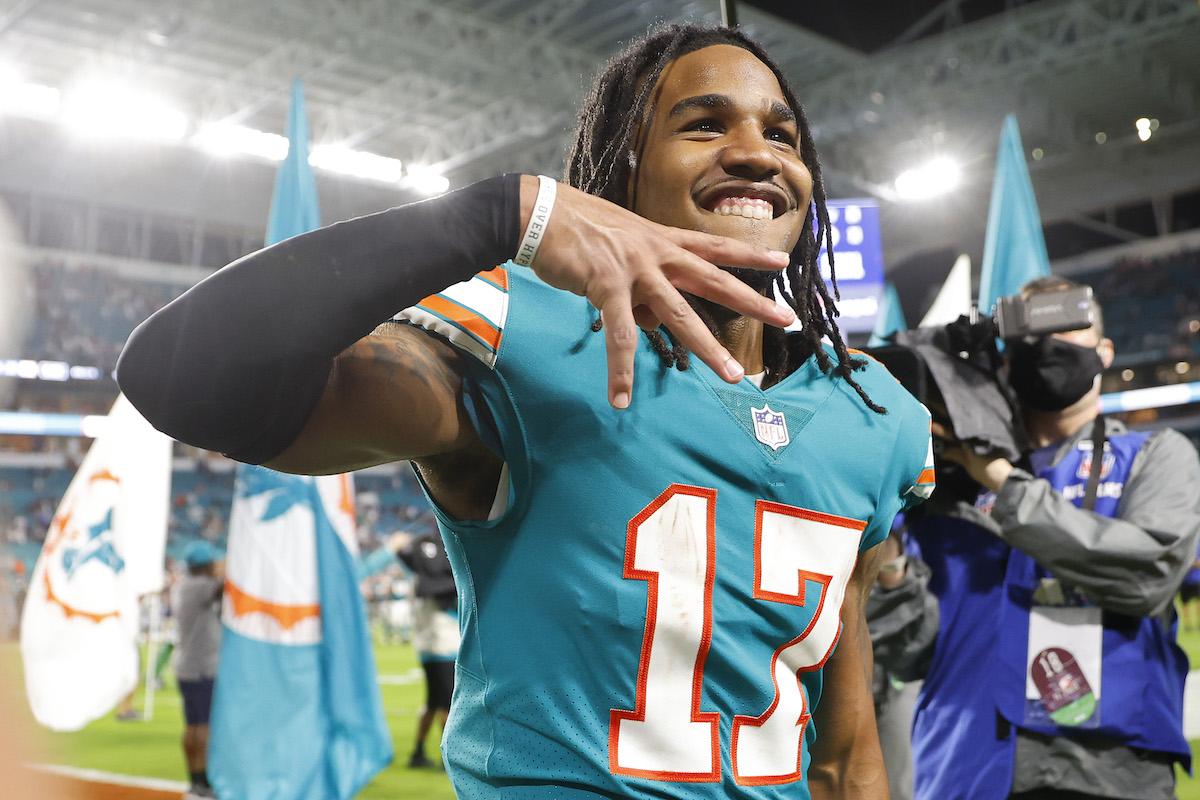 Dolphins News: Jaylen Waddle Could Break Out Alongside Wes Welker
Jaylen Waddle thrived as a rookie for the Miami Dolphins. Now that he's working with Wes Welker, the sky could be the limit.
File this one away under positive Miami Dolphins news: Jaylen Waddle, coming off a stellar rookie season that flew at least somewhat beneath the radar due to the success of other first-year receivers since as the Cincinnati Bengals' Ja'Marr Chase, is primed to take his game to that proverbial next level as a sophomore.
The No. 6 overall pick of the 2021 NFL Draft finished his inaugural campaign with 104 catches for 1,015 yards and six touchdowns, also scampering in for a score on the ground during a Week 11 contest against the New York Jets. Only seven players caught more passes as he hauled in enough receptions from quarterback Tua Tagovailoa to displace Anquan Boldin (101 in 2003) and set the rookie record in that category.
Plenty more catches are coming, and the organization's new wide receivers coach is jazzed.
"That kid is top-notch. Ton of talent. Speed. Passion for the game. That's what you want to work with," Wes Welker said about the Alabama product, per Joe Schad of the Palm Beach Post on Twitter. "I'm excited to work with him and hopefully take him to the next level."
Welker, a three-time receptions leader and proud owner of a dozen-year career in which he excelled as a threat over the middle of the field and out of the slot, would know.
At 5-foot-9, 185 pounds during his playing career, the five-time Pro Bowler has a similar frame to Waddle, who's listed at 5-foot-10, 182 pounds. And while the younger receiver is far more dangerous after the catch, the two are at least somewhat comparable in the way they approach their routes, both relying on quickness off the snap and route-running acumen to create separation out of the slot and in tight areas.
Welker may only be 40 years old, but he already has three years of experience working under San Francisco 49ers head coach Kyle Shanahan as a wide receivers coach.
You need only look at Deebo Samuel's growth to see how effective he was in that role, and the San Francisco receiver himself is only too happy to sing his former coach's praises even after Welker implemented a training regimen that involved Samuel pushing past the point of fatigue to improve his conditioning.
"Wes Welker. How he helps us with install. How he goes over the install with us. Just hearing how he talks about things that could actually help," Samuel told Niners Nation's Kyle Posey when asked who he thinks could follow in Mike McDaniel's footsteps as the next up-and-coming coach. "I think he makes it relatable. He's been in the league for a long time and seen a lot of plays. I think it's just the mindset that he has."
Let's not overlook the fact Welker joined McDaniel, the new Miami head coach, in that cross-country journey to a new franchise. Continuity, even if it comes in the unorthodox form of a mutual departure and arrival, typically aids development.
Waddle might be next in line to reap the benefits of the Welker tutelage, especially if the two can figure out more creative ways to get the former the ball rather than relying on short target after short target.
Still just 23 years old, Waddle is clearly in possession of elite physical tools. He has a strong connection with former Alabama teammate Tagovailoa, who, for all the trade rumors and uncertainty about his long-term status in Miami, delivers an on-target football when he's in rhythm. McDaniel clearly believes in the young YAC threat, citing him as the player he can get more out of and claiming "I would start him in fantasy," per Barry Jackson of the Miami Herald.
Everything points toward a stellar sophomore campaign for the Dolphins wide receiver, who might make his laudable rookie production look minuscule going forward.