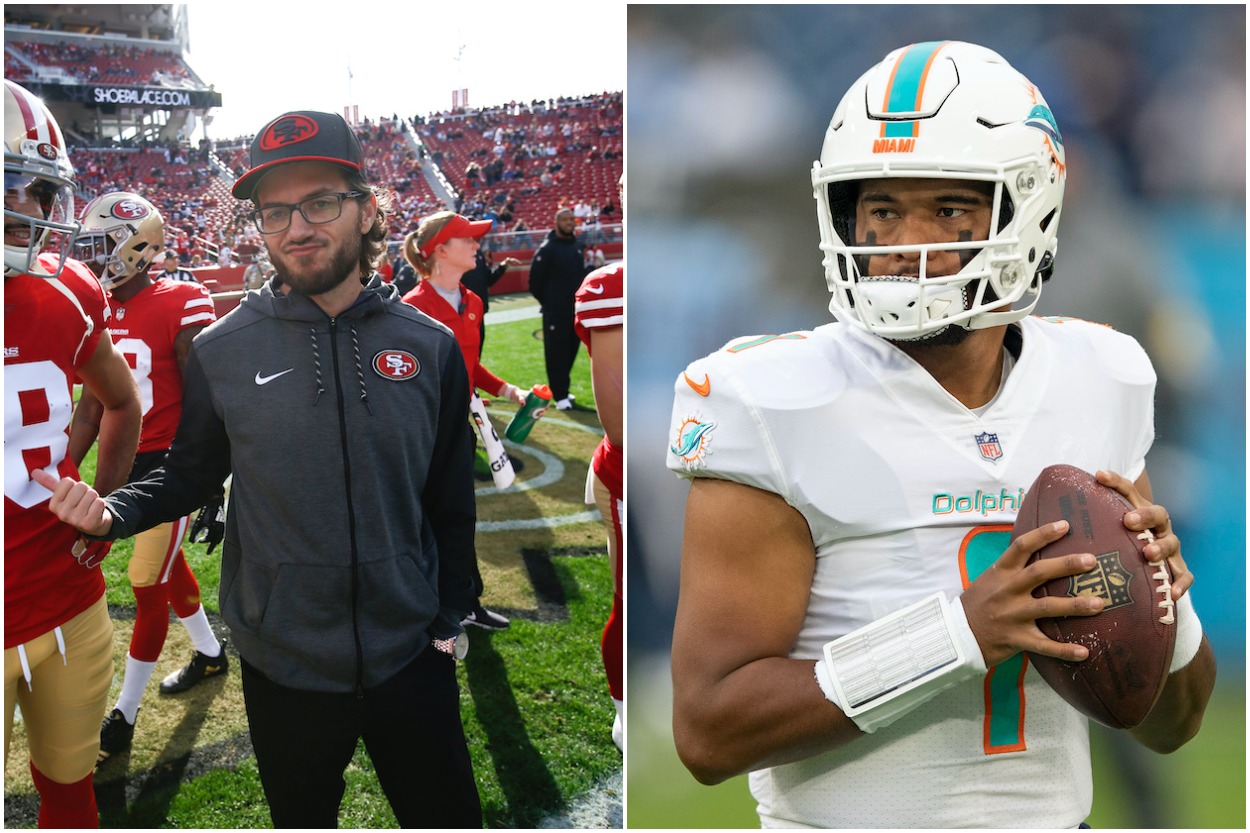 New Dolphins Head Coach Mike McDaniel's First Message to Tua Tagovailoa
Mike McDaniel is prepared to "get all that greatness" out of Tua Tagovailoa as the new head coach of the Miami Dolphins.
Mike McDaniel has been the head coach of the Miami Dolphins for only a few days, but he's already reached out to starting quarterback Tua Tagovailoa personally and offered him a promise for his first year in charge.
Tagovailoa's future in Miami is very much a question mark. He has two more seasons left to prove he deserves a contract extension in 2024, but based on his first conversation with McDaniel, the young QB is expected to quickly realize his massive potential and put a stranglehold on the starting job for years to come.
Mike McDaniel joins the Dolphins as their new head coach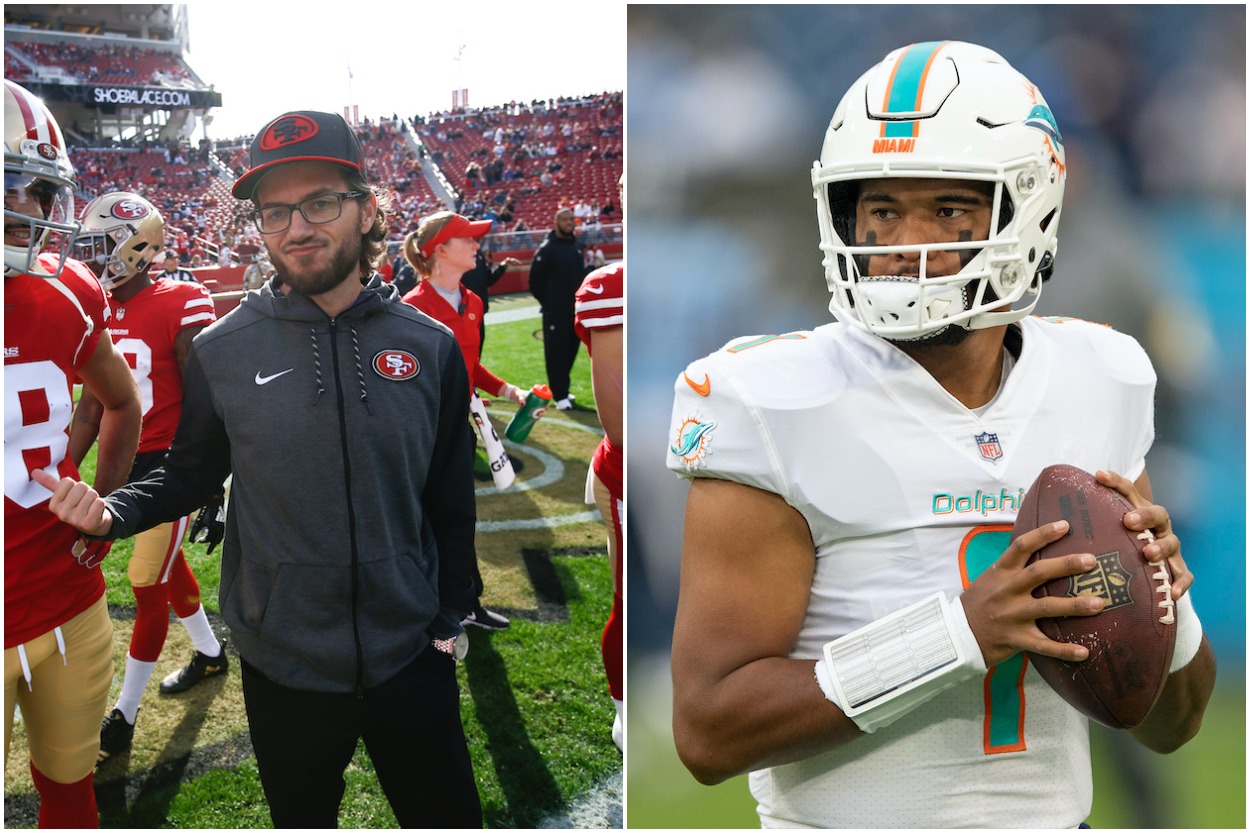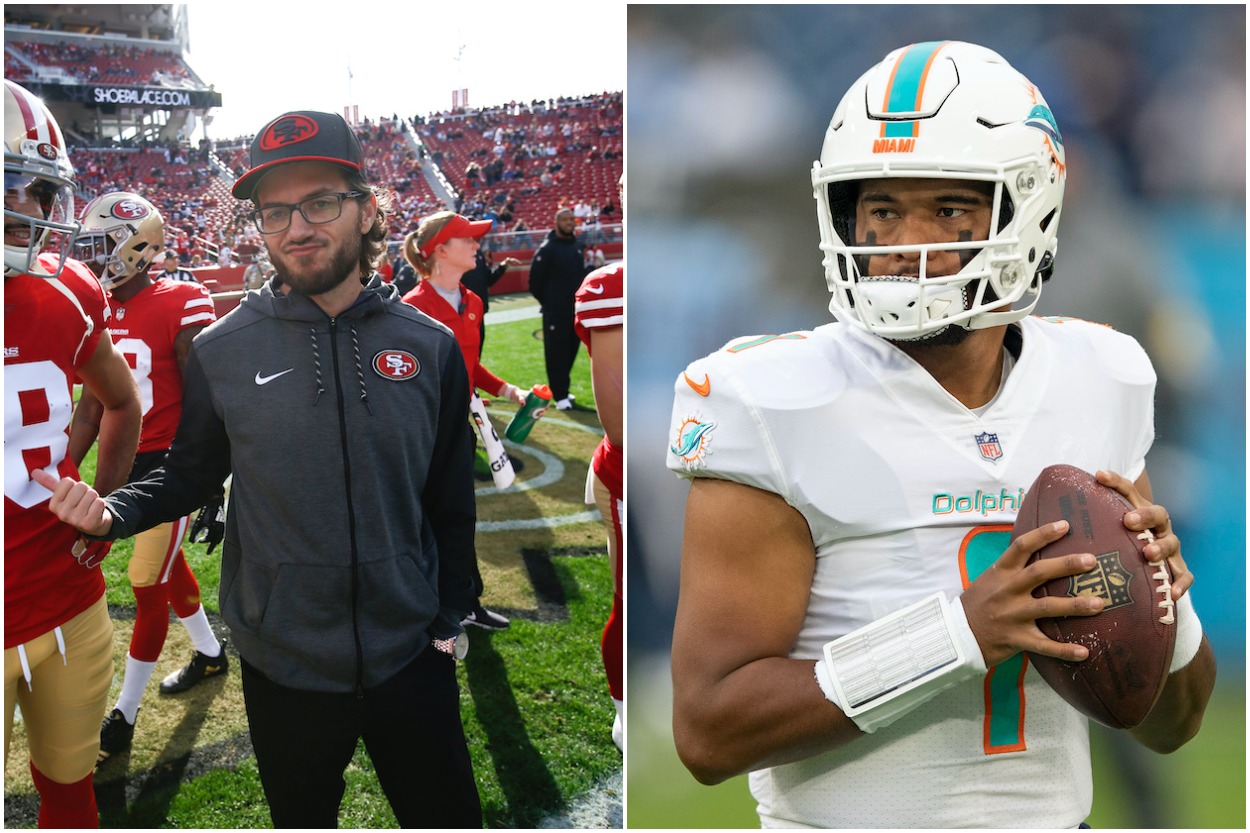 The Dolphins have been the center of controversy in the NFL ever since former head coach Brian Flores brought a lawsuit against the league and three teams for alleged racism in hiring practices. But in the middle of that storm, Miami was conducting a crucial head coaching search.
Over the weekend, the Dolphins landed on Mike McDaniel, the former San Francisco 49ers offensive coordinator, as their man. McDaniel worked alongside Kyle Shanahan, Sean McVay, and Matt LaFleur on the star-studded Washington Redkins coaching staff in 2013. From there, he spent time as an offensive assistant for the Cleveland Browns and Atlanta Falcons before joining the 49ers and eventually working his way up to OC.
McDaniel is heralded as a run-game guru, but he'll need to figure out how to optimize Tagovailoa's strengths as a passer to get this offense moving in the right direction.
He already seems to have a plan for that.
McDaniel's first message to Tua Tagovailoa
It's important for any new head coach in the NFL to get on the same page with his quarterback right away. Apparently, McDaniel agrees.
Shortly after being announced as Miami's next head coach, McDaniel hopped on a FaceTime call with Tagovailoa and laid out his immediate expectations for their relationship. The Dolphins posted a video of the conversation on Twitter Tuesday morning.
"We're going to have an extensive professional relationship, my man," McDaniel told Tagovailoa. "One thing I know about you is you have the ambition to be great. My job is to coach you, to get all that greatness out of you. And it's going to be fun, man. It's going to be work, but I know you're not afraid of that. So this is an awesome day for me and I'm damn sure going to make sure that when you look back on this day, you're going to be like, 'Damn, that was one of the best days of my career,' too. OK? But I'll earn that from you. You got me?"
McDaniel also gave his new QB a promise that he intends to keep over the next few seasons.
"It is an unbelievable opportunity for me that I do not plan on wasting in the slightest. I can promise you that," he said. "I'm all in. You're going to get the best out of me that you can possibly get."
But will Tagovailoa give his new head coach his best?
Tagovailoa's job isn't secure quite yet
The Dolphins aren't yet sold by Tagovailoa as the long-term answer under center. After being drafted No. 5 overall in the 2020 NFL Draft, the Alabama product has been just mediocre in two years as the starter.
Tagovailoa averaged 10.1 yards per completion in 2021-22, which was the third-lowest mark among qualifying starters. Only Jared Goff and Ben Roethlisberger were lower on that list. In 12 starts, Tagovailoa threw only 16 touchdown passes to go with 10 interceptions.
It's possible an improved running game under McDaniel can open up the field for Tagovailoa to have more success throwing the ball past the line of scrimmage, but with just two years left on his rookie deal, the 23-year-old will have to make a statement next season and prove he belongs in this league.
McDaniel seems to think there's greatness hidden inside that left arm, and it's now his job to unlock it.
Like Sportscasting on Facebook. Follow us on Twitter @sportscasting19.