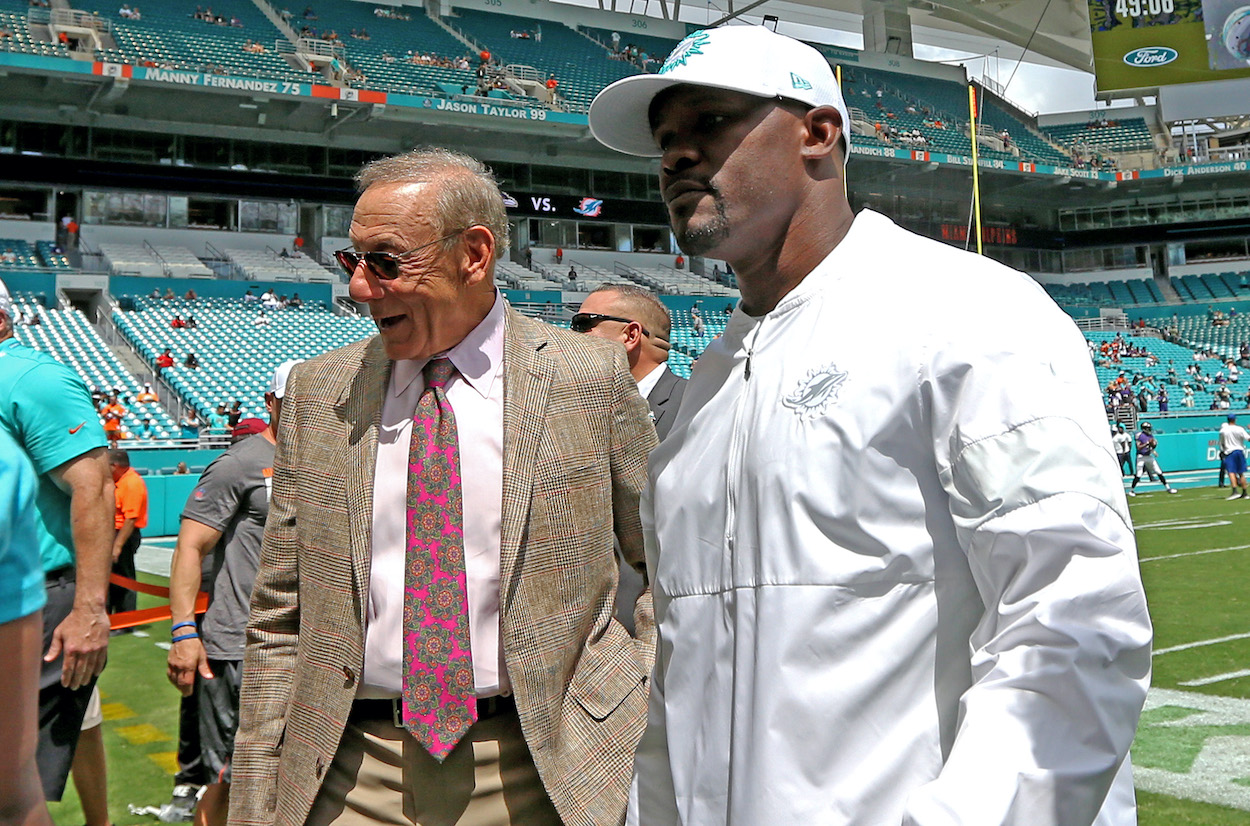 Brian Flores Accuses Dolphins Owner Stephen Ross of Bribing Him to Throw Games and Pressuring Him to Violate NFL Rules in Explosive Lawsuit
Miami Dolphins owner Stephen Ross bribed Brian Flores to loss games on purpose and tricked him into breaking the NFL's tampering rules, according to a new lawsuit.
On Tuesday afternoon, Brian Flores filed a class-action lawsuit against the NFL, the Miami Dolphins, the Denver Broncos, and the New York Giants for alleged racism in hiring. In the lawsuit, Flores claimed both the Broncos and Giants brought him in for "sham and illegitimate interviews" solely to comply with the NFL's Rooney Rule, which requires teams to interview ethnic-minority candidates for open head coaching and senior football operation jobs.
Additionally, Flores accused Stephen Ross, the longtime owner of the Dolphins and his old boss, of bribing him to tank for a better draft pick and pressuring him to violate the NFL's tampering rules.
Brian Flores accuses Stephen Ross of bribing him to throw games in explosive lawsuit
Flores just finished up his third year as the head coach of the Dolphins and his second winning season in a row at the helm. But apparently, that wasn't good enough to keep him around.
In January, the Dolphins fired Flores in the most unexpected coaching move of the young offseason. Reports in the following days painted Flores as someone who was difficult to work with, but the real culprit seems to be residing higher up the pecking order.
In the lawsuit filed on Tuesday, Flores accused Ross of bribing him to throw games in 2019 to score the No. 1 overall draft pick:
"In January 2022, Mr. Flores, who spent three years as the Head Coach of Defendant Miami Dolphins, Ltd. (the 'Dolphins' or 'Miami'), found himself without a job. He was fired by the Dolphins after leading the team to its first back-to-back winning seasons since 2003. The purported basis for his termination was alleged poor collaboration. In reality, the writing had been on the wall since Mr. Flores' first season as Head Coach of the Dolphins, when he refused his owner's directive to 'tank' for the first pick in the draft. Indeed, during the 2019 season, Miami's owner, Stephen Ross, told Mr. Flores that he would pay him $100,000 for every loss, and the team's General Manager, Chris Grier, told Mr. Flores that 'Steve' was 'mad' that Mr. Flores' success in winning games that year was 'compromising [the team's] draft position.'"
Despite Ross' alleged orders, Flores led the Dolphins to three wins over their last five games, and Miami ended up with the No. 5 overall pick in the 2020 NFL Draft. The Dolphins then selected Tua Tagovailoa, while Joe Burrow landed with the Cincinnati Bengals four picks earlier.
Flores alleges Ross pressured him to break the NFL's tampering rules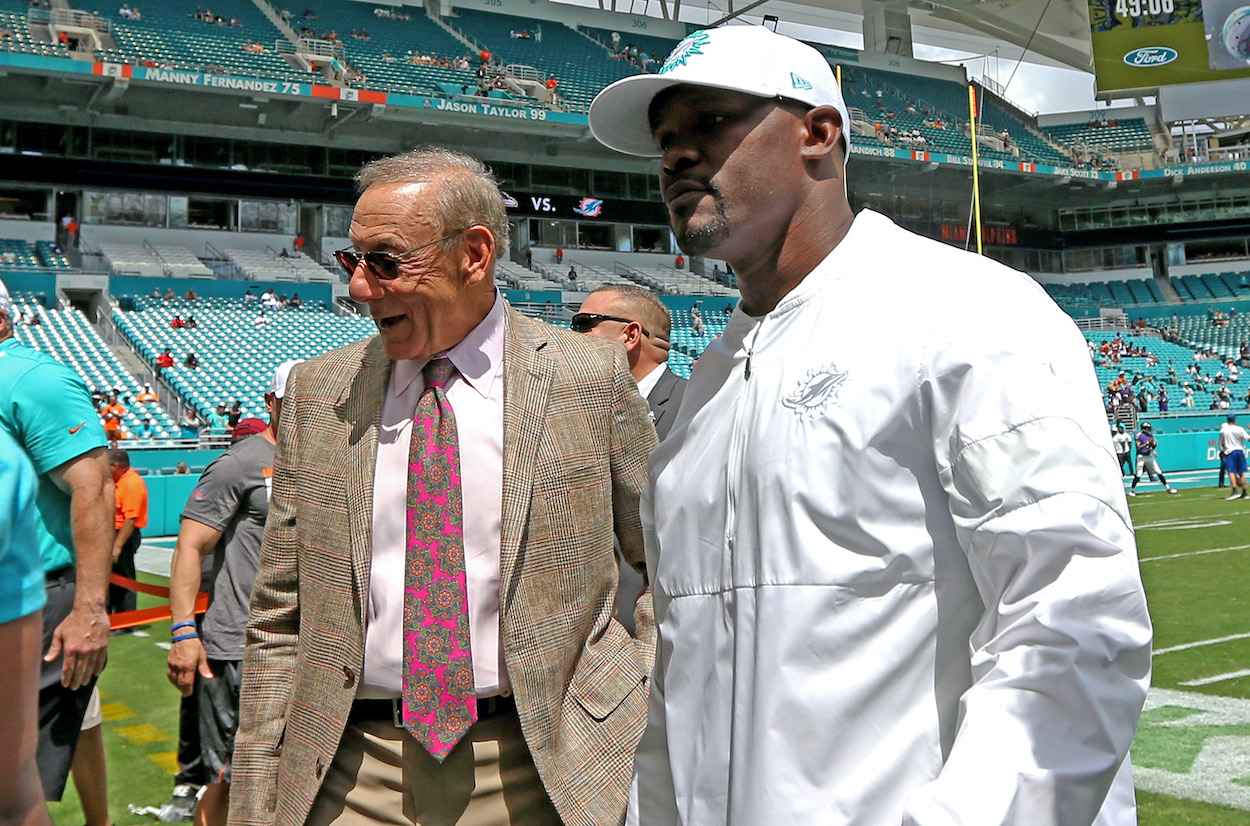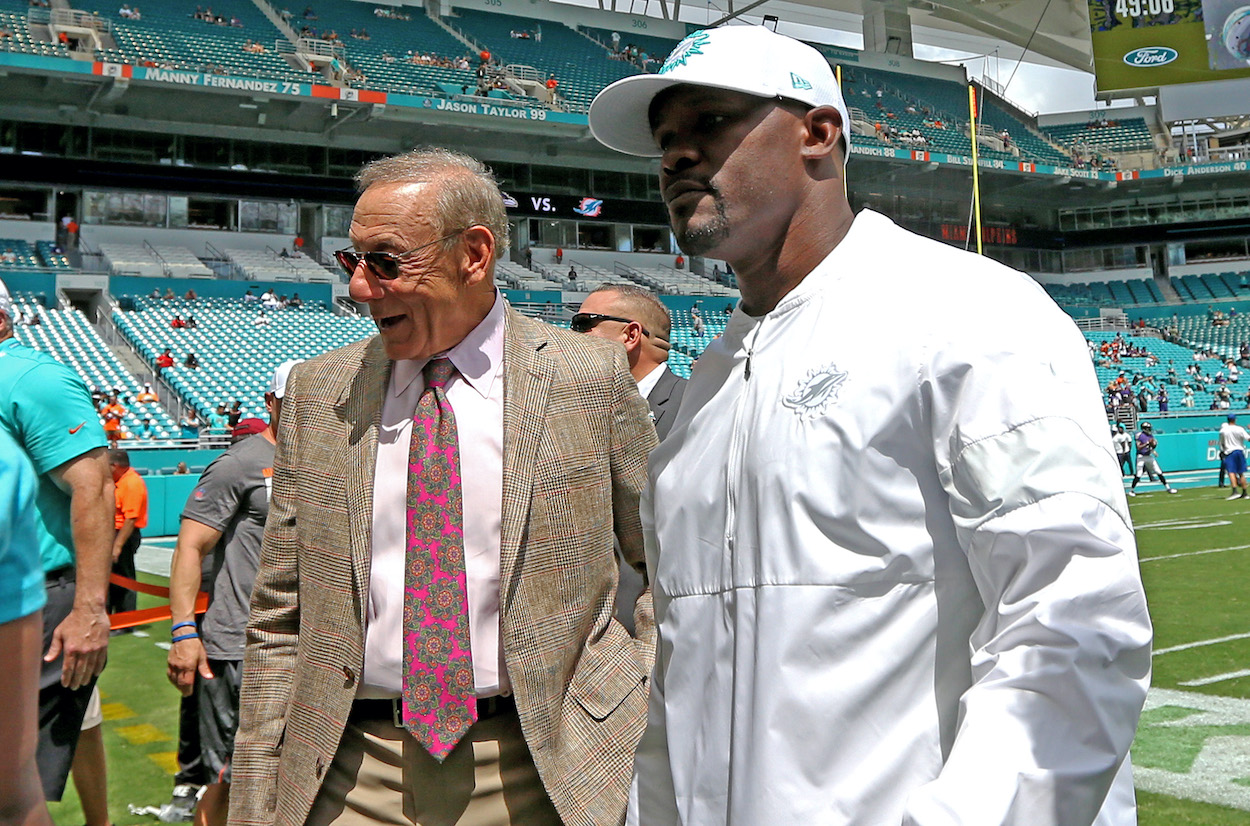 Not only did Ross allegedly offer to pay Flores $100,000 per loss in 2019, but he also pressured the head coach to violate the NFL's tampering rules just months later, according to the lawsuit.
"After the end of the 2019 season, Mr. Ross began to pressure Mr. Flores to recruit a prominent quarterback in violation of League tampering rules," the lawsuit states. "Mr. Flores repeatedly refused to comply with these improper directives. Undeterred, in the winter of 2020, Mr. Ross invited Mr. Flores onto a yacht for lunch. Shortly after he arrived, Mr. Ross told Mr. Flores that the prominent quarterback was 'conveniently' arriving at the marina. Obviously, Mr. Ross had attempted to 'set up' a purportedly impromptu meeting between Mr. Flores and the prominent quarterback. Mr. Flores refused the meeting and left the yacht immediately."
Because he refused to follow Ross' orders on multiple occasions, the lawsuit states, Flores was "treated with disdain" and unfairly fired.
"From that point forward, Mr. Flores was ostracized and ultimately he was fired. He was subsequently defamed throughout the media and the League as he was labeled by the Dolphins brass as someone who was difficult to work with. This is reflective of an all too familiar 'angry black man' stigma that is often casted upon Black men who are strong in their morals and convictions while white men are coined as passionate for those very same attributes."
Flores knows his coaching career could now be in jeopardy, but he isn't flinching.
Risking his career for a necessary change
Aside from the allegations against Ross and the Dolphins, the lawsuit also alleges ex-Broncos general manager John Elway, Broncos President and CEO Joe Ellis, and others showed up to a 2019 interview with Flores an hour late and "looked completely disheveled" after "drinking heavily the night before." Additionally, alleged texts from New England Patriots head coach Bill Belichick indicate the Giants had already made their decision to hire Brian Daboll as their next head coach before even interviewing Flores.
The Rooney Rule is positive and necessary at its core, but this lawsuit makes it clear teams are cheating the system just to check a box. Flores is fighting to change that even though he knows it could cost him his career.
"God has gifted me with a special talent to coach the game of football, but the need for change is bigger than my personal goals," Flores said in a statement.
"In making the decision to file the class action complaint today, I understand that I may be risking coaching the game I love and that has done so much for my family and me. My sincere hope is that by standing up against systemic racism in the NFL, others will join me to ensure that positive change is made for generations to come."
If anyone should be expelled from the NFL after these allegations, it should be Ross, not Flores.
Like Sportscasting on Facebook. Follow us on Twitter @sportscasting19.