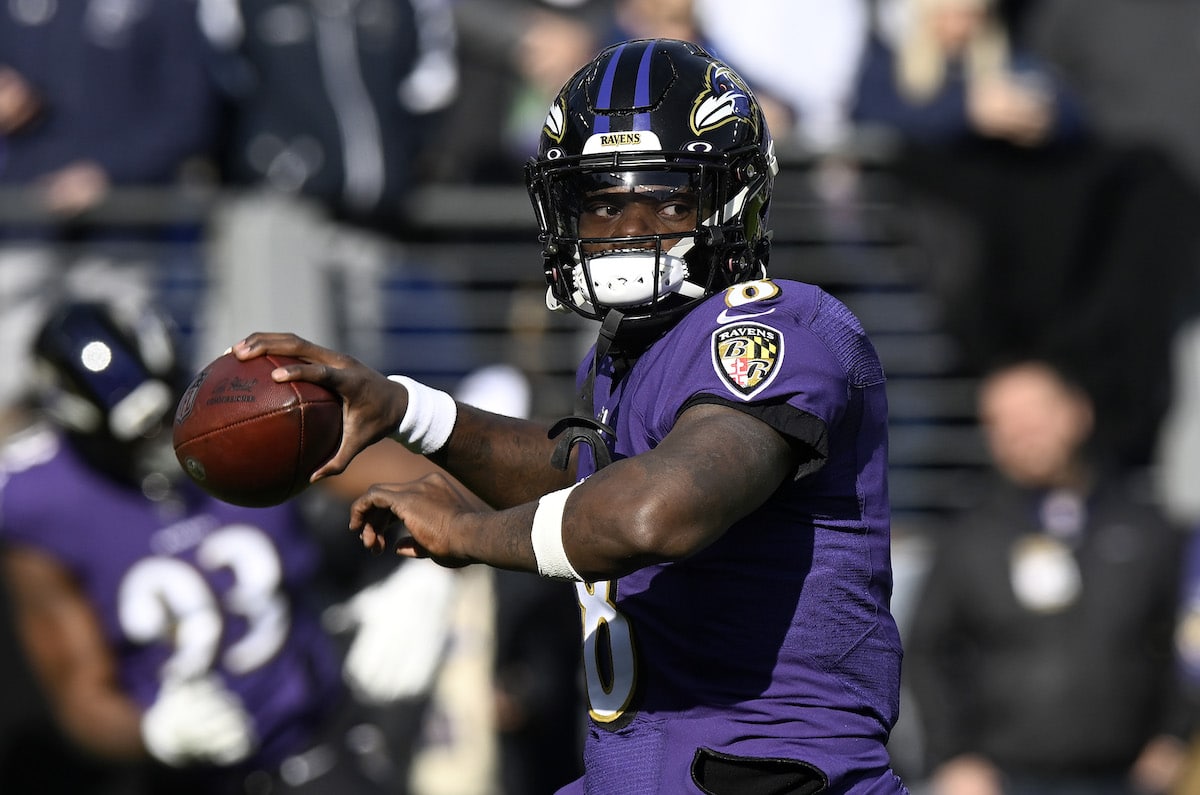 Ranking All Baltimore Ravens Quarterbacks in Franchise History
You probably won't be surprised by Lamar Jackson's placement.
Lamar Jackson may have an MVP award under his belt, but does that make him the best of the best among Baltimore Ravens quarterbacks? How do the rest of the notable names throughout franchise history stack up?
The Ravens began their portion of NFL history in 1996 with a 33-year-old version of Vinny Testaverde under center for a 19-14 victory over the Oakland Raiders, and they've since added 25 more qualified quarterbacks to the mix. Those men have earned just four Pro Bowl selections, and Jackson himself has accounted for a pair of them.
Perhaps the dual-threat signal-caller can continue to rack up accolades and reestablish himself as an unabashedly elite option. But given the contractual uncertainty that threatened the player-franchise relationship and the organization's lackluster history at the most important position in the sport, tempered optimism is probably better than unfettered confidence.
Using the Total Yards Added (TYA) metric I developed for QB Math, which evaluates quarterbacks' success relative to league average in four facets of the game — rushing, passing, sack avoidance, and fumble avoidance — we're highlighting each and every one of the 26 Baltimore Ravens quarterbacks with at least one qualified game for the organization since '96. These rankings will be updated continuously and are accurate heading into Week 2 of the 2023 NFL season.
Baltimore Ravens quarterbacks Nos. 26-7
| Franchise Rank | Quarterback | Qualified Games | Total Yards Added |
| --- | --- | --- | --- |
| 26 | Joe Flacco | 178 | -2,121.845 |
| 25 | Kyle Boller | 48 | -1,794.007 |
| 24 | Tyler Huntley | 15 | -676.705 |
| 23 | Anthony Wright | 16 | -636.219 |
| 22 | Elvis Grbac | 16 | -477.083 |
| 21 | Stoney Case | 7 | -290.966 |
| 20 | Scott Mitchell | 2 | -276.947 |
| 19 | Robert Griffin III | 6 | -274.989 |
| 18 | Chris Redman | 7 | -268.871 |
| 17 | Jim Harbaugh | 14 | -260.497 |
| 16 | Tony Banks | 19 | -251.704 |
| 15 | Steve McNair | 21 | -218.961 |
| 14 | Trent Dilfer | 13 | -196.642 |
| 13 | Jeff Blake | 10 | -169.988 |
| 12 | Anthony Brown | 2 | -143.888 |
| 11 | Ryan Mallett | 4 | -131.363 |
| 10 | Matt Schaub | 2 | -118.687 |
| 9 | Jimmy Clausen | 2 | -83.66 |
| 8 | Tyrod Taylor | 1 | -55.723 |
| 7 | Randall Cunningham | 4 | -50.835 |
Keep in mind that this is about career production.
Playing in more games usually means moving further away from the league-average score of zero, which is why Joe Flacco, who enjoyed plenty of success in Baltimore but wasn't often more than a slightly below-average game-manager, falls all the way to the bottom of the pack despite having a far superior per-game output to other low finishers such as Kyle Boller and Tyler Huntley.
6. Josh Johnson
Years: 2021
Stats: 0-1 record, 28-of-40 (70%), 304 yards, 2 TD, 1 INT
Total Yards Added: 8.789
The overall struggles of Baltimore Ravens quarterbacks are tough to overstate, even if the franchise itself has experienced plenty of success thanks to a perpetually stingy defense. Josh Johnson is one of just six signal-callers with positive scores, and his 8.789 TYA was accrued over the course of a single appearance.
That lone outing? A start in which he went 28-of-40 for 304 yards, two touchdowns, and one interception in a 41-21 blowout loss to the Cincinnati Bengals.
5. Trace McSorley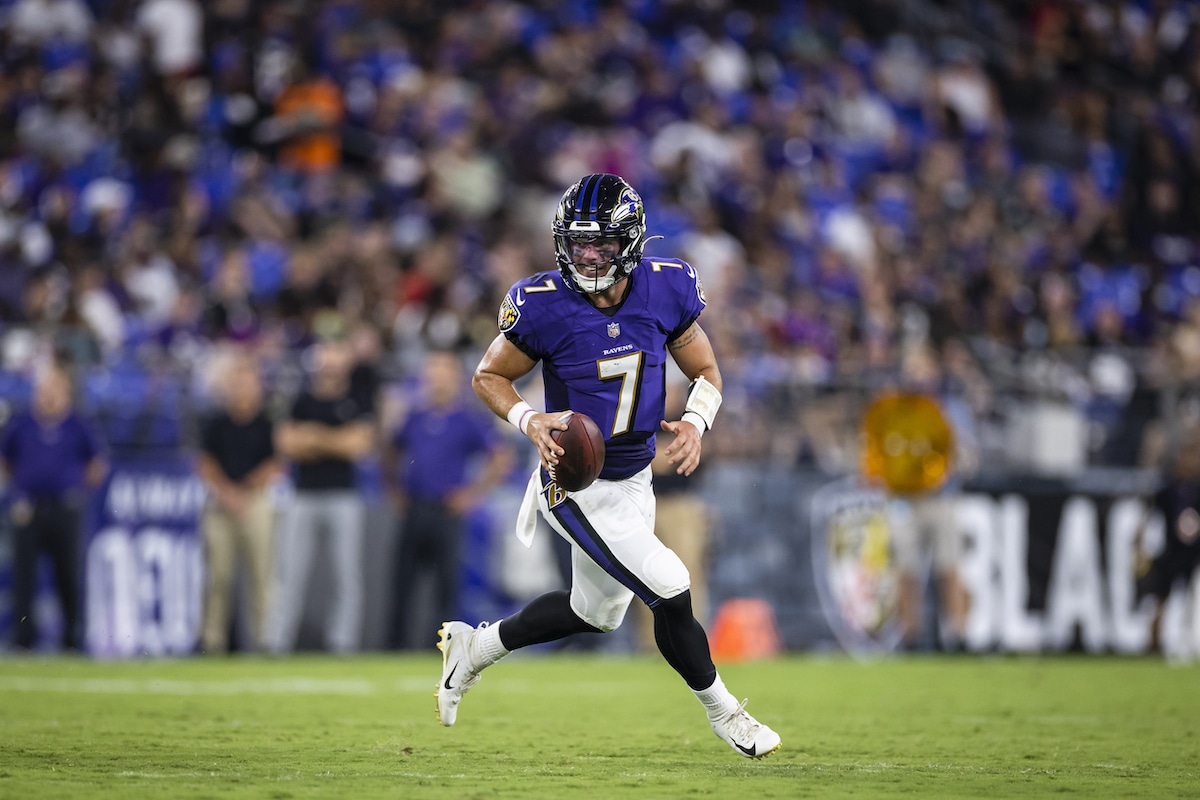 Years: 2019-20
Stats: 0-0 record, 3-of-10 (30%), 90 yards, 1 TD, 0 INT
Total Yards Added: 34.052
From one appearance to three.
Trace McSorley came off the pine once in relief of Robert Griffin III during the 2019 season, but he threw the ball exactly zero times. One year later, he entered twice in the latter stages of the proceedings — once in place of Griffin and once for Lamar Jackson.
Due to the small samples in play here, a single play is doing a lot of heavy lifting. Down 19-7 to the rival Pittsburgh Steelers on Dec. 2, 2020, McSorley dropped back and fired a deep pass to speedy wide receiver Marquise Brown, who took it 70 yards to the house. Remove that one play, and the Penn State product would have turned nine passing attempts into just 20 yards.
4. Troy Smith
Years: 2007-09
Stats: 1-1 record, 48-of-89 (53.9%), 558 yards, 3 TD, 1 INT
Total Yards Added: 37.947
The 2006 Heisman Trophy winner was never supposed to make much noise in the NFL due to the expected limitations when he was no longer benefitting from the Ohio State supporting cast and scheme, which is why he didn't come off the board until the fifth round of the 2007 NFL Draft.
As it turns out, he didn't make much noise in the NFL (thanks also to tonsilitis).
Smith spent three years with the Ravens but started just two games, both of which came during his rookie season. At least he had more passing touchdowns than interceptions and used his legs to rack up 109 rushing yards and a pair of scores?
3. Eric Zeier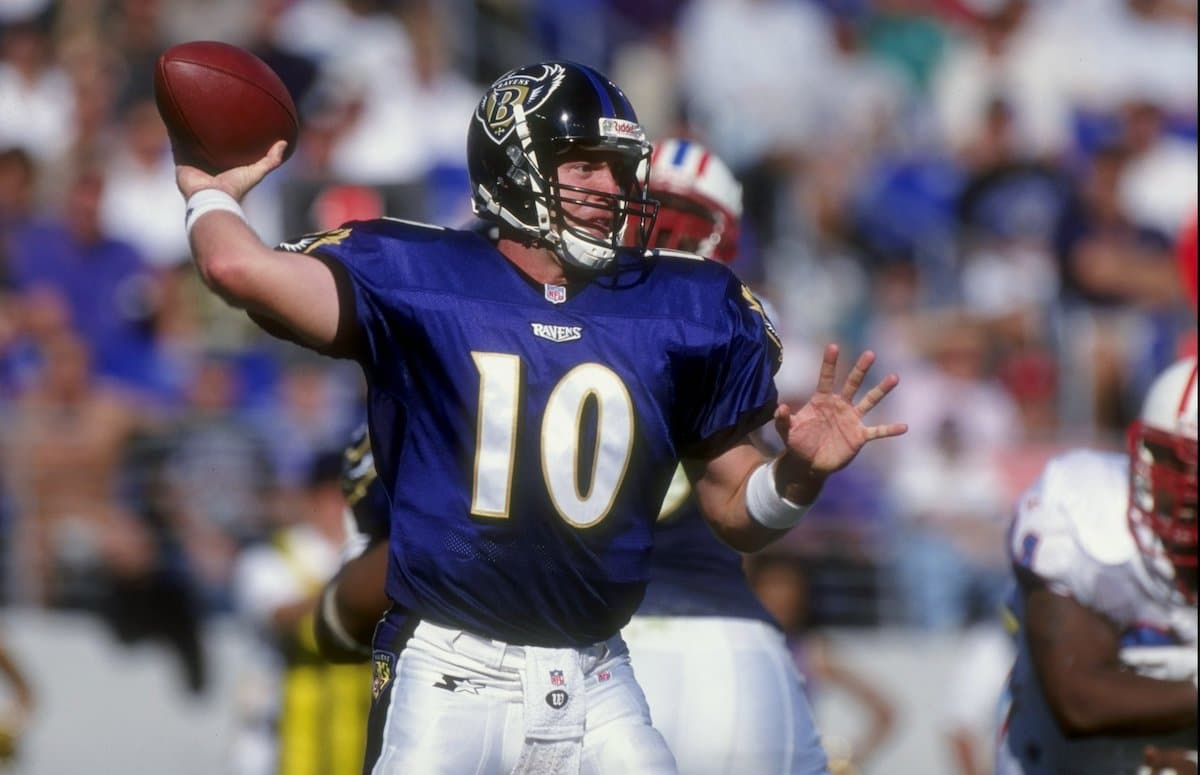 Years: 1996-98
Stats: 3-4 record, 184-of-318 (57.9%), 2,367 yards, 12 TD, 5 INT
Total Yards Added: 186.228
A third-round pick out of Georgia, Eric Zeier joined the ranks of Baltimore Ravens quarterbacks during his sophomore season in the NFL and made spot starts throughout two of his three go-rounds with the organization. A 3-4 record wasn't too shabby for the game-managing quarterback who threw just five picks to 12 touchdowns.
Zeier didn't have much mobility and held onto the ball for far too long, taking sacks on a whopping 10.9% of his passing attempts. But at least the overall numbers were (slightly) on the right side of the ledger.
2. Vinny Testaverde
Years: 1996-97
Stats: 8-20-1 record, 596-of-1,019 (58.5%), 7,148 yards, 51 TD, 34 INT
Total Yards Added: 813.607
Though Joe Flacco had some strong seasons (617.155 TYA in 2012, 357.923 in '14, 107.833 in '10), Vinny Testaverde is one of just two Ravens snap-takers who finished in the green by a large margin. And as happenstance would have it, he was also the first quarterback to line up under center for the organization.
Testaverde was already in his age-33 season when he joined the Ravens as the Cleveland Browns were absorbed by the "new" franchise, and he immediately made the Pro Bowl despite going just 4-12. The veteran tossed for 4,177 yards, 33 touchdowns, and just 19 interceptions, shining individually even if he couldn't quite buoy the entire team.
However, the Big Apple native only spent one more season in black and purple before he landed with the New York Jets.
1. Lamar Jackson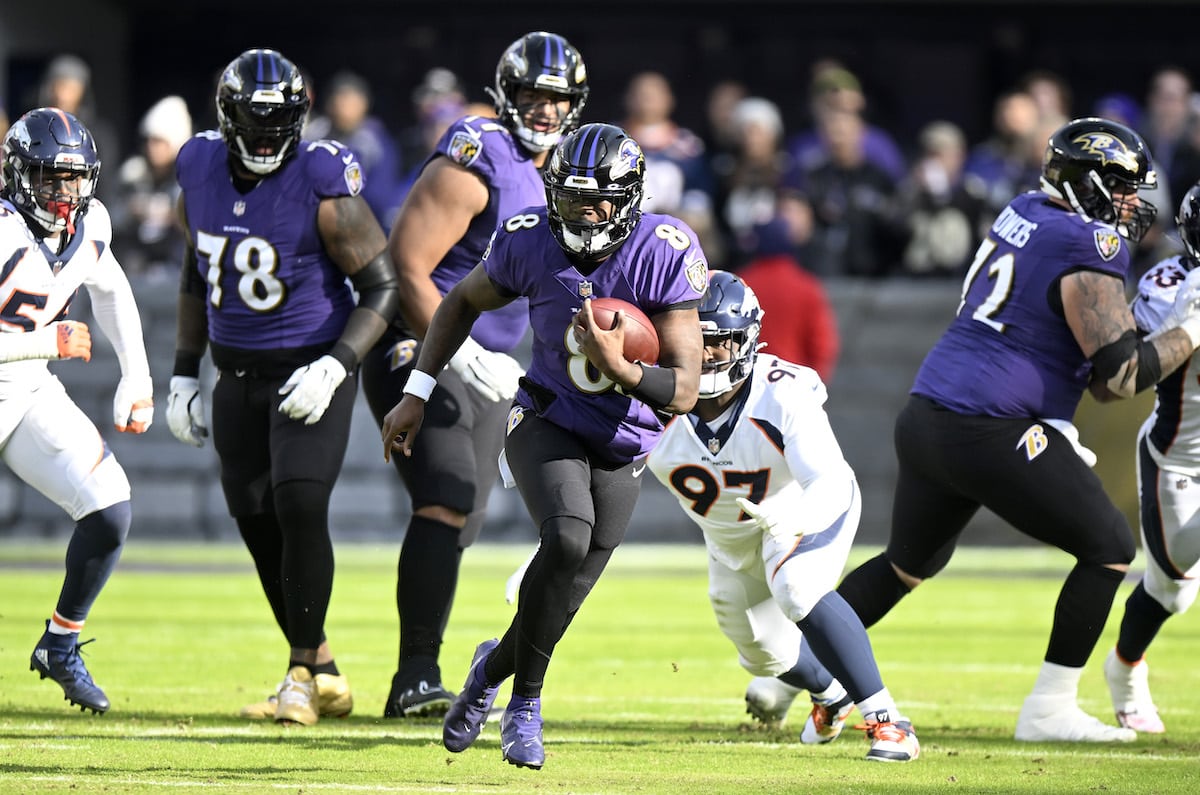 Years: 2018-present
Stats: 47-16 record, 1,096-of-1,710 (64.1%), 12,615 yards, 103 TD, 39 INT
Total Yards Added: 1,151.34
One of the most dynamic players in NFL history, Lamar Jackson has grown significantly throughout his time with the Baltimore Ravens. He's always been a threat with his legs, but the passing accuracy he's developed has made him that much more dangerous. And when it all comes together…
Come together it did in 2019 when Jackson won NFL MVP by throwing for 3,127 yards and a league-high 36 touchdowns while also adding a staggering 1,206 yards and seven more scores on the ground. He ran for another four-digit tally the next season even as his arm failed to find the same level of success, but the young quarterback is more than capable of surging back to the top of the pack if and when he puts it all together again.