Heisman Winner Troy Smith's Severe Case of Tonsillitis Kept Him From Being a Starting QB in the NFL
In college for the Ohio State Buckeyes, Troy Smith was an excellent quarterback. He ended up leading the Buckeyes to a lot of success and even went on to win the Heisman Trophy. As a professional quarterback, though, Smith did not have much success at all. He was, however, supposed to start for the Baltimore Ravens one season, but some bad luck led to him not getting the starting job.
Troy Smith is an Ohio State legend
After Smith found some success for Ohio State in 2004, he had a breakout season for the Buckeyes in 2005. In that season, Smith threw for 2,282 yards, 16 touchdowns, and only four interceptions. Ohio State ended up going 10-2 that year, too, after suffering four losses the year before, and they won in the Fiesta Bowl.
However, in 2006, Smith was the best quarterback in the entire country. He ultimately threw for 2,542 yards, 30 touchdowns, and six interceptions. Smith helped lead Ohio State to a 12-0 start, including a 24-7 win over No. 2 ranked Texas, and a 42-39 win over No. 2 ranked Michigan. 
His play in 2006 helped him win the AP Player of the Year award, the Walter Camp Player of the Year award, and the Heisman Trophy.
In the national championship, though, which was Smith's final college game, Florida embarrassed Ohio State 41-14. Smith only went 4-for-14 through the air for 35 yards and an interception, according to ESPN. 
Tonsillitis kept him from becoming the Ravens' starting QB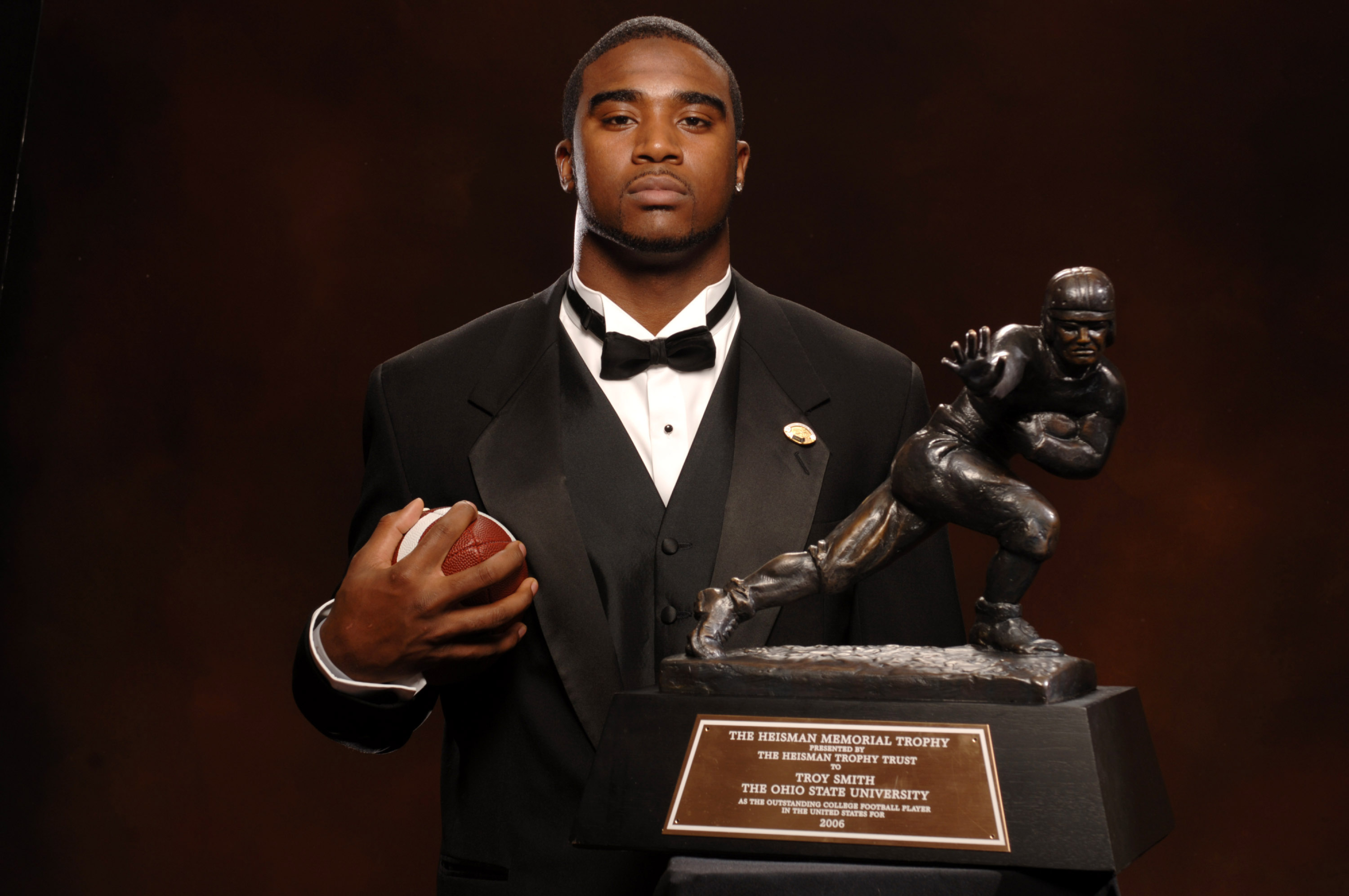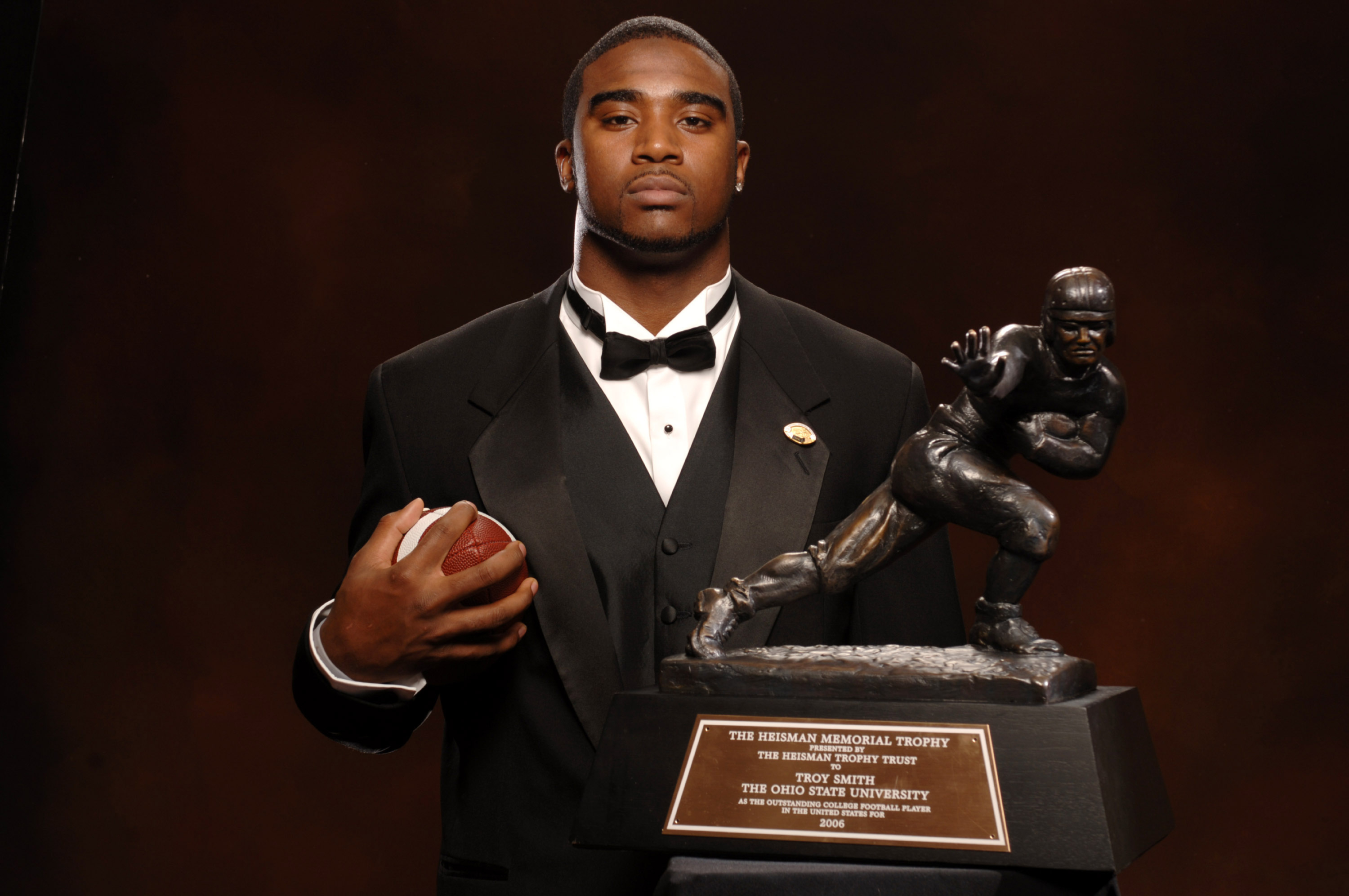 The Baltimore Ravens ultimately selected Smith in the fifth round of the 2007 NFL draft. 
He played in four games, starting in two, during his rookie season. He ultimately threw for 452 yards, two touchdowns, and no interceptions. 
However, in 2008, the Ravens intended to have Smith be the team's starting quarterback, but he ended up getting a severe case of tonsillitis in the middle of the preseason, according to ESPN. Joe Flacco, who was a rookie at the time, ended up becoming the starting quarterback. 
Smith only threw four passes in 2008 for the Ravens, one being a touchdown. For Flacco, he struggled in 2008, throwing 14 touchdowns compared to 12 interceptions, but he went 11-5 as the starter. Flacco ended up spending 11 seasons with the Ravens and won a Super Bowl during the 2012 season. 
What happened to Troy Smith after that?
Smith was still with the Ravens in 2009. He threw only nine passes in that season, though. 
However, in 2010, he got a chance to be the starter for the San Francisco 49ers. Smith started in six games, went 3-3 as the starter, and threw for 1,176 yards, five touchdowns, and four interceptions. In a loss to the St. Louis Rams, though, Smith only completed 7-of-19 pass attempts for 153 yards, one touchdown, and one interception. He then later got benched for Alex Smith, according to SB Nation. Smith has not played in an NFL regular-season game since.
Smth then spent some time with the Omaha Nighthawks in the UFL in 2011. He later signed with the Pittsburgh Steelers but was only with the team for six months before being released, according to NFL.com. He then spent time with the Montreal Alouettes in the CFL in 2013 and 2014 but was ultimately released. 
Troy Smith is an Ohio State legend. He helped lead the Buckeyes to a lot of success. We are all left wondering, though, what his NFL career would have looked like had he not gotten a severe case of tonsillitis with the Ravens.
Stats courtesy of Sports Reference and Pro Football Reference