The Tragic Death of Former Heisman Trophy Winner Rashaan Salaam
A look back on the career of former Heisman Trophy winner Rashaan Salaam, who tragically took his own life in December 2016.
While others may come close, the Heisman Trophy is the biggest and most prestigious award a college football player can win. But for 1994 winner Rashaan Salaam, it became a burden, a symbol of a player he used to be that could never live up to the expectations put on him after winning it. After a short career in the NFL, as well as some time in the CFL and XFL, Salaam struggled to find his place in the world and tragically took his own life in 2016 at the age of 42.
Now on the newest ballot for induction into the College Football Hall of Fame, here's a look back on the career of Rashaan Salaam.
Rashaan Salaam won the Heisman Trophy in 1994
The son of former Cincinnati Bengals running back Teddy Washington, who later converted to Islam and changed his name to Sulton Salaam, Rashaan Salaam was an All-American in high school in suburban San Diego before enrolling at the University of Colorado in 1992, playing alongside future NFL stars Kordell Stewart and Michael Westbrook.
Salaam wasn't a major part of the offense his freshman year, rushing for just 158 yards and one touchdown on 27 carries. He was better his sophomore year, carrying the ball 161 times for 844 yards and eight scores, and then exploded his junior year.
In 1994, Rashaan Salaam exploded onto the national scene. In the Buffaloes' fourth game of the season, just a week after the famed Miracle at Michigan, Salaam set a Colorado record with 362 total yards of offense in a 34-31 win over the Texas Longhorns, one of four consecutive games in which he rushed for at least 200 yards. He led Colorado to an 11-1 record, including a Fiesta Bowl win over Notre Dame, and ended the year with 2,055 rushing yards and 24 touchdowns. At the time, he was one of just four running backs in college football history to rush for 2,000 yards in a single season.
Salaam easily won the Heisman Trophy, earning 400 first-place votes and 1,743 total points, nearly double the total of second-place finisher Ki-Jana Carter. He seemed destined for greatness in the NFL but would fizzle out rather quickly.
The NFL career of Rashaan Salaam
Rashaan Salaam was taken with the 21st overall pick in the 1995 NFL draft by the Chicago Bears and had a wild first season in the Windy City. On the positive side, he became the youngest player in NFL history to rush for 1,000 yards, ending his rookie campaign with 1,074 rushing yards and 10 touchdowns. But he also had nine fumbles, a problem that would continue to plague his career.
Salaam's second season with the Bears wasn't nearly as successful. A string of injuries limited him to just 12 games, only six of which were starts, and he rushed for just 496 yards, fumbling the ball three more times. Year three was even worse as he played just three games due to a broken right leg and a torn ligament in his ankle. In those three games, he rushed for a total of 112 yards with two more fumbles. During his recovery, Salaam tried to do too much too soon and broke a screw in his leg, causing another surgery. Chicago attempted to trade him to Miami following the 1997 season but he failed the physical so the Bears simply released him.
Just four years after winning the Heisman Trophy, Rashaan Salaam was out of football, sitting out the entire 1998 season. He signed with the Raiders in 1999 but was released before the start of the season. It was around this time that he admitted to using marijuana often during his time with the Bears, which he believed was why the Raiders cut him. He latched onto the Cleveland Browns but ran the ball just one time in two games for two yards. He also spent time that season with the Green Bay Packers but never saw any in-game action.
With no takers in 2000, Salaam was again out of football. He rushed for 528 yards with the Memphis Maniax in the XFL in 2001 but again got injured. The league folded after just one season. He was signed by the San Francisco 49ers in 2003 but never made it out of camp and then played his final year of football in the CFL in 2004 for the Toronto Argonauts, his career ending with the team suspending him.
The former Heisman winner took his own life in 2016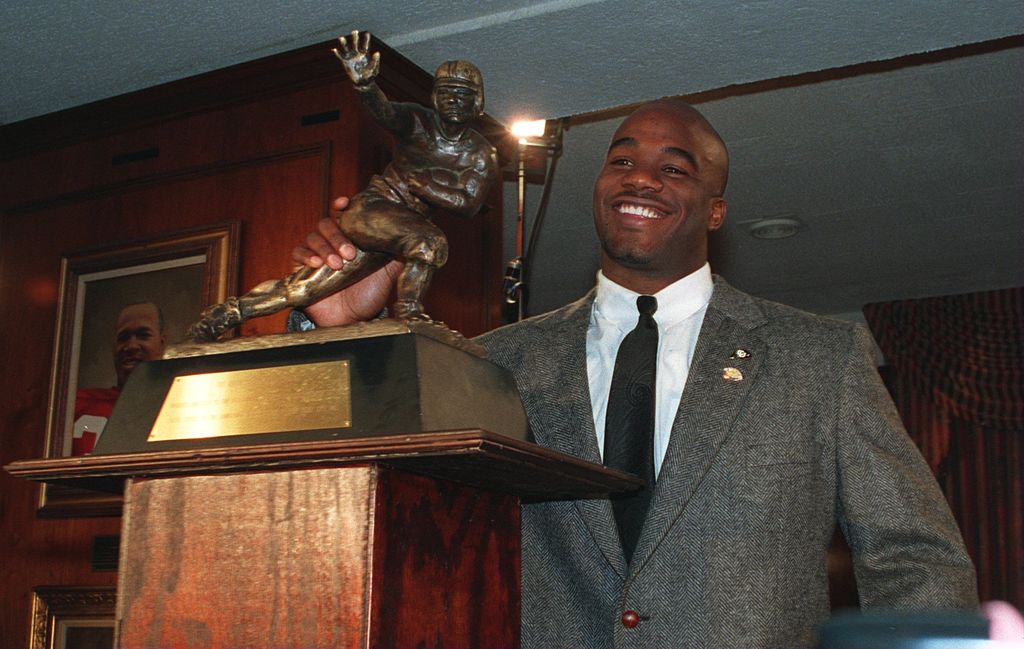 With his playing days over, Rashaan Salaam struggled. He got involved in a number of different projects, including a mixed martial arts venture in China, but nothing really ever worked out. He was constantly asked to make appearances but there was always a catch. People didn't just want Rashaan Salaam. They wanted the Heisman Trophy with him, which he usually refused. The only times he would usually take it with him was when he was promoting the charitable organization for which he was the celebrity face and president, SPIN. He would talk to underprivileged youth about his experiences and what he might have done differently.
While sometimes seemingly okay on the outside, Rashaan Salaam was struggling on the inside. Family members told Sports Illustrated that he would often disappear for lengthy amounts of time. He became depressed, telling people he was a failure that could never live up to the lofty expectations that came with winning the Heisman Trophy, a trophy Salaam said he'd wished he'd never won. And on December 5, 2016, that depression got the better of him.
In a park in Boulder not far from where he became a star, the body of 42-year-old Rashaan Salaam was found, his death the result of a self-inflicted gunshot wound to the head. Even before his death, family members believe he may have been suffering from CTE as he'd exhibited all the early symptoms of the degenerative disease. But for some reason, the family declined to have his brain tested.
On June 16, 2020, Rashaan Salaam was placed on the ballot for the College Football Hall of Fame. The 2021 class will be announced early next year.