Former Ohio State Football Coach Jim Tressel Is Still Finding Success in the Buckeye State
The Ohio State Buckeyes have been one of the best college football programs in the country over the past two decades. While Urban Meyer and Ryan Day have led the program to a lot of success since 2012, the Buckeyes' recent dominance started with head coach Jim Tressel. However, Tressel resigned in 2011. He has not been a head coach since. What happened to Tressel after he left Ohio State?
Jim Tressel helped Ohio State become an elite program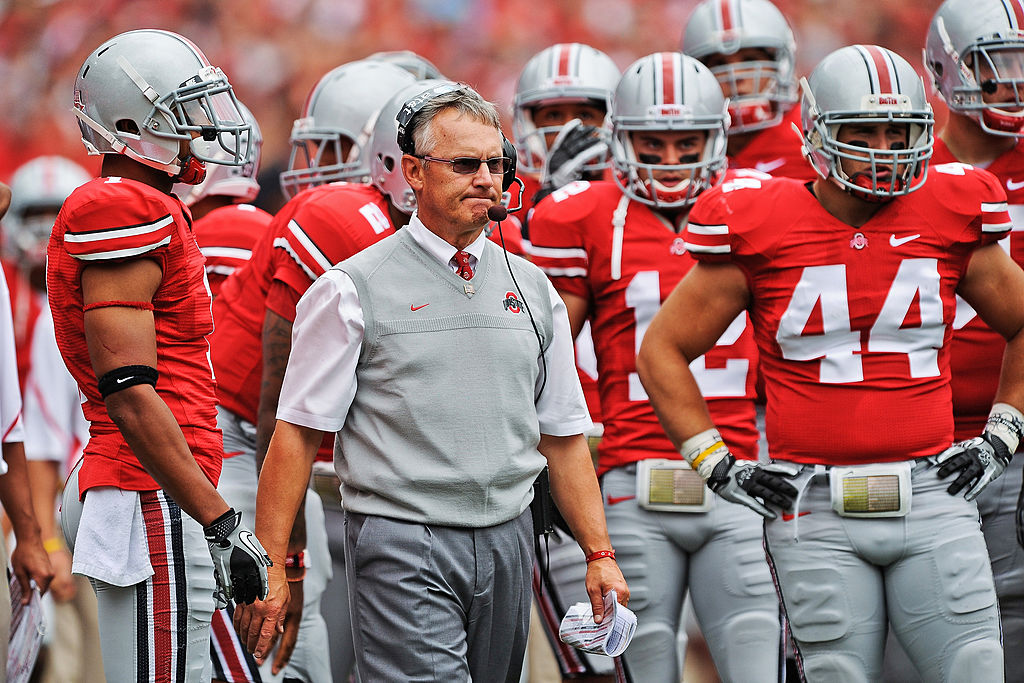 Before coming to Ohio State, Tressel had a lot of success as head coach at Youngstown State University in Youngstown, Ohio. In 15 years there, Tressel led Youngstown State to the playoffs 10 times. They also won four Division I-AA national championships. He then became the head coach of the Buckeyes in 2001 and continued to have a ton of success.
In just his second season in 2002, Tressel helped lead Ohio State to a 14-0 record and they won the national championship. Then in 2006 and 2007, Tressel helped lead the Buckeyes to back-to-back national championship game appearances.
Additionally, from 2002 through 2010, Ohio State only had more than three losses in a season once. Overall, Tressel went 106-22 at Ohio State. He also led them to eight BCS games and seven Big Ten Championships. Combined between Youngstown State and Ohio State, Tressel went 241-79-2 as a head coach.
A big scandal resulted in his resignation
In 2010, the NCAA suspended five Ohio State players including star quarterback Terrelle Pryor. The Buckeye players sold championship rings, jerseys, and other awards. They also received improper benefits from a tattoo parlor and its owner, according to ESPN.
Shortly after the investigation, Tressel resigned from his head coaching position at Ohio State. Tressel ultimately knew about the players receiving improper benefits. A former Ohio State player emailed Tressel about the improper benefits and the two traded a dozen emails about them, according to ESPN. He was supposed to tell his superiors or the compliance department about any potential NCAA rule violations but he never did. Tressel then officially resigned in May 2011.
"After meeting with university officials, we agreed that it is in the best interest of Ohio State that I resign as head football coach," Tressel said in a statement released by the university, according to ESPN. "The appreciation that [wife] Ellen and I have for the Buckeye Nation is immeasurable."

Jim Tressel
Tressel has not coached at any level since coaching at Ohio State.
Tressel is back at Youngstown State
In September 2011, the Indianapolis Colts hired Tressel as a consultant. His job was to help determine when the team should challenge plays.
Then in February 2012, the University of Akron hired Tressel as the school's vice president for strategic engagement, according to Cleveland.com. Shortly after that, though, he returned to Youngstown State University.
In May 2014, Youngstown State hired Tressel to be the school's ninth president. It looks like he has had a lot of success there too. This is what it says in his bio on the school's website: "Under President Tressel's leadership, enrollment increased for the first time in five years, the academic quality of freshmen classes has continued upward, student retention is up and the university has solidly focused on student success – graduating on time, with little or no debt and with a job or plans for further education."
Being in such a high-ranking position, Tressel is still, of course, in the news a lot. Just this week he talked about Ohio Governor Mike DeWine's response to the COVID-19 pandemic.
"Governor DeWine has been a great leader. Lt. Governor Husted, I was just on the phone with him last night for 45 minutes about an innovator who has some thoughts," Tressel said 850 WKNR's The Really Big Show, according to WKYC.com. "Those two have done an amazing job and you can't leave out Dr. Amy Acton from that discussion. She's a proud Youngstown State grad … Those three leaders have shown us that this urgent, this is serious, but we can do it. It's the responsibility of all of us."

Jim Tressel
Jim Tressel has found success everywhere he has been. Now, he might not be coaching football anymore, but he is still helping young people succeed at a high level. The game of football, however, does miss having him in it.