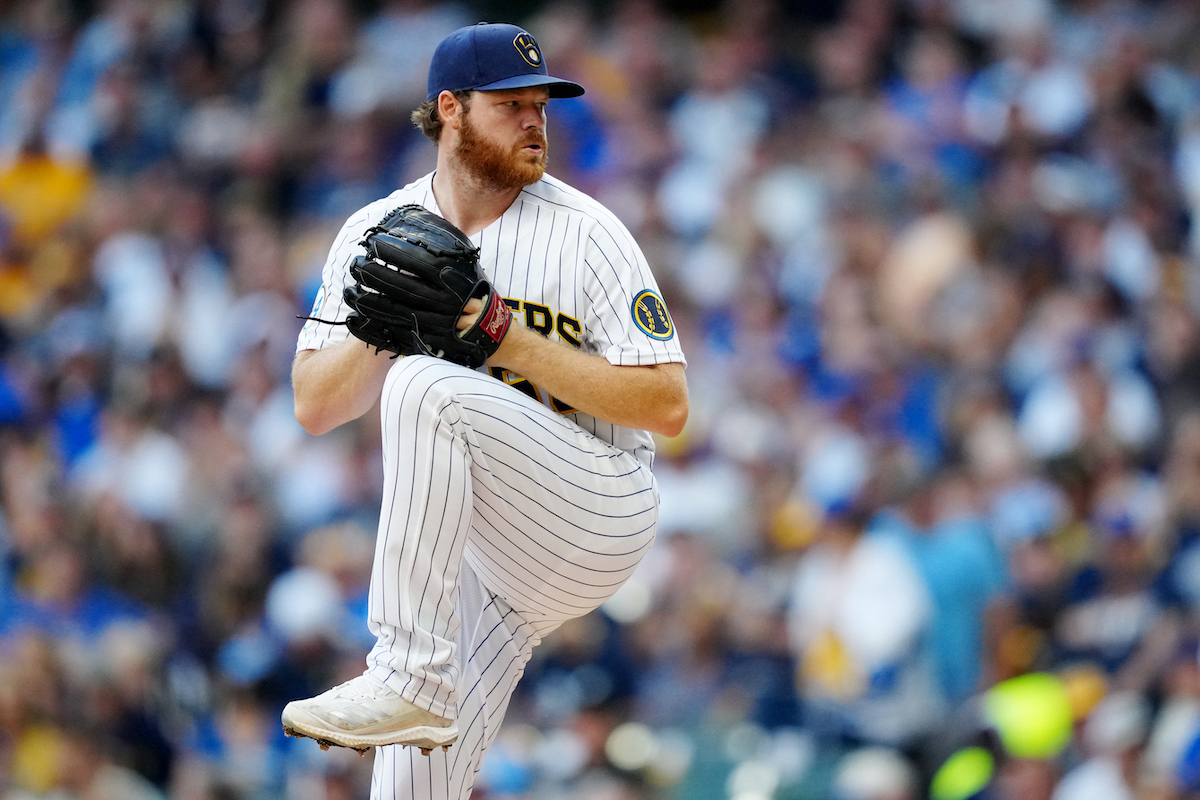 Ranking Corbin Burnes, Brandon Woodruff, Top 10 NL Central Starting Pitchers for 2022 MLB Season
Corbin Burnes and Brandon Woodruff form a tremendous one-two punch for the Milwaukee Brewers, but are they still the best starting pitchers in the NL Central for 2022?
Corbin Burnes and Brandon Woodruff dominated for the Milwaukee Brewers in 2021, and they're set to thrive once more during the upcoming 2022 MLB season. But they're not the only Brewtown pitchers ready to strike out batter after batter en route to a sterling ERA, and the National League Central also features plenty of other high-quality hurlers.
Some bright talents with injury concerns, ageless veterans, and up-and-coming future aces take center stage in this countdown, but they're all chasing the two Milwaukee standouts.
This countdown of the 10 best NL Central starting options hinges on a combination of past results and future projections, weighing everything from ongoing injury concerns to potential progression/regression in an attempt to predict the expected level of play for the entirety of the 2022 season.
That last part can't be emphasized enough.
Beginning with the intriguing set of honorable mentions you can see below, any number of whom could rise substantially, these rankings are not moment-in-time snapshots. Nor do they predict the final level reached when the 2022 postseason field is determined. They account for expected volume and production during the whole campaign, relying on both anecdotal observations and plenty of numbers, including the listed 2022 stats that come from Fangraphs' THE BAT projections.
Honorable Mentions: Adbert Alzolay, Chicago Cubs; Kyle Hendricks, Chicago Cubs; Eric Lauer, Milwaukee Brewers; Mitch Keller, Pittsburgh Pirates; Miles Mikolas, St. Louis Cardinals
10. Steven Matz, St. Louis Cardinals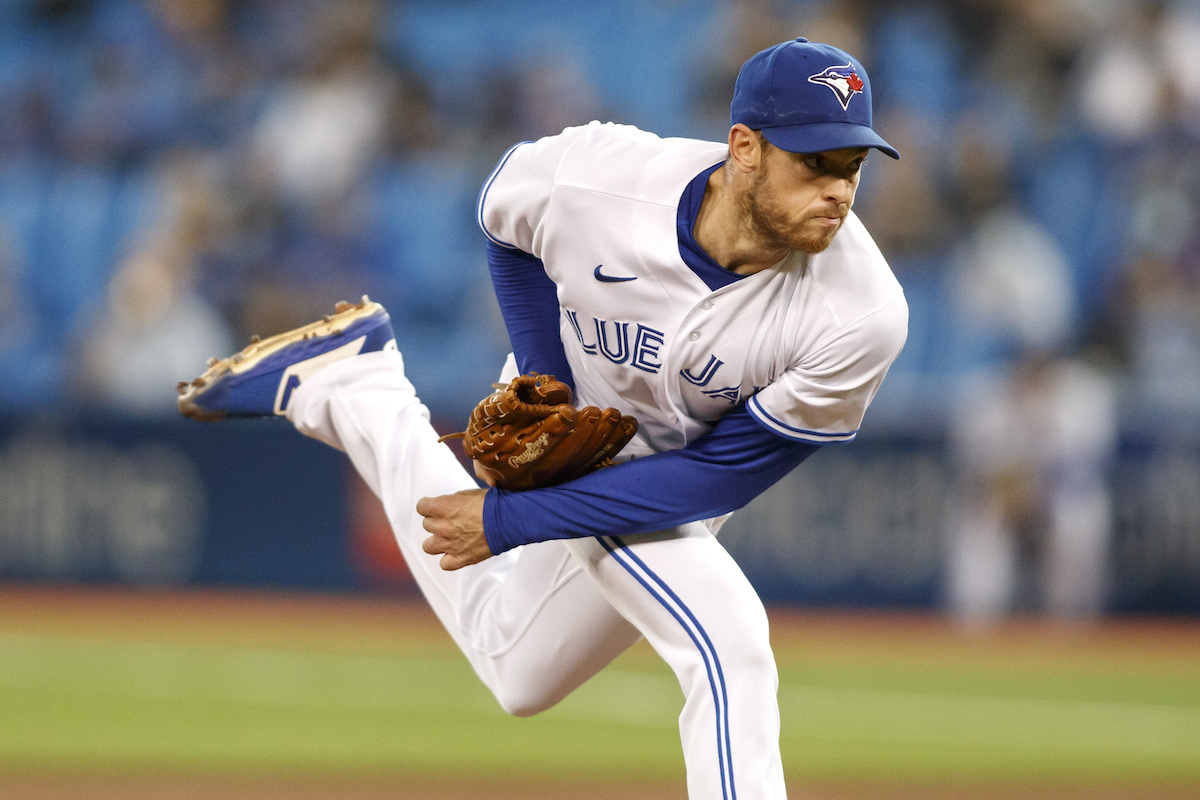 Age: 30
2021 Stats: 150.2 IP, 29 GS, 14-7, 144 K, 44 BB, 3.82 ERA, 1.33 WHIP, 2.8 WAR
2022 Projected Stats: 154.0 IP, 28 GS, 9-10, 134 K, 54 BB, 4.37 ERA, 1.34 WHIP, 2.0 WAR
Though Steven Matz's arsenal isn't particularly glamorous, he's a pitcher who often keeps the ball on the ground, was already experiencing success with the Toronto Blue Jays, and now gets to play in front of the always-sterling defense of the St. Louis Cardinals. That could be a match made in heaven, particularly if that ground-ball percentage climbs back to the rates he posted during his mid-20s with the New York Mets.
Will it? That's harder to say because Matz's stuff isn't overwhelming — far from it. His changeup and sinker are his best pitches, but neither is a true putaway offering, and his slider and curveball are mediocre even on his best days.
Matz hasn't thrown the two premier pitches with as much frequency in recent seasons, but ideally, that should change with the Cardinals infield behind him waiting to do its best vacuum impression. And even if he doesn't, he still doesn't allow many homers (1.08 per nine innings last year) and tends to allow softer contact that he can mitigate with solid control over his pitches to limit baserunners.
9. Aaron Ashby, Milwaukee Brewers
Age: 23
2021 Stats: 31.2 IP, 4 GS, 3-2, 39 K, 12 BB, 4.55 ERA, 1.17 WHIP, 0.4 WAR
2022 Projected Stats: 86.0 IP, 8 GS, 5-4, 95 K, 35 BB, 3.50 ERA, 1.31 WHIP, 1.5 WAR
Despite a 4.55 ERA over 31.2 innings that seems like a glaring red flag, the numbers here are overwhelmingly positive and make Aaron Ashby a candidate to jet up the rankings as the season progresses.
He's gained plenty of fastball velocity throughout his career, and it now sits at 96.6 mph with enough vertical drop to be classified as more of a sinker than anything else. His slider also dances around the plate and induced a .079 xBA during his debut season, and his changeup is a strong tertiary pitch. That triumvirate comprised 93.9% of his pitches and coupled with a deceptive delivery to produce 11.1 strikeouts per nine innings and a 61.3 ground-ball percentage.
Ashby's .273 BABIP might seem to indicate that he was rather neutral from a luck perspective, but he was so good at preventing hard contact that his expected BABIP checked in at .249, per Pitcher LIst. That and his 55.6 LOB%, which was far too low, help explain why his xERA (3.03), FIP (3.58), xFIP (3.05), and SIERA (3.18) all portray him as a breakout waiting to happen, so long as he's able to carve out a featured — and sustained — spot in an overloaded Milwaukee Brewers rotation that might expand to include six arms.
8. Adam Wainwright, St. Louis Cardinals
Age: 40
2021 Stats: 206.1 IP, 32 GS, 17-7, 174 K, 50 BB, 3.05 ERA, 1.06 WHIP, 3.8 WAR
2022 Projected Stats: 168.0 IP, 27 GS, 11-11, 130 K, 53 BB, 4.54 ERA, 1.34 WHIP, 1.9 WAR
Who saw this coming?
Adam Wainwright had posted a 4.58 ERA over 534 innings from 2016-19, so naturally, he followed up his out-of-nowhere success during the pandemic-shortened 2020 season by having an outstanding year. He went out during his age-39 campaign and dropped that to 3.05 while leading the majors in complete games (three) and finishing behind only Kevin Gausman, Brandon Woodruff, Walker Buehler, Max Scherzer, Zack Wheeler, and Corbin Burnes in National League Cy Young voting.
And whereas his 3.15 ERA over 65.2 innings in 2020 featured an inordinate amount of luck (4.52 xERA, 4.11 FIP, 4.23 xFIP), the underlying numbers actually come closer to backing up his 2021 efforts. A 3.87 xERA, 3.66 FIP, and 3.87 xFIP all indicate that he overperformed, but not nearly to the same extent.
Can Wainwright keep it up in his 40s? With the sterling St. Louis Cardinals defense behind him, a sinker that generates plenty of called strikes on the edges of the zone, a strong curveball that keeps getting batters to whiff, and three supporting pitches with which he can find enduring success, why not?
7. Tyler Mahle, Cincinnati Reds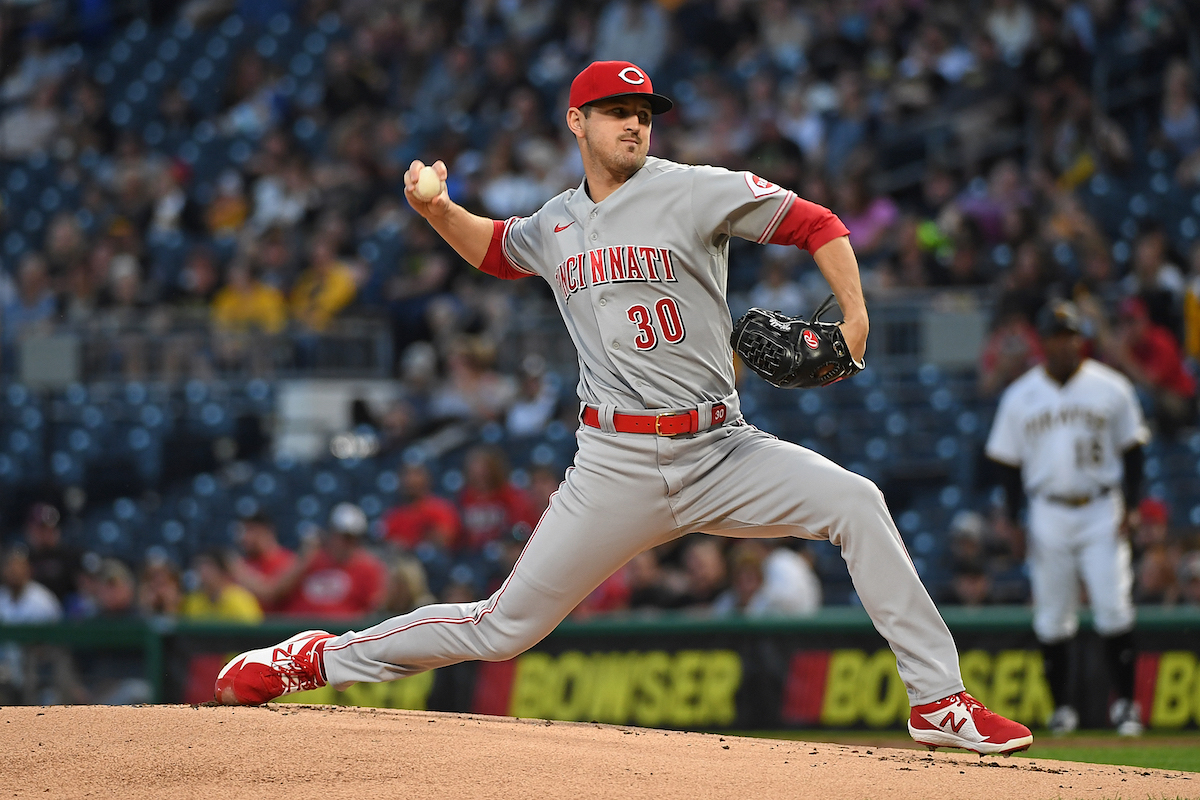 Age: 27
2021 Stats: 180.0 IP, 33 GS, 13-6, 210 K, 64 BB, 3.75 ERA, 1.23 WHIP, 3.8 WAR
2022 Projected Stats: 171.0 IP, 30 GS, 10-11, 176 K, 64 BB, 4.53 ERA, 1.33 WHIP, 2.0 WAR
Tyler Mahle keeps simplifying his arsenal, and that's a good thing.
He turned to his four-seamer 53.1% of the time in 2021 and held opponents to a .215 xBA and .365 xSLG, resulting in a pitch with a 10 run value. His slider was slightly below average, but that's perfectly acceptable when he threw it 31.1% of the time and could see it return to previous whiff rates down the road. He finishes out the repertoire with a splitter that has a 15.8% usage rate and another positive grade, generating a .214 xBA and .287 xSLG.
Mahle is always going to give up a lot of homers because he plays home games for the Cincinnati Reds and has shaky command that allows batters to wait on heaters over the plate. But when he's keeping his fastballs high and dropping the breaking pitches low, he can rack up plenty of strikeouts and ensure he has a high season-long floor.
6. Jack Flaherty, St. Louis Cardinals
Age: 26
2021 Stats: 78.1 IP, 15 GS, 9-2, 85 K, 26 BB, 3.22 ERA, 1.06 WHIP, 0.9 WAR
2022 Projected Stats: 118.0 IP, 20 GS, 8-7, 120 K, 43 BB, 3.95 ERA, 1.24 WHIP, 1.9 WAR
If you're not worried about Jack Flaherty's shoulder, I admire your blind optimism. Per Joe Trezza of MLB.com, the joint isn't exactly functioning at peak levels:
Flaherty confirmed he was diagnosed with bursitis after receiving a platelet-rich plasma (PRP) injection, linking the inflammation to mechanical issues brought upon by the left oblique strain that sidelined him for two months in 2021.

He also confirmed the presence of a pre-existing SLAP — superior labrum anterior posterior, essentially, where the shoulder meets the biceps — tear in his right labrum, reiterating it's unrelated to the current issue and that he's pitched through it for "a handful of years."

Joe Trezza of MLB.com on Jack Flaherty's shoulder injury
Flaherty is extraordinarily talented, hence his elevated placement in spite of the significant health concerns. He's only three years removed from a 2019 season in which he posted a 3.46 ERA, led the National League with a 0.97 WHIP, and finished fourth in Cy Young voting. His fastball should still be one of the majors' best pitches, and he's only 26 years old.
But he's not healthy enough to start the season in the rotation, and his success in 2022, significant as it may end up being, is too far from guaranteed.
5. Marcus Stroman, Chicago Cubs
Age: 30
2021 Stats: 179.0 IP, 33 GS, 10-13, 158 K, 44 BB, 3.02 ERA, 1.15 WHIP, 3.4 WAR
2022 Projected Stats: 172.0 IP, 30 GS, 10-12, 136 K, 57 BB, 4.39 ERA, 1.38 WHIP, 2.4 WAR
Though it's hard to consider a pitcher too fascinating when his results are almost entirely predictable, Marcus Stroman is nevertheless fascinating. And predictable. Excluding the 2020 campaign, since he opted out of the season amid the height of the coronavirus pandemic, he's posted FIPs between 3.49 (2021) and 3.91 (2018) for six straight go-rounds.
Sure, that's left him unable to live up to the hype generated by his excellent rookie season for the Toronto Blue Jays back in 2014, but it's made him quite the reliable commodity. And fascinating.
Usually, pitchers with that type of track record have one dominant offering, but Stroman has no such pitch unless his slider returns to previous levels. In 2021, he threw sinkers, sliders, cutters, and splitters more than 10% of the time and mixed in the occasional four-seamer and curveball. They were all positive pitches, but the slider (six runs above average) was the most distinctly positive and still failed to register as a true marquee offering.
4. Luis Castillo, Cincinnati Reds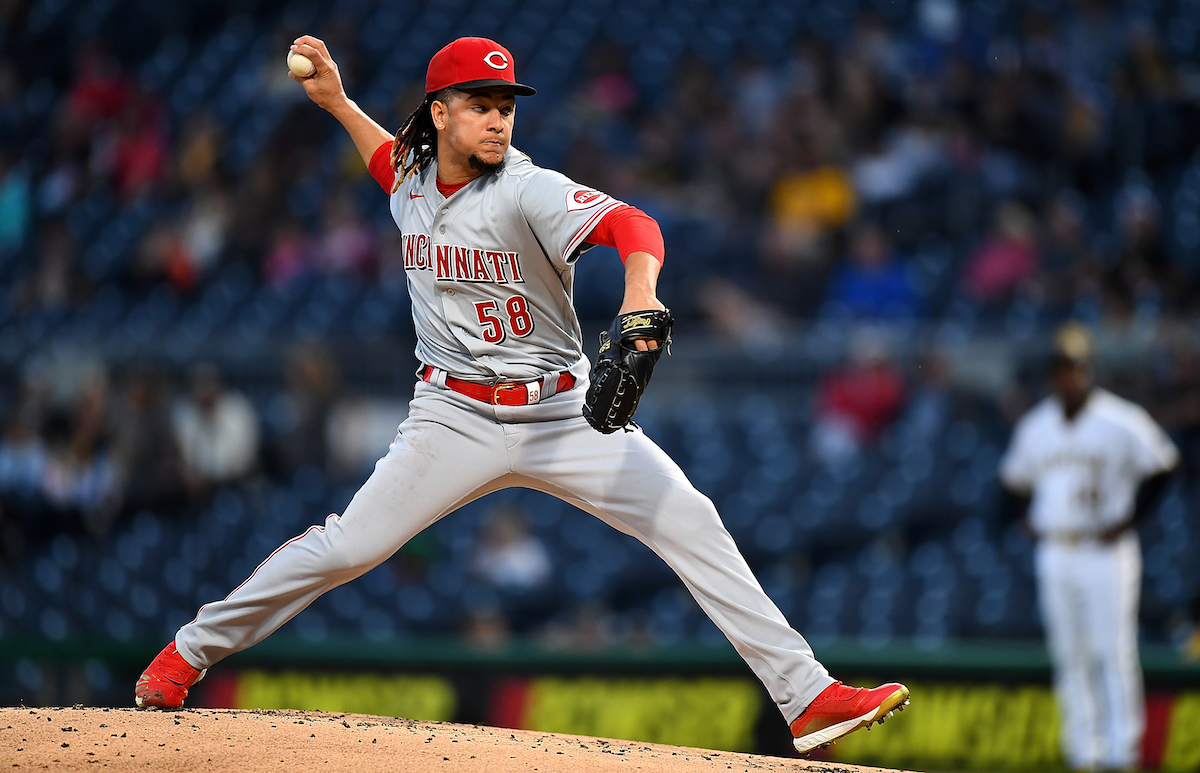 Age: 29
2021 Stats: 187.2 IP, 33 GS, 8-16, 192 K, 75 BB, 3.98 ERA, 1.36 WHIP, 3.7 WAR
2022 Projected Stats: 179.0 IP, 30 GS, 12-11, 172 K, 71 BB, 4.13 ERA, 1.34 WHIP, 2.5 WAR
Shoulder soreness makes this a risky placement since Luis Castillo will miss his first turn (or two) in the Cincinnati Reds rotation even if he seems to be progressing well since his spring training setback. Anything related to the throwing arm is terrifying despite this seeming like more of a speedbump than a brick wall.
Still, when Castillo is healthy, he's pretty darn effective.
Even though he struggles to command it, the 29-year-old's fastball gets by hitter after hitter thanks to a strong combination of velocity and spin. He pairs it with an excellent slider that generated a 41.4% whiff rate and 32.7% strikeout rate in 2021 while yielding a .208 xBA and .315 xSLG. That one-two punch is deadly enough, and it could be that much better if he finds the zone with more frequency.
Castillo got off to a rough start in 2021 before rebounding nicely in the second half of the season, and that late-year success should carry over into 2022 as soon as he's healthy enough to take the mound.
3. Freddy Peralta, Milwaukee Brewers
Age: 25
2021 Stats: 144.1 IP, 27 GS, 10-5, 195 K, 56 BB, 2.81 ERA, 0.97 WHIP, 4.0 WAR
2022 Projected Stats: 161.0 IP, 29 GS, 13-9, 198 K, 65 BB, 3.78 ERA, 1.20 WHIP, 3.4 WAR
Though Freddy Peralta likely won't submit another sub-3.00 ERA (see: command concerns stemming from an inconsistent delivery and a .232 BABIP in 2021 that's sure to rise closer to his .261 xBABIP, per Pitcher List), he still excelled as a third ace in a ridiculous Milwaukee Brewers rotation. His 2.70 xERA, 3.12 FIP, 3.66 xFIP, and 3.40 SIERA were all indicative of an elite arm who should be expected to excell throughout the foreseeable future.
Peralta broke through thanks to a a slider that stropped dropping as far vertically and instead veered off horizontally, and it baffled batters to the tune of a .163 xBA and .240 xSLG. Pair that with one of the game's best four-seamers and a plus curveball, and the blueprint for success is rather obvious even if the changeup he threw 9.8% of the time is nothing to write home about.
And as for the fastball, it really is that good. Only Charlie Morton's curveball, Robbie Ray's four-seamer, Kevin Gausman's splitter, Adrian Houser's sinker, and Carlos Rodon's four-seamer graded out as more valuable pitches in 2021.
2. Brandon Woodruff, Milwaukee Brewers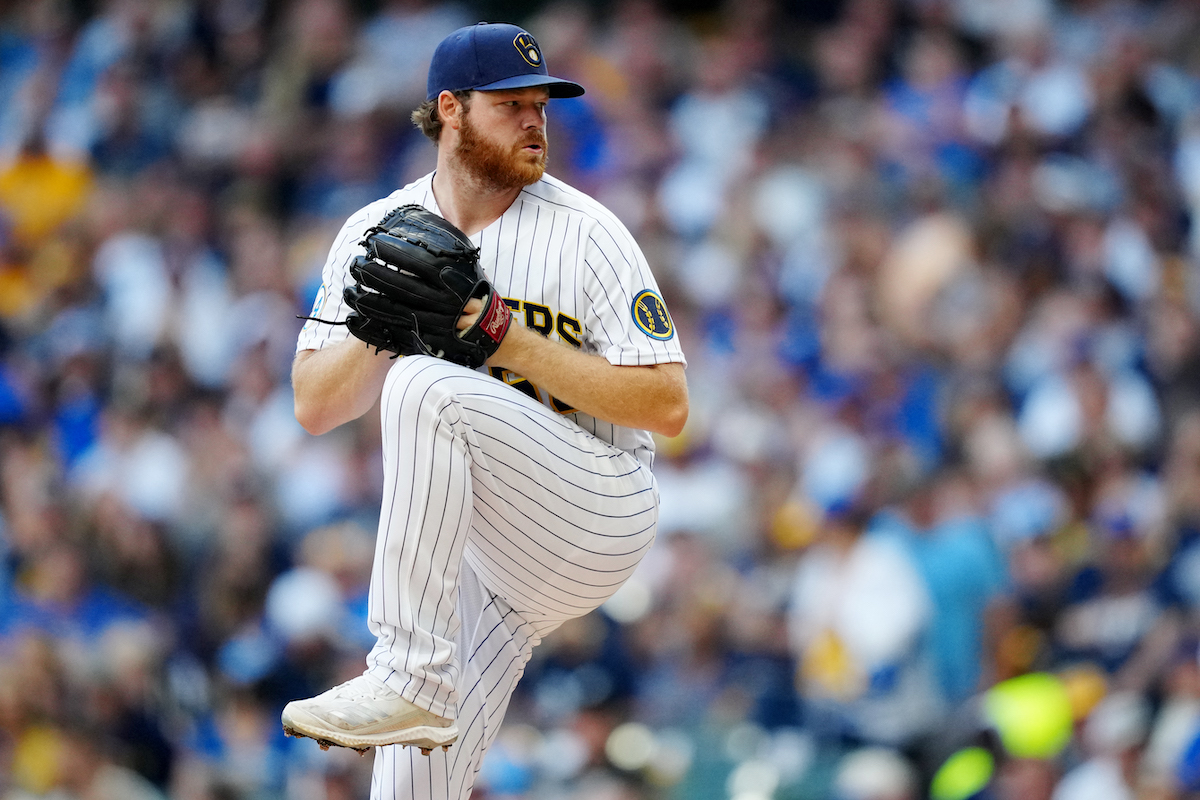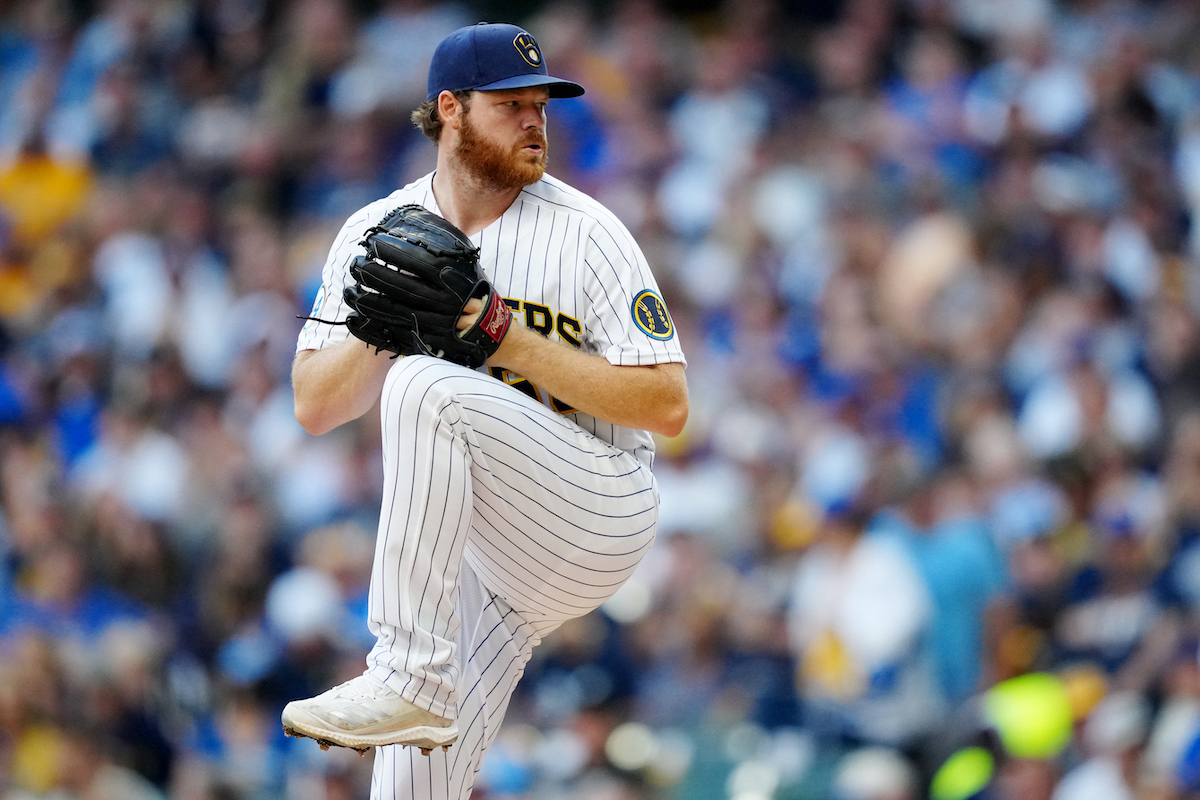 Age: 29
2021 Stats: 179.1 IP, 30 GS, 9-10, 211 K, 43 BB, 2.56 ERA, 0.96 WHIP, 4.7 WAR
2022 Projected Stats: 183.0 IP, 31 GS, 14-9, 199 K, 53 BB, 3.55 ERA, 1.16 WHIP, 4.4 WAR
If Brandon Woodruff doesn't mow you down with his 96.5 mph four-seamer, he's going to make you look foolish with a sinker that drops out right beneath the barrel of your bat, forcing plenty of weak contact that never leaves the infield if contact is made in the first place. Or he might throw a sweeping curve or changeup that tunnels nicely with the fastball before you realize it's only coming toward you at 86.5 mph.
He might not have one true money pitch — the four-seamer comes closest with a 30.5 whiff percentage, a 43.5 strikeout rate, a .212 xBA, and a .349 xSLG — but his full arsenal is filled with above-average offerings that leave hitters guessing and hoping for the best.
Woodruff might not push toward a 2.50 ERA again, but he should hover around 3.00 while allowing just about a baserunner per inning. When he gets on a tear and all the pitches are clicking, he's fully capable of looking like the premier mound-dweller in the sport for extended stretches.
1. Corbin Burnes, Milwaukee Brewers
Age: 27
2021 Stats: 167.0 IP, 28 GS, 11-5, 234 K, 34 BB, 2.43 ERA, 0.94 WHIP, 7.5 WAR
2022 Projected Stats: 171.0 IP, 29 GS, 14-8, 217 K, 54 BB, 3.13 ERA, 1.11 WHIP, 5.1 WAR
If you want to call Corbin Burnes the best pitcher in baseball right now, we won't hold it against you.
The 27-year-old is coming off a year in which everything worked perfectly. He struck out 234 batters over 167 innings while only walking 34, and his sparkling 2.43 ERA might somehow have sold him short due to his .309 BABIP. Unbelievably, his 2.00 xERA, 1.63 FIP, and 2.30 xFIP all indicated he might be due for some positive regression, and his 2.61 SIERA wasn't far behind.
Burnes' arsenal features a mind-numbing cutter that held batters to a .199 xBA and .291 xSLG, a devastating curveball that induced a 50.3 whiff percentage, and a slider with similar numbers (47.5%). He occasionally throws mediocre sinkers, changeups, and four-seamers (with the least frequency), and focusing more on his three marquee offerings might help him reach a — gasp — even more impressive level.
The reigning National League Cy Young winner should be firmly in the mix to go back-to-back.
All stats, unless otherwise indicated, courtesy of Baseball Reference, Fangraphs, and Baseball Savant.