Ranking Shohei Ohtani, Justin Verlander, Top 10 AL West Starting Pitchers for 2022 MLB Season
Justin Verlander? Robbie Ray? Shohei Ohtani? Someone else? How do the best of the best stack up in these rankings of the top 10 AL West starting pitchers.
What should we expect from Justin Verlander as he makes his long-awaited return to MLB action for the Houston Astros following Tommy John surgery? Los Angeles Angels two-way standout Shohei Ohtani is trying to provide an encore to his Ruthian 2021 efforts, but what can we expect from him on the mound? Will Robbie Ray's surge translate from the Toronto Blue Jays to the Seattle Mariners? Are any of the three the best starting pitchers in the American League West?
The division is brimming over with intriguing questions, and we're here to provide the answers.
This countdown of the 10 best AL West starting options hinges on a combination of past results and future projections, weighing everything from ongoing injury concerns to potential progression/regression in an attempt to predict the expected level of play for the entirety of the 2022 season.
That last part can't be emphasized enough.
Beginning with the strong set of honorable mentions you can see below, these rankings are not moment-in-time snapshots. Nor do they predict the final level reached when the 2022 postseason field is determined. They account for expected volume and production during the whole campaign, relying on both anecdotal observations and plenty of numbers, including the listed 2022 stats that come from Fangraphs' THE BAT projections.
Honorable Mentions: Luis Garcia, Houston Astros; Jon Gray, Texas Rangers; Cristian Javier, Houston Astros; Yusei Kikuchi, Seattle Mariners; Noah Syndergaard, Los Angeles Angels
10. Jose Urquidy, Houston Astros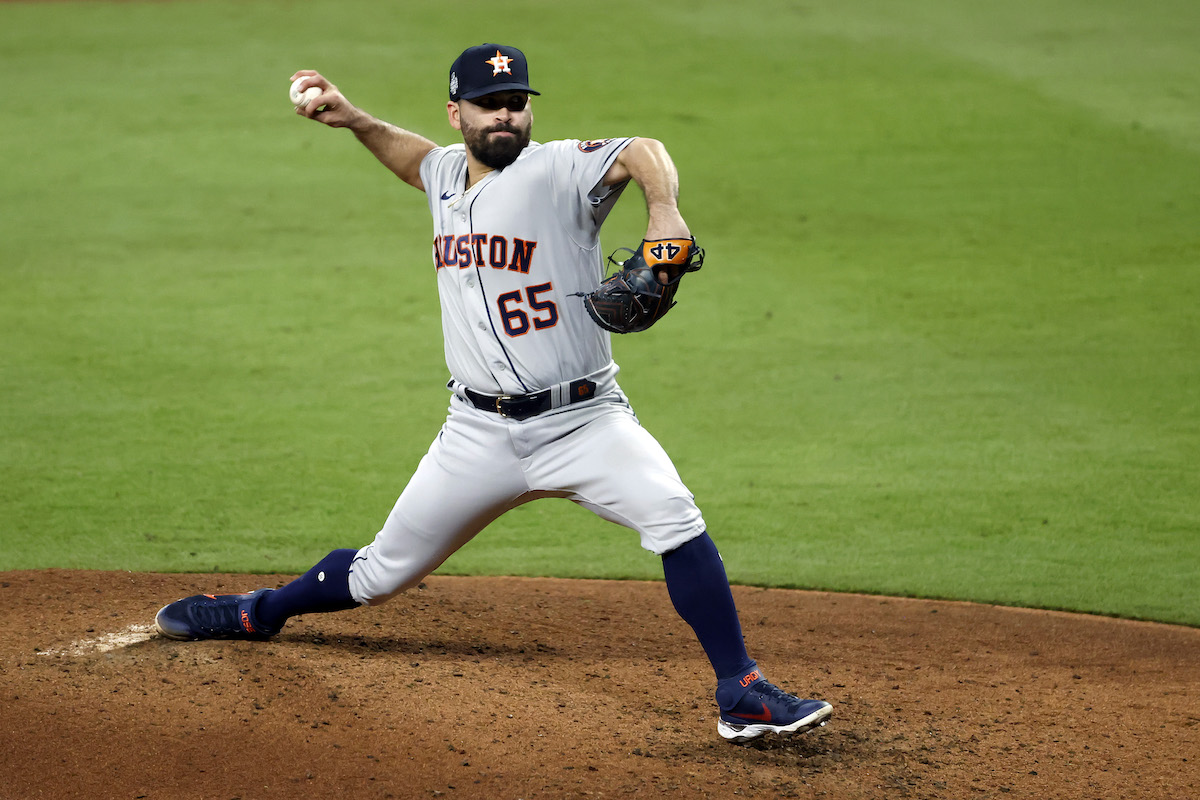 Age: 26
2021 Stats: 107.0 IP, 20 GS, 8-3, 90 K, 19 BB, 3.62 ERA, 0.99 WHIP, 1.8 WAR
2022 Projected Stats: 138.0 IP, 26 GS, 10-9, 120 K, 37 BB, 4.41 ERA, 1.24 WHIP, 1.8 WAR
If these rankings were determined purely on a per-start basis, Jose Urquidy would rise higher up the pecking order. But there's a reason THE BAT projection system only pegs him for 26 starts that span 138 innings. Over his three big league seasons, he's succumbed to a variety of nagging injuries and been limited to just 41.0, 29.2, and 107.0 innings.
Still, Urquidy is undoubtedly effective when he takes the mound, capable of showing off excellent command and limiting baserunners with a four-pitch arsenal of above-average offerings.
His slider regressed a bit as he posted a strong whiff rate (33.8%) but allowed plenty of hard contact (.493 slugging percentage), and his curveball, changeup, and four-seamer all checked in with positive overall results. The changeup was the most effective pitch overall since his curveball and four-seamer got hit hard when batters managed to make contact, but he clearly has across-the-board upside.
9. Lance McCullers Jr., Houston Astros
Age: 28
2021 Stats: 162.1 IP, 28 GS, 13-5, 185 K, 76 BB, 3.16 ERA, 1.22 WHIP, 3.3 WAR
2022 Projected Stats: 93.0 IP, 16 GS, 6-5, 95 K, 41 BB, 3.74 ERA, 1.33 WHIP, 1.6 WAR
Until Lance McCullers Jr. fixes two issues, he'll struggle to capitalize on his slider and curveball, both of which are magnificent pitches that routinely fool batters and rack up high strikeout rates.
First, his fastball.
The pitch is often classified as either a sinker or a cutter, but both tend to get hit hard and fail to put batters away. It simply doesn't force batters to swing, particularly when it's off the plate, and that allows hitters to remain patient against the devastating breaking stuff and sit on the next straightforward delivery that has to come right over the heart of the plate. When McCullers is generating called strikes, he can appear unhittable. His breaking stuff is that good when he's able to deploy it optimally.
Second, his health.
He remained healthy enough to pitch an outlier 162.1 innings last year, but he left in Game 4 of the American League Division Series with forearm tightness and has needed platelet rich plasma injections and stem cell treatments in recent weeks after suffering a flexor tendon setback while long-tossing during the MLB lockout.
Breaking news: Forearm injuries are scary for pitchers.
8. Patrick Sandoval, Los Angeles Angels
Age: 25
2021 Stats: 87.0 IP, 14 GS, 3-6, 94 K, 36 BB, 3.62 ERA, 1.21 WHIP, 1.5 WAR
2022 Projected Stats: 143.0 IP, 25 GS, 10-9, 145 K, 56 BB, 4.18 ERA, 1.33 WHIP, 2.1 WAR
Patrick Sandoval, one of the best sleeper options at the position for your fantasy team, enjoys the whiff rates of an ace. And we're not just talking about the whiffs that end plate appearances even though he racked up 94 strikeouts in just 87 innings during the 2021 season. Throughout the entire campaign, he (32) joined Gerrit Cole (32) and Corbin Burnes (30) as the only pitchers to generate 30 swinging strikes in a single start.
Despite back injuries and a mediocre fastball, Sandoval rode his changeup to tremendous success during his third season in the majors. He cut back on the use of that fastball, dropping it from 44.6 to 29.6% of his pitches, and turned to that premier off-speed pitch with more frequency, leading to whiffs on 51.4% of the offerings while producing a .139 xBA.
The 25-year-old posted a 3.57 xERA, 4.03 FIP, 3.79 xFIP, and 4.03 SIERA last year, and similar results — if not better ones — should be coming as he spends the entirety of the year in the Los Angeles Angels rotation.
7. Logan Gilbert, Seattle Mariners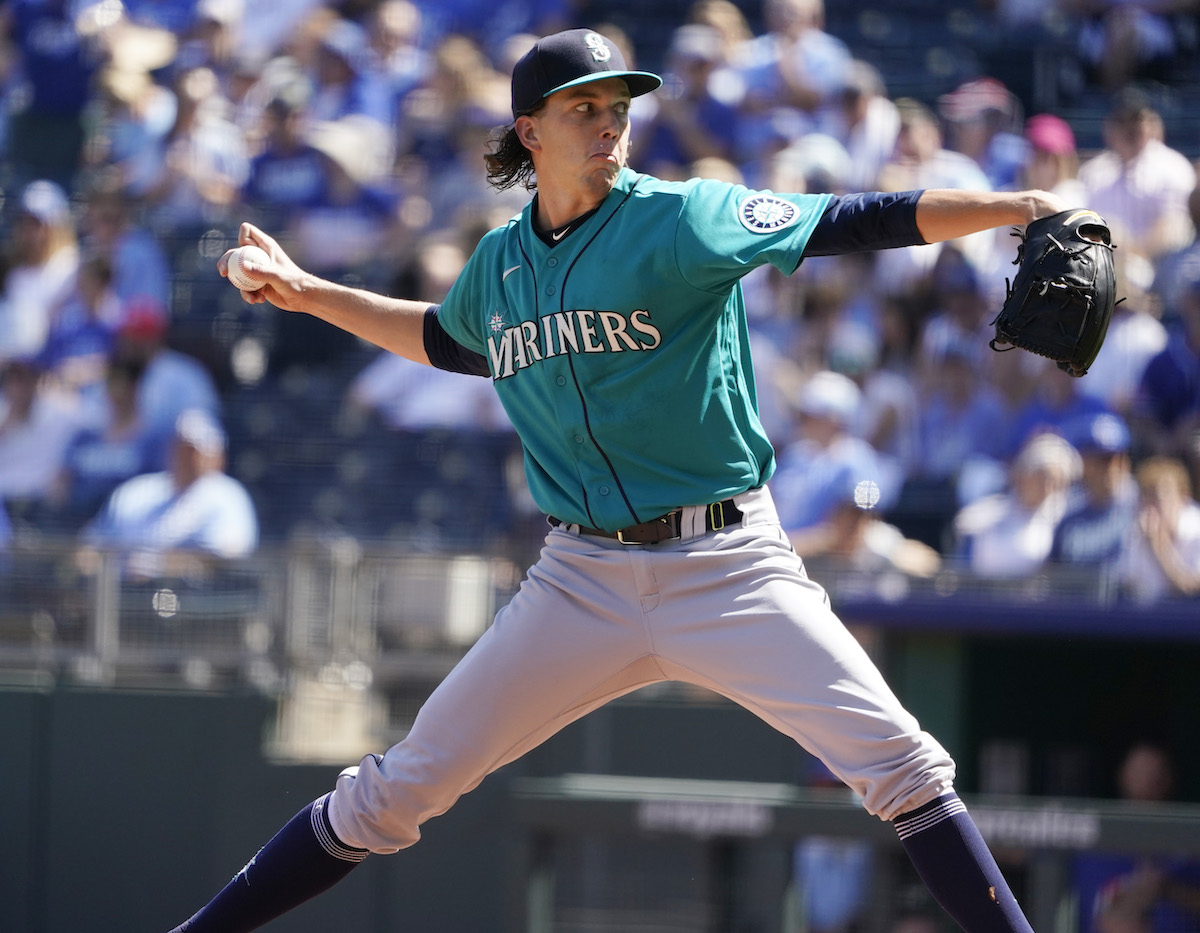 Age: 24
2021 Stats: 119.1 IP, 24 GS, 6-5, 128 K, 28 BB, 4.68 ERA, 1.17 WHIP, 2.2 WAR
2022 Projected Stats: 153.0 IP, 27 GS, 9-10, 158 K, 44 BB, 4.19 ERA, 1.20 WHIP, 2.5 WAR
Your opinion of Logan Gilbert likely hinges on your opinion of his secondary offerings.
He quite obviously has a strong fastball, but he had to rely on it with far too much frequency during the 2021 campaign, which is why the numbers look so unpalatable. (Well, that and a bout with bad luck as his .293 BABIP and 67.9 LOB% help explain the discrepancy between his 4.68 ERA and 3.73 FIP.) Gilbert had to turn to the four-seamer 61.5% of the time, and it was still quite the effective pitch, holding batters to a .258 xBA and .438 xSLG en route to it falling 19 runs above average.
Back in 2020, MLB.com gave the 6-foot-6 right-hander strong across-the-board grades. His fastball (65) led the charge, but his slider (55), changeup (55), and curveball (50) were all solid pitches that should be at least major league-average offerings. That hasn't been the case yet, but any progress in those areas would make his fastball deployment more unpredictable and even more effective.
6. Framber Valdez, Houston Astros
Age: 28
2021 Stats: 134.2 IP, 22 GS, 11-6, 125 K, 58 BB, 3.14 ERA, 1.25 WHIP, 1.9 WAR
2022 Projected Stats: 173.0 IP, 28 GS, 12-9, 157 K, 69 BB, 3.68 ERA, 1.33 WHIP, 2.8 WAR
Even though he doesn't boast tremendous control, has a fastball that often misses the zone, and gets by with a changeup that's nothing to write home about, Framber Valdez excels because he keeps the ball on the ground and strikes out plenty of batters with a curveball that is flat-out unreal.
Valdez's BABIP is bound to rise from the .268 mark he posted in 2021, but even marginally better control of his full arsenal (not even getting back to the 2.04 walks per nine innings he posted over 70.2 frames in 2020) should allow him to at least come close to replicating his 2021 efforts. After all, that knee-buckling curveball isn't going anywhere.
Valdez allowed a minuscule .125 batting average (.156 xBA) on his curveball in 2021, throwing the pitch 30.8% of the time. And that's no aberration. He was at .124 (.137 xBA) in 2020, .118 (.115 xBA) in 2019, and .098 (.110 xBA) in 2018, each time exceeding 30% usage. Among pitchers with at least 500 such pitches last year, only Lance McCullers Jr. (1.9), Pierce Johnson (2.0), Charlie Morton (2.0), Julio Urias (2.2), and Joe Musgrove (2.4) added more run value per 100 curveballs than Valdez (1.8).
5. Sean Manaea, Oakland Athletics
Age: 30
2021 Stats: 179.1 IP, 32 GS, 11-10, 194 K, 41 BB, 3.91 ERA, 1.23 WHIP, 3.3 WAR
2022 Projected Stats: 174.0 IP, 30 GS, 10-11, 176 K, 45 BB, 3.73 ERA, 1.16 WHIP, 3.6 WAR
As topsy-turvy as Sean Manaea's 2021 was for the Oakland Athletics, featuring a ridiculous midseason run and some truly awful performances surrounding it, projection systems are largely buying into the 30-year-old's development. After all, his 3.91 ERA was backed up by a 3.66 FIP, 3.62 xFIP, and 3.91 SIERA as he struck out a career-best 9.74 batters per nine innings and kept his walk rate (2.05 BB/9) below his career average of 2.23.
But everything hinges on the fastball — in particular, whether he can maintain the velocity gains he put on display last year.
Though it's classified as more of a sinker due to the 20.1 inches of vertical movement, it ticked up from 89.8 mph in 2019 and 90.4 mph in 2020 to 92.1 mph in 2021, and that resulted in it transitioning from a negative offering to a positive one that held batters to a .266 xBA. It's been back down at the lower levels in spring training, but he's paired that with even better command and could still dial it up when the games actually count.
4. Shohei Ohtani, Los Angeles Angels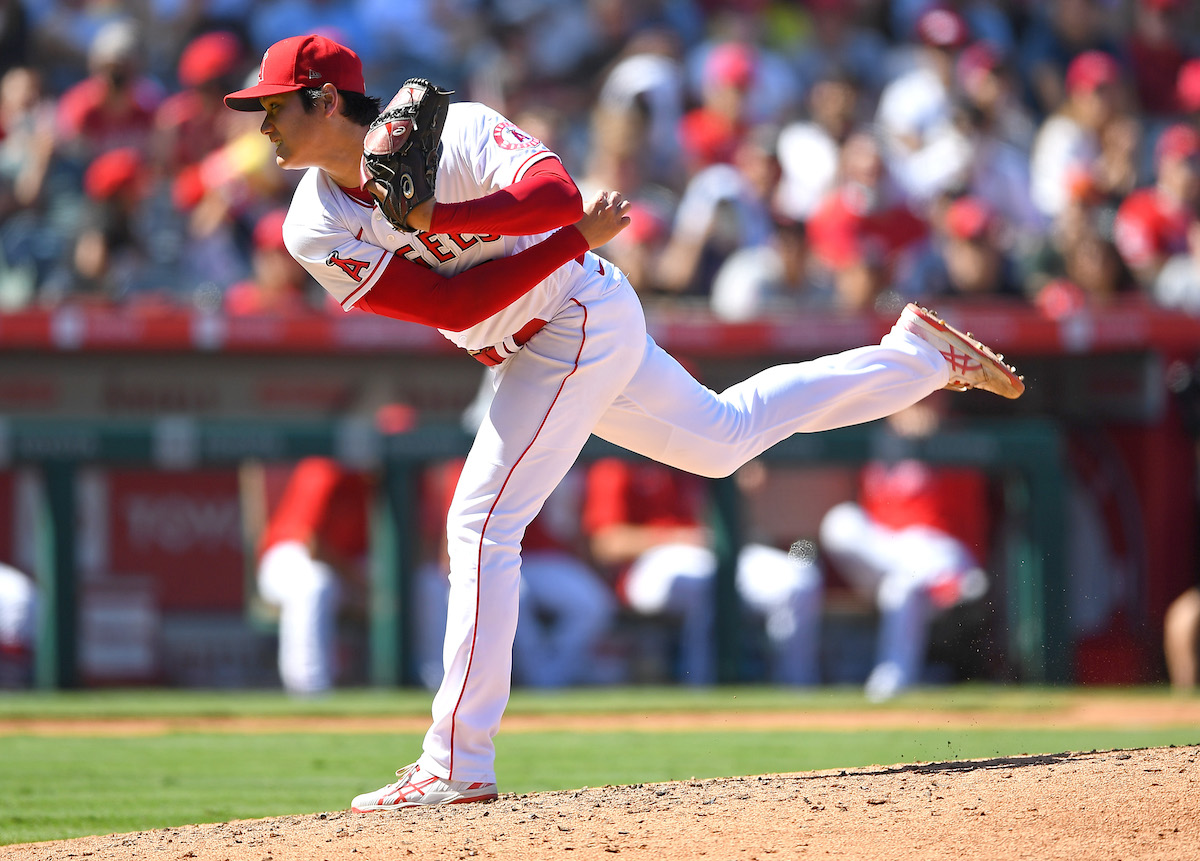 Age: 27
2021 Stats: 130.1 IP, 23 GS, 9-2, 156 K, 44 BB, 3.18 ERA, 1.09 WHIP, 3.0 WAR
2022 Projected Stats: 136.0 IP, 25 GS, 10-8, 158 K, 54 BB, 3.69 ERA, 1.22 WHIP, 2.6 WAR
Were we ranking the overall package of a starting pitcher, Shohei Ohtani's remarkable hitting prowess would unquestionably push him to the top of the pile. But we're interested only in what a player does on the mound, and his ceiling is ultimately capped by his dual role.
Ohtani made 23 starts last year during a season in which he stayed healthy the entire time, and while predicting injuries is a dangerous game, it's tough to imagine a player with such a full workload continuously avoiding the IL season in and season out. Even if he does, is he going to exceed 140 innings? Probably not, and that makes it hard to give his full-season efforts any more love regardless of how good his stuff may be.
And Ohtani's stuff is good good.
His splitter is right up there with the offerings of Frankie Montas, Wily Peralta, and Kevin Gausman for the best in the game, and it had ridiculous success in 2020. He threw it 371 times, and it yielded a .099 xBA and .142 xSLG with a 48.5% whiff rate. Pair that with a tremendous slider, and it's easy to see how Ohtani enjoys such success on the mound even though his fastball is quite hittable and holds him back from reaching that proverbial next level.
3. Robbie Ray, Seattle Mariners
Age: 30
2021 Stats: 193.1 IP, 32 GS, 13-7, 248 K, 52 BB, 2.84 ERA, 1.04 WHIP, 3.9 WAR
2022 Projected Stats: 178.0 IP, 30 GS, 12-11, 226 K, 74 BB, 4.12 ERA, 1.25 WHIP, 3.0 WAR
On one hand, the strides Robbie Ray made with the Toronto Blue Jays seem legitimate, largely because they stemmed from an approach alteration. Rather than trying to fool batters with stuff outside the zone and generating called strikes on the edges of the plate, he decided to overpower everyone with his 94.8 mph heater and then put them away with a slider that eludes contact.
On the other hand, how much do we trust the sustainability when his walk rate plummeted (5.09 in 2018, 4.34 in 2019, 7.84 in 2020, 2.42 in 2021) to what was rather easily a career low and he benefited from a bullpen that allowed just 9.9% of his inherited runners to score?
The underlying metrics (3.60 xERA, 3.69 FIP, 3.36 xFIP, 3.21 SIERA) point to the middle ground that is so often the answer, but the truth probably lies closer to legitimacy. Ray was quite simply a different pitcher with the same overpowering arsenal in 2021, and it worked — to the tune of a Cy Young and some MVP votes. There's no reason for him to change that up now.
2. Justin Verlander, Houston Astros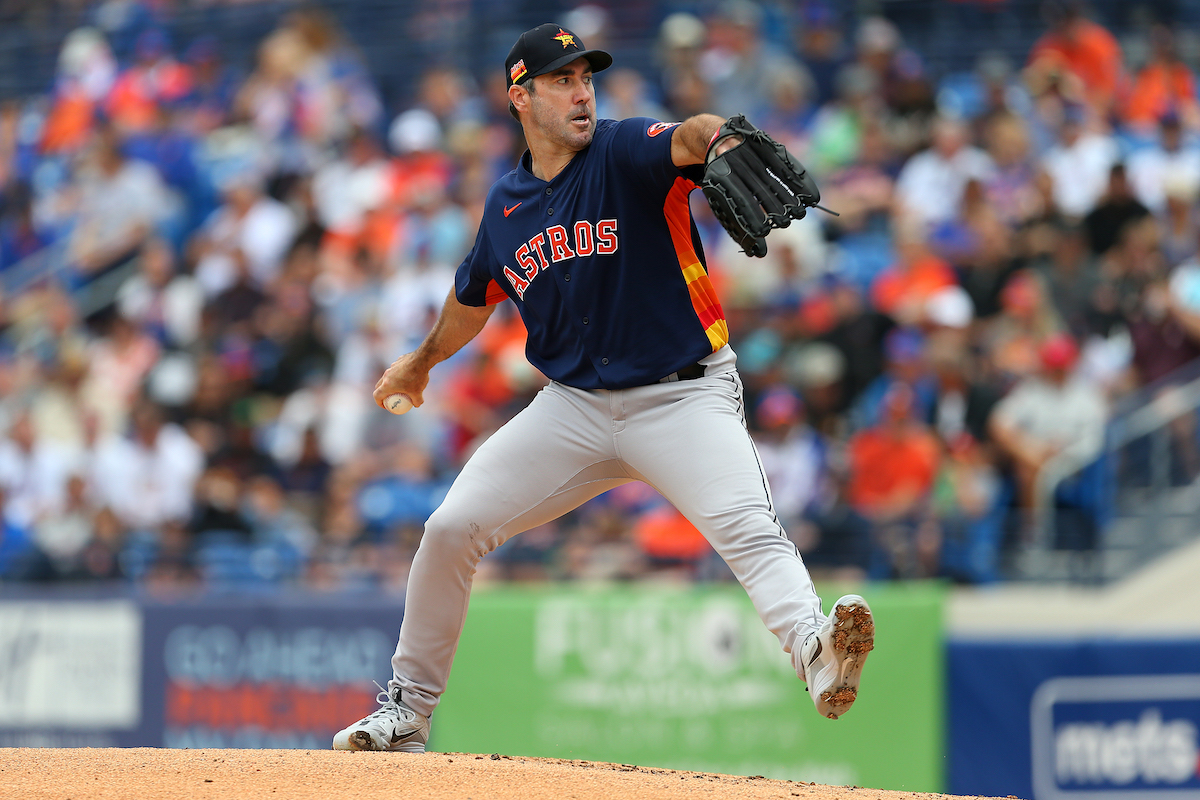 Age: 39
2021 Stats: Did not pitch
2022 Projected Stats: 136.0 IP, 23 GS, 10-7, 168 K, 38 BB, 3.64 ERA, 1.06 WHIP, 2.9 WAR
If you truly know what to expect from Justin Verlander, please do me a favor and let me borrow your crystal ball. I'll give it back after a week or two. I promise. Seriously, my fingers aren't crossed or anything.
The 39-year-old didn't pitch in 2021 and only logged six innings in 2020 before undergoing Tommy John surgery, but he won the American League Cy Young Award during his last full season back in 2019. He's also a generational talent, which could help him push aside the typical narrative that sees older starters struggle to regain their prior levels after such a prolonged absence.
Of course, that hinges on him regaining his velocity and featuring a slider no one can figure out.
So far, so good. He averaged 94.6 mph on his fastball in 2019 and touched 95.7 while sitting at 94.8 on the 16 fastballs he threw during his 2022 spring training debut. He also generated whiffs on three of eight sliders. Maybe that's a meaningless small sample from a relatively meaningless setting, but it's also the best data we have to work with here.
So, about that crystal ball?
1. Frankie Montas, Oakland Athletics
Age: 29
2021 Stats: 187.0 IP, 32 GS, 13-9, 207 K, 57 BB, 3.37 ERA, 1.18 WHIP, 4.1 WAR
2022 Projected Stats: 179.0 IP, 31 GS, 11-13, 190 K, 63 BB, 3.98 ERA, 1.26 WHIP, 3.3 WAR
Frankie Montas is far from the most glamorous pitcher flirting with the top of the rankings, which is somehow true even though he cleared the 200-strikeout threshold in 2021.
His splitter is unreal, holding batters to a .126 average (.135 xBA) and .168 slugging percentage (.192 xSLG) even as he offered it up as 22.4% of his pitch mix, but he lacks another top-notch option. His four-seamer and sinker are both solid but nothing special, and his slider took a step back in 2021 after it served as one of his more effective tools in each of the two previous seasons.
Most of the effectiveness is rooted in Montas' control (2.74 BB/9) and his ability to avoid giving up hard contact. When batters do square up on him, that usually results in hard-hit ground balls and line drives rather than fly balls that clear the fences.
Shohei Ohtani, Justin Verlander, and Robbie Ray all have a decent chance to surpass him in 2022 because of the upside brimming over in their profiles, but Montas enjoys a high floor despite the occasional blow-up outing. Though he may not be the fun pick at No. 1, he's an entirely reasonable one.
All stats, unless otherwise indicated, courtesy of Baseball Reference, Fangraphs, and Baseball Savant.