Ranking Gerrit Cole, Chris Sale, Top 10 AL East Starting Pitchers for 2022 MLB Season
Jose Berrios? Gerrit Cole? Kevin Gausman? Chris Sale? How do the best of the best stack up in these rankings of the top 10 AL East starting pitchers.
New York Yankees ace Gerrit Cole, a pair of Toronto Blue Jays veterans, some previously elite pitchers with lengthy injury histories, and a plethora of up-and-comers take center stage in the American League East as the beginning of the 2022 MLB season draws closer still.
But who's the best starting pitcher in the division? How do the rest of the top options stack up?
This countdown of the 10 best AL East starting options hinges on a combination of past results and future projections, weighing everything from ongoing injury concerns to potential progression/regression in an attempt to predict the expected level of play for the entirety of the 2022 season.
That last part can't be emphasized enough.
Beginning with the five honorable mentions you can see below, these rankings are not moment-in-time snapshots. Nor do they predict the final level reached when the 2022 postseason field is determined. They account for expected volume and production during the whole campaign, relying on both anecdotal observations and plenty of numbers, including the listed 2022 stats that come from Fangraphs' THE BAT projections.
Honorable Mentions: Shane Baz, Tampa Bay Rays; Tanner Houck, Boston Red Sox; Luis Patino, Tampa Bay Rays; Drew Rasmussen, Tampa Bay Rays; Hyun Jin Ryu, Toronto Blue Jays
10. Luis Severino, New York Yankees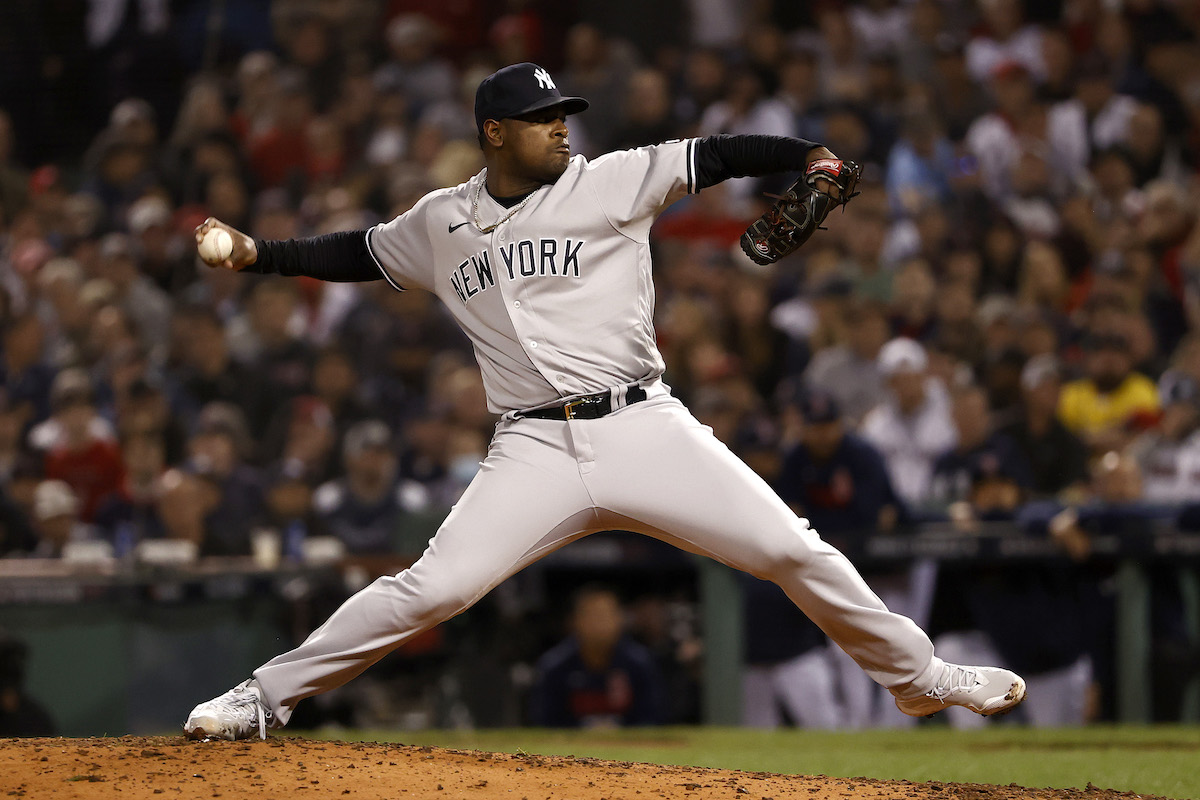 Age: 28
2021 Stats: 6.0 IP, 0 GS, 1-0, 8 K, 1 BB, 0.00 ERA, 0.50 WHIP, 0.2 WAR
2022 Projected Stats: 133.0 IP, 23 GS, 10-7, 140 K, 35 BB, 3.69 ERA, 1.17 WHIP, 3.0 WAR
Evaluating Luis Severino at this stage is next to impossible, if only because it's been such a long time since he's racked up a meaningful sample of games at the MLB level. If he's fully operational and working at the heights of his powers, dazzling batters with a mix of high-octane fastballs and sliders that leave them buckling at the knees, then he'll skyrocket up these rankings.
But since Severino recorded a 3.39 ERA with 220 strikeouts over 191.1 innings in 2018, he's pitched a grand total of 18 frames. He's been quite effective over the course of those seven outings, four of which came out of the bullpen, but even the New York Yankees might not have a realistic idea of how he'll look fully stretched out.
We'll take a chance and rely on the overwhelming talent in his 28-year-old frame, and it's encouraging that he reached 98.7 mph with his fastball during his first spring appearance. But caution has to be exercised until his command returns and he demonstrates that he can stay healthy.
9. Chris Sale, Boston Red Sox
Age: 32
2021 Stats: 42.2 IP, 9 GS, 5-1, 52 K, 12 BB, 3.16 ERA, 1.34 WHIP, 0.8 WAR
2022 Projected Stats: 113.0 IP, 20 GS, 8-6, 136 K, 36 BB, 3.90 ERA, 1.20 WHIP, 2.4 WAR
Injury concerns rear their ugly heads once more here. Chris Sale pitched only 42.2 innings in 2021 as he recovered from Tommy John surgery that kept him out for the entirety of the 2020 season — and he missed time following a positive COVID-19 test — but he was incredible when he was healthy.
His strikeout rates didn't reach peak levels, but he posted the third immaculate inning of his career against the Minnesota Twins and logged a 3.16 ERA that only slightly outpaced some of the underlying metrics (3.35 xFIP, 3.44 SIERA).
Keep an eye on Sale's slider above all else. If he's back to generating swings and misses when he throws his premier offering, it'll be an indication that we've undersold him rather drastically. The pitch's whiff rate and put-away percentage sat at 35.7 and 28.3%, respectively, during his 2019 efforts and 44.4 and 31.7% in 2018, when he finished fourth in the AL Cy Young race. But they fell to 32.0 and 20.9% upon his 2021 return, and he's not jumping back up to a truly elite level, even if he stays healthy, without that slider fooling batter after batter.
8. John Means, Baltimore Orioles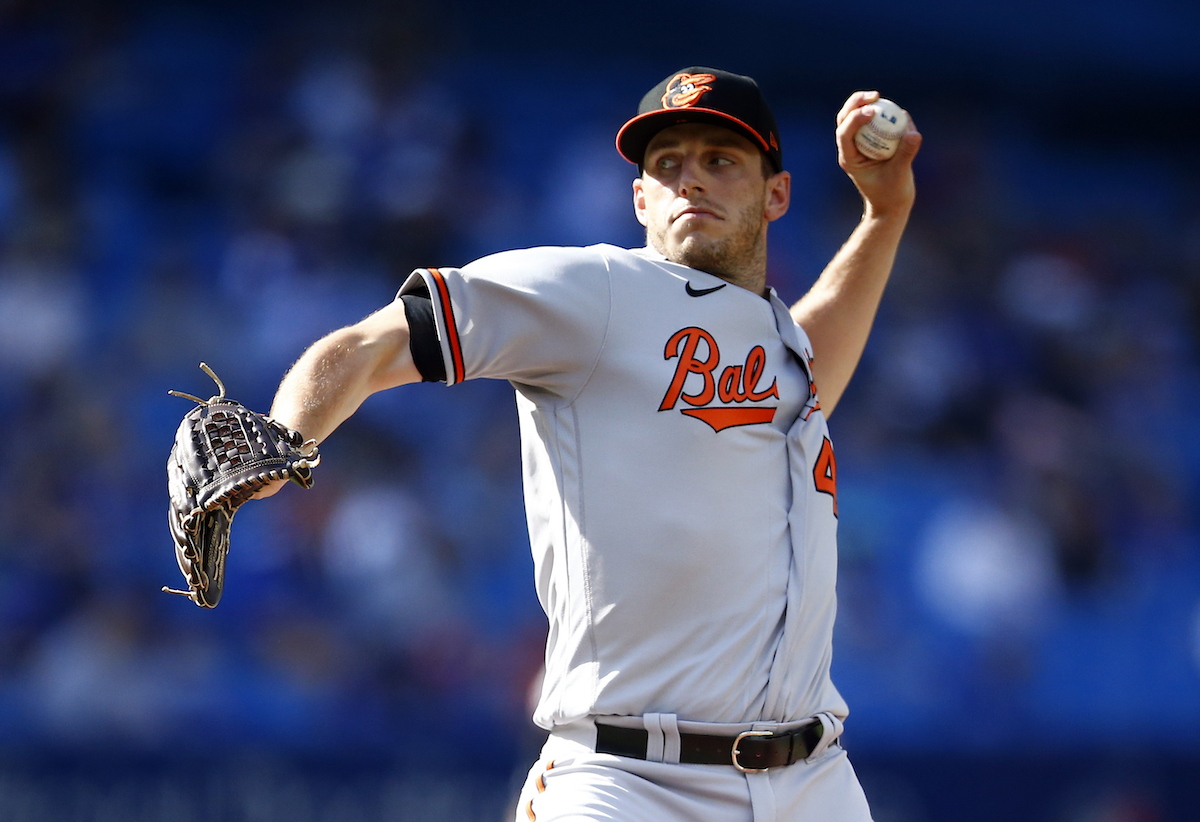 Age: 28
2021 Stats: 146.2 IP, 26 GS, 6-9, 134 K, 26 BB, 3.62 ERA, 1.03 WHIP, 2.5 WAR
2022 Projected Stats: 164.0 IP, 29 GS, 10-12, 145 K, 41 BB, 4.54 ERA, 1.25 WHIP, 2.1 WAR
John Means should benefit from the expansion of the left-field fences at Camden Yards, especially because gopheritis has always plagued him at the big league level. Even in 2021, he allowed 1.84 homers per nine innings, which needs to come down if he's to ascend to that proverbial next level. Having more space in his home park should help a pitcher who has given up seven home runs above expectations over the 2020 and 2021 seasons.
Beyond that, Means will have the luxury of continuity in 2022. His spin rate dropped amid the league's crackdown on sticky stuff last year before elevating back to his normal levels toward the season's second half. He shouldn't have those types of fluctuations moving forward, and it's also notable that he was dealing with lingering injury issues for much of that same time after getting off to a rip-roaring start (2.79 ERA through 93.2 IP).
Means' changeup and slider are both starting to generate more whiffs, and he's worked in more curveballs over each of the last two seasons. That last pitch almost exclusively keeps the ball on the ground, and that's great news as he looks to cut out that gopheritis and submit the best season of his career.
7. Jordan Montgomery, New York Yankees
Age: 29
2021 Stats: 157.1 IP, 30 GS, 6-7, 162 K, 51 BB, 3.83 ERA, 1.28 WHIP, 3.3 WAR
2022 Projected Stats: 160.0 IP, 30 GS, 12-10, 159 K, 51 BB, 4.08 ERA, 1.27 WHIP, 2.8 WAR
Is this the year Jordan Montgomery finally puts it all together? He's teased as much over the last few campaigns without fully optimizing his arsenal.
Montgomery's changeup is a truly elite pitch. He threw it 24.4% of the time in 2021 and held batters to a .187 xBA and .382 xSLG while generating whiffs on 39.2% of the pitches. He doesn't have an overpowering fastball (92.6 mph), but the spin he puts on the off-speed pitch that checks in at 82.5 mph makes it nearly impossible for hitters to square it up with any semblance of consistency. It produced 11.1 runs above average in 2021, which helped cancel out a miserable fastball that was far too hittable (-7.9 runs above average).
Inexplicably, Montgomery threw the four-seamer more and the changeup less in 2021 than he did in 2020. Correcting that is an easy breakout blueprint since the underlying skills in play here can be so tantalizing.
6. Nathan Eovaldi, Boston Red Sox
Age: 32
2021 Stats: 182.1 IP, 32 GS, 11-9, 195 K, 35 BB, 3.75 ERA, 1.19 WHIP, 5.6 WAR
2022 Projected Stats: 167.0 IP, 29 GS, 12-10, 167 K, 42 BB, 4.07 ERA, 1.22 WHIP, 3.4 WAR
Don't buy into any projections that point toward major regression from the first-time All-Star. Nathan Eovaldi took plenty of strides forward last season after teasing at breakouts in years past, and everything points toward those numbers being sustainable.
He paired his 3.75 ERA over an AL-high 32 starts with a 2.79 FIP that paced the league, and that was driven by a walk rate (1.73 BB/9) that no qualified pitcher in the majors could touch. Essentially, he prevented runs quite well despite an unlucky .326 BABIP and a bullpen that allowed a reasonable number of inherited runners to score (70.4 LOB%). His 3.48 xFIP, 3.37 xERA, and 3.60 SIERA accounted for some of his luck with hard-hit fly balls falling short of outfield fences, but even they indicate that his ERA was more unlucky than lucky.
Injuries have plagued Eovaldi in previous seasons, and he might not have another level to reach after his sterling efforts that resulted in a fourth-place Cy Young finish, but his dominant curveball and arsenal of good-not-great supporting pitches should be enough for him to treat 2021 as his new status quo.
5. Alek Manoah, Toronto Blue Jays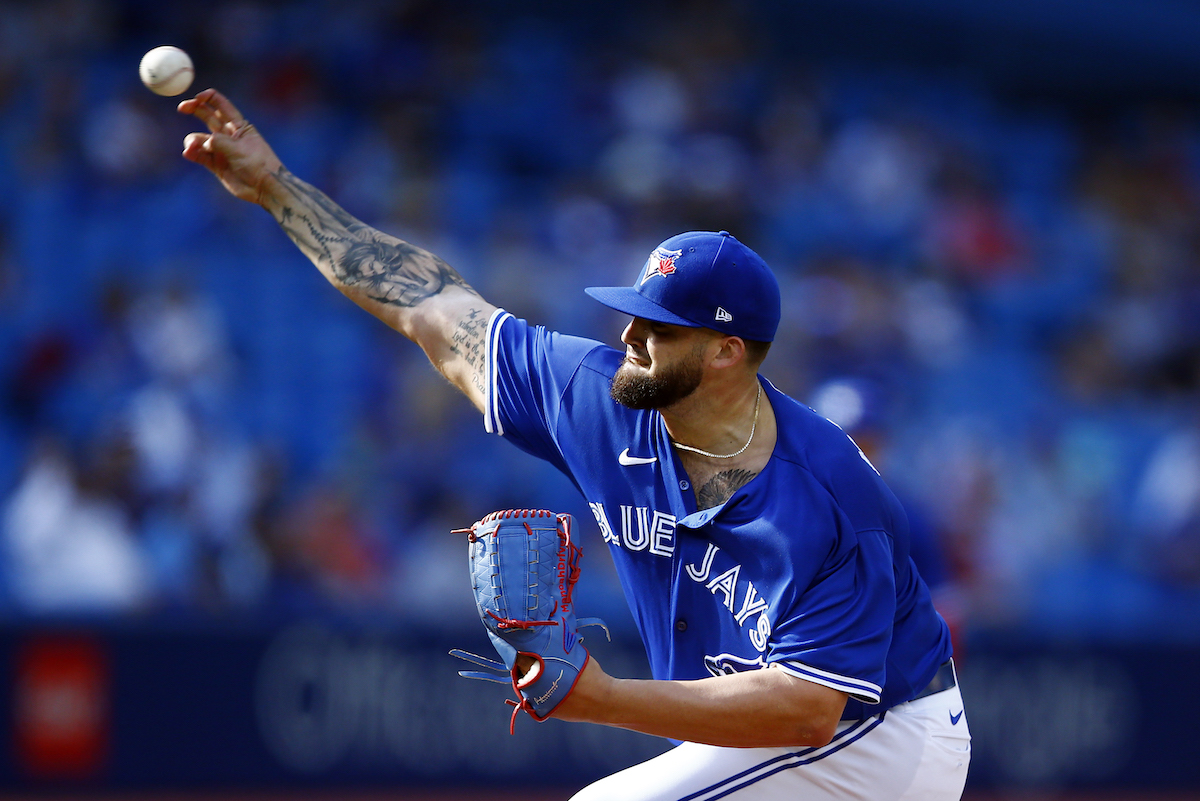 Age: 24
2021 Stats: 111.2 IP, 20 GS, 9-2, 127 K, 40 BB, 3.22 ERA, 1.05 WHIP, 2.0 WAR
2022 Projected Stats: 157.0 IP, 28 GS, 11-8, 173 K, 58 BB, 3.96 ERA, 1.21 WHIP, 2.5 WAR
It's not easy to come in and immediately look like you own the mound, but that's exactly what Alek Manoah did for the Toronto Blue Jays. He threw confident pitch after confident pitch in his debut against the New York Yankees (6 IP, 0 ER, 2 H, 2 BB, 7 K), peppering the outside of the plate with strikes and fooling the sluggers in pinstripes on a regular basis, and he continued that throughout his rookie season.
Both his fastball and slider are elite pitches. His command (3.22 BB/9) could stand to improve quite a bit, but he's also making the most of his pitches by fooling hitters into softer contact that doesn't result in extra-base hits. And as successful as he was during his first big league campaign (especially if the .246 BABIP stems at least partially from a strong batted-ball profile rather than purely from luck), he has room to improve.
Manoah often found himself working deeper into counts because hitters had no reason whatsoever to fear a hittable changeup. If that pitch becomes acceptable — not even "good" — he'll have true ace potential, which is exactly what we saw in that debut at the expense of the Yankees when it was racking up whiffs.
4. Shane McClanahan, Tampa Bay Rays
Age: 24
2021 Stats: 123.1 IP, 25 GS, 10-6, 141 K, 37 BB, 3.43 ERA, 1.27 WHIP, 2.5 WAR
2022 Projected Stats: 148.0 IP, 28 GS, 10-10, 163 K, 53 BB, 4.01 ERA, 1.28 WHIP, 2.8 WAR
Doesn't it always feel like the Tampa Bay Rays have something special developing on the mound? Shane Baz, Luis Patino, and Drew Rasmussen all checked in as honorable mentions for the AL East, and that's saying nothing of the pitching coaches revitalizing Corey Kluber. But this season should belong to Shane McClanahan.
(Now, if only the Rays would pay their pitchers after they developed rather than continuing to find ways to compete without high overhead costs, but that's beside the point.)
McClanahan's slider is downright filthy, registering a 39.9% whiff rate in his first season even if his velocity ticked down toward the end of the year. If he can pair that with better command of his heater, which missed the zone far too often and was hittable when it did find the plate, he'll help the Rays let him finish the sixth inning with more frequency and take those strides that seem almost inevitable given his control of his pitches and a legitimate go-to offering.
3. Kevin Gausman, Toronto Blue Jays
Age: 31
2021 Stats: 192.0 IP, 33 GS, 14-16, 227 K, 50 BB, 2.81 ERA, 1.04 WHIP, 4.8 WAR
2022 Projected Stats: 176.0 IP, 30 GS, 12-10, 202 K, 54 BB, 4.11 ERA, 1.22 WHIP, 3.2 WAR
Kevin Gausman strikes out plenty of batters. His splitter is a devastating pitch (17.7 runs above average) that generates whiff after whiff. He has full command of his entire arsenal, walking a minuscule 2.34 batters per nine innings that corresponded rather well to his career 2.64 BB/9.
But caution is needed for two reasons, and they prevent him from establishing himself in the true top tier.
First, Gausman's fastball came out of nowhere to be a distinctly positive pitch in 2021, and that needs to be replicated before we stop worrying about possible regression. It was a negatively valued pitch in 2017, 2018, and 2019 before rising to 2.4 runs above average in 2020 and a staggering 11.5 runs above average in 2021, and that's especially troubling when the .257 batting average and .416 slugging percentage it yielded last season were significantly better than the expected values of .278 and .485, respectively.
Secondly, and this is essentially tied to the first point, Gausman is due for some home run regression. He had a career-low 11.3 HR/FB% in 2021 while allowing 0.94 home runs per nine innings. His career marks stand at 13.3 and 1.21, and he's now transitioning from Oracle Park to Rogers Centre, which typically sees quite a few more hard-hit fly balls leave the yard.
2. Jose Berrios, Toronto Blue Jays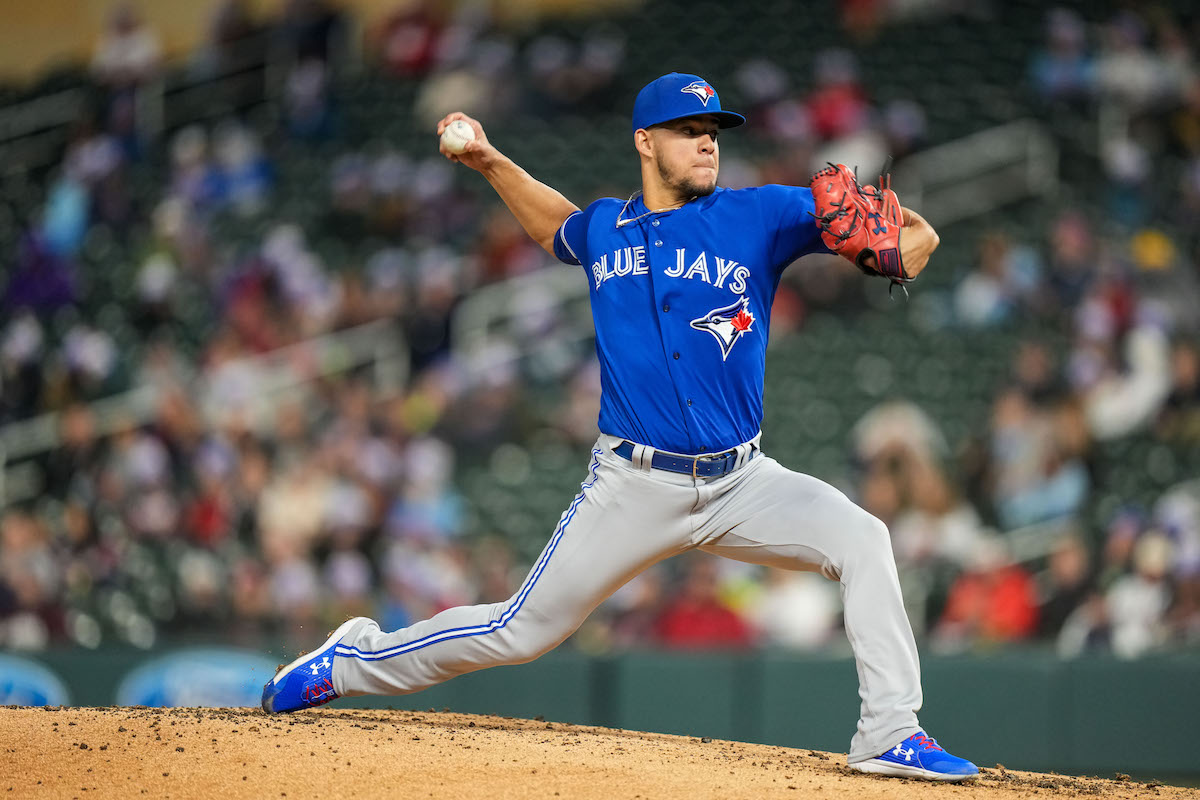 Age: 27
2021 Stats: 192.0 IP, 32 GS, 12-9, 204 K, 45 BB, 3.52 ERA, 1.06 WHIP, 4.1 WAR
2022 Projected Stats: 189.0 IP, 31 GS, 13-10, 187 K, 56 BB, 3.97 ERA, 1.21 WHIP, 3.4 WAR
Jose Berrios doesn't quite sit in that top tier, either. Though the Toronto Blue Jays right-hander thrived during the half-season he spent north of the border following a midseason trade away from the Minnesota Twins, he still has the same limitations.
He's left relying on his fastball too frequently because his changeup and curveball can quickly vacillate between being putaway pitches and offerings that result in meatballs. They're both tantalizing pitches with so much upside, but his inability to harness them from one start to another creates more volatility in his profile and forces him to rely on his premier offering with too much frequency.
Berrios is still coming off a year in which his 3.52 ERA was backed up by a 3.47 FIP, 3.59 xFIP, and 3.65 SIERA, but it's hard to see him taking another stride forward. Fortunately for the Blue Jays rotation, even another season at exactly the same level would be great news.
1. Gerrit Cole, New York Yankees
Age: 31
2021 Stats: 181.1 IP, 30 GS, 16-8, 243 K, 41 BB, 3.23 ERA, 1.06 WHIP, 5.3 WAR
2022 Projected Stats: 189.0 IP, 30 GS, 15-9, 247 K, 51 BB, 3.39 ERA, 1.07 WHIP, 4.9 WAR
Remember when we were all briefly concerned that the MLB crackdown on Spider Tack would threaten Gerrit Cole's supremacy? So much for that. He stopped elevating his fastball quite as frequently in the immediate aftermath, but then he got back to the dominant standard he's established for himself over the years.
He had the occasional poor showing, but his last nine starts following a tumultuous July featured a 3.53 ERA (3.15 FIP) with 67 strikeouts and just 13 walks in 51 innings. Cole's fastball and slider remain as good as it gets, and his changeup generates whiffs on top of whiffs. His curveball is the worst of his four main offerings, and he still manages to squeeze out plenty of called strikes at opportune times.
His spot atop the AL East remains quite secure.
All stats, unless otherwise indicated, courtesy of Baseball Reference, Fangraphs, and Baseball Savant.