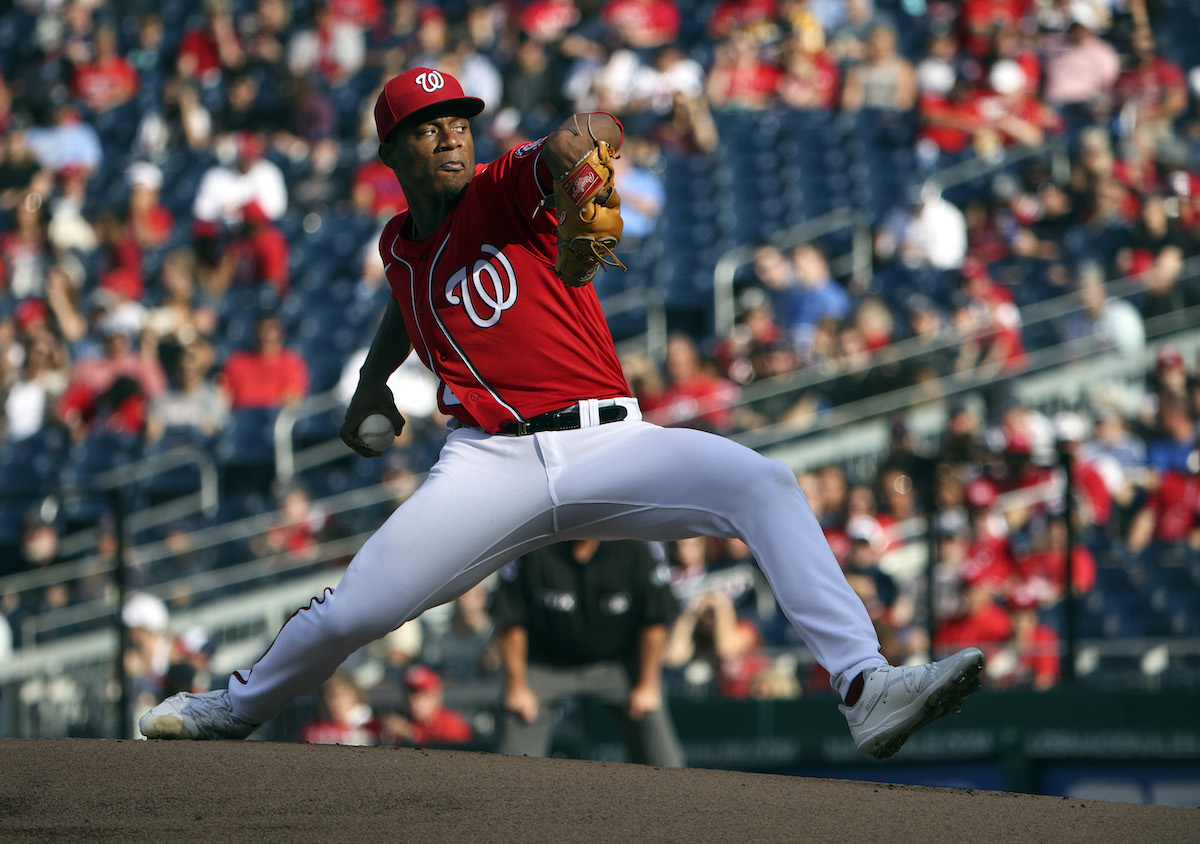 2022 Fantasy Baseball Sleepers: 5 End-of-Draft Starting Pitchers Who Could Win Your League
Want to win your fantasy baseball league? Try to target one of these five starting pitchers at the back end of your draft.
Fantasy baseball leagues can be lost in the early rounds of a draft, but it's hard to win them at a part of the proceedings in which everyone is acquiring top-tier MLB talent. If you can land an ace with one of your last picks (or with a small part of your salary cap), though, that can change the entire game.
Everyone knows Gerrit Cole, Corbin Burnes, Walker Buehler, Jacob deGrom, Max Scherzer, and the other big names are primed to rack up strikeouts, wins, and minuscule ERAs if their elbows and shoulders — among other body parts for the oft-injured position — remain in working order. Shohei Ohtani is probably a familiar name after his Babe Ruth-challenging campaign.
Identifying the potential steals coming off the board far later, however, gets tricky.
Each of the five starting pitchers featured below has the stuff and upside to turn into a potential league-winner. They're by no means guaranteed to do so, but they all have average draft positions (ADP) outside of the top 200 and could feasibly yield incredible dividends on such a minimal investment.
Aaron Ashby, Milwaukee Brewers
ADP: 286.4
Age: 23
2021 Stats: 31.2 IP, 3-2, 4.55 ERA, 1.168 WHIP, 39 K, 12 BB
Even if that 4.55 ERA might fail to blow you away, Aaron Ashby has just about every tool you could want in a dart throw at pitcher. 
Since the Milwaukee Brewers took him in the fourth round of the 2016 draft, he's added four mph to his fastball, which now sits at 97 and acts more like a sinker than a four-seamer. He has a devastating slider that yielded a .079 xBA and features an inhuman amount of drop, as well as a solid changeup. His delivery is deceptive. He misses a ton of bats (11.08 K/9) and keeps the ball on the ground (61.3 GB%) whenever hitters do make contact.
Plus, even those lackluster results in his first taste of big league action were misleading.
Ashby was the victim of a .273 BABIP and a Milwaukee bullpen that allowed 44.4% of his inherited runners to score. His xERA (3.03), FIP (3.58), xFIP (3.05), and SIERA (3.18) all painted a picture of a much stronger underlying profile than the basic stats might indicate.
The only reason for hesitance here? Ashby might begin the season in middle relief, remaining stretched out until a spot in the Milwaukee rotation is available.
With Brandon Woodruff, Corbin Burnes, and Freddy Peralta entrenched in the rotation and Adrian Houser and Eric Lauer expected to open in the Nos. 4 and 5 roles, the next breakout pitcher in Brewtown may need to wait for injury or underperformance to open up a spot and path to prominence. At least he should produce in the interim, albeit in nontraditional fantasy fashion.
Josiah Gray, Washington Nationals
ADP: 292.8
Age: 24
2021 Stats: 70.2 IP, 2-2, 5.48 ERA, 1.358 WHIP, 76 K, 33 BB
Josiah Gray's mechanics aren't exactly textbook. You can see him squat on his back leg toward the end of his delivery, and that creates an inconsistent release point and a bit of wildness that resulted in 4.2 walks per nine innings. 
However, he showed significantly better command at every minor league level en route to his 2021 debut, and his stuff is flat-out filthy.  Well, his secondary stuff, at least.
Gray's curveball is his signature pitch at this early stage of his career, resulting in a 47.8% whiff rate even as he threw it 25.1% of the time in 2021. With a ton of movement that freezes even superstars like Bryce Harper, it baffled hitter after hitter and led to a .144 xBA and .257 xSLG. Pairing it with a similarly successful slider is downright unfair. That pitch had similar results with a 45.0% whiff rate, .161 xBA, and .294 xSLG.
If he can couple those elite offerings with even a decent fastball, Gray will join Keibert Ruiz as a legitimate headliner of the trade that sent Max Scherzer and Trea Turner to the Los Angeles Dodgers.
Whereas his curveball and slider sat at 1.5 and 1.8 runs above average, respectfully, during his big league debut, his fastball, which he threw more than half the time, fell 9.0 runs below average. Had he recorded enough innings to qualify for the full-season leaderboard, only Jordan Lyles, Patrick Corbin, and Luis Castillo would've had less valuable heaters.
That four-seamer sat at 94.6 mph last year and had plenty of movement, so it's all about harnessing the wildness that popped up whenever he tried to throw it. If that changes, so does his entire profile.
Triston McKenzie, Cleveland Guardians
ADP: 234.6
Age: 24
2021 Stats: 120.0 IP, 5-9, 4.95 ERA, 1.183 WHIP, 136 K, 58 BB
Triston McKenzie has teased before, but the results at the MLB level have always been inconsistent.
A tantalizing 2020 debut gave his 2021 stock some helium, and then a rough start saw him demoted back to the minors. Through his first 11 appearances, he threw 42.1 innings, struck out 59, and walked 39 while compiling a putrid 6.38 ERA (backed up by a 5.60 FIP) and 1.58 WHIP.
But after doing some fine-tuning against lesser hitters, the lanky right-hander revitalized his stock with a dominant run in August and September. Over a seven-start stretch, McKenzie struck out 48 batters in 46.0 innings, logged a 1.76 ERA (backed up by a 2.04 FIP), posted a 0.54 WHIP, and, perhaps most impressively, walked a grand total of five batters.
He came crashing back to earth in his final three starts, but that brief run of dominance reminded everyone of what he brought to the proverbial table — especially in a Cleveland Guardians organization that has consistently teased quite a bit of success out of lesser arms.
Command concerns and worries stemming from his injury history drive down McKenzie's ADP, but we've seen what happens when he's finding the zone. Even with the occasional bout of wildness, the 24-year-old can keep batters off the bases when they're swinging at his pitches.
If he can also limit the walks…
Patrick Sandoval, Los Angeles Angels
ADP: 204.6
Age: 25
2021 Stats: 87.0 IP, 3-6, 3.62 ERA, 1.207 WHIP, 94 K, 36 BB
If you search the interwebs for sleepers and breakout pitchers, you'll run into Patrick Sandoval's name more often than not. There's a reason for that, even if his ADP doesn't yet reflect his status as one of the most tantalizing up-and-comers found in the later rounds of drafts.
Before back injuries reared their ugly head, he used a dominant changeup to produce actual results for the Los Angeles Angels. They only came in a grand total of 87.0 innings, but the numbers you can see up above already showcase the upside here, and they're backed up by the underlying metrics. His 3.57 xERA, 4.03 FIP, 3.79 xFIP, and 4.03 SIERA are all in the same ballpark, and he's still just 25 years old with plenty of growth opportunity left.
Sandoval also has incredible strikeout potential. He already posted more than one per inning in 2021, thanks largely to a vastly different pitch mix that saw him drop his fastball percentage from 44.6 to 29.6 in favor of his devastating changeup and other impressive secondary offerings. That changeup induced whiffs 51.4% of the time and had a .139 xBA in 2021.
Even the league's most dominant aces struggle to match Sandoval's whiff rates, especially because he's been so good at earning called strikes after buckling hitters. Throughout all of 2021, he (32), Gerrit Cole (32), and Corbin Burnes (30) were the only three pitchers to tease out at least 30 swinging strikes in a single start.
A mediocre fastball could prevent him from thriving in every fantasy category, but he's healthy entering the season and is one of the cheapest sources of high-end Ks you can possibly find.
Stephen Strasburg, Washington Nationals
ADP: 256.0
Age: 33
2021 Stats: 21.2 IP, 1-2, 4.57 ERA, 1.385 WHIP, 21 K, 14 BB 
Even though he has — by far — the best track record of the five pitchers featured here, Stephen Strasburg is also — by far — the riskiest option, especially because he won't be ready at the start of the season. He's not pushing to return from thoracic outlet surgery too aggressively, instead remaining patient so he can avoid further setbacks when he's actually ready to take the mound for live action.
"I think for me it's about sticking to the program," Strasburg said in mid-March, per the Associated Press (h/t ESPN). "My routine is having a six-week spring training. I think of all years to try and be aggressive, I don't know if it's necessarily the right year or the right time to do it. My goal is to be ready when I'm ready and be there the rest of the way."
Obviously, health is the big issue here. Strasburg has had trouble staying off the injured list in recent years and is coming off a pair of seasons in which he threw a grand total of 26.2 IP.
But back in 2019, the last time he remained in working order throughout a season, Strasburg led the National League in innings (209.0), struck out 251 batters, and posted a 3.32 ERA and 1.038 WHIP en route to a fifth-place finish in the NL Cy Young voting.
Expecting him to regain that former glory is obviously foolish and overly optimistic. His fastball velocity has already fallen from 93.9 mph in 2019 to 91.8 in 2020 and 91.9 in 2021. But if he's able to stay healthy and the heater ticks up a few notches, he can pair that with his whiff-inducing off-speed pitches to great success. His curveball, in particular, used to be one of the best money pitches in baseball, and it still dances all over the place whenever he throws it.
Monitor Strasburg's health and fastball velocity throughout spring training as best you can. If it seems like he's touching his former speeds, he'll be one of the best low-risk, high-reward fliers you can take.
All stats, unless otherwise indicated, courtesy of Baseball Reference, Fangraphs, and Baseball Savant. ADP data courtesy of FantasyPros.