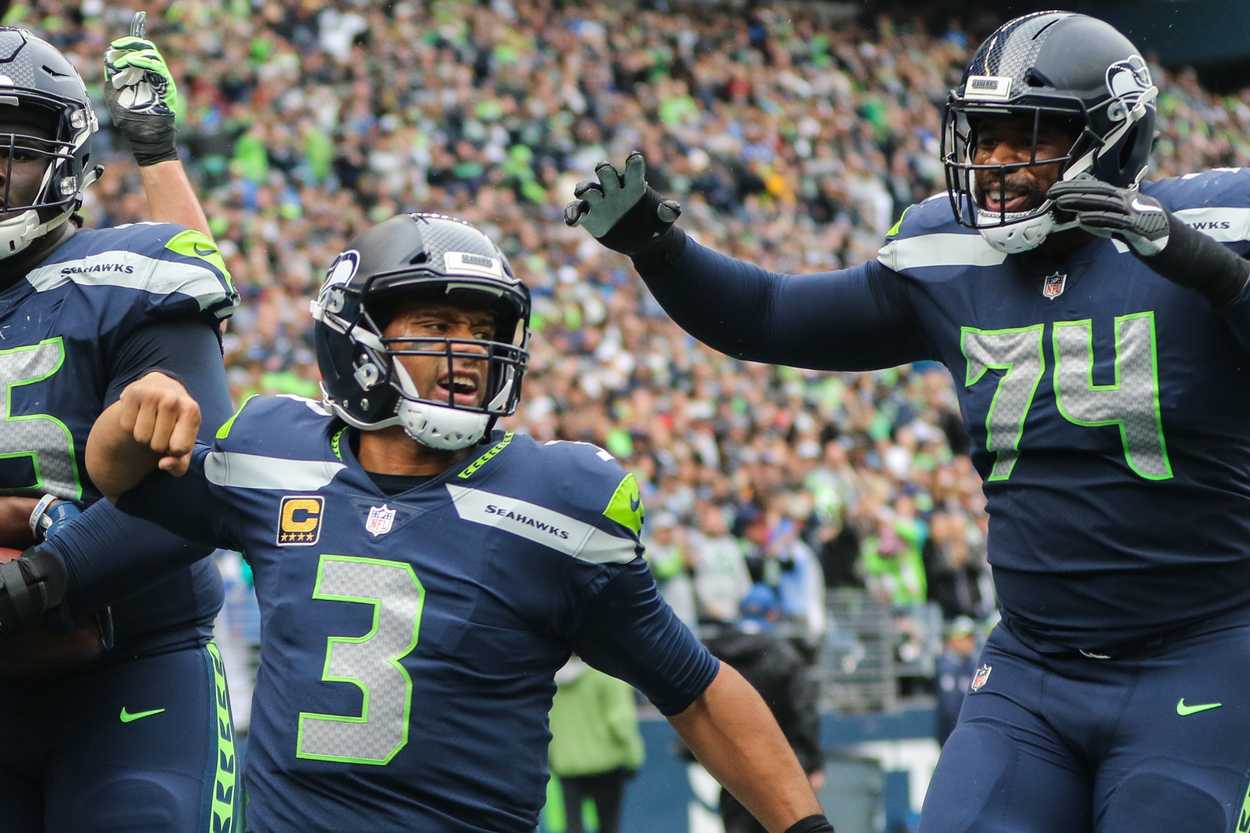 Ranking Russell Wilson's 5 Greatest Seasons With the Seattle Seahawks
As Russell Wilson prepares to join the Denver Broncos, now feels like the perfect time to rank his best seasons with the Seattle Seahawks.
The Russell Wilson era is officially over in Seattle. After 10 years and two Super Bowl appearances, including a championship in 2013, the Seahawks sent the greatest quarterback in franchise history to the Denver Broncos for three players, including quarterback Drew Lock, and multiple draft picks in March 2022.
There's no debating that argument, by the way. Wilson is the greatest quarterback in Seahawks history, and he might even deserve a spot on the franchise's Mount Rushmore. The 2012 third-round selection went from an effective game-manager to an elite quarterback, one who perennially found himself in the postseason, across his decade in the Pacific Northwest.
As the Super Bowl 48 champions prepare to find their next franchise quarterback, now feels like the perfect time to rank Wilson's best seasons with the Seahawks. For this list, we factored in statistics, the team's final finish, and the context surrounding the seasons in question. 
Based on consideration of the aforementioned prerequisites, Wilson's greatest campaigns rank as follows:
Honorable mention: Tooth and nail (2018)
When a quarterback completes 65.6% of his passes for 3,448 yards, 35 touchdowns, seven interceptions, and leads his team to the postseason, one would think that'd be enough to earn him a spot in the top five, right? If we only use counting stats, yes. However, the context of other seasons only renders this an honorable mention, which is far from a bad thing.
Wilson and the Seahawks overcame a 4-5 start to win six of their final seven games and reach the NFC Wild Card round, where they lost to Dak Prescott's Dallas Cowboys. Not a bad year in all, especially after Seattle missed the playoffs entirely in 2017.
5. No Super Bowl hangover (2015)
Wilson was an effective game-manager throughout the first three years of his career, and it didn't matter because the Seahawks won. However, the Seahawks likely wanted more than a game-manager when they inked him to a four-year, $88 million extension ahead of the 2015 season, only months after his infamous interception at the end of Super Bowl 49.
Wilson might have given the organization more than they desired.
For the first time as an NFL quarterback, Russ cooked like he was Gordon Ramsey, tallying a 68.1 completion percentage, 4,024 yards, 34 touchdowns, and eight interceptions en route to finishing third in Offensive Player of the Year balloting. Although Seattle's season ended in the NFC Divisional Round, Wilson at least proved the Seahawks made the right move keeping him around.
4. A Super Bowl champion (2013)
Remember that whole thing about context? Wilson's numbers in 2013 — a 63.1 completion percentage, 3,357 yards, 26 touchdowns, nine interceptions, and 539 rushing yards — aren't especially impressive at first glance. However, Wilson and the Seahawks won the Super Bowl that year, so it'd be foolish not to include his sophomore campaign in the top five.
The Wisconsin product threw three touchdowns against no interceptions in three playoff games and partied with the Lombardi Trophy at MetLife Stadium. Even if the numbers aren't gaudy, there's enough here to justify ranking this fourth on the list.
3. The beginning of the end (2020)
Not even the pandemic could stop Wilson, who tallied a career-high 40 touchdown passes in 2020. However, a career-high 13 interceptions and a first-round playoff exit prevent us from ranking his age-32 season any higher on our list.
In fairness, the Seahawks' issues also partially stemmed from offensive coordinator Brian Schottenheimer, who was dismissed after the season. Also, Broncos fans who sat through the recent musical chairs of quarterbacks have every right to be furious at us for seemingly dismissing a 40-touchdown season.
2. Welcome to the NFL, rookie (2012)
As with the 2013 season, the context is essential here. Remember, the Seahawks signed then-Green Bay Packers quarterback Matt Flynn in March 2012, a month before selecting Wilson 75th overall. Critics universally panned the Seahawks' decision to invest a Day 2 pick on a quarterback, one who likely wouldn't play much, if at all.
Then, Wilson won the starting job. 
From there, Wilson wouldn't miss a start until a thumb injury forced him to sit out three games last season. The rookie completed 64.1% of his passes for 3,118 yards, 26 touchdowns, and 10 interceptions; he finished third in Offensive Rookie of the Year voting and joined a rare club of first-year quarterbacks to win a playoff game.
No, the numbers aren't the best, but the bigger picture must win out here. Wilson immediately went from under-hyped rookie to a quarterback who knew how to limit his mistakes and play smart, even in a loaded NFC. 
1. Put the team on his back (2019)
Perhaps arguably the most astonishing fact about Wilson's career is that he'd never earned an MVP vote entering the 2022 season. The 2019 campaign marked the only instance he'd earned All-Pro honors — and it was second-team All-Pro honors. Baltimore Ravens star Lamar Jackson, who was the NFL MVP that season, was the first-team All-Pro quarterback.
Wilson completed 66.1% of his passes for 4,110 yards, 31 touchdowns, and five interceptions en route to finishing fourth in Offensive Player of the Year voting. He also rushed for 342 yards and three touchdowns on 4.6 yards per carry.
Wilson led four fourth-quarter comebacks and registered five game-winning drives for a Seahawks team that went 11-5 and lost in the NFC Divisional Round. His commitment to putting the 'Hawks on his back is enough to earn him the top spot on our list.
Like Sportscasting on Facebook. Follow us on Twitter @sportscasting19.