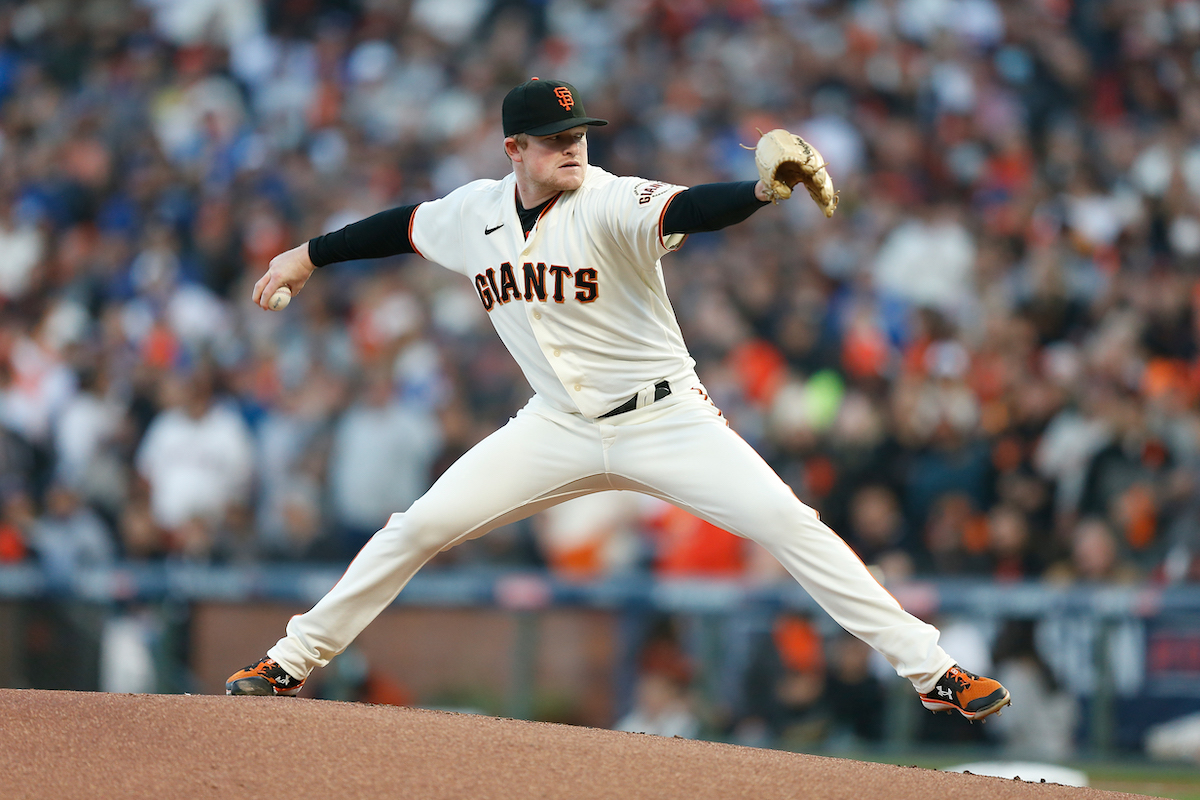 Ranking Walker Buehler, Logan Webb, Yu Darvish, Top 10 NL West Starting Pitchers for 2022 MLB Season
The NL West is overloaded with pitching talent, but how do Clayton Kershaw, Julio Urias, Blake Snell, Logan Webb, Walker Buehler, and all the other notable options stack up for 2022?
Talk about a loaded MLB division, especially when it comes to the starting pitching options.
Between the Los Angeles Dodgers' top three of Walker Buehler, Julio Urias, and Clayton Kershaw, the San Diego Padres' upside-laden rotation that features Yu Darvish, Blake Snell, Mike Clevinger, and Joe Musgrove (not to mention the upside of MacKenzie Gore and Nick Martinez), the San Francisco Giants' one-two punch of Carlos Rodon and Logan Webb, and the other strong arms scattered throughout, the National League West is going to rack up plenty of strikeouts and clean innings.
But how do they all stack up?
This countdown of the 10 best NL West starting options hinges on a combination of past results and future projections, weighing everything from ongoing injury concerns to potential progression/regression in an attempt to predict the expected level of play for the entirety of the 2022 season.
That last part can't be emphasized enough.
Beginning with the strong collection of honorable mentions you can see below, these rankings are not moment-in-time snapshots. Nor do they predict the final level reached when the 2022 postseason field is determined. They account for expected volume and production during the whole campaign, relying on both anecdotal observations and plenty of numbers, including the listed 2022 stats that come from Fangraphs' THE BAT projections.
Honorable Mentions: Alex Cobb, San Francisco Giants; Anthony DeSclafani, San Francisco Giants; MacKenzie Gore, San Diego Padres; Andrew Heaney, Los Angeles Dodgers; Alex Wood, San Francisco Giants
10. Zac Gallen, Arizona Diamondbacks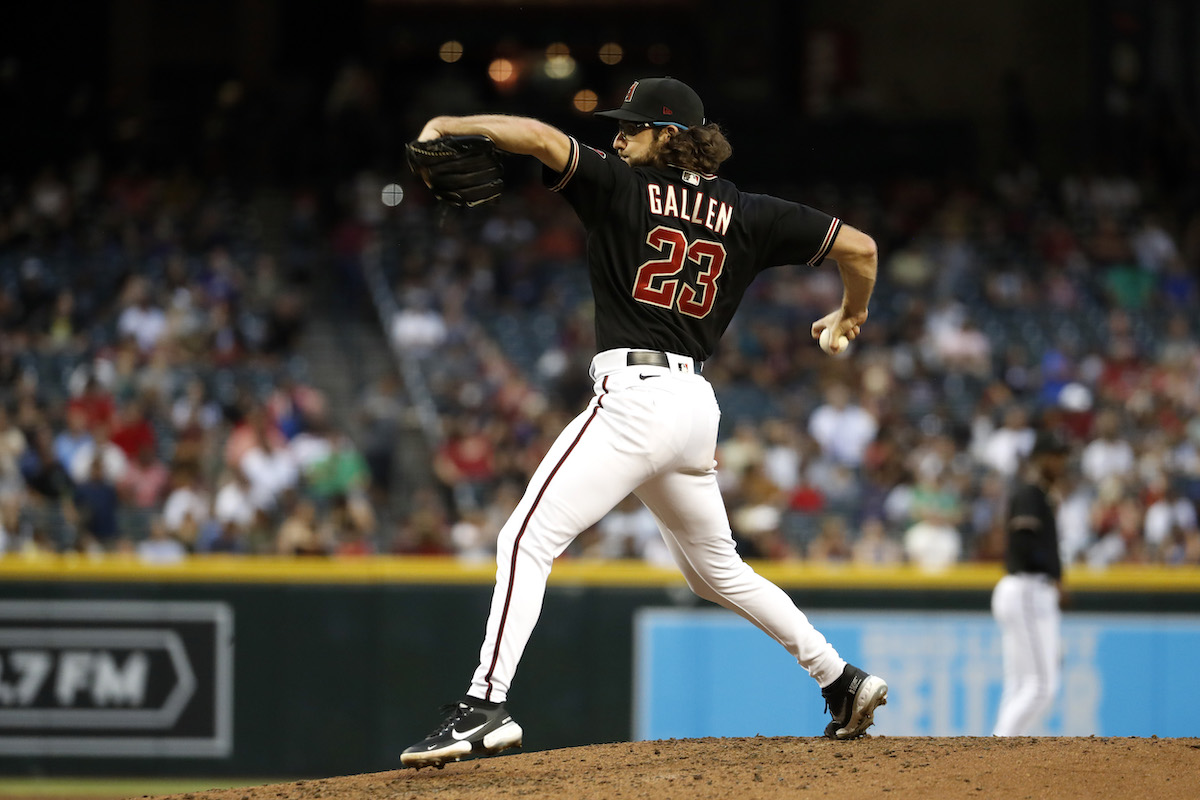 Age: 26
2021 Stats: 121.1 IP, 23 GS, 4-10, 139 K, 49 BB, 4.30 ERA, 1.29 WHIP, 1.5 WAR
2022 Projected Stats: 163.0 IP, 28 GS, 9-10, 160 K, 61 BB, 4.37 ERA, 1.33 WHIP, 2.3 WAR
Even though Zac Gallen's secondary pitches fell off rather significantly in 2021, it's easy to explain that away as a byproduct of limited availability. Rather than achieving the expected breakout, Gallen suffered a forearm injury in spring training, dealt with a balky hamstring, and fought his way to 121 innings while quite clearly operating at less than full strength.
Considering he still racked up 10.31 strikeouts per nine innings and commanded his fastball well, the 26-year-old should be a prime bounce-back candidate.
After all, he's not too far removed from posting a 2.75 ERA (3.66 FIP) over 72.0 innings in the pandemic-shortened 2020 season and a 2.81 ERA (3.61 FIP) over 80.0 innings in his 2019 debut. So long as at least one of his slider, changeup, and curveball are pounding the strike zone and missing some bats, optimism should return and then look justified — and that's saying nothing of the elevated fastball velocity on display in his spring debut.
9. Yu Darvish, San Diego Padres
Age: 35
2021 Stats: 166.1 IP, 30 GS, 8-11, 199 K, 44 BB, 4.22 ERA, 1.09 WHIP, 2.9 WAR
2022 Projected Stats: 168.0 IP, 29 GS, 11-11, 181 K, 53 BB, 4.32 ERA, 1.21 WHIP, 2.5 WAR
How concerned are you about Yu Darvish's performance after MLB started cracking down on sticky stuff midway through the 2021 campaign? At least a little bit, right?
From the beginning of July through the end of the regular season, Darvish made 14 starts that spanned 70.1 innings. He still struck out 84 batters while walking 21, but a 6.65 ERA (5.05 FIP) and 1.31 WHIP weren't particularly strong results as he compiled four wins and 10 losses.
Darvish still had some strong outings interspersed throughout the mediocrity — nine Ks in seven shutout innings against the St. Louis Cardinals on Sept. 18, for example — and his slider will at least keep him afloat. But the strikeout numbers, gaudy as they may be, can't mask all the potential issues for the 35-year-old.
8. Blake Snell, San Diego Padres
Age: 29
2021 Stats: 128.2 IP, 27 GS, 7-6, 170 K, 69 BB, 4.20 ERA, 1.32 WHIP, 2.1 WAR
2022 Projected Stats: 158.0 IP, 28 GS, 10-9, 188 K, 76 BB, 4.21 ERA, 1.35 WHIP, 2.6 WAR
Blake Snell's inability to put away hitters quickly may prevent him from going deep into games, and his health will continue to be a concern as he moves closer to his 30s. But he's still remarkably talented and can get into quite a groove when he moves away from his changeup and uses an elevated fastball and low breaking stuff to fool one batter after another.
Over his last eight starts (44.1 innings), he struck out 65 batters with only 14 walks while posting a 1.83 ERA (2.36 FIP) and 0.77 WHIP. Not so coincidentally, that corresponded with his decision to abandon the changeup, which he put "in timeout," dropping it from 22.4% usage in April to 7.2% in July and 0.8% in August before throwing exactly zero in the season's final month.
If that trend continues and he drops his walk rate from the horrid 4.83 per nine innings he posted last year, he could regain his ace status. But that's still a lot of significant ifs.
7. Joe Musgrove, San Diego Padres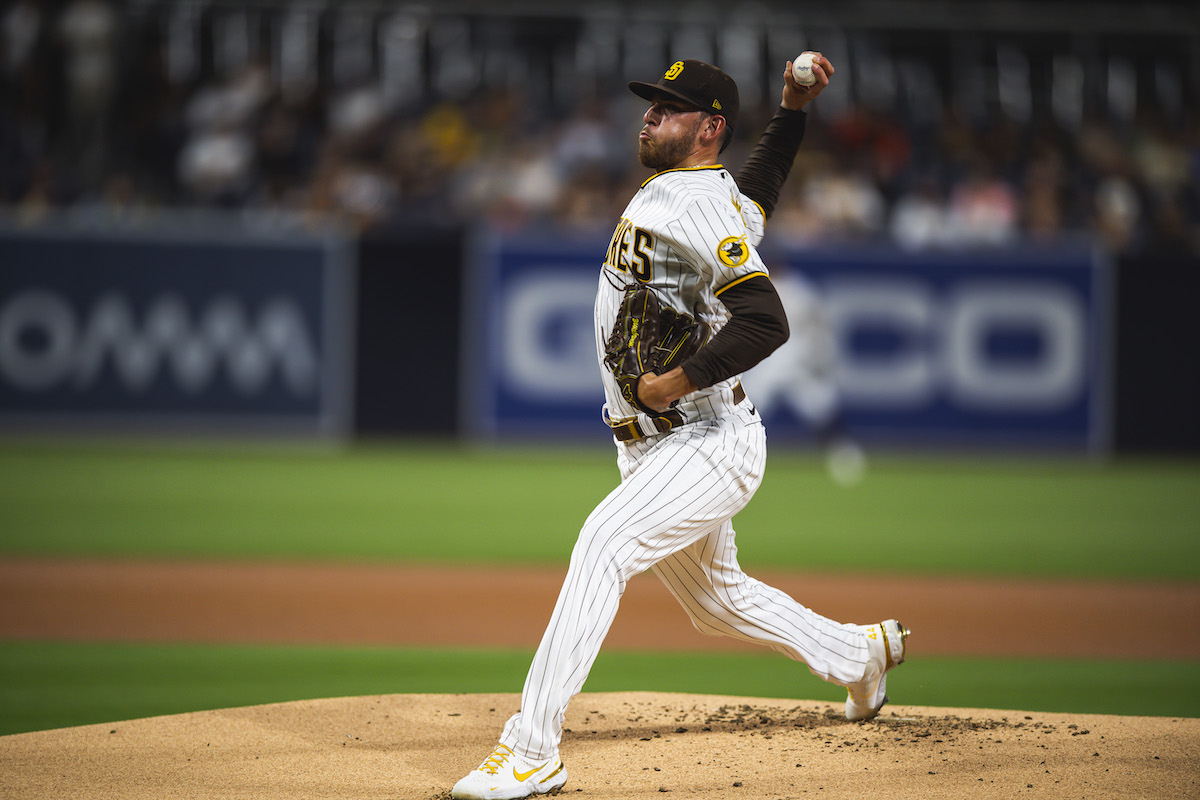 Age: 29
2021 Stats: 181.1 IP, 31 GS, 11-9, 203 K, 54 BB, 3.18 ERA, 1.08 WHIP, 3.3 WAR
2022 Projected Stats: 177.0 IP, 30 GS, 12-11, 184 K, 61 BB, 4.08 ERA, 1.25 WHIP, 3.0 WAR
Back in 2019, Joe Musgrove used his four-seamer on 37.6% of his pitches, and it remained his most-used offering even as it dropped to 26.9% in 2020. But during the 2021 campaign, it ranked third on the frequency leaderboard (19.7%), falling behind his curveball (23.8%) and slider (27.7%) and just ahead of the cutter (19.0%).
That's been one of the keys to the 29-year-old's year-after-year improvement since the fastball doesn't tend to depress batting averages and gets hit hard rather frequently. But if Musgrove is to rise even higher in the rankings, he needs to make that pitch more effective by commanding it on the edges of the zone.
Already, he has a knee-buckling curveball and a slider that quickly runs away from everyone's bats, and his repertoire often changes on a start-by-start basis. The tools for even more are here, but getting there might not happen in the near future.
6. Mike Clevinger, San Diego Padres
Age: 31
2021 Stats: Did not pitch
2022 Projected Stats: 129.0 IP, 21 GS, 8-7, 137 K, 48 BB, 4.19 ERA, 1.28 WHIP, 2.3 WAR
Don't be too scared off by Mike Clevinger's spring debut, which resulted in seven hits, two walks, and eight earned runs over 1.2 innings as he made his first appearance since Tommy John surgery that limited him to 41.2 innings in 2020 and kept him out for the entirety of last year.
The fact he felt healthy is more important than anything else, and he acknowledged the struggles, per MLB.com's Jesse Sanchez: "My arm was really late today. I was moving too fast toward the plate, and that translates to bad command. And these guys know how to hit bad pitches."
The long layoff may be causing him to fly below the radar now, but he posted a 2.96 ERA (3.39 FIP) over 489.1 innings from 2017-20 while compiling top-notch strikeout numbers, and he's still only 31 years old. As long as his slider returns and he's hitting the mid-90s with his fastball, he should resume functioning like an ace even if the injuries allow for a bit of understandable trepidation.
5. Clayton Kershaw, Los Angeles Dodgers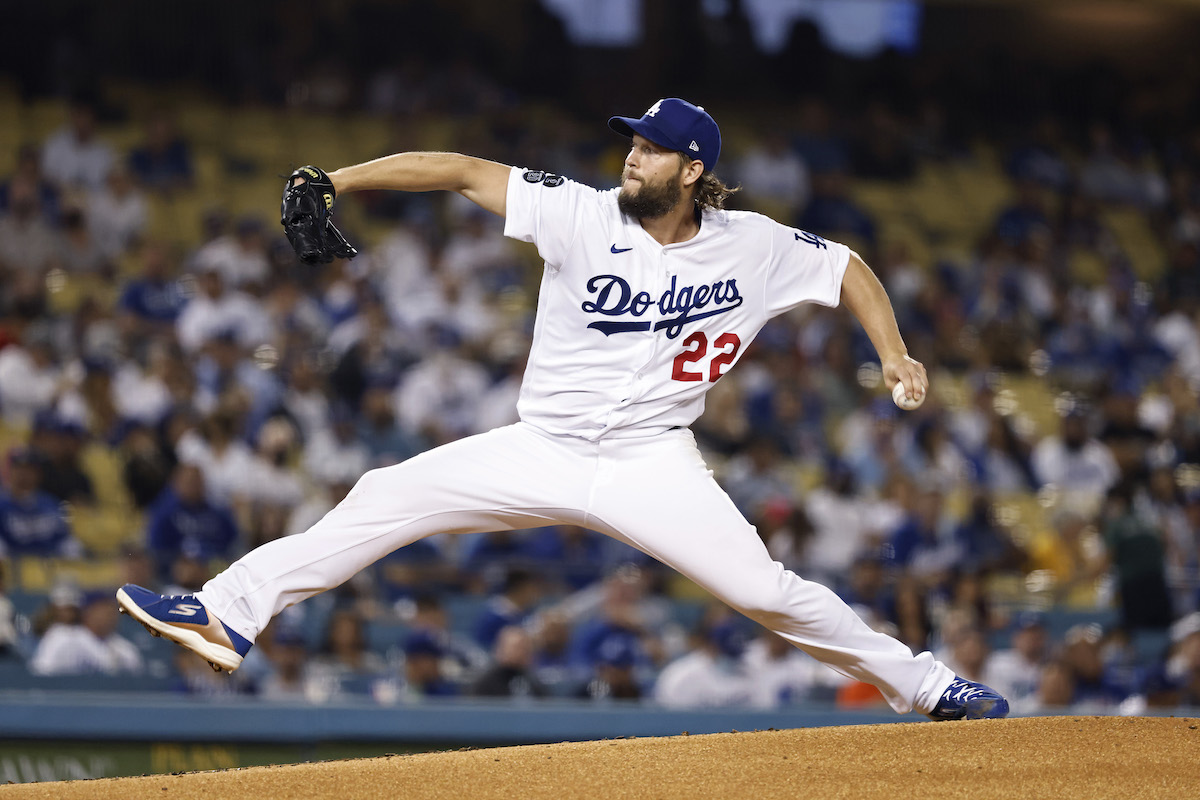 Age: 34
2021 Stats: 121.2 IP, 22 GS, 10-8, 144 K, 21 BB, 3.55 ERA, 1.02 WHIP, 3.4 WAR
2022 Projected Stats: 130.0 IP, 22 GS, 11-6, 140 K, 32 BB, 3.70 ERA, 1.13 WHIP, 2.6 WAR
It feels almost sacrilegious to have a living legend behind four other starting pitchers in his own division, but that's the unfortunate reality for Clayton Kershaw as he tries to prove he can stay healthy for a full season (he hasn't topped 180 innings since 2015) and maximize an arsenal that isn't as dominant as it was at his true peak.
Kershaw's 3.55 ERA was his worst mark since his rookie season back in 2008, and it also came as he underachieved. A 3.17 xERA, 3.00 FIP, 2.87 xFIP, and 3.10 SIERA all pointed at a pitcher who could still look like the one true ace when he was in full working order. But with a history of shoulder injuries and an elbow issue that shut him down in October, how consistently will the southpaw be able to reach that level?
Fortunately for him and the Los Angeles Dodgers, his slider is still his slider. He used it more than his four-seamer, which dropped to just 90.6 mph, for the first time last season, and it led to a .188 xBA and .337 xSLG. No slider in baseball added more run value throughout the campaign, and that alone should keep him at a high level when he's able to take the mound even if his four-seamer and curveball fail to live up to prior standards.
4. Carlos Rodon, San Francisco Giants
Age: 29
2021 Stats: 132.2 IP, 24 GS, 13-5, 185 K, 36 BB, 2.37 ERA, 0.96 WHIP, 4.9 WAR
2022 Projected Stats: 144.0 IP, 25 GS, 10-8, 179 K, 53 BB, 3.49 ERA, 1.18 WHIP, 3.9 WAR
If you think Carlos Rodon can sustain his elevated velocity better in 2022 than he did in 2021, you probably think this ranking undersells just how good he can be now that he's joined the San Francisco Giants. And that would be fair. But again, it hinges on a belief that his fastball can sit in the upper 90s for the majority of a season without wearing him down and leading to diminished stretch-run performances.
After posting ERAs over 4.00 in 2016, 2017, 2018, 2019, and 2020 and struggling to stay healthy, Rodon exploded with a 2.37 ERA en route to a fifth-place finish in the American League Cy Young voting. That came on the back of a fastball that hovered around 94 mph early in his career and fell to 91.4 mph in 2019 and 92.8 mph in 2020 (admittedly in a small sample) before skyrocketing to 95.4 mph last year.
But digging in closer, Rodon's average velocity on the four-seamer rose during the early portion of the season before peaking at 96.7 mph in June and then plummeting back to 92.9 mph in September as he battled shoulder fatigue.
If he can maintain that level throughout a full season, he'd be an unquestioned yearly Cy Young contender. After all, the four-seamer went from a negative offering to the pitch that topped the run value leaderboard in 2021, outpacing Adrian Houser's sinker, Kevin Gausman's splitter, Robbie Ray's four-seamer, and Charlie Morton's curveball by a significant amount. That's just a big if.
3. Logan Webb, San Francisco Giants
Age: 25
2021 Stats: 148.1 IP, 26 GS, 11-3, 158 K, 36 BB, 3.03 ERA, 1.11 WHIP, 4.1 WAR
2022 Projected Stats: 168.0 IP, 30 GS, 12-10, 154 K, 54 BB, 3.66 ERA, 1.28 WHIP, 3.8 WAR
After posting a 5.22 ERA over 39.2 innings in 2019 and a 5.47 ERA over 54.1 innings in 2020, Logan Webb came out of nowhere and absolutely burst onto the scene for the San Francisco Giants. His 3.03 ERA actually undersells how good he was, and not just because it was backed up by a 2.72 FIP, 2.79 xFIP, and 3.13 SIERA.
A right shoulder strain kept him out for all of June, and he returned to post a 2.63 ERA (2.43 FIP) with 104 strikeouts and just 19 walks over his final 99.1 innings.
His sinker-slider-changeup combination baffled one hitter after another, and the first of those three leading options had so much vertical break that it forced batters to drive the ball into the ground almost exclusively, leading to a flat-out ridiculous 60.9 ground-ball percentage. Even though 42% of contact against it fell into the "hard hit" category, it still yielded a solid .384 xSLG.
The only feasible knocks here are that Webb's slider was a huge part of his success and overperformed and that a scouting report on his new approach could help make the lack of track record and elite pedigree more obvious over a larger sample. But even there, we're really just grasping at straws.
2. Julio Urias, Los Angeles Dodgers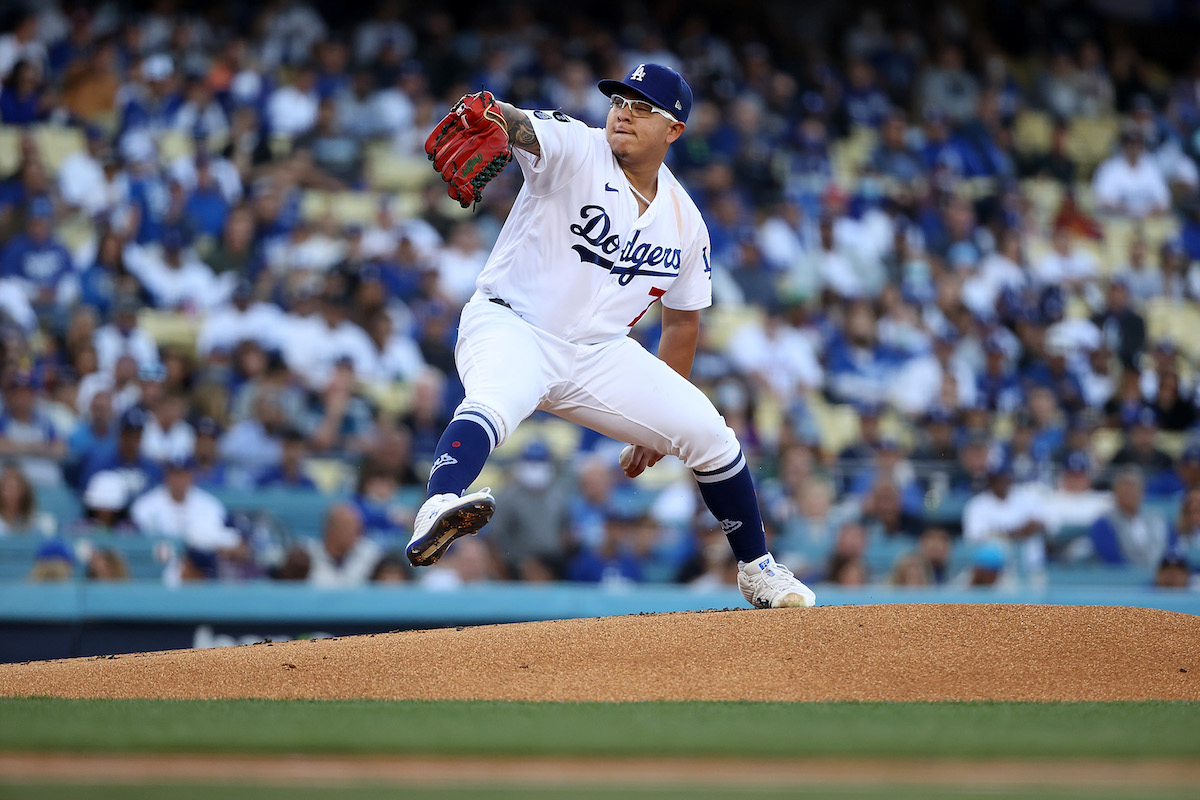 Age: 25
2021 Stats: 185.2 IP, 32 GS, 20-3, 195 K, 38 BB, 2.96 ERA, 1.02 WHIP, 5.0 WAR
2022 Projected Stats: 177.0 IP, 31 GS, 14-8, 174 K, 48 BB, 3.75 ERA, 1.17 WHIP, 3.8 WAR
Instead of dabbling with his slider, Julio Urias cut it out of his repertoire entirely and gave the extra opportunities to his curveball and changeup, which he used more in conjunction with a fastball that he didn't turn to quite as much as he had in the smaller samples of previous seasons. As you can see from that 2.96 ERA, which was supported by a 3.13 FIP, the approach alteration worked.
Urias' four-seamer was thoroughly mediocre (and has plenty of room for improvement), and his changeup overperformed slightly on the expected .217 batting average and .278 slugging percentage, both of which are nonetheless highly encouraging. But the curveball, featuring a ridiculous amount of movement even as it lived in the zone, developed into one of the sport's most valuable offerings. With a .175 xBA and .273 xSLG, it enjoyed a 21 run value that fell behind only Charlie Morton's hook across all of MLB.
The 25-year-old has a premier pitch, handled a difficult workload with aplomb, and basically refuses to walk batters. He's not leaving the realm of acedom any time soon.
1. Walker Buehler, Los Angeles Dodgers
Age: 27
2021 Stats: 207.2 IP, 33 GS, 16-4, 212 K, 52 BB, 2.47 ERA, 0.97 WHIP, 5.5 WAR
2022 Projected Stats: 190.0 IP, 31 GS, 15-8, 187 K, 56 BB, 3.83 ERA, 1.18 WHIP, 3.5 WAR
As good as Julio Urias, Logan Webb, and Carlos Rodon were last year, Walker Buehler enjoys the top tier all to himself in the NL West.
Buehler's spin rates dropped slightly after the MLB-wide crackdown on sticky stuff, but even a drop-off from a pitcher of this caliber produced excellent results. It's not easy to post a 2.47 ERA over 207.2 innings, and Buehler certainly benefitted from a .247 BABIP and 80.9 LOB%, but post it he did. Even if he regresses to an ERA of around 3.00, that will come with double-digit strikeouts per nine innings, a sparkling walk rate, and a diverse arsenal.
Every single one of Buehler's pitches graded out as a distinctly positive offering, which is impressive regardless and all the more noteworthy when he threw out six different pitches: four-seamers (44.5% of the time), cutters (16.3%), sliders (13.8%), curveballs (13.2%), sinkers (7.4%), and changeups (4.8%). If the curveball quality can catch up to the efficacy of the fastball, slider, and cutter, which it absolutely could, the sky would be the limit.
All stats, unless otherwise indicated, courtesy of Baseball Reference, Fangraphs, and Baseball Savant.