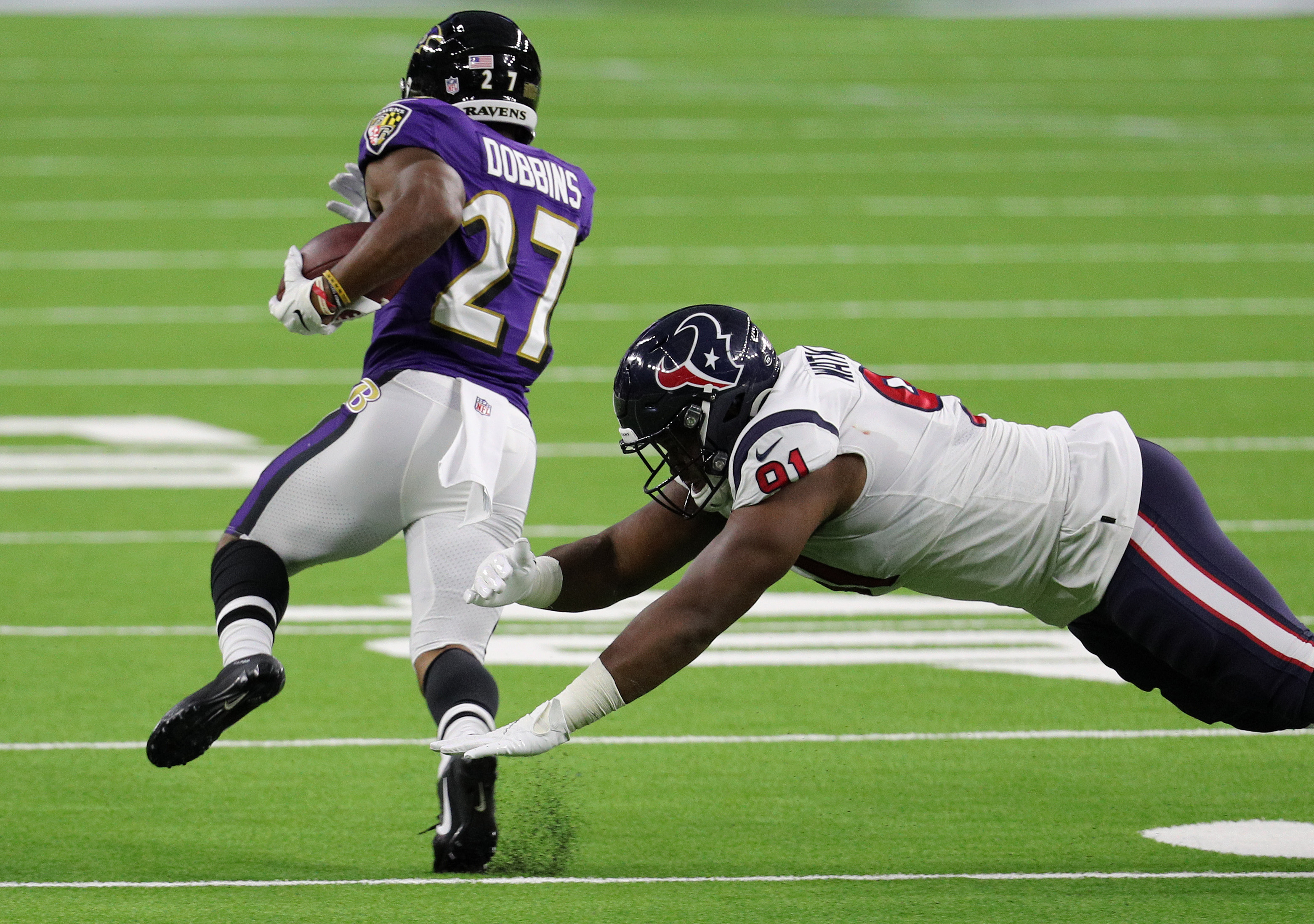 Ray Rice Sees a Lot of Himself in Baltimore Ravens Rookie J.K. Dobbins
Former Baltimore Ravens Pro-Bowl running back Ray Rice said he sees a lot of himself in Ravens rookie J.K. Dobbins.
The similarities are eerie between former Baltimore Ravens running back Ray Rice and rookie J.K. Dobbins. Both Rice and Dobbins have similar running styles. They both wore No. 27. They were both selected with the 55th pick in the draft. Rice, in fact, thinks he could suit up today and nobody would notice.
Who is J.K. Dobbins?
J.K. Dobbins is a 5-foot-9, 209-pound running back who had a tremendous college career at Ohio State. In his three seasons with the Buckeyes, Dobbins rushed for 4,459 yards and 38 touchdowns. As a freshman, Dobbins averaged a whopping 7.2 yards per carry in 194 attempts. He collected 1,403 yards and seven touchdowns in his first year at Ohio State.
After rushing for 1,053 yards and 10 touchdowns in his sophomore year, he exploded in his junior year. In 14 games, Dobbins carried the ball 301 times for 2,003 yards and 21 touchdowns. He also hauled in two more touchdown receptions. Dobbins was a second-round pick in the 2020 NFL draft. He was the 55th overall selection, taken by the Baltimore Ravens.
Dobbins hasn't gotten a whole lot of playing time in the NFL, but he did make an impact in his first game. Dobbins had seven carries for 22 yards and a pair of touchdowns in an opening-day with against the Cleveland Browns. Since then, he's had a combined eight carries and six receptions in the next three games.
Ray Rice was a three-time Pro Bowler
Ray Rice played his college football at Rutgers. Like J.K. Dobbins, Rice played three seasons, rushed for 1,000-plus years each time, and collected better than 2,000 yards in his final season. He was selected in the second round of the 2008 NFL draft.
Rice didn't have much of an impact his rookie season but made up for it in his second year when he made the first of his three Pro Bowls. He rushed for 1,339 yards and seven touchdowns in 2009. In 2011, Rice had career-highs in rushing yardage (1,364) and touchdowns (12). He led the league in yards from scrimmage with 2,068.
Rice's career came to an abrupt ending during the 2014 offseason. He was captured on video assaulting his then-fiancée in an elevator. He was indicted and then released by the Ravens and suspended indefinitely by the league. Rice never played another down in the NFL.
Rice sees himself in J.K. Dobbins
In a recent interview with 105.7 The Fan's Ken Weinman and Jason La Canfora, Ray Rice spoke about the similarities between himself and Baltimore Ravens rookie running back J.K. Dobbins. He said he had flashes of seeing himself when he saw Dobbins break free for a big gain this season.
"Seeing J.K. Dobbins, hand hit the ground, kinda get up and go, it was like an emotional moment because it's like poetry," Rice said. "You're watching yourself, you're feeling everything that supposedly he felt in that moment." Rice even joked that he could suit up in that No. 27 jersey and nobody would even notice.
"As long as he wears No. 27, I have all due respect for him to just take off and do it better," Rice said. "It makes me proud to know that we was the pick, same stature. There are things that are so similar, I probably could call (GM) Eric (DeCosta) and if I wanted to disguise myself, I can get in there and I'd be alright."