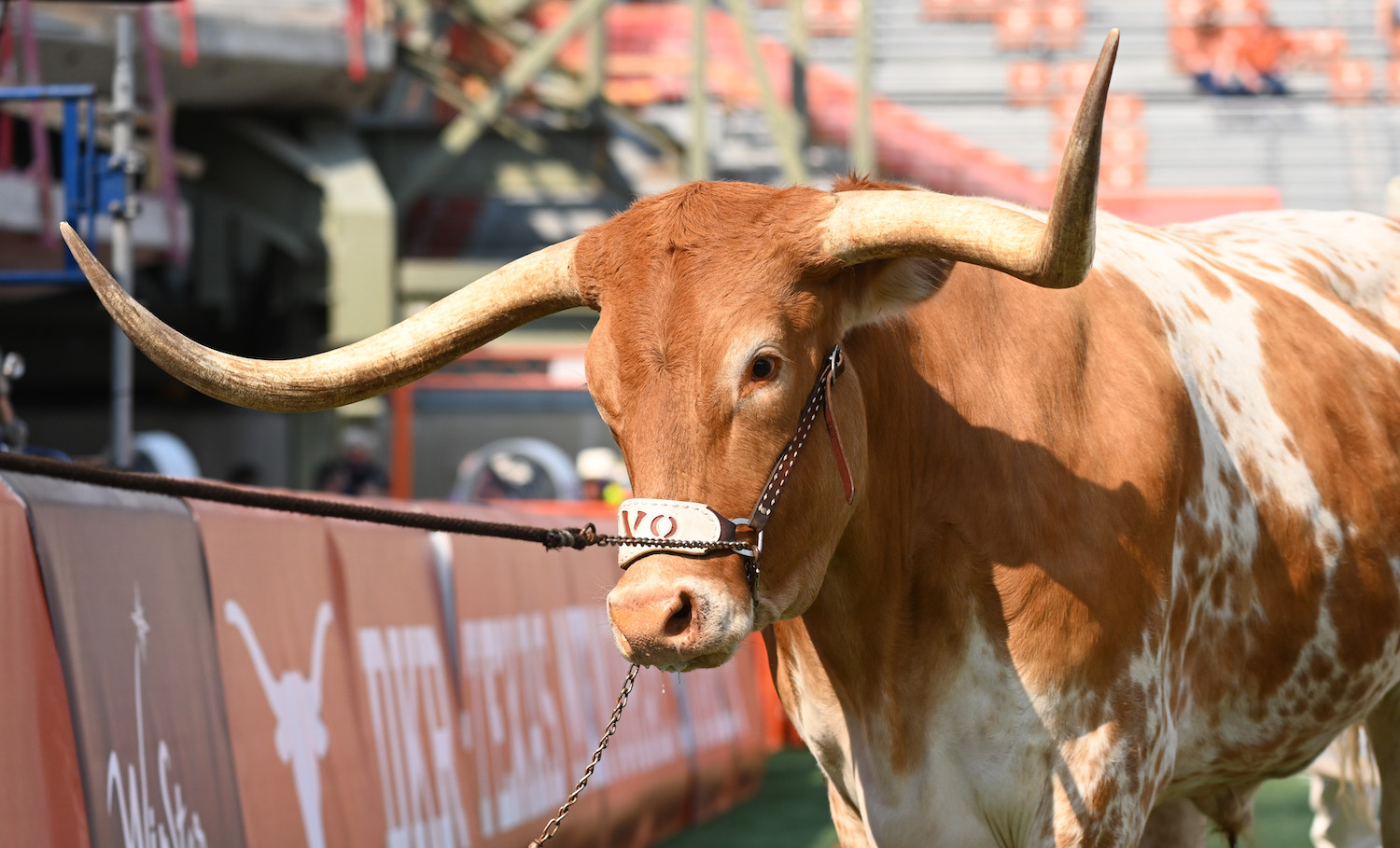 Remember Bevo vs. Uga in 2019 Sugar Bowl Incident? Texas Longhorns Mascot Is Now Center of Lawsuit
The Texas Longhorns have one of the most recognized mascots in sports with Bevo, the 1,600-pound steer. The animal is now at the center of a lawsuit from a 2019 Sugar Bowl incident.
The University of Texas football program has many established traditions in its more than 100 years of existence. One of the most unique and recognized traditions is the Texas Longhorns mascot Bevo. The enormous burnt orange and white steer has been a mainstay in the end zone of Texas home games for years. Bevo also travels to certain road contests and made an appearance at the 2019 Sugar Bowl.
Unlike most appearances, where things go according to plan, things went horribly wrong during the pregame festivities at the Superdome. It happened when the University of Georgia representatives brought over their bulldog mascot, Uga, for a photo opportunity with the much larger steer. Now, almost two years later, Bevo's actions are again making headlines and are the subject of a lawsuit by a photographer injured in the incident.  
Texas Longhorns mascot Bevo has history of incidents
Bevo is one of the most recognized mascots in college sports and has a long history of attending Texas Longhorns football games. In all, there have been 15 versions of the animal. Bevo XIV retired in 2015 after being diagnosed with cancer. The university unveiled Bevo XV, a 19-month-old, in September 2016.
While the steer is often shown on television standing or sitting in the end zone watching the game, Bevo does have a history of creating chaos. In one incident, Bevo II allegedly charged an SMU cheerleader who defended himself using a megaphone. 
In another man-vs-animal moment, Bevo III was accused of escaping his enclosure and running free across the UT campus for two days. Bevo IV once reportedly attacked a parked car, and Bevo V broke loose one time and decided to join the Baylor band.
Texas Longhorns mascot Bevo charges Uga at 2019 Sugar Bowl
Bevo's most recent and most publicized incident happened in January 2019 at the Sugar Bowl as it was captured on live television. The Texas Longhorns and Georgia Bulldogs met at the Sugar Bowl, in what many thought would be one of the best bowl matchups of the season. It turns out, the preseason action was quite entertaining as well.
Everything appeared normal as Bevo stood in his enclosed area. Then, someone decided it would make a great photo to bring Uga, the University of Georgia bulldog mascot, over close to Bevo. The steer had other ideas.
As Uga got ready for his photo and sat on the ground, the 1,600-pound steer charged out of his enclosed area. Uga, his handlers, and all those gathering for the photo scattered in different directions trying not to get trampled or impaled by the steer's horns. While the dog and his handlers were unharmed, one photographer, however, wasn't so lucky. 
Bevo's owners and handlers get sued
Last week, that photographer was identified as Nick Wagner, who formerly worked for the Austin American-Statesman. Wagner, who left the paper in May, filed a lawsuit against the owners and handlers of Bevo for negligence, indicating he suffered permanent neck and back injuries. Wagner is seeking a jury trial and damages between $200,000 and $1 million.
"Bevo XV rammed his longhorns twice into Plaintiff's back causing permanent injury to Plaintiff's neck and back," the petition says. Wagner's attorney Jon Powell said his client has over $24,000 in medical bills, and medical documents show as a result of the incident, he suffered "loss of motion" and "impairment" in two areas of his spine. 
The defendants are John and Betty Baker, Bevo's owners, and the Silver Spurs Alumni Association, the organization that is responsible for handling the animal. 
While Wagner waits for his day in court, Bevo has been back on the sidelines, albeit in a pen that has been substantially renovated. Since those changes, no further breaches have occurred. 
Like Sportscasting on Facebook. Follow us on Twitter @sportscasting19.