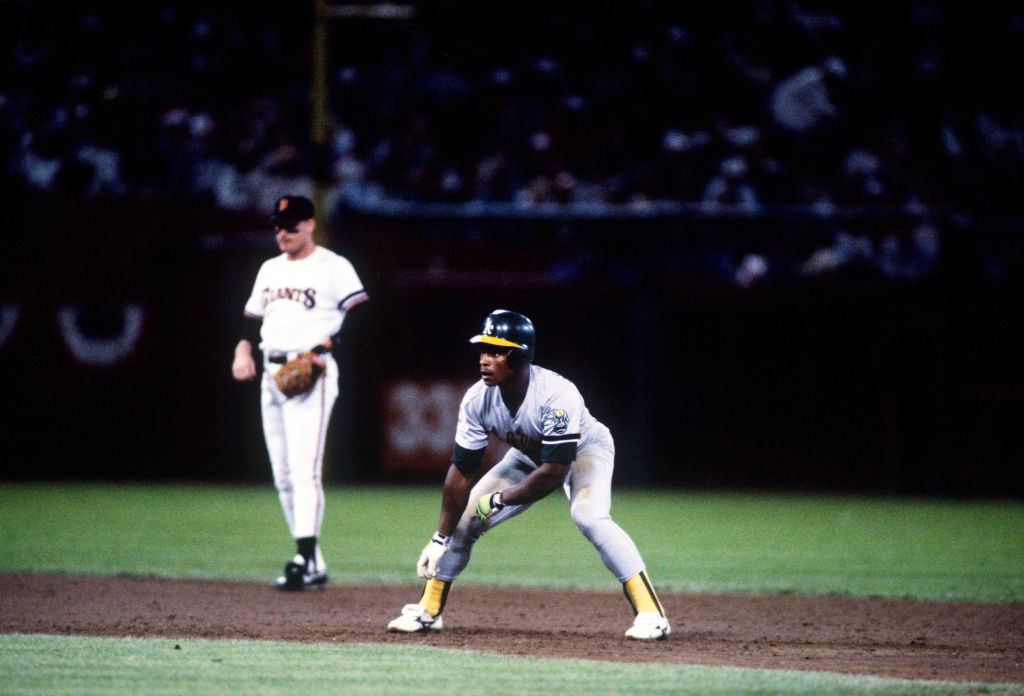 Rickey Henderson Could Have Been an NFL Star, If Not for His Mother
While we all know Rickey Henderson as a Hall of Fame Baseball player, he could have been an NFL star. His mother, however, intervened.
It goes without saying that all professional athletes are incredibly talented. Some men, however, are so skilled that they can excel in two different sports at the same time; Bo Jackson and Deion Sanders, for example, found success both on the football field and the baseball diamond. Outfielder Rickey Henderson could have joined them.
During his playing career, Henderson was incredibly fast. That speed could have made him a dangerous football player, if not for his mother's fateful advice.
Rickey Henderson's Hall of Fame baseball career
Growing up, Rickey Henderson was a star athlete in virtually any sport that he played. He eventually settled on baseball, however, and was selected by the Oakland A's in the 1976 MLB draft. The outfielder spent a few seasons in the minors before making his big league debut in 1979.
Henderson made enough of an impact to earn a full-time spot on the A's roster. In 1980, he stole 100 bases while hitting .303 and posting a .420 on-base percentage. He proved to be the perfect player for Billy Martin, who wanted his team to play aggressive "Billy Ball."
Henderson was traded to the New York Yankees before the start of the 1985 season. He would spend four and a half seasons in the Bronx, before being shipped back to Oakland; he would help the A's win the 1989 World Series title and take home the AL MVP award the following season.
Rickey Henderson left the A's again in 1993 and started bouncing around the Major Leagues. While he played until 2003, he never spent more than two seasons with a single club. That didn't diminish his impressive production, though. Although age eventually slowed him down, Henderson finished his 25-year career with 3,055 hits, 2,295 runs scored, a .279 batting average, and 1,694 stolen bases.
Thank Mrs. Henderson for her son's baseball career
As anyone who watched Rickey Henderson can tell you, he was freakishly athletic. That reality, however, was even apparent in his youth.
Growing up, Henderson was a dominant force in any sport; whether you were playing basketball, baseball, or football, you wanted Rickey on your team. As he got older, though, he transitioned from pick-up games to organized sports without missing a beat.
In high school, Henderson was a star football player, lining up as both a running back and a linebacker. He chewed up more than 1,100 rushing yards as a senior and earned plenty of NCAA attention. His mom, however, pushed him to play baseball instead.
"I was kind of scared of him getting hurt playing football. It was all right when he was playing tag football, but when he started playing tackle, I didn't like it," Mrs. Henderson explained in 1982. "I thought he wouldn't last as long playing football."
Rickey Henderson the Oakland Raider?
While football might have been his first love, Rickey Henderson found plenty of success on the baseball diamond. That, however, doesn't mean he ever gave up on his dream of suiting up for the Oakland Raiders.
During his time with the A's, Henderson tried to follow in Bo Jackson's footsteps and hit the gridiron. The only problem, however, was that his current employer wasn't having it.
"When Bo Jackson first came into the league, I went to Al Davis to go play football, and he was going to let me be a two-way player," Henderson told Susan Slusser of the San Francisco Chronicle. "The Oakland A's said, 'Oh, no way. You're not going out there. That's not going to happen."
"That was my chance, and I missed it," Henderson continued. "I always used to tell Bo [Jackson] and Deion Sanders, 'I could have done that, played both sports, but the A's said they weren't going to let me.' That was my dream."
Playing football might have been Rickey Henderson's dream but, when everything was said and done, he still had quite a baseball career. Even when you're a pro, mother still knows best.