Robert Parish Just Explained the Real Reason He Didn't Like Bill Laimbeer
Thirty-five years later, Boston Celtics legend Robert Parish still talks about his dislike of former Detroit Pistons center Bill Laimbeer.
It was 35 years ago when the miracle happened between the Boston Celtics and the Detroit Pistons during Game 5 of the 1987 Eastern Conference Finals. No, it wasn't Larry Bird's steal with five seconds left that shocked everyone in attendance at the Boston Garden.
While most of the attention was on Bird stealing an Isiah Thomas pass and feeding a driving Dennis Johnson for the game-winning basket, another surprising incident took place. Celtics center Robert Parish lost his cool.
While battling for position in the paint for a rebound, Parish pummeled Pistons center Bill Laimbeer with a couple of punches. No foul was called. This week, Parish revealed the real reason why he disliked Laimbeer so much.
Robert Parish lost his cool in Game 5 of the 1987 Eastern Conference Finals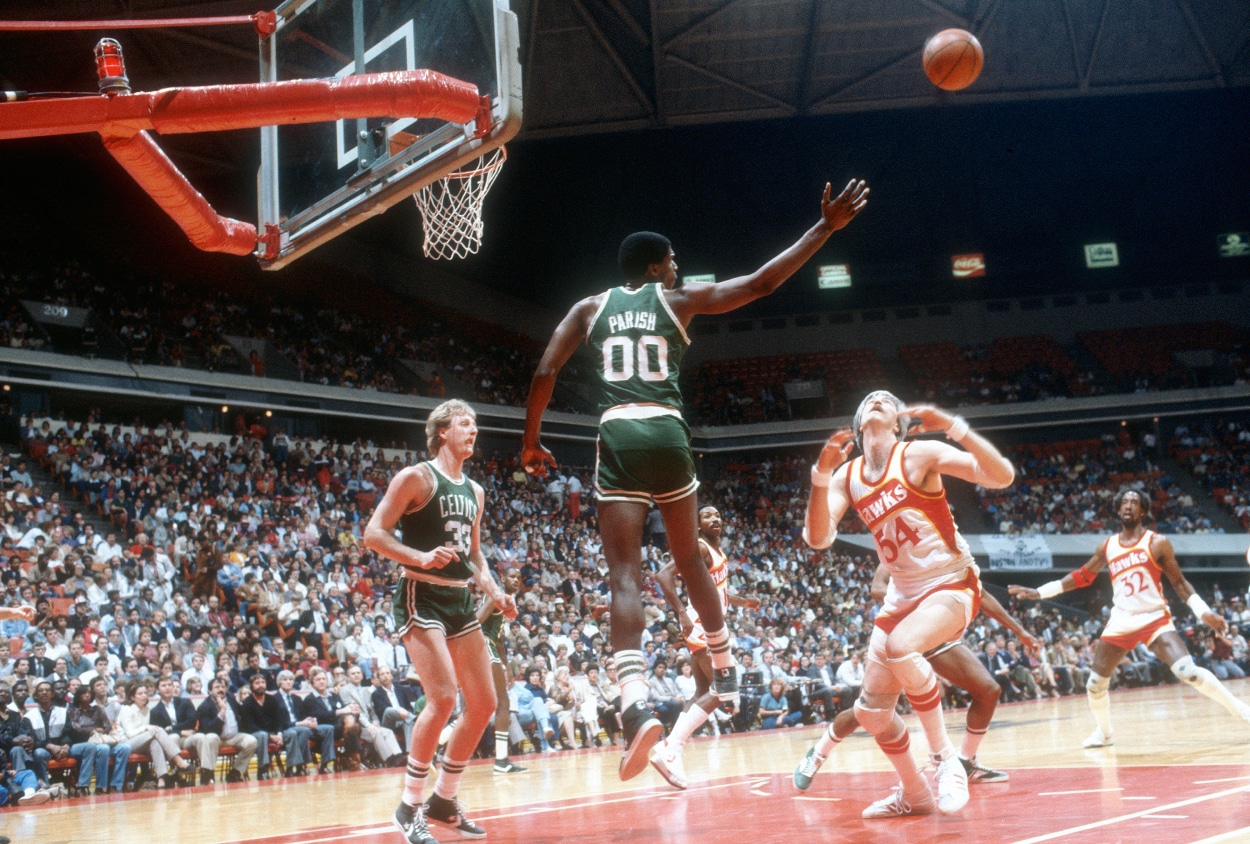 The Celtics weren't quite ready to give up their reign in the Eastern Conference to the Pistons just yet. They literally fought their way past the Pistons in the 1987 conference finals. In Game 3, Laimbeer, known as one of the most hated players in the NBA, took down Bird with a hard foul. Bird responded by throwing the ball at Laimbeer. Referees ejected both players.
Two games later, with the series tied 2-2, Parish finally had enough of Laimbeer's antics. Just before the end of the first half, Boston's mild-mannered center took down Laimbeer, who had his back to Parish while doing for a rebound. Two punches later, Laimbeer was on the floor, and play was stopped.
Amazingly, no official called a foul. Parish remained in the game. During an appearance last year on The Cedric Maxwell Podcast, Parish said it was the first time he'd lost his cool on the court. The man known as "The Chief" for his stoic personality, said he surprised himself.
"In the heat of the battle, it was the first time I had lost control of my emotions and my temper," Parish told Maxwell. "We had exchanged a few unpleasantries toward one another and a few elbows. I couldn't believe I lost my composure like that. That's the first time ever."
Later that game, Bird famously stole the inbounds pass from Isiah Thomas with the Celtics trailing by a point with five seconds to go. Bird secured the pass intended for Laimbeer and flipped it to Johnson, who laid it in for the game-winning basket. The Celtics went on to win the series in seven games.
Parish recently explained why he didn't like Laimbeer
Many NBA players did not like Laimbeer. Most, if not all, of the Celtics didn't. Maxwell pointed out that maybe Laimbeer's own teammates didn't care for him either.
"The thing that amazed me about that was, not only did you lose control when you punched him down to the ground, but more to me was none of his teammates came to his rescue," Maxwell said. "I didn't see nobody go at you."
Parish recently explained why he didn't like Laimbeer. The former Celtics center made an appearance this week on Steiny & Guru of 95.7 The Game in San Francisco and didn't hold back when talking about the man people love to hate.
"The thing with Laimbeer that not only myself, but the reason that they did not like Laimbeer is because his style of play was to hurt you," Parish said. "We all elbowed. We held, and we grabbed, and we tripped — anything we could get away with. But we don't try to take you out.
"Laimbeer tried to take you out. He wanted to hurt you. And to make his play more egregious, he got off on it. He wore it like a badge of honor, which I never understood. There's no place in the game for that type of play.
"He took that whole tough-guy mentality that the Pistons had to a whole 'nother level."
Parish's attack on Laimbeer would have earned him a lengthy suspension. Maybe Laimbeer was so hated then that everyone, including the referees, just looked the other way.
Like Sportscasting on Facebook. Follow us on Twitter @sportscasting19 and subscribe to our YouTube channel.