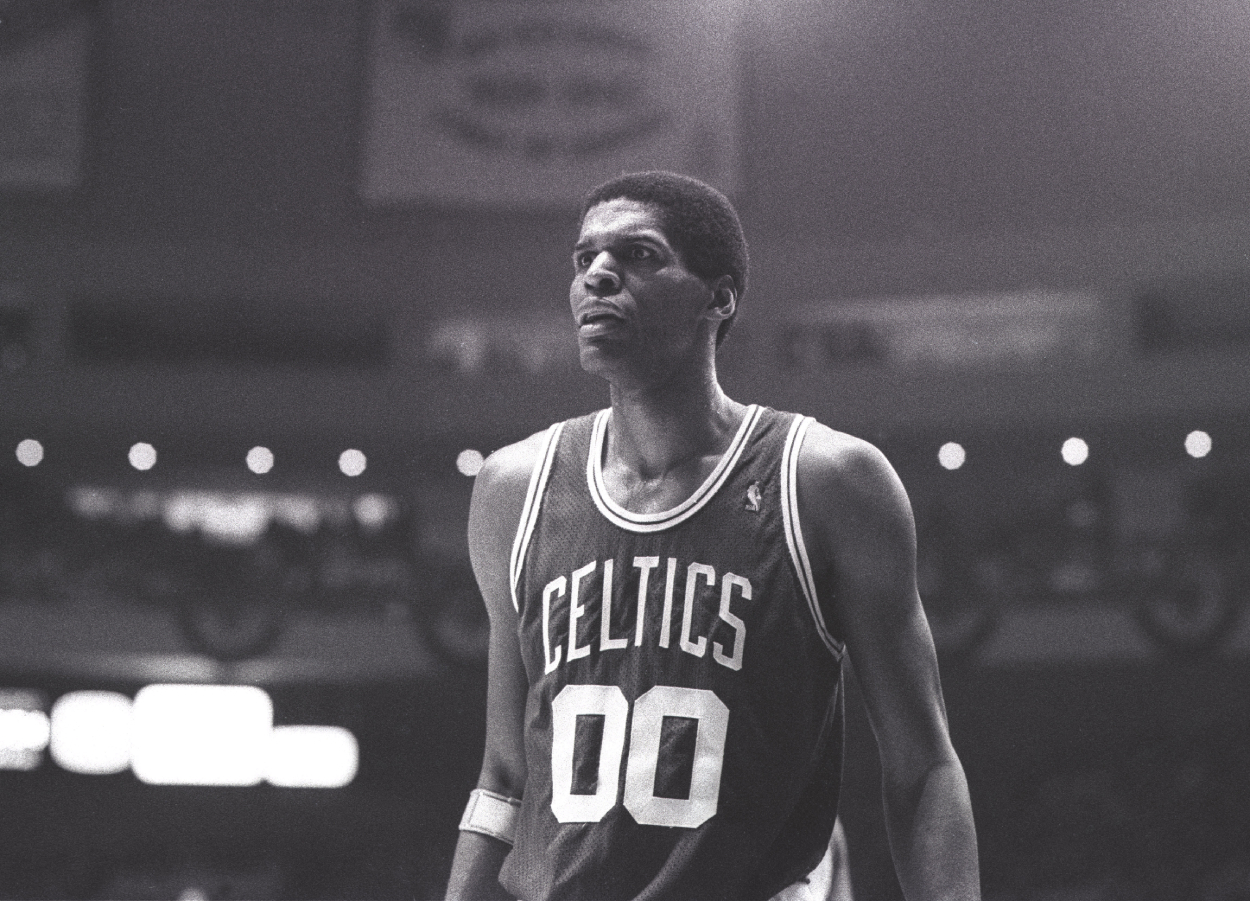 Robert Parish Pummeled Bill Laimbeer in the 1987 Eastern Conference Finals, and Both He and the Celtics Got Away With It
Robert Parish lost his cool in Game 5 of the 1987 Eastern Conference Finals.
Maybe the referees were even getting sick and tired of seeing Bill Laimbeer's antics during the 1987 Eastern Conference Finals. NBA officials ejected Laimbeer for a flagrant foul on Boston Celtics star Larry Bird in Game 3. Known for his cheap-shot antics and dirty play, Laimbeer was widely considered the most hated man in the NBA. In Game 5, Celtics center Robert Parish finally snapped.
As flagrant as Laimbeer's Game 3 foul was on Bird, Parish's was the same on Laimbeer in that fifth game. Parish, however, got away with it. There was no ejection — not even a foul called — and the Celtics rallied for a 108-107 win. It wasn't until the NBA reviewed the tape that Parish received a suspension for Game 6.
Robert Parish said punching Bill Laimbeer was the first time he lost his composure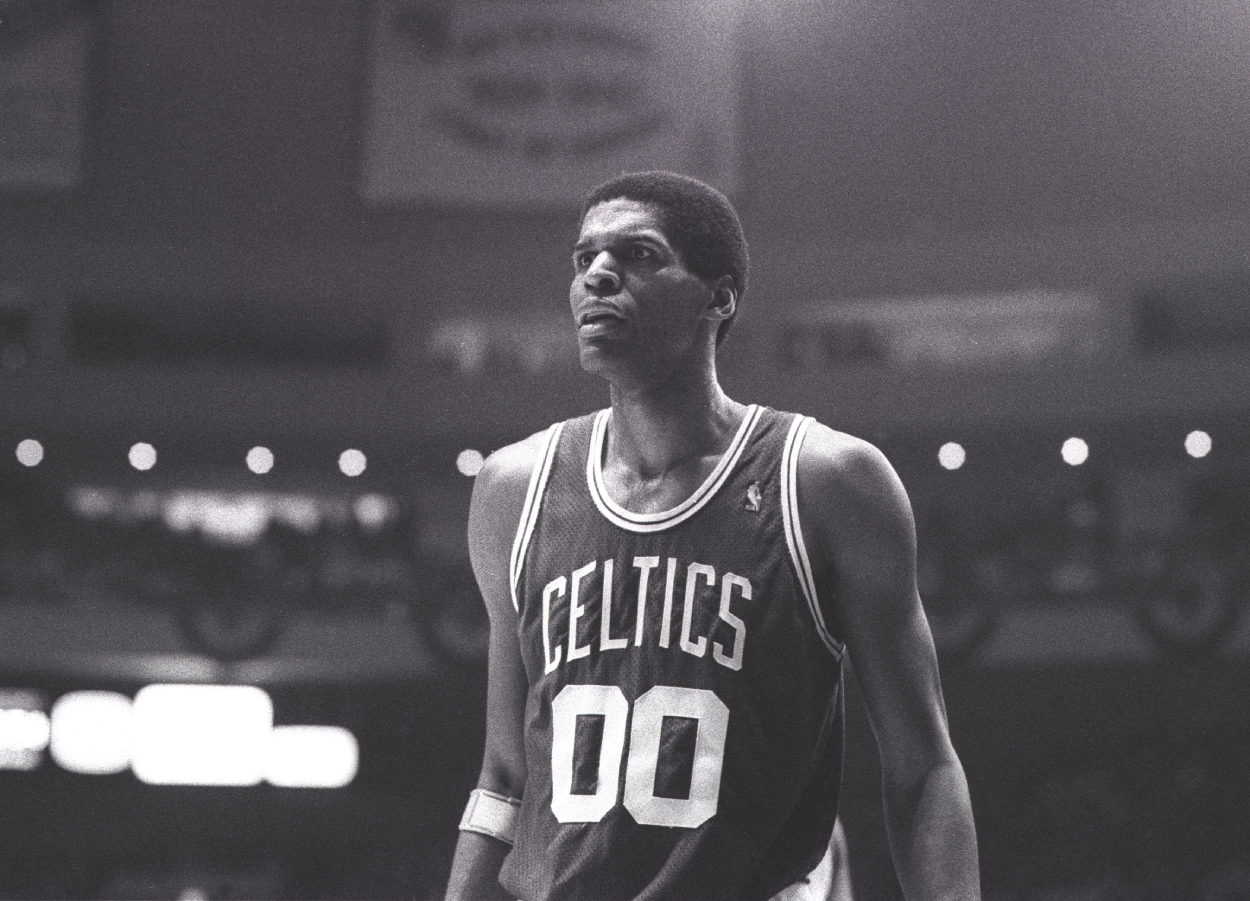 Parish was always considered mild-mannered when he was on the court. Boston's 7-foot-1 center kept his cool and was all business, except for that one moment in Game 5 of the Eastern Conference Finals in 1987. Parish leveled Laimbeer with a couple of blows to the face with 23 seconds left in the first half. It remains a big part of Celtics basketball as it is still shown today on the jumbotron at the TD Garden to fire up the crowd.
During a recent interview with former Celtics teammate Cedric Maxwell on CLNS, Parish said that was the first time he'd lost his composure.
"In the heat of the battle, it was the first time I had lost control of my emotions and my temper," Parish told Maxwell. "We had exchanged a few unpleasantries toward one another and a few elbows. I couldn't believe I lost my composure like that. That's the first time ever."
Robert Parish somehow remained in the game after decking Bill Laimbeer
The referees must have turned the other cheek on this one. The battle between Parish and Laimbeer happened right in the paint as they positioned themselves for a rebound. Parish got fed up with something Laimbeer did and forgot about basketball. He turned Laimbeer into a punching bag. No ejection. No foul on Parish. There was a whistle, but it was aimed at Celtics forward Darren Daye for a loose-ball foul.
Doug Collins, who was providing the color for the national TV broadcast on TBS, couldn't believe what he saw. then he couldn't believe the lack of a call by officials Jess Kersey and Jack Madden.
"That was not right. That was not right," Collins said on air, according to The Chicago Tribune. "Laimbeer should have shot two free throws. There should have been a technical, should have been a punching foul, something. There had to be something called. It's like it never occurred. That's not right."
The lack of a call may have proved fatal for the Pistons. Boston wound up with a wild 108-107 victory when Bird stole the inbounds pass from Isiah Thomas with five seconds left and Detroit nursing a one-point lead. Bird picked off the pass and fired a pass to Dennis Johnson for the game-winning layup and a 3-2 series lead.
The NBA suspended Parish for Game 6, won by the Pistons, 113-105. The Celtics closed out the series at home with Parish back in Game 7, winning 117-114. Parish scored 16 points and hauled down 11 rebounds in the win.
Cedric Maxwell pointed out a hilarious note about Laimbeer getting punched
Maxwell played for the Celtics from 1977-85. He was the NBA Finals MVP in 1981 when the Celtics defeated the Houston Rockets. He also played a key role in Boston's Game 7 victory over the Los Angeles Lakers in the 1984 NBA Finals. Maxwell, who now works as a radio broadcaster for Celtics games, pointed out something to Parish during their interview that might tell people a little about Laimbeer's reputation.
"The thing that amazed me about that was, not only did you lose control when you punched him down to the ground, but more to me was none of his teammates came to his rescue," Maxwell said. "I didn't see nobody go at you."
"Yeah, I'm kinda looking over my shoulder so I don't get sucker punched," laughed Parish. "But like you said, no one helped him, so I don't know what kind of message they were trying to send to him. I guess they had enough of his antics. I don't know what that was all about."
No foul called. No help from teammates. That's all you need to know about the reputation of Bill Laimbeer.