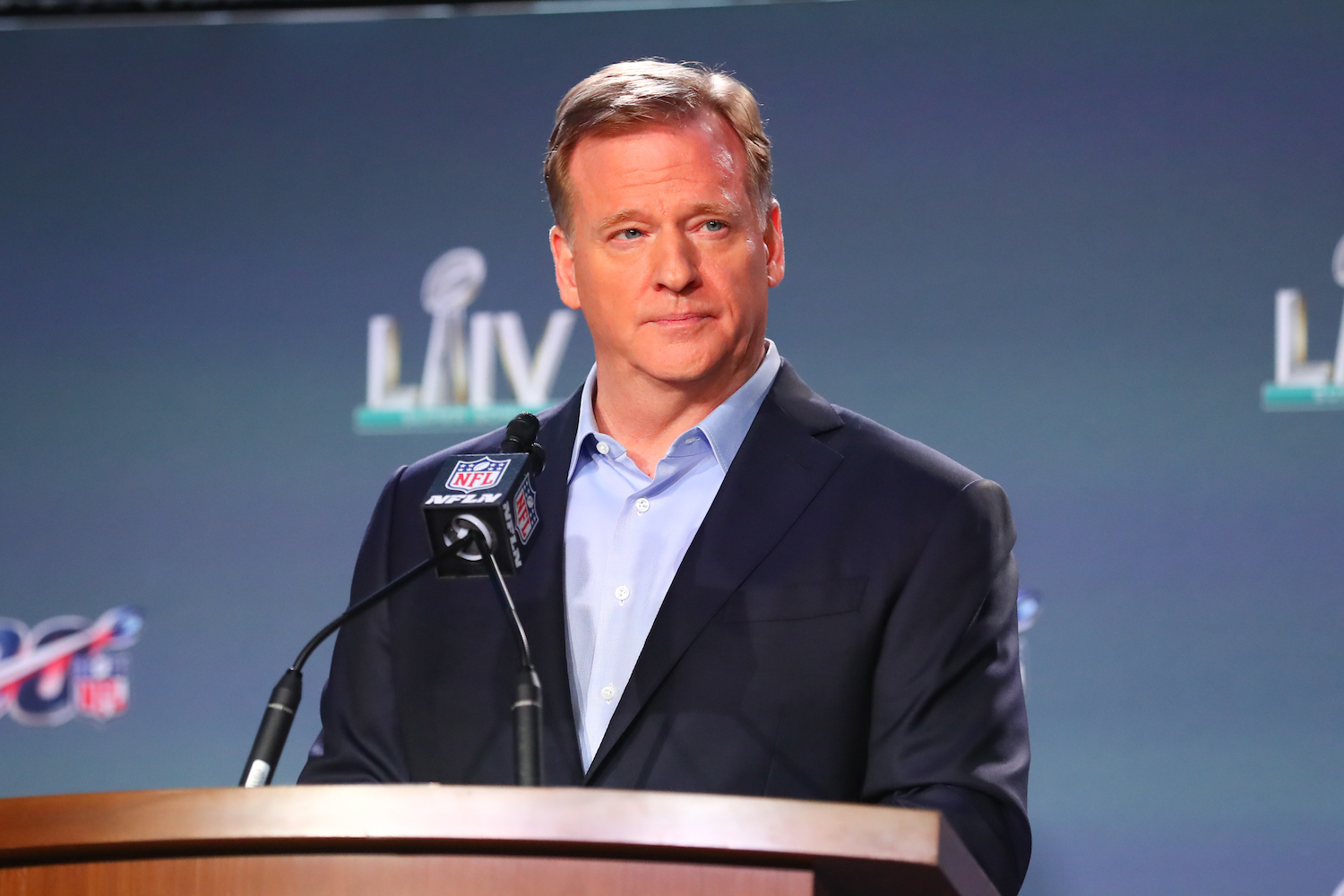 Roger Goodell Confronted on Colin Kaepernick Apology by Emmanuel Acho
Roger Goodell apologized to NFL players for not listening to them but never apologized to Colin Kaepernick. Emmanuel Acho confronts the commissioner on a Kaepernick apology.
Emmanuel Acho's thought-provoking YouTube series "Uncomfortable Conversations with a Black Man" has received rave reviews from some big hitters including Oprah Winfrey and Stephen Colbert. As the title describes, there's no taboo topic on race Acho won't discuss, and he delves into those sensitive areas with a variety of guests in the world of sports and entertainment.
Acho's latest episode, which debuts on Sunday, promises to be an interesting one. He sat down and interviewed NFL Commissioner Roger Goodell. In the short preview clip, Acho tackles the sensitive subject many NFL fans and athletes have wondered of the commissioner—will he ever apologize to Colin Kaepernick? 
Emmanuel Acho launches 'Uncomfortable Conversations'
Since its launch in June, Emmanuel Acho has interviewed some entertaining guests on his YouTube series "Uncomfortable Conversations with a Black Man." The show is designed to explore further the expanding racial conversation taking place in households across the nation.
Acho's guests have included Matthew McConaughey, Chip and Joanna Gaines, as well as Olympic star Lindsey Vonn and fiance, NHL defenseman P.K. Subban.
In his interview with Vonn and Subban, the couple discussed what it's like to be an interracial couple. Vonn described how she has struggled to get acceptance from black women. 
"I just try to be kind to every person that I meet and even if they hate me because I'm with a strong Black man, I'm still the same person… It doesn't make me sad, it makes me feel extremely guilty because I am taking a strong Black man away from them." 
Roger Goodell apologizes to NFL players, not Kaepernick
In early June, numerous high-profile NFL players, including Patrick Mahomes, Odell Beckham, Jr., and Deshaun Watson, among others, joined together and created a powerful video demanding the league condemn racism and support Black players.
A day later, NFL Commissioner Roger Goodell posted a video on Twitter, essentially repeating verbatim the statement requested by players.
"We, the NFL, condemn racism and the systematic oppression of Black People. We, the NFL, admit we were wrong for not listening to NFL players earlier and encourage all to speak out and peacefully protest. We, the NFL, believe Black Lives Matter."
While Goodell apologized, many said it was incomplete because it didn't specifically mention Colin Kaepernick by name. In fact, a couple of weeks after Goodell's statement, a Harris Poll found that 61% of Americans think Roger Goodell owes the former quarterback an apology.
Emmanuel Acho confronts Roger Goodell on Kaepernick apology
Just a week after Roger Goodell issued his general apology to the NFL players, he spoke on Kaepernick, but it wasn't in the form of an apology. The commissioner spoke with ESPN's Mike Greenberg and said he encouraged any team that was interested to sign the quarterback.
"Well, listen, if he wants to resume his career in the NFL, then obviously it's going to take a team to make that decision," Goodell said. "But I welcome that, support a club making that decision and encourage them to do that."
Almost three months after the initial video, Roger Goodell has still not apologized to Kaepernick. Can Emmanuel Acho crack the commissioner? His preview clip doesn't reveal the answer, but it does show that he tried.
"If you were to publicly express your remorse, apologize to Kaepernick, what would you say?" Acho asked Goodell. 
Will Roger Goodell answer the question and apologize? If he's truly sincere about addressing systemic racism in the NFL, that would be a good place to start.