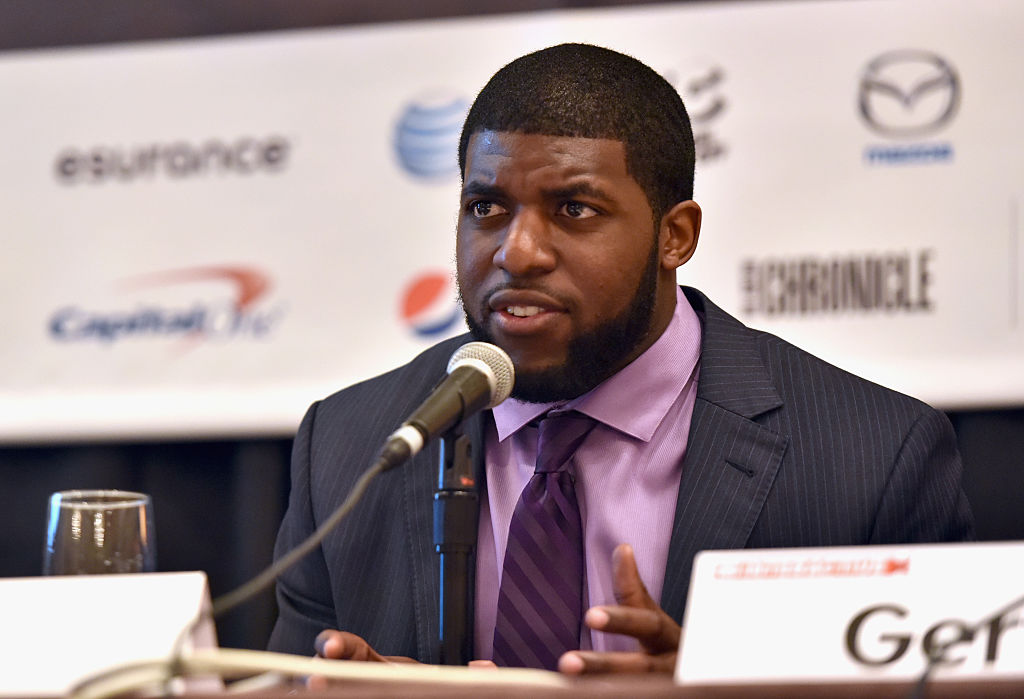 Who Is Emmanuel Acho?
Emmanuel Acho was recently named host of the popular FS1 talk show "Speak For Yourself. " Who is Emmanuel Acho and what is his background?
To most NFL fans, the name Emmanuel Acho doesn't necessarily ring a bell. That's because he played sparingly for two seasons with the Philadelphia Eagles before transitioning into the world of sports broadcast. Since that time, Acho has skyrocketed through the ranks to become one of the top sports pundits in television. Who exactly is Emmanuel Acho?
Emmanuel Acho starred at the University of Texas 
Emmanuel Acho arrived on the University of Texas campus in 2008 when the Longhorns were perched near the top of the college football world. His brother Sam had arrived two years earlier and established himself on the front of a stout Texas defensive line. 
After limited action his first season, Emmanuel saw considerably more playing time his sophomore year as a linebacker and was an integral part of the Longhorns squad that made it to the national title game, ultimately losing to Alabama.
Acho's junior and senior seasons he became one of the stalwarts on defense, and in 2011, his senior year, he led the team in tackles with 110, which included three sacks. He was a first-team All-Big 12 selection. In addition to his success on the field, Acho excelled in the classroom, as he was a three-time first-team Academic All-Big 12 selection.  
Acho played sparingly during his time in the NFL
The Cleveland Browns selected Emmanuel Acho in the sixth round of the 2012 NFL draft. Unfortunately, Acho suffered a leg injury early on and was placed on injured reserve. He missed the entire 2012 campaign. 
In 2013 Acho was traded to the Philadelphia Eagles for running back Dion Lewis. Much like his first year at Texas, he saw limited action playing in just six games. In 2014, in what turned out to be Acho's final action in the NFL, he played in 14 games and recorded 31 tackles, most of it coming after week nine when Eagles linebacker DeMeco Ryans suffered a season-ending injury.
Acho was on the Eagles roster during the 2015 season for a brief two-week period when former fellow Longhorn Jordan Hicks suffered a shoulder injury and was placed on Injured Reserve. Acho never stepped on to the field. 
Emmanuel Acho quickly rises through broadcast ranks
While holding out hope he might be signed to another NFL team for the 2016 season, Acho took a temporary position working at the Longhorn Network to talk about a topic he was quite familiar with—Texas football. After not receiving any offers to continue in the NFL, Acho signed on full time in the fall with the network. There he served as one of four co-anchors for "Texas Gameday," which features both a pre-game and post-game show that dissects the details of Longhorn football games.
Acho proved to be a natural on camera offering his insight and often passionate thoughts on the state of Longhorn football. The folks back in Bristol took notice. In 2018, Acho was brought on as a college football analyst for ESPN 2. 
His role at ESPN steadily increased beyond college football and Acho was regularly featured offering his opinions on various ESPN shows including "First Take" and "Get Up." His overall sports knowledge and charismatic personality obviously caught the attention of the folks at ESPN's rival, Fox Sports, and he was hired to be a co-host on the popular afternoon talk show on FS1 "Speak for Yourself." 
In addition to his new role at Fox Sports, Acho recently launched an online series called "Uncomfortable Conversations with a Black Man." The series is designed to create a dialogue between Acho and white guests on the show and further explore the expanding national conversation taking place in cities across the nation regarding racial inequality and social injustices to the black community.
Acho's latest episode features an interview with fellow Austinite and uber-Longhorn supporter Matthew McConaughey, where the two discussed race relations, prejudice, and injustice.