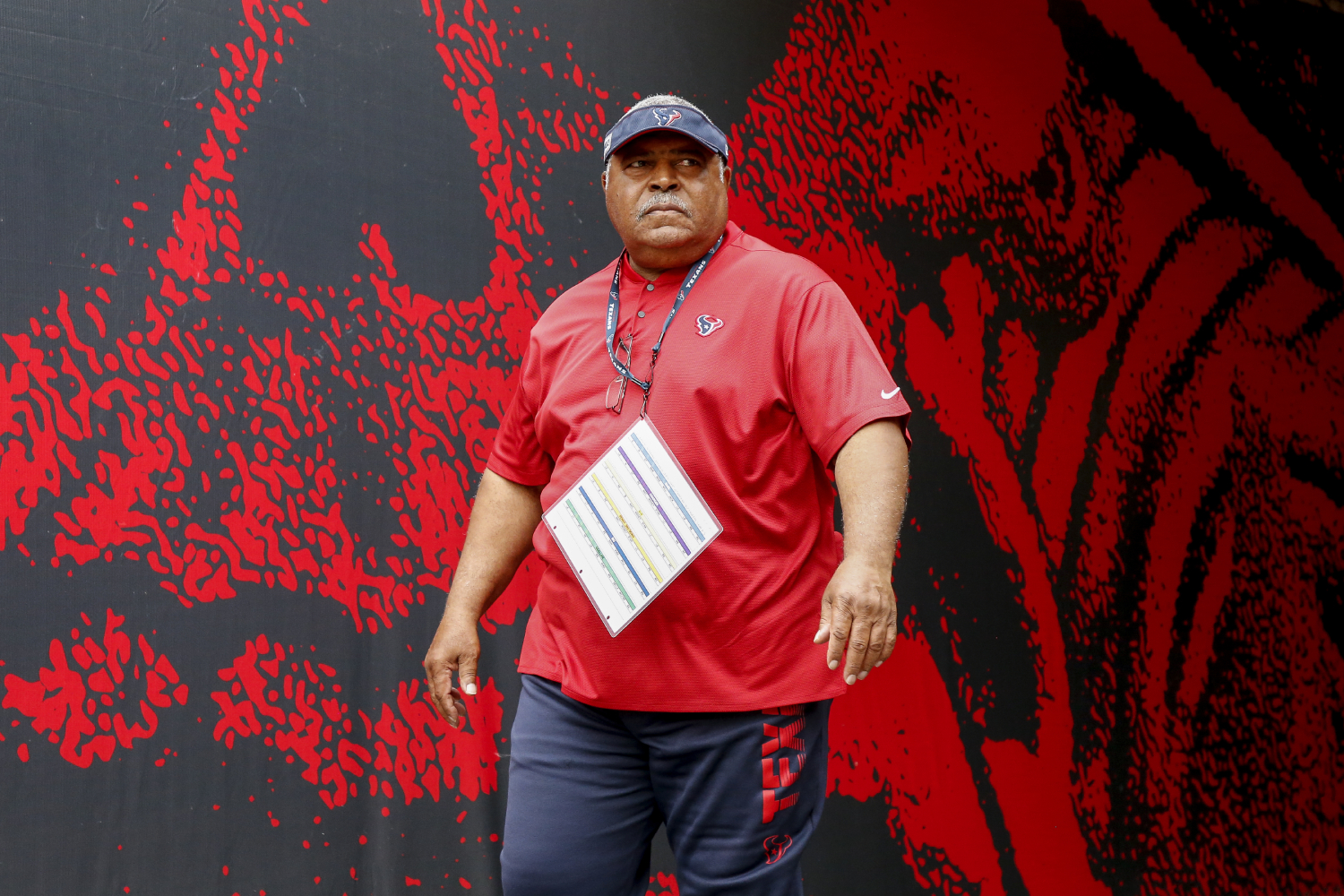 Romeo Crennel Will Make History with the Houston Texans on Sunday
Romeo Crennel will make history Sunday as interim head coach of the Houston Texans. At age 73, he'll become the oldest NFL head coach ever.
The season for the new Houston Texans begins Sunday. Although they will officially be 0-4 when they host the Jacksonville Jaguars, it's a new slate for J.J. Watt and the crew. It will be the first game without Bill O'Brien, who was fired as head coach earlier this week. When interim head coach Romeo Crennel takes the field Sunday, he'll make NFL history.
Bill O'Brien fired by Texans this week
Even though the Houston Texans opened with one of the toughest schedules in the league, the franchise showed no mercy. Houston fired head coach Bill O'Brien after an 0-4 start and will see veteran coach Romeo Crennel step in as interim coach for Sunday's game against the Jacksonville Jaguars. O'Brien has been the head coach for the last seven years.
O'Brien is the lone coach in Texans' history to have a winning record. He finished his career with a 52-48 mark. When he was notified of the decision to let him go, he said he understood.
"In the end, in this business, it's a bottom-line business," O'Brien said, according to ESPN. "We weren't able to get it to where we needed to get it. I understand we fell short in terms of taking this team further in the playoffs. But I do leave knowing that myself and this staff gave everything this organization deserved and more. We worked very, very hard to try to get this to a place where it could be a championship program. We just didn't get it done."
J.J. Watt and O'Brien had a heated exchange before firing
ESPN confirmed that a heated exchange between Houston Texans defensive end J.J. Watt and former head coach Bill O'Brien took place prior to O'Brien's dismissal. ESPN said the incident took place prior to Houston's Week 3 game with the Pittsburgh Steelers. O'Brien was fired this week with the team 0-4.
The incident occurred during a practice, but Watt wouldn't speak about what took place. "I'm not going to talk about what happened at practice or what conversations were had or whatever it may be," Watt said to ESPN. "The situation is what the situation is and we … right now have a fresh start and we had a good practice today and we're looking forward to Jacksonville.
Watt said he appreciated all O'Brien did for the organization, but this year things weren't working, as evidenced by their 0-4 start. "When you're 0-4, obviously things need to change," he said. "I mean, it wasn't working. I appreciate and respect what we had. We won four division titles in six years with Bill and I appreciate that and that time, but obviously this year, we're 0-4 and stuff wasn't working. When you have the talent that we have, specifically at the quarterback position in this league, we can't be 0-4."
Romeo Crennel will make NFL history Sunday
During the early part of the 2020 season, things were unpleasant in Houston. The Texans were off to an 0-4 start. Fans were growing upset and calling for then-head coach Bill O'Brien to be fired. O'Brien was dismissed this week and replaced with Romeo Crennel, who was named interim coach.
Crennel, 73, will become the oldest head coach ever in the NFL when the Texans and Jacksonville Jaguars kick off Sunday. When the game begins, Crennel will surpass George Halas as the oldest coach to ever coach in an NFL game. Halas, who coached the Chicago Bears, was 72.
Seattle Seahawks coach Pete Carroll will turn 70 next September, according to CBS Sports. Bill Belichick of the New England Patriots will turn 69 in April, while Tampa Bay's Bruce Arians will also be 69 next year. Crennel has been a head coach in the NFL with the Cleveland Browns and Kansas City Chiefs. He has a record of 28-55.