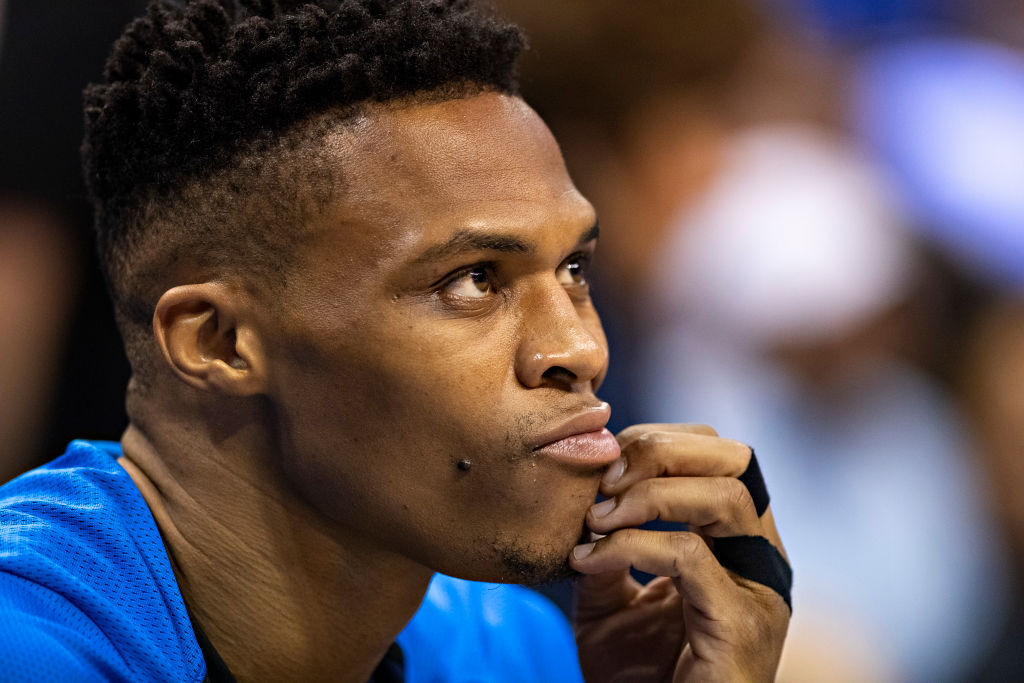 NBA: Is Russell Westbrook the Problem with the Oklahoma City Thunder?
Oklahoma City's third straight early exit from the NBA playoffs got us wondering -- is Russell Westbrook the problem for the Thunder?
Russell Westbrook and the Oklahoma City Thunder found themselves on the losing end of another first-round playoff series in the 2019 NBA playoffs. Their series loss against the Portland Trail Blazers was the third straight one-and-done series for OKC. Now, there are a lot of questions as to whether Russell Westbrook can continue to be the franchise's best player. He might be one of the most underrated players in NBA history, but some wonder if Oklahoma City should try to move on from the talented former MVP who is a triple-double machine and restart things with Paul George at the helm. With that in mind let's explore if Russell Westbrook is the problem with the Oklahoma City Thunder.
Thunder playoff woes
Since Kevin Durant left for Golden State, Oklahoma City has looked overmatched in each of their playoff series losses. They lost in five games to the Houston Rockets in 2017, and they followed it up with a six-game loss to the Utah Jazz last season. This year things were supposed to be different, as the Thunder looked to be a legitimate threat to Golden State in the West.

However, Russell Westbrook's antics towards Portland Trail Blazers All-Star guard Damian Lillard proved to be too much for the Thunder to handle. Lillard took all the trash talk personally, and he put Portland on his back in an easy five-game series win. The defining moment of the series was Lillard hitting a 37 foot 3-pointer in front of Paul George to win the series as time expired.

After Lillard made the shot, he waved goodbye to Oklahoma City and celebrated with his teammates in one of the coldest moments the league has ever seen. If Westbrook can't get out of the first round next season, can you expected it to happen at all?

Shooting decline
Westbrook's shooting has dramatically fallen off since his MVP season in 2016-17. He shot 42% from the field, 34% from behind the arc, and 84% at the free-throw line that year. Last season, his 3-point percentage dropped to roughly 30%, and his free-throw percentage dropped to 74%.

Westbrook suffered the biggest decline of all this season. He shot just over 65% at the line and put up just 22.9 points per game, his lowest output since 2013-14. If he continues to decline shooting the ball (something he has vowed to work on this offseason), his efficiency will make him less than desirable on the trading block.

Massive contract
Russell Westbrook has four years remaining on his deal, and he will make at least a $38 million per season going forward. The final year of his contract when he is 33 years old will cost Oklahoma City $47 million. If his play keeps declining, he won't be worth the money, but the Thunder might not be able to move him. Don't expect many teams to look to make a deal for a player on a Supermax deal whose shooting has declined drastically in two seasons.

Coach Billy Donovan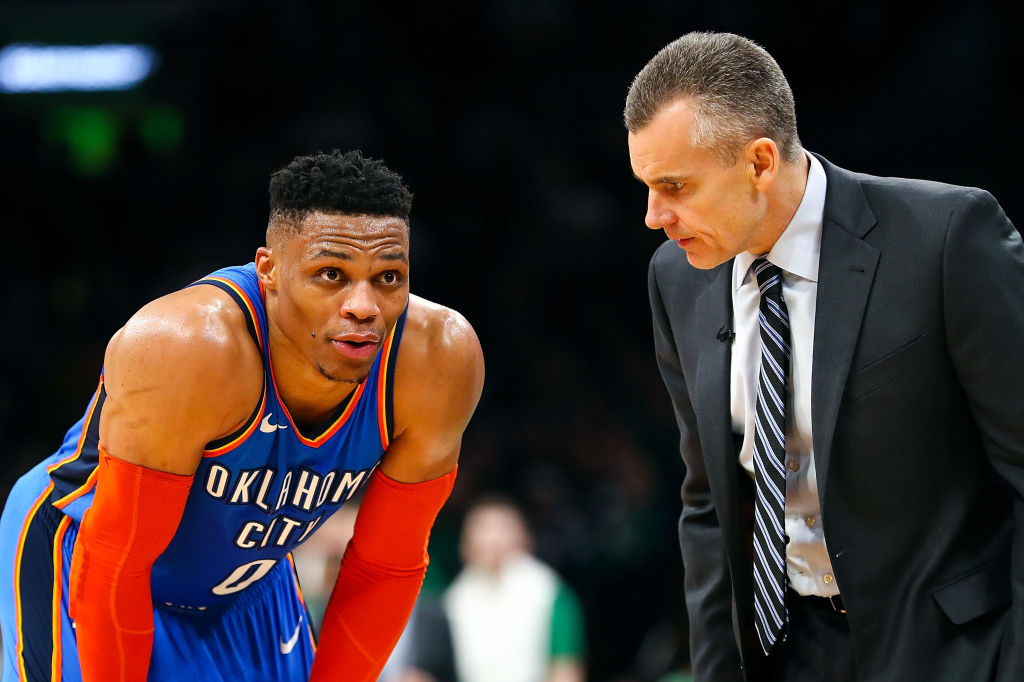 Is Billy Donovan one of the other problems for Oklahoma City? Donovan was never viewed as an X's & O's strategist during his time at the University of Florida, and he has shown he easily can be outcoached in a playoff series. Yes, he took the Thunder to the Western Conference finals, but they had a 3-1 lead against Golden State, but they lost in seven games as Durant and Westbrook seemed to have no direction of how to do things on the offensive end of the floor.
Is Russell Westbrook is the problem with the Thunder?
After looking at everything regarding Oklahoma City Thunder superstar Russell Westbrook, we can say that he is a part of the problem for the team, but he isn't the only one. A lack of talent at times and iffy coaching decisions don't help the cause, but Westbrook's overall decline is a culprit in the recent Thunder woes. Who do you expect to help Oklahoma City turn their playoff misfortune around?