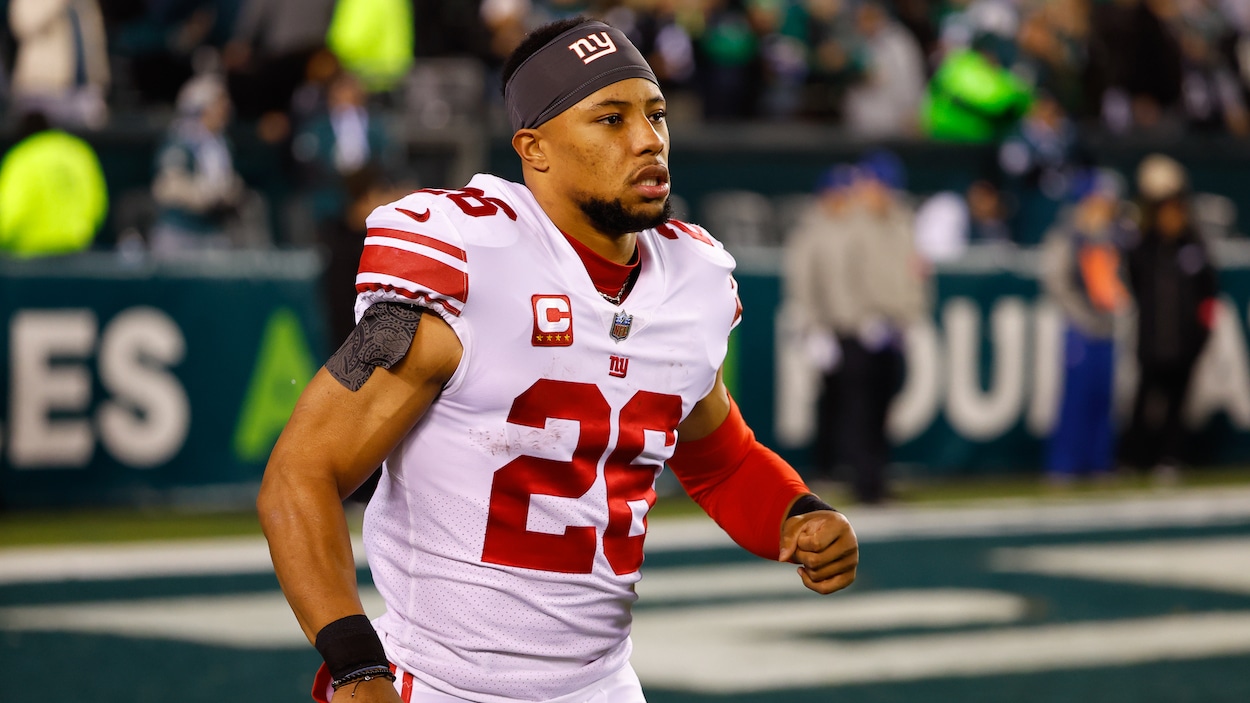 Saquon Barkley Contract: RB Thrills Giants Fans With Admission About Extension
The Giants need to figure out a new Saquon Barkley contract this offseason, and he may have just made that a whole lot easier.
If you told New York Giants fans (or even Giants players and coaches) before the season that they would make the NFC Divisional Round, they would have been overjoyed. That doesn't make Saturday's 38-7 beat-down at the hands of their NFC East-rival Philadelphia Eagles any easier. After the game, the offseason questions began, especially regarding the Daniel Jones and Saquon Barkley contracts. On the latter front, Barkley made an admission to reporters after the game that will get Giants fans back to celebrating.
The Saquon Barkley contract answer was music to Giants fans' ears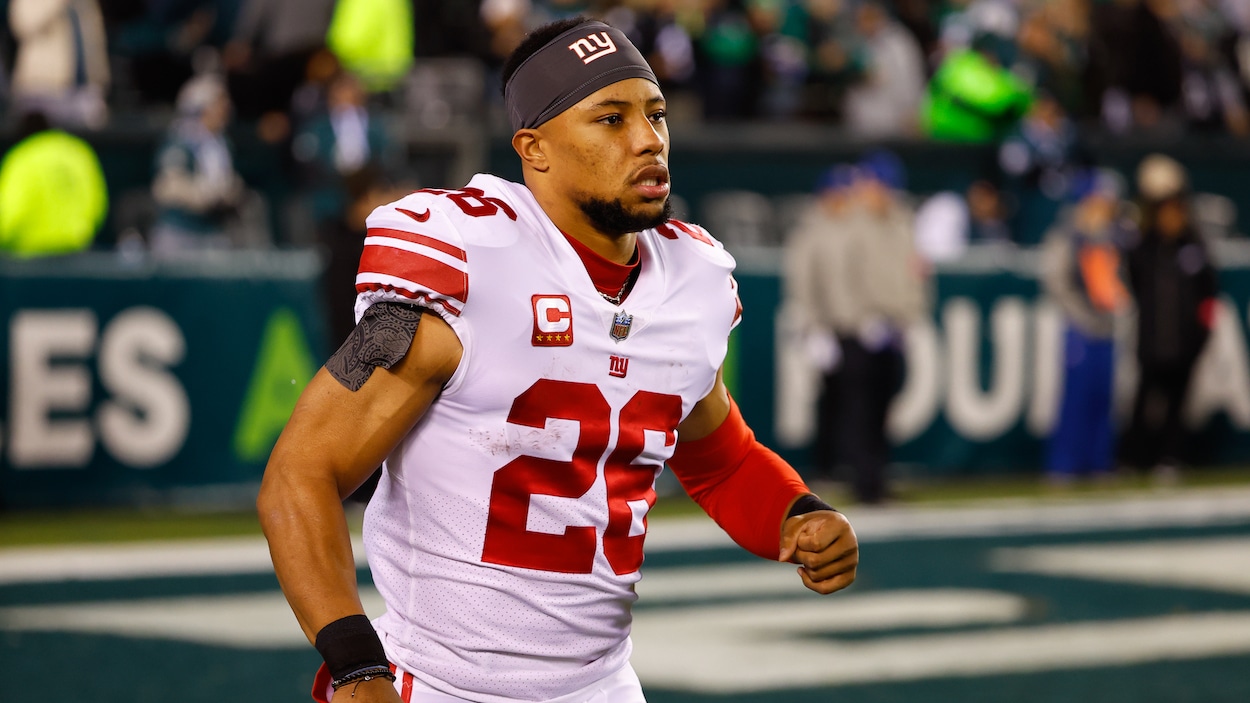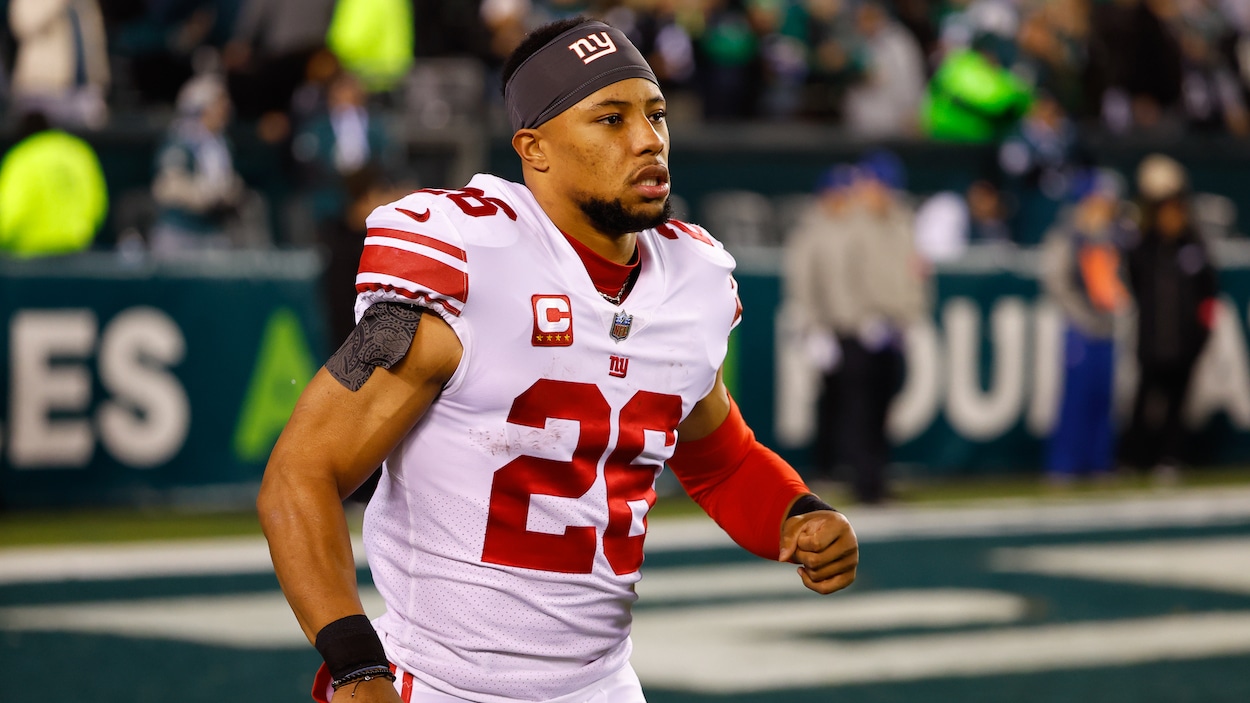 As the No. 2 overall pick of the 2018 NFL Draft, the initial Saquon Barkley contract was a four-year, $31,194,751 contract with a $20,767,092 signing bonus and an average annual value (AAV) of $7,798,688. For 2022, the Giants picked up the running back's fifth-year option for $7,217,000.
Barkley is now an unrestricted free agent.
The Giants could use the franchise tag on the RB. The current projection for that number is $10.1 million, per CBS Sports. That would only keep him in blue through the 2023 season, but it could be preferable to making Barkley the highest-paid running back in the league.
Currently, the top-five highest-paid RBs look like this (by AAV):
Christian McCaffrey SF, $16,015,875
Ezekiel Elliott DAL, $15,000,000
Alvin Kamara NO, $15,000,000
Dalvin Cook MIN, $12,600,000
Derrick Henry TEN, $12,500,000
So, will the superstar running back who had the best year since his incredible rookie season (and set a career mark in rushing yards) push to be the richest ball carrier in the NFL?
After the loss to the Eagles, Barkley said no.
"I'm not really too concerned about resetting any markets. I'm realistic. I know where I was on pace to do. But having two years of injuries and having the seasons of not performing to the level I know I can perform doesn't help," Barkley admitted. "But I think I was able to show the type of caliber of player I am and the things I'm able to do on a football field. That's something I wanted to do. That was my goal this year, and I was able to accomplish that. Now it's just sit down with my agent, Kim [Miale of Roc Nation Sports], see what happens."
While the running back didn't specifically say he'd take a team-friendly hometown deal in the next Saquon Barkley contract, it does sound like he's going to give the Giants all due consideration and not rake them over the coals.
Spotrac estimates Barkley's market value is $11.9 million right now. However, that wouldn't put him in the top five of RBs next season. If the Giants are willing to meet Barkley halfway and give him a four-year, $52 million deal for an AAV of $13 million (making him the fourth-highest-paid back in the NFL), that could get it done. And it would be a win-win, with both sides walking away happy.