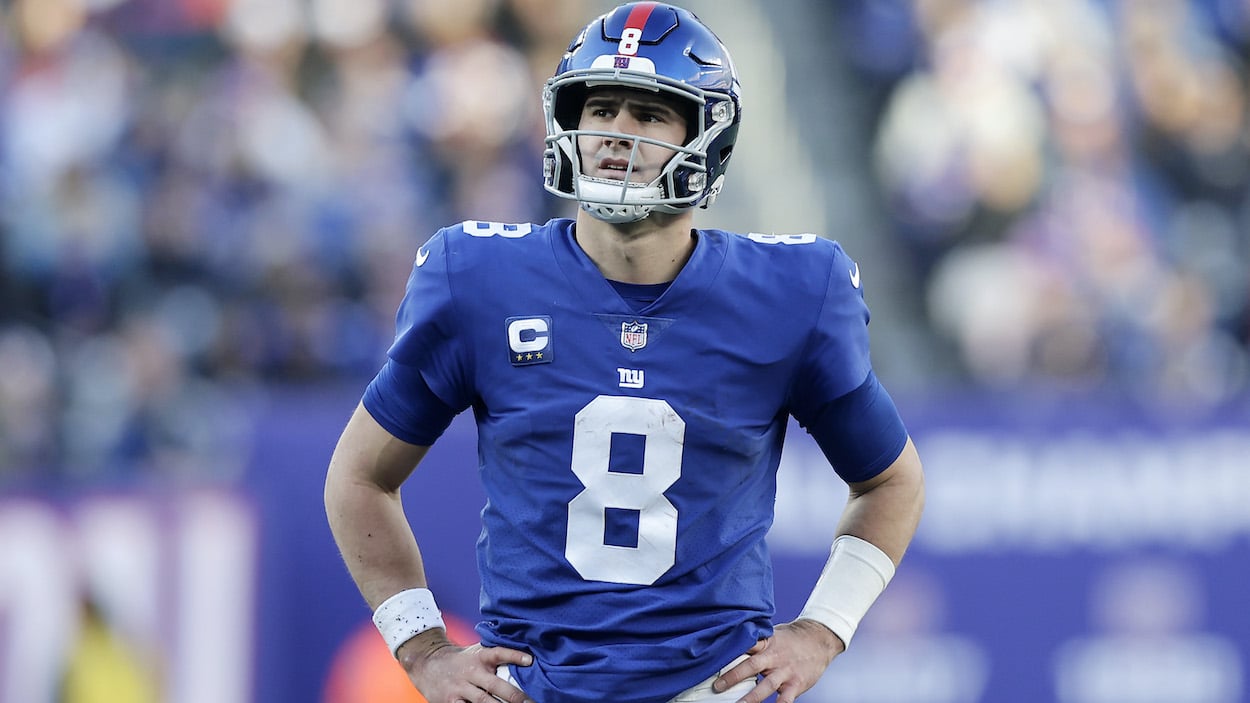 Giants' Mistake Means $50 Million More in the Next Daniel Jones Contract
The Giants are in a tough spot after not picking up their QB's fifth-year option and will now have to pay a big, new Daniel Jones contract.
The contracts of NFL first-round draft picks have a team option for a fifth year. In the 2022 offseason, the New York Giants decided not to exercise this option in the Daniel Jones contract. Fast forward about nine months, and the quarterback has the G-Men in the playoffs, and if New York wants to keep him now, it's going to cost an extra $50 million.
The Giants QB is a free agent after his breakout season 
After picking the former Duke quarterback No. 6 overall in the 2019 NFL draft, the Giants gave out a Daniel Jones contract for four years, $25,664,056, fully guaranteed.
In 2022, Jones made $965,000 in base salary, $4,171,192 in prorated signing bonus, and a $3,229,644 roster bonus for a cap hit of $8,365,836.
Last offseason, the Giants could have added 2023 to the contract with a one-year, fully guaranteed fifth-year option of $22,384,000. However, after Jones posted a 12-25 record in his first three years with the organization, the Giants said thanks but no thanks.
That made the Daniel Jones contract void after the 2022 season, meaning he'll be an unrestricted free agent this offseason.
In the meantime, Jones had a career year under first-year head coach Brian Daboll. He threw for 3,205 yards at a 67.2% completion rate with 15 touchdowns and five interceptions. He also ran 20 times for 708 yards and seven more scores. These numbers helped lead Big Blue to a 9-7-1 record and a playoff appearance.
Now, instead of having their QB under contractual control for his "prove-it" second season under Daboll, the Giants must compete on the open market to re-sign their starting QB.
The Daniel Jones contract will now be around $50 million bigger than it had to be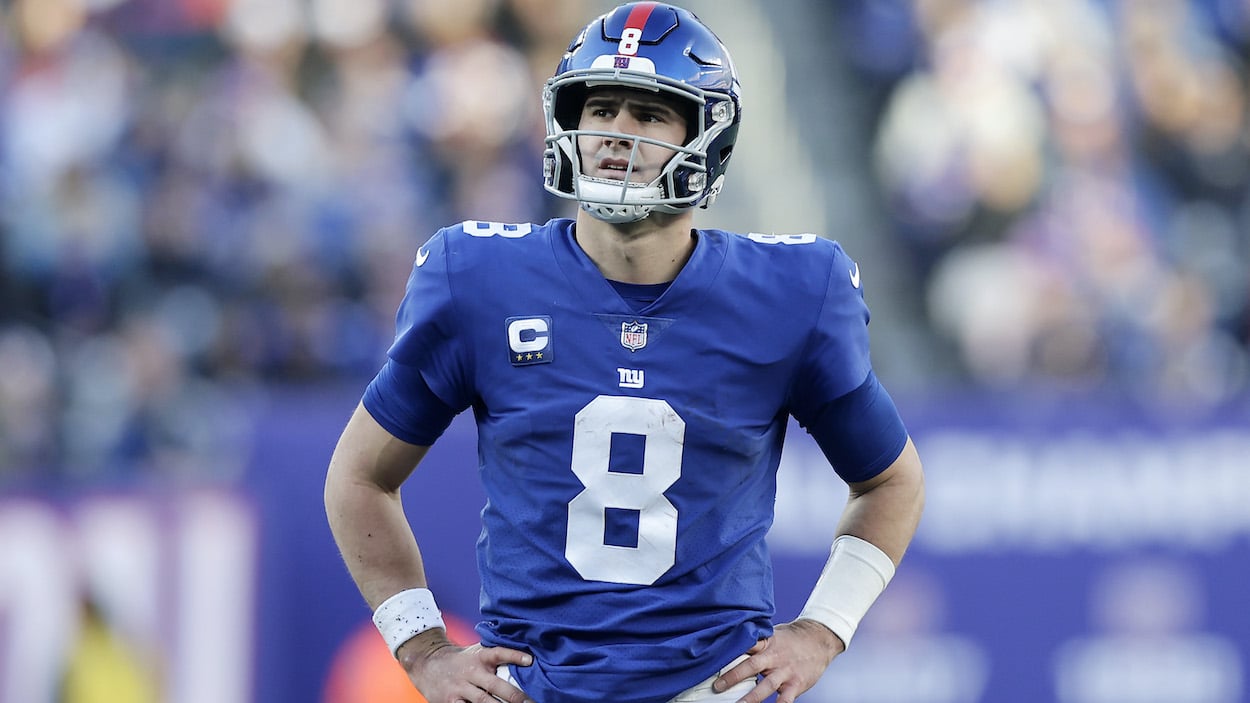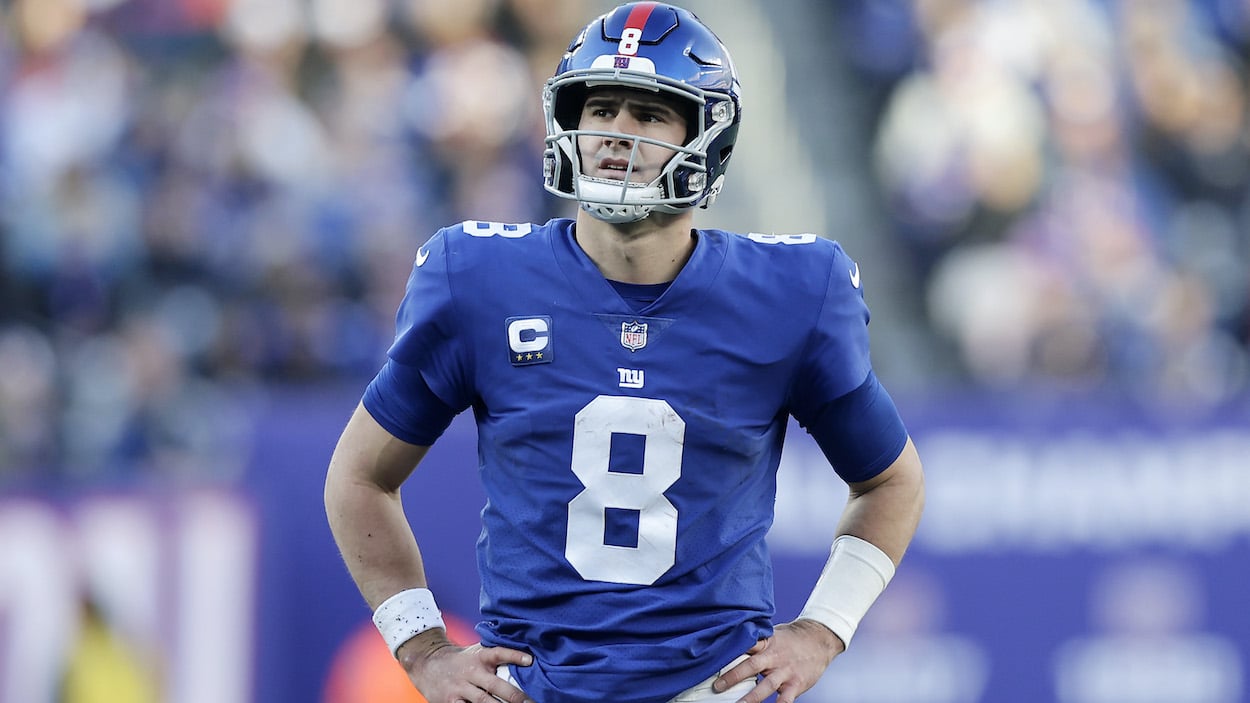 If the Giants picked up the fifth-year option in the Daniel Jones contract, they'd have their QB on an incredibly reasonable one-year, $22.38 million deal next season. Instead, they will likely have to give him a long-term deal this offseason.
Not giving out a new Daniel Jones contract is an option. The team could draft a QB in the back half of the first round or try to trade for or sign a veteran this offseason like Tom Brady, Aaron Rodgers, Derek Carr, or Jimmy Garoppolo.
However, that doesn't seem like general manager Joe Schoen and Brian Daboll's style. The two came from the Buffalo Bills and likely believe in building on their current roster and through the draft.
New York could also franchise the QB. However, that would be a one-year deal worth a projected $45 million, per CBS Sports.
The best option for the Giants now would be to give their still-young (25) signal-caller a middle-of-the-road loner-term deal. What does that deal look like?
Well, right now, a below-average veteran like Jameis Winston makes $14 million (average annual value) per season, and more proven but still average veterans like Ryan Tannehill and Carson Wentz make around $30 million. For a 25-year-old QB with potential but not much of a track record, a three or four-year deal with a second or third-year out for around $25 million per season would make sense.
That makes the (hypothetical) new Daniel Jones contract a four-year, $100 million deal with $75 million guaranteed. And that's the $50 million difference between what the Giants would have owed Jones in 2023 and what they will have to pay him now after not picking up his fifth-year option.