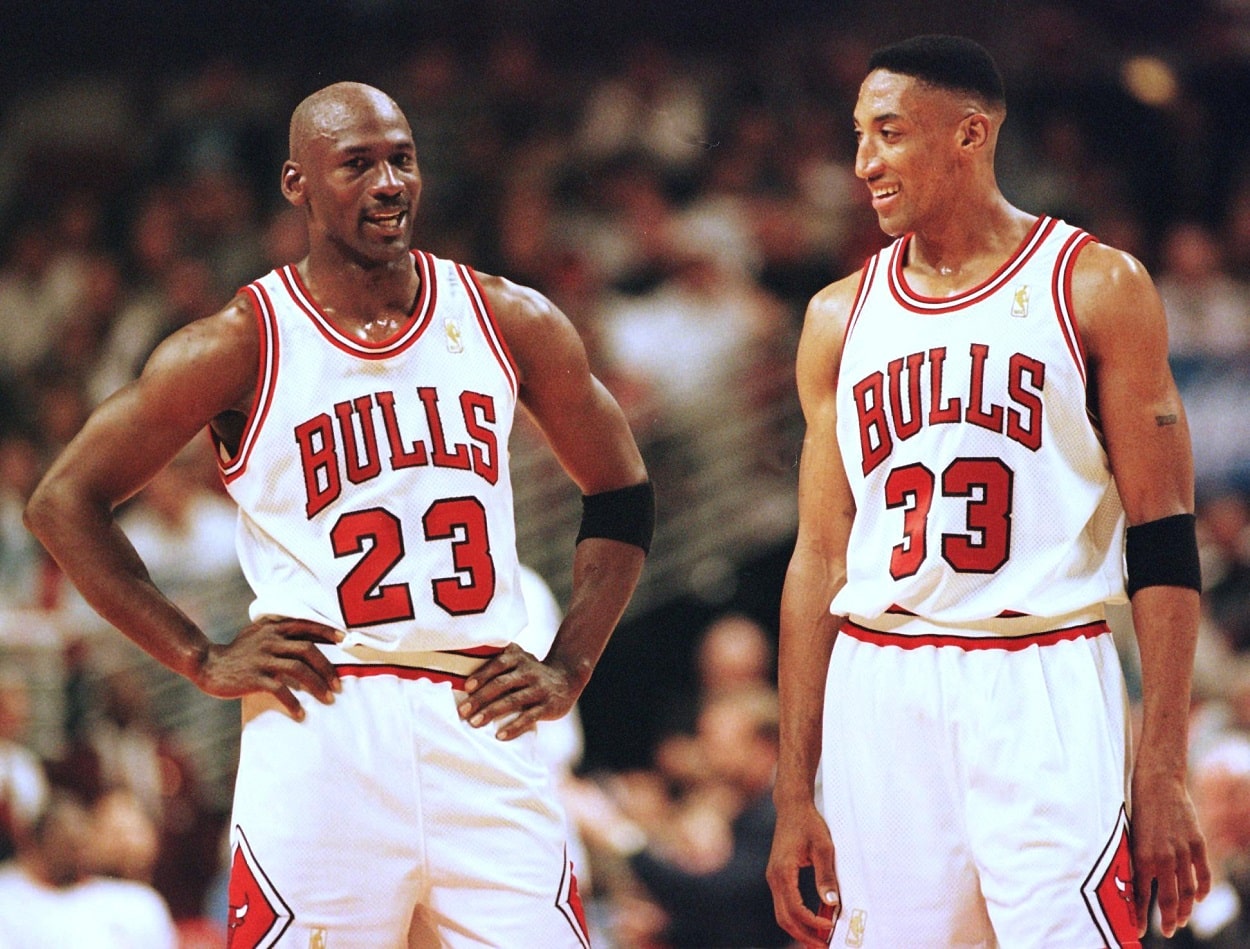 Scottie Pippen Back to Talking Positively on Michael Jordan While Taking Digs at LeBron James' Lakers
Scottie Pippen finally has something nice to say about Michael Jordan.
For quite a while now, essentially since The Last Dance documentary was released, Scottie Pippen hasn't had the nicest things to say about his former Chicago Bulls teammate, Michael Jordan.
Considered by many to be the greatest 1-2 punch in NBA history, Jordan and Pippen won six titles together in the Windy City and seemingly had an amicable relationship off the court. But Pippen has torched Jordan as of late, both in the autobiography he released last year and in countless interviews with various media outlets.
Last summer, Pippen said he hadn't talked to Jordan since The Last Dance aired and had no plans to do so. He also claimed the famous conversation between MJ and Steve Kerr during the 1997 NBA Finals ahead of the latter's go-ahead jumper in Game 6 was rehearsed.
And that certainly wasn't the worst of it. But there's no need to rehash everything Scottie has said as we'd be here for a bit.
Things quieted down for a while following the book's release in the United States, but Pippen was back at it recently while promoting Unguarded to a French audience. His comments certainly weren't as disparaging or intense as they've been, but he did essentially say Jordan was the reason why he never won a Defensive Player of the Year award.
In that same interview, however, he did include MJ as part of his all-time starting five. So that's something, right?
Well, in yet another recent interview, Pippen again discussed Jordan and again took things in a positive direction. But LeBron James' Lakers didn't get that same treatment.
Scottie Pippen says he'd play with Michael Jordan again and "only Michael Jordan"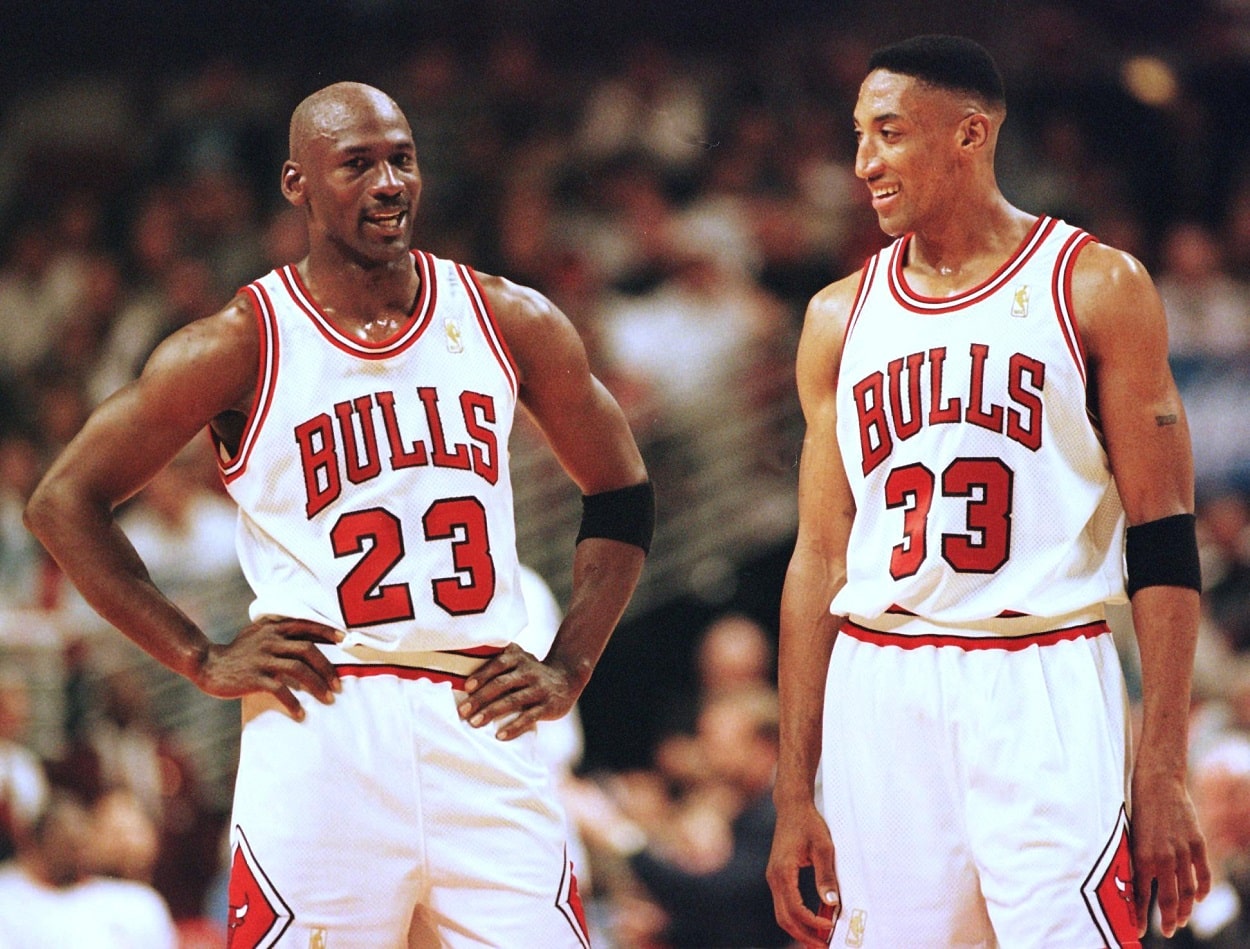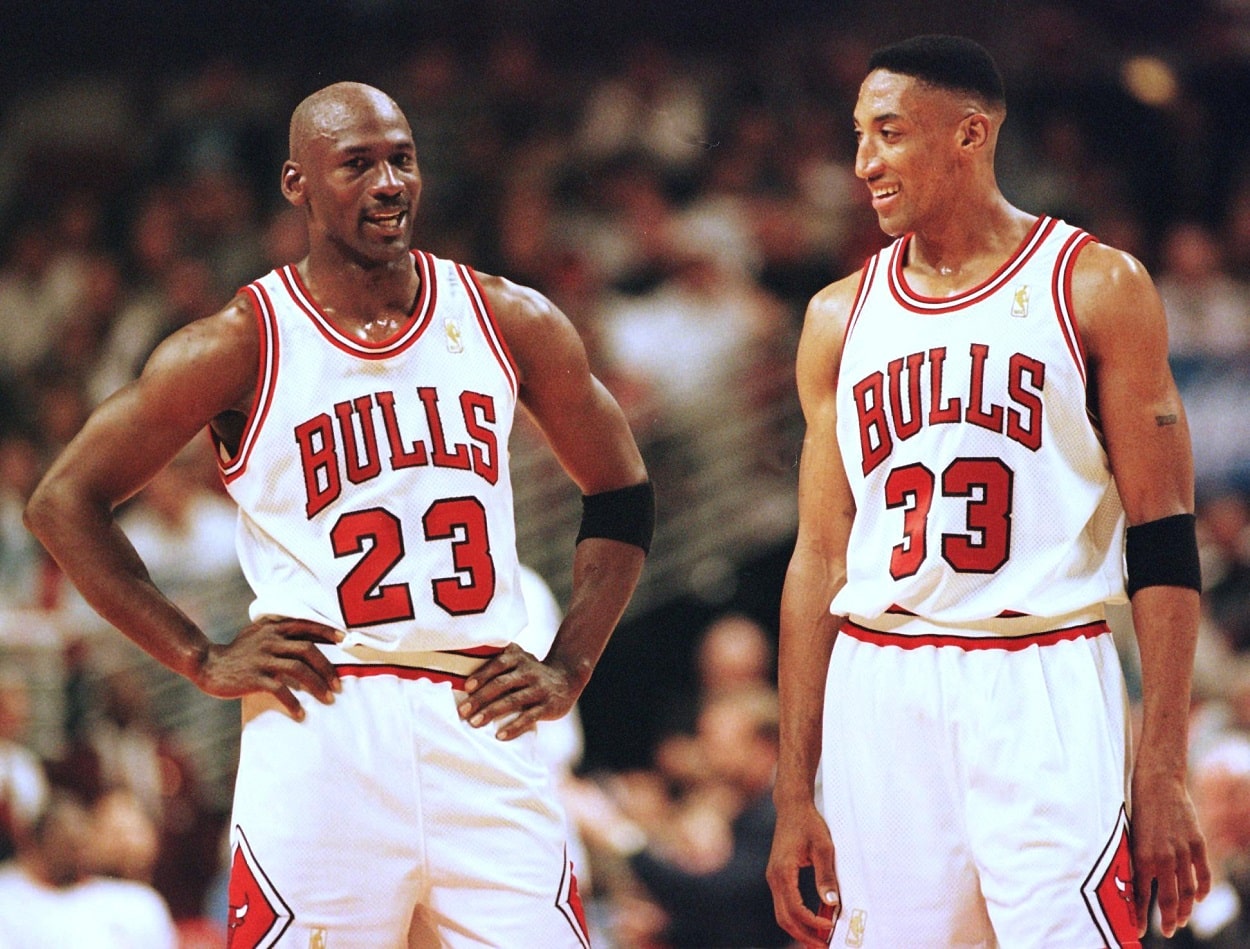 While Scottie Pippen isn't promoting his book anymore here in the U.S., he is on a media mini-tour of sorts hyping up his new bourbon, Digits, which was created on Mare Island, about 35 miles from San Francisco.
As it's a California product, Pippen spoke with KTLA in Los Angeles earlier this week about Digits but also spoke on several basketball topics, including a couple of California teams, specifically the LA Lakers and Golden State Warriors.
When speaking on the Lakers, the team for which he rooted growing up, Scottie spoke on the talent of the individual players, such as LeBron James, Anthony Davis, and Russell Westbrook, but said "the sacrifice wasn't there," which led to "a lot of chaos throughout the season." The Lakers, of course, missed the postseason with a dismal 33-49 record.
On the opposite end of the spectrum, he praised the chemistry of the Golden State Warriors' trio of Stephen Curry, Klay Thompson, and Draymond Green, saying, "those guys make that team go."
As ideal teammates and chemistry were being discussed, Pippen was asked by KTLA if he would play with Jordan again under any circumstances, and he responded quickly.
"Yes! I would play with only Michael Jordan."

Scottie Pippen on Michael Jordan
It's not that Scottie says he would play with Michael again, but that he says he'd "only" play with Jordan, which sounds like he wouldn't want to play with anyone else. That's a far cry from what we've heard the last two years and a second straight interview (that we know of) in which he speaks positively about his former running mate, the same running mate he said "ruined the game of basketball" in his book.
I don't think there's a dramatic reunion coming anytime soon, but it's good to hear Pippen changing his tune a bit lately.
Like Sportscasting on Facebook. Follow us on Twitter @sportscasting19 and subscribe to our YouTube channel.