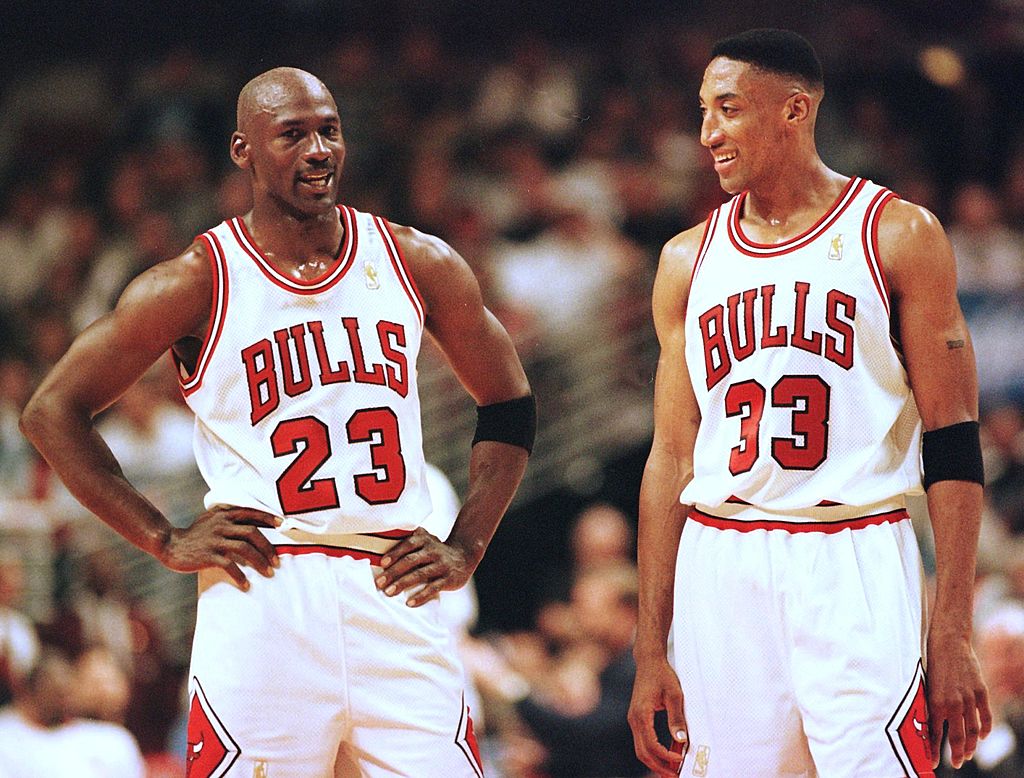 Scottie Pippen Unhappy With Portrayal in 'The Last Dance'
Scottie Pippen is a Hall of Famer. You wouldn't know that by his portrayal in "The Last Dance" and he's not happy about it.
During the Chicago Bulls run to six NBA titles in the 1990s, Scottie Pippen was one of the top five players in the NBA. The best player was his teammate Michael Jordan and the one responsible for The Last Dance documentary that has put a spotlight on Pippen's failures more than his successes. And according to reports, Pippen is understandably unhappy about it.
Scottie Pippen was key to Chicago's title runs 
No one can deny Scottie Pippen's greatness throughout his career, especially during the 1990s, when the Chicago Bulls made their way to six NBA championships. His numbers prove it.
In Pippen's 17-year career, he averaged 16.1 points, 6.4 rebounds, and 5.2 assists per contest. From the time the Bulls won their first championship in 1991 to their last in 1998, Pippen averaged 19.9 points per game. His elevated level of play was a big reason for the team's overall success. Interestingly, the year Jordan left for baseball, Pippen had his best offensive season scoring 22 points per game. 
In addition to his offense, Pippen was a defensive stalwart, and most considered him one of, if not the best defensive player during the Bulls' run. In his career, he was named to the All-Defensive team 10 times. In the 1994-95 season when Jordan was gone, Pippen led the league in steals averaging 2.9 per game.
Pippen's portrayal in 'The Last Dance'
The Last Dance has featured Pippen throughout the 10-part series and captured some of his countless good moments. Unfortunately, it's also highlighted some of his biggest blunders, and portrayed Pippen in a less than favorable light.
One episode showed how Pippen waited to get surgery on an injured tendon in his ankle, a decision head coach Phil Jackson said he understood. Jordan, however, called Pippen's decision "selfish." Another episode showed Pippen's struggle with a migraine headache in Game 7 of the 1990 Eastern Conference Finals, where the Bulls lost for a second consecutive year to the Detroit Pistons. Once again, Jordan questioned Pippen, this time for his toughness.
The last Pippen lowlight shown in the documentary happened during the 1994 playoffs when the seven-time All-Star and Hall of Famer refused to go into Game 3 of the second round of the playoffs against the New York Knicks with 1.8 seconds remaining. Interestingly, Jordan wasn't even on the team during that time but somehow that incident managed to be prominently featured in the documentary despite Pippen apologizing to his teammates in tears immediately following the game.   
Pippen not happy with documentary
Years later, ESPN's Michael Wilbon, who originally wrote about the 1.8 seconds game, said he was unfair with Pippen then just as the documentary has been unfair to him now.
"1.8 seconds is a bad moment in time, but he had so many great moments," Wilbon said in an interview on ESPN. "I have apologized to Scottie and I said I was one of those people writing columns at the time, commenting, and I went too far. And he's been very gracious about it. This wasn't a good moment for him professionally, and it wouldn't be for any player. But he's not to be judged only by that when there are so many spectacular moments by which to judge him. A full resume."
ESPN's NBA columnist Jackie MacMullan said throughout the documentary Pippen has been quiet, and it's been by choice.
"He's been very silent throughout this entire documentary. People have reached out to him. He doesn't want to talk about it. Those close to him say he's wounded and disappointed by his portrayal. I understand why."
MacMullan said in Pippen's silence, other teammates like Dennis Rodman have spoken out on his behalf. 
"I did an interview with Dennis, and he felt compelled to speak out. He said Scottie was a hero during those Bulls' runs."
Rodman also told MacMullan in the interview, "Pippen was underrated, underpaid, and was too quiet, and always standing next to Michael Jordan."
And unfortunately for Pippen, all these years later, he still stands in Michael's shadow as Jordan is the one deciding who sees what from those successful years in Chicago.