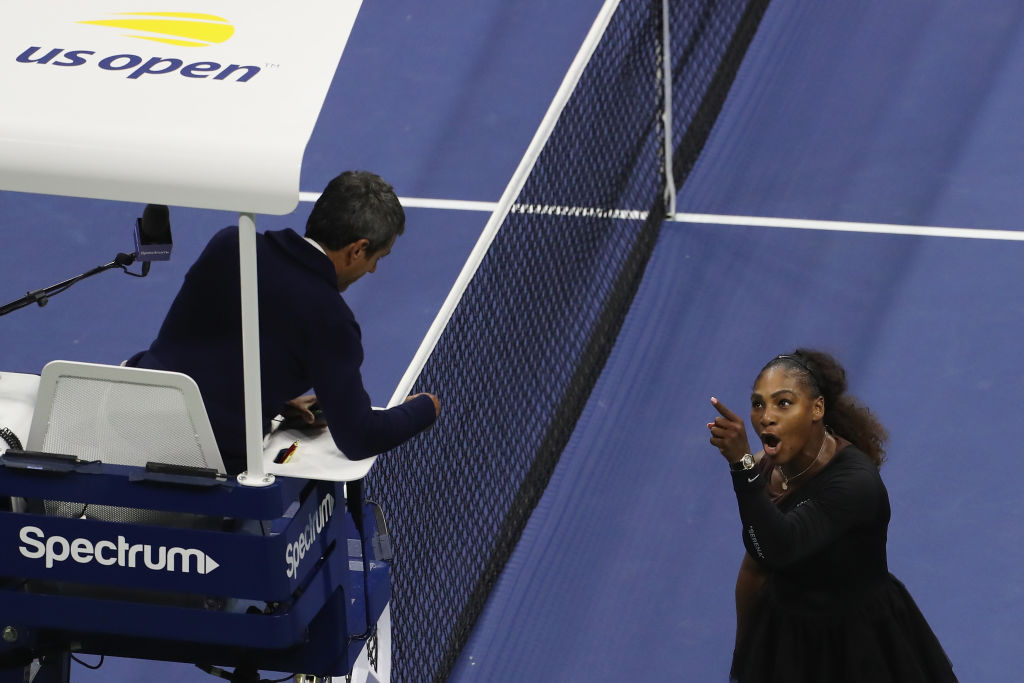 Serena Williams Is One of the Most Fined Players in Women's Tennis
Despite Serena Williams being one of the most dominant players to ever step on a tennis court. She's had her share of issues over the years.
Serena Williams is one of the most dominant players to ever step on a tennis court.  Growing up in Compton, California, Williams (along with her older sister Venus) turned into tennis superstars. Her success on the court is often overlooked because of her personality, as she's someone who acts aggressively in a sport that tries to be proper and respectful at all times.
Williams wants to be considered the best and will do whatever it takes to come out on top. Sometimes her fiery persona can remind you of John McEnroe, and she has found herself in hot water with the WTA and other tennis entities. 
We are going to look at her most recent fine from Wimbledon and discuss some of the other fines she has received during her career.
$10,000 at Wimbledon
While practicing in one of the outside courts during Wimbledon, Williams smashed her racquet on the court, causing damage to the grass. The Wimbledon committee issued the fine to repair the damages to the court. When asked about the fine Williams simply stated: "I guess I'm super strong."
$17,000 at the 2018 U.S. Open
During the final of the 2018 U.S. Open, Williams had three separate incidents that would cause an outcry. She was penalized for allegedly receiving coaching from the stands, which isn't allowed on the tour. Then she was docked a point for breaking a racquet. Finally, she was penalized a game by the chair umpire for verbal abuse.
This was completely uncalled for according to some tennis legends, including Billie Jean King, who backed up Williams post-match. Jean-King was quoted as saying "When a woman is emotional, she's 'hysterical' and she's penalized for it," she continued, echoing Williams's point that male players are never penalized for outbursts — even the profane ones. "When a man does the same, he's 'outspoken' and there are no repercussions. Thank you, Serena Williams, for calling out this double standard. More voices are needed to do the same."
Williams would make more comments post-match but took the high road following her loss on social media.
$82,500 at the 2009 U.S. Open
The largest fine issued in tennis history was also at a U.S. Open event. After being called for a foot fault during her semifinal matchup against Kim Clijsters, Williams went on a verbal tirade against the chair umpire.
The expletive-filled rant cost her $82,500. Not to mention, she was also penalized a point for her actions during the 6-4, 7-5 loss to Clijsters.
Is it just Senena Williams' intense personality?
Is there a double standard in women's tennis for players that show emotion on the court? It's hard to say. One thing is for sure, it hasn't stopped Serena Williams from being one of tennis' greatest players. No doubt, she will look to capture another U.S. Open championship in August.