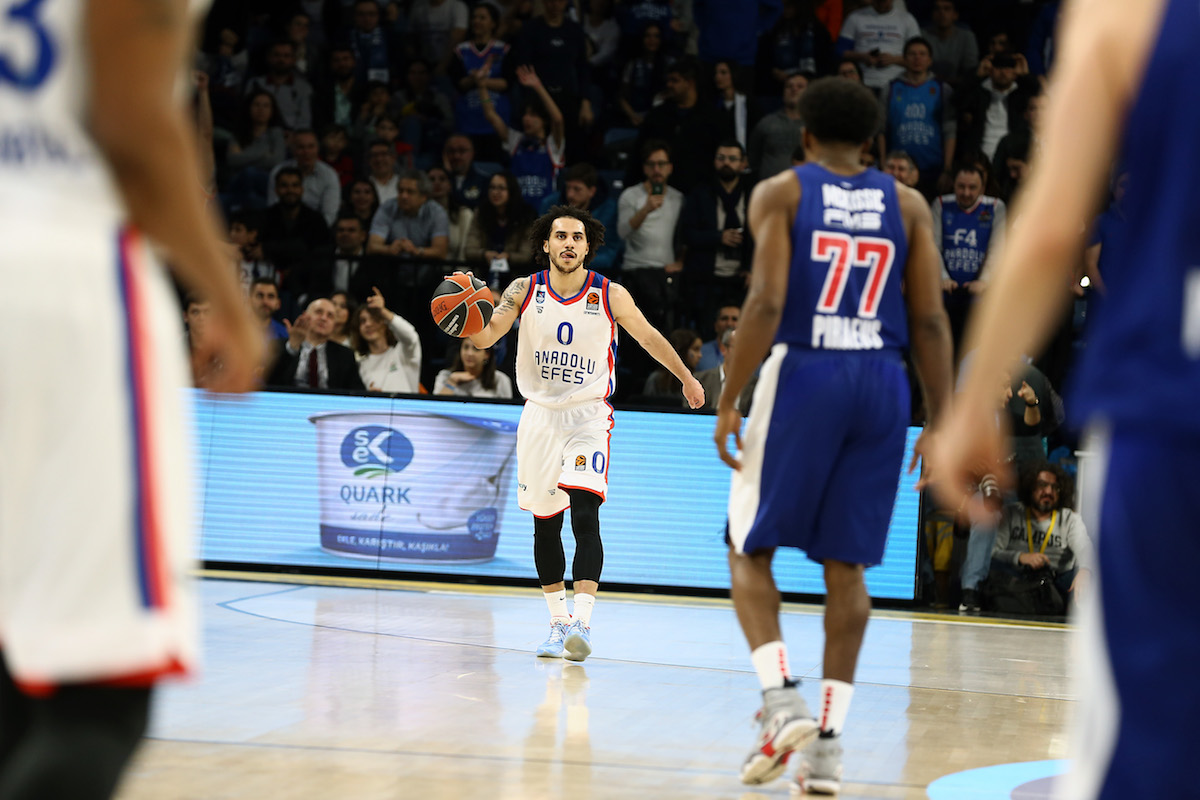 Shane Larkin Is the Euroleague MVP But Refuses to Return to the NBA
NBA stars from other countries have increased in recent years, with one notable coming direct from Turkey: Enes Kanter. While Kanter's story is an interesting one, Shane Larkin is an example of an American player going to play for Turkey. Not everyone agrees Larkin should have done this, though, considering his talent. His dad is …
NBA stars from other countries have increased in recent years, with one notable coming direct from Turkey: Enes Kanter. While Kanter's story is an interesting one, Shane Larkin is an example of an American player going to play for Turkey. Not everyone agrees Larkin should have done this, though, considering his talent.
His dad is Barry Larkin, the former Cincinnati Red MLB Hall of Famer. With Shane Larkin born in Cincinnati, he seemed destined to become an American athlete like his dad.
Things did not turn out how he planned. After six years playing in the NBA, he felt disrespected in his skills. He instead turned to the EuroLeague, being picked for the Turkish Basketball Super League two years ago.
Why was Shane Larkin not respected enough in the NBA?
This question is still being asked by sports analysts two years after Shane left the Boston Celtics with a good track record. After all, at the height of his skills with the Celtics, he managed 12 points, 10 assists, and seven rebounds.
It seems puzzling why the Celtics never tried to keep him around. Maybe one factor is Larkin already felt more respected playing for the EuroLeague. He played for Baskonia in Spain the season before prior to coming back to the NBA and Boston.
Perhaps there is truth Europe values their players more based on skill. In America, it seems only the true A-listers get all the attention and talented sideline players become dispensable.
Whether really true or not, Baskin felt more pride playing for the EuroLeague. There was no hesitation from him when the Turkish team Anadolu Efes offered him a long-term contract.
After joining Anadolu Efes, Larkin became an MVP
Larkin finally found some peace after being upset with the NBA for never paying him what he was really worth. Initially, he began with the Dallas Mavericks in 2013, only staying one season. Then it was on to the New York Knicks for one year, followed by the Brooklyn Nets.
Expecting to be picked up somewhere for a higher contract, it literally made him sick, causing him to fall out of love for American basketball. Said a friend of his, fellow player, Ish Smith: "He got so wound up, he got sick. I was confused, too. There were so many opportunities and none came for Shane".
Getting the taste of more respect in the EuroLeague led him back there after experiencing the same lack of attention with the Celtics. After joining Anadolu Efes in Turkey, the team made him MVP within the Turkish League Finals.
At last, he gained the respect he deserved, if also realizing he would probably never again return to play basketball in America. All evidence also points to him not even wanting to live here either.
Shane Larkin is offered Turkish citizenship
The Turkish government has certainly been controversial in recent years. President Tayyip Erdogan has often been deemed a dictator, particularly by Enes Kanter above. While latter got into considerable trouble because of this, Larkin is praiseworthy of Turkey.
Erdogan seems to appreciate Larkin's loyalty to the country and what he brings to basketball there. This last season, Larkin took them to the Final Four championship for the first in the club's history.
Later, Erdogan offered Turkish citizenship to Larkin, something latter gladly accepted. Said Larkin himself last fall: "It would be a great offer, if it comes. I feel this is more like a home for me. Turkey's jersey would look pretty good on me too".
And so it was he received citizenship and his own jersey. Now, he enjoys being a major superstar in Turkey, gaining accolades America never gave him. Lessons learned here are likely complex, if proof Europe has no fear in paying athletes big bucks. At the moment, Larkin is being paid $2.6 million, with more likely to come.