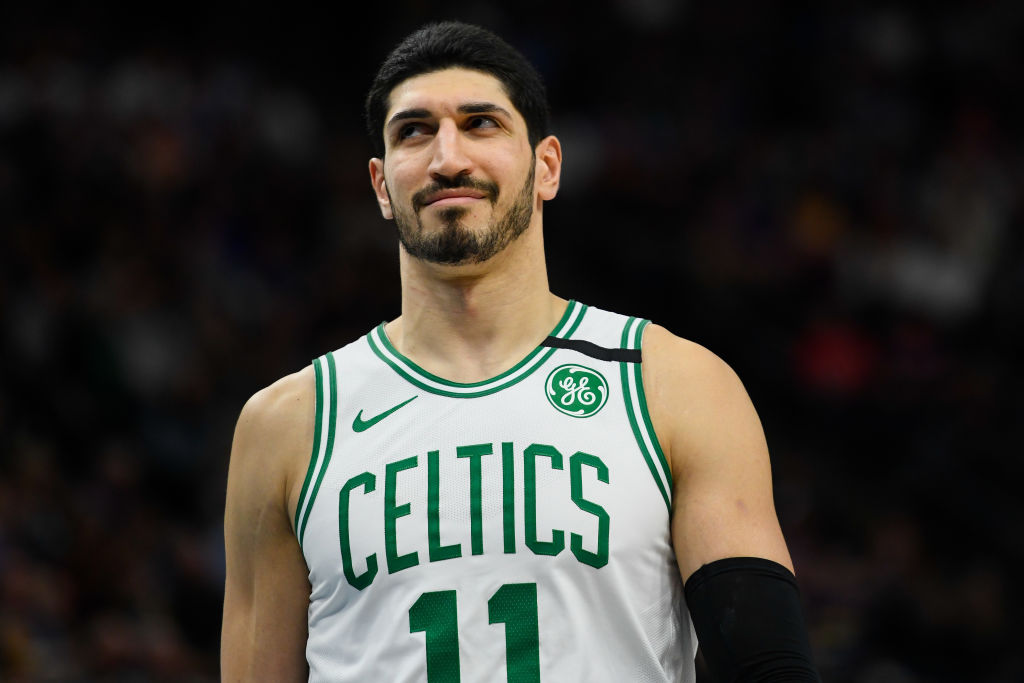 Enes Kanter Has Already Earned More Money in the NBA Than Michael Jordan Ever Did
Enes Kanter isn't even close to Michael Jordan in terms of basketball ability, but he has the Bulls legend beat in one financial category.
Boston Celtics center Enes Kanter is in his ninth season in the NBA. Michael Jordan, who's widely considered the greatest basketball player of all time, played 16 years in the league. Despite this, Kanter has actually made more money in his first nine seasons than Jordan did in his entire career. How is that even possible?
Enes Kanter's NBA career
Enes Kanter entered the league as a highly-ranked prospect out of Turkey. He was drafted No. 3 overall by the Utah Jazz in the 2011 NBA draft. Players selected after Kanter in the same draft include Kemba Walker, Klay Thompson, Kawhi Leonard, and Jimmy Butler.
Kanter failed to live up to the hype out of the gate. He averaged just 4.6 points per game in his rookie season, and it took him a few years to get acclimated to the NBA.
In 2015, Kanter was traded to the Thunder in the middle of the season. Something must've clicked for him in Oklahoma City because he scored a career-high 18.7 points and grabbed 11 rebounds per game in 26 starts with the team that season.
Kanter played for the Thunder for two more seasons as the team's backup center. He played around 21 minutes per game and averaged over 12 points per game in both seasons. Kanter solidified himself as one of the best backup centers in the NBA until he was traded to the Knicks in 2017.
The center bounced from the Knicks to the Blazers before landing with the Celtics in 2019. Although he was a high draft pick, Kanter never reached the level NBA owners thought he could achieve coming out of Turkey.
Kanter wants to join the WWE after retiring from the NBA
Enes Kanter isn't just similar to Michael Jordan in terms of his NBA career earnings. He also has ambitions to play a sport other than basketball, just like Mike.
Only, it isn't baseball. It's professional wrestling. That's right, Kanter recently said he wants to join the WWE once his NBA career comes to a close. At 6-foot-10 and 262 pounds, Kanter has the build to be a dominant wrestler with a captivating personality.
Kanter would fit into the WWE seamlessly. In that world, you can't be afraid to talk trash and back it up. That's exactly what Kanter loves to do in the NBA, even if it means going after LeBron James.
Last year, Kanter took to Twitter to call out James for his controversial comments on China. Kanter has always been an outspoken figure in the league, so he would be a perfect fit with the WWE.
Enes Kanter has earned more money in the NBA than Michael Jordan ever did
Despite being a backup center for most of his career, Kanter has amassed $98.9 million in career earnings through nine seasons in the NBA. Jordan, on the other hand, only made $93.7 million throughout his entire 16-year career.
You find see Jordan complaining today, as his personal brand and endorsements have made him the richest athlete in the world. His net worth stands at an incredible $2.1 billion.
Kanter has a long way to go if he wants to catch Jordan in that regard, but he can always say he made more money playing basketball than the GOAT himself.
All stats courtesy of Basketball Reference