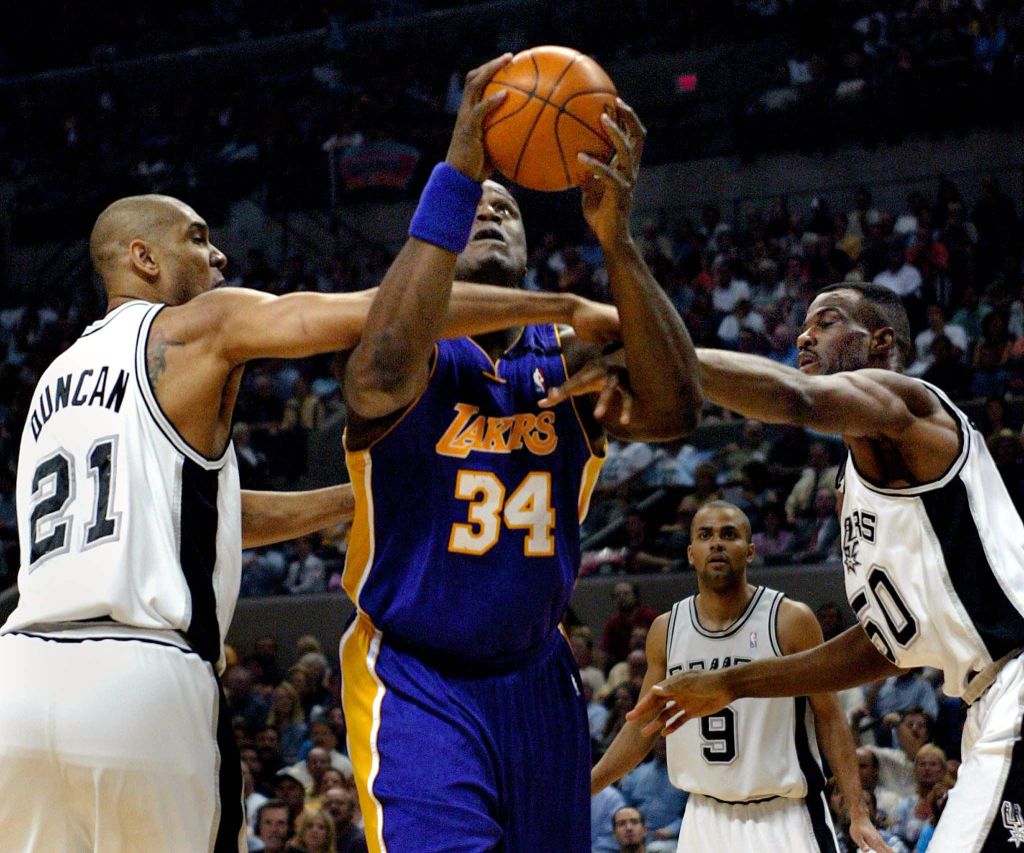 Shaquille O'Neal vs. David Robinson 'Beef' Hit a High 26 Years Ago When The Admiral Scored 71
The Shaquille O'Neal vs David Robinson 'beef' hit an all-time high in 1994 when The Admiral scored 71 points to win the scoring title.
There couldn't have been two more different personalities in the NBA than Shaquille O'Neal and David Robinson. Shaq was the brash, bold talker. He backed up his talk with his dominant inside presence. Robinson was quiet. He was all business. Although like Shaq, he was a 7-footer, his game was more finesse. The two had their battles on the court during the 1990s with the peak of those battles coming April 24, 1994.
Shaq and Robinson both had Hall-of-Fame careers
Both Shaquille O'Neal and David Robinson were the top pick in their respective NBA drafts. Although Robinson was selected first overall by the San Antonio Spurs in the 1987 NBA draft, he had to fulfill a two-year Naval Academy commitment and didn't make his NBA debut until the 1989-90 season. O'Neal came into the NBA during the 1992-93 season after the Orland Magic took him first in the 1992 draft.
Robinson won Rookie-of-the-Year honors by averaging 24.3 points and 12 rebounds per game and he played in all 82 contests for the Spurs. Robinson went on to be a 10-time NBA All-Star and was named to the NBA All-Defensive Team for eight seasons. In 14 seasons – all with the Spurs – Robinson averaged 21.1 points and 10.6 rebounds per game. Robinson won two NBA titles with the Spurs.
O'Neal played his first four seasons with the Magic before spending the next eight seasons with the Los Angeles Lakers. Shaq spent 19 seasons in the NBA and was a four-time NBA champion. He was a 15-time NBA All-Star and led the league in scoring for two seasons. Shaq was the MVP of the league during the 1999-00 season. He, too, was named Rookie of the Year in 1992-93.
Robinson scores 71 points in season finale to take scoring title from Shaq
During their careers, David Robinson and Shaquille O'Neal had some classic one-on-one battles during their career. they also had a few clashes away from the basket. Shaq said it wasn't personal, he just didn't like his Mr. Nice Guy demeanor. "I don't hate Dave off the court," O'Neal said in his autobiography Shaq Talks Back. "I just had to dominate him on it because I got tired of the Goody Two-Shoes image he was throwing out there. He was this crossover guy everyone liked. And I was this big, bad wolf dunking on everyone. Everyone was trying to make it out to be black and white, and it didn't seem right. So I had to do him like that."
Robinson got the best of Shaq on the season finale of the 1993-94 season. O'Neal went into the final game of the year with a 33-point lead over Robinson in the NBA scoring race. Robinson's team fed him all night as he scored 71 points in a win over the Los Angeles Clippers. Shaq finished with 32 in his game and Robinson won the scoring title.
After the game, O'Neal said, "That meant I was on his mind. They ran every play for him. If I hadn't been triple-teamed and was selfish and tried to score every time I touched the ball, I could have scored 70, too."
O'Neal admitted there was no beef with Robinson
At one point in his career, Shaquille O'Neal told a story that David Robinson once when they were younger players refused to give O'Neal an autograph after a game. He had mentioned the story a few times, but later said he made it up in order to motivate himself against The Admiral. He said any beef between the two was fictional.
"David was just so nice and respectful," Shaq said to Heavy.com. "He's just a nice guy. I'm not a bully. You have to piss me off for me to get mad. David was, 'Hey Shaq how ya doin? How's your family?' So nice and – so I had to make something up just to make me mad and then when I came down to San Antonio and the fans start booing me – 'Oh you're booing me in my hometown?'
"And then it was like a hatred thing for David and the Spurs. But it was all made up."