Should I Bring Earplugs to a NASCAR Race? The Noise Level Is Thrilling but Dangerous
The pandemic dealt a heavy blow to NASCAR fans eager to attend races. Part of the fun at these events is the cars' roar and the crowd's buzz from the grandstands. Yelling, jumping, and chest-bumping are all part of the fan experience at the track. But pandemic restrictions put the kibosh on those thrills. During the shutdown, seats sat empty or quiet with few spectators. But finally, NASCAR grandstands are reopening, bringing back the noise. So, how are races different in a post-COVID-19 world? You might also wonder, "Should I bring earplugs to a NASCAR race?"
What should you expect in the grandstands?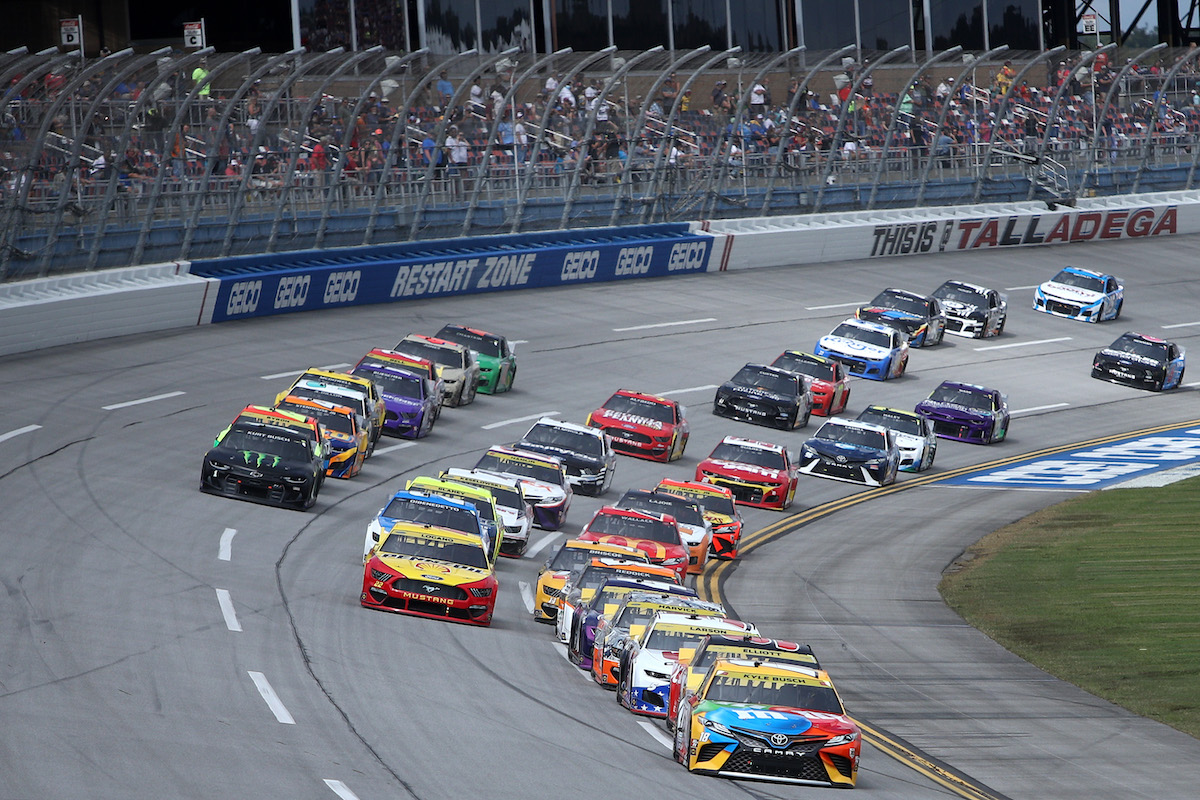 Coronavirus protocols at your nearest track vary depending upon statewide safety mandates and individual track management. But officials are making efforts to return fans to an authentic NASCAR weekend experience.
For instance, Charlotte Motor Speedway in North Carolina is reopening everything. NASCAR says that speedway's stands are back at full capacity, with no masks required in outdoor areas. Sonoma Raceway in California is still at 33% capacity with facemasks off for fully vaccinated people, but the venue is open for NASCAR weekend. However, Pocono Raceway in Pennsylvania is also at 100% capacity again.
But the most interesting is Texas Motor Speedway, which is reopening infield camping and hosting multiple vaccination clinics throughout the grounds. It plans to turn two NASCAR weekends into a massive vaccination event to reduce risk and increase safety in one loud, thrilling experience.
The noise level at a NASCAR race is thrilling but dangerous
Aside from coronavirus protocols, the biggest concern for race planners is the noise level. Many spectators would argue that the deafening roar of engines is part of the experience. On the other hand, the CDC says the noise level could cause long-term hearing damage. NASCAR officials take this concern seriously.
So, exactly how loud is a NASCAR race?
According to the CDC, a whisper is about 30 decibels, and normal speaking is about 60 decibels. Standing next to a gas-powered lawn mower is about 80 decibels. You begin to accumulate hearing loss after sustaining 90-plus decibels for over a minute. A NASCAR race measures about 100 decibels — for reference, sitting in the grandstands for a three-hour race is like subjecting your ears to 180 minutes of jet flyovers at 1,000 feet, The Washington Post reports. That number is well above what it takes to cause hearing loss.

At the same time, race attendance and even TV viewership are down, so NASCAR event planners are considering new ways to make the sport more appealing to the younger generations. According to The Washington Post, Millennials and Gen Z, for example, prefer sporting events as a social experience. They want to talk about races as they happen.
So NASCAR officials are considering a new type of muffler on stock cars to help lower noise levels without reducing the vehicles' power and fans' satisfaction.
Should I bring earplugs to a NASCAR race?
Until officials decide on the new mufflers, spectators will still need to protect their hearing. In addition to dressing for the weather, consider what you can wear for ear protection at the track. Many fans wear heavy-duty earplugs or noise-canceling earmuffs or headphones, significantly reducing decibel levels.
Also, don't be afraid to take breaks from the track by walking to the concessions and pathways where the noise eases. Give your ears a break, and plan for the NASCAR noise.
RELATED: NASCAR Race Day: 11 Things You Should Take to the Track — and 4 Things to Leave at Home