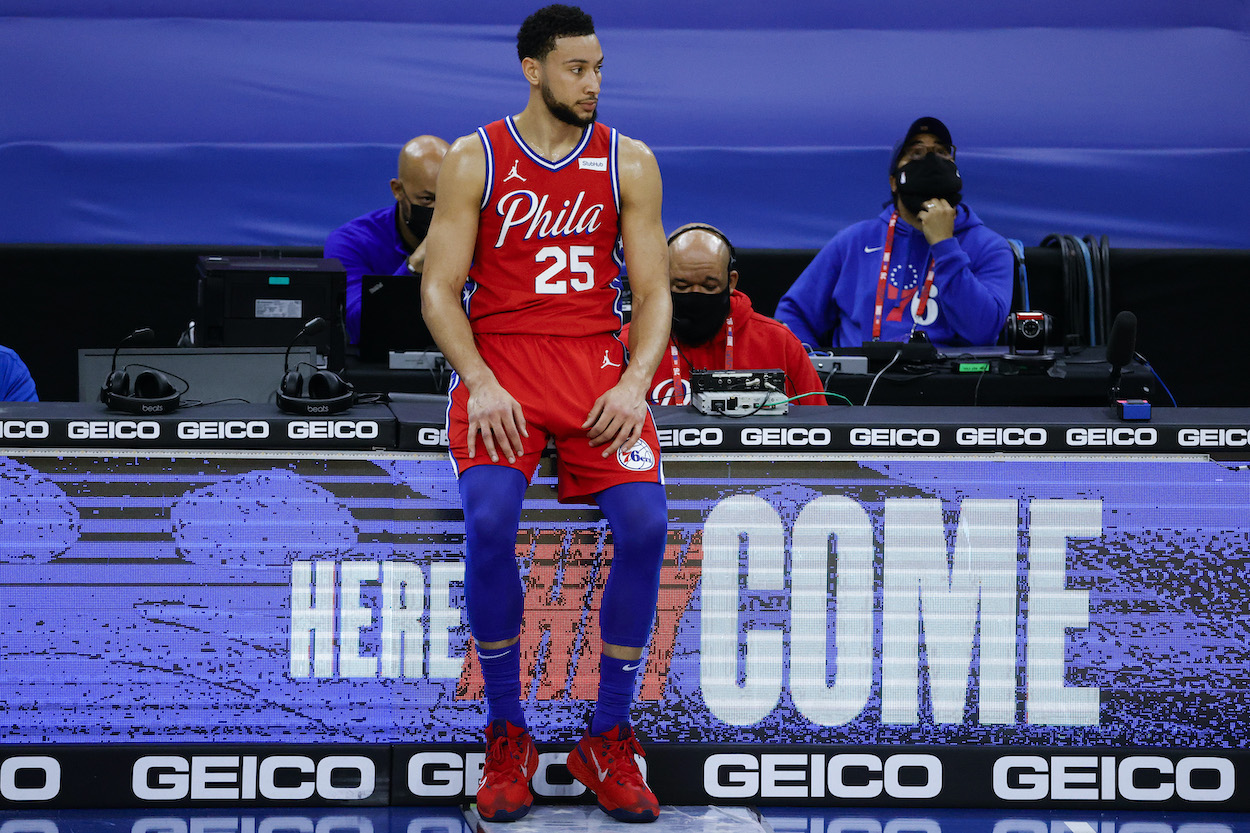 The Sixers Might've Secretly Revealed Their Fan Base-Dividing Plan to Keep Ben Simmons
Ben Simmons is likely heading back to the Philadelphia 76ers, according to Daryl Morey's latest tweet.
Philadelphia 76ers fans are eagerly awaiting the news that Ben Simmons has been shipped away to another city. A majority of the Philly faithfully is fed up with the point guard's inability to shoot and spread the floor on offense, so it seemed as if his time in a Sixers uniform was coming to an end soon.
But it's been more than a month since the 76ers lost to the Atlanta Hawks in the playoffs, and Simmons still hasn't gone anywhere. According to Daryl Morey's recent tweet, the team might be content with keeping Simmons after all.
The Sixers are delusional about Ben Simmons' trade value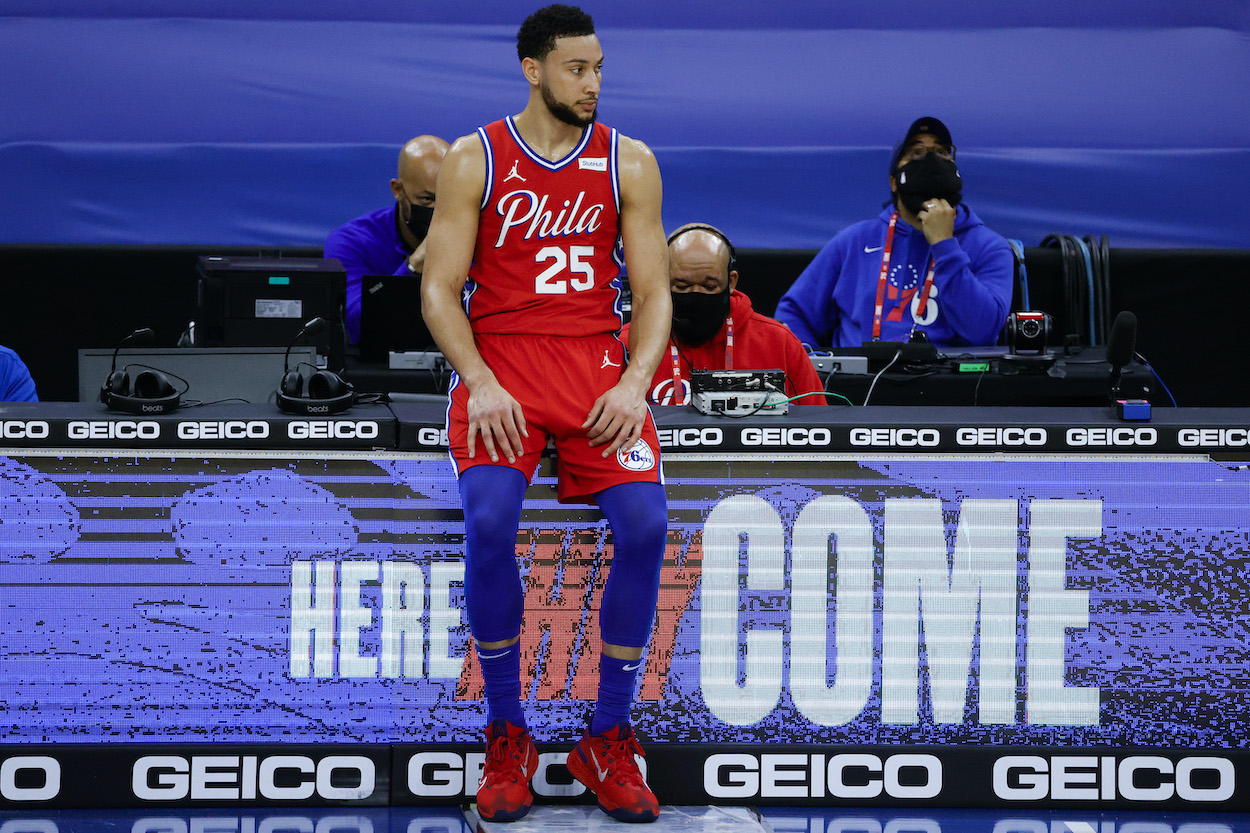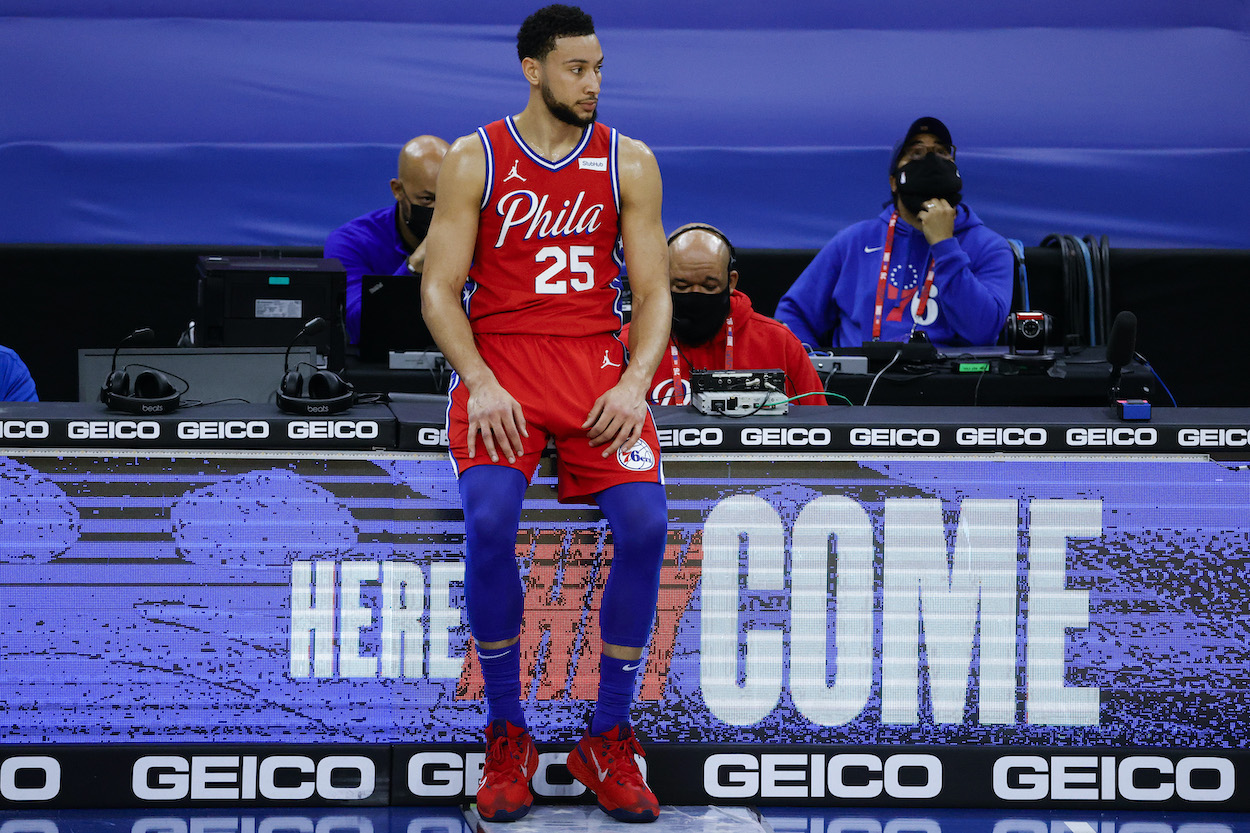 After a wildly disappointing performance against the Hawks in the Eastern Conference semifinal series, Simmons hit the trading block harder than one of his many bricks clanking off the rim. The problem for the Sixers? Simmons' trade value has never been lower.
He still has four years left on his five-year, $177 million contract, he's now 25 years old, and he hasn't been able to improve his fatal flaw through five seasons in the NBA. The Sixers would be lucky to receive an All-Star caliber player in return for Simmons in a trade.
But president of basketball operations Daryl Morey clearly values Simmons more than the other 29 teams around the league do. So far this offseason, Morey has reportedly offered Simmons to the Toronto Raptors for Kyle Lowry, Fred Van Vleet, OG Anunoby, and the No. 4 overall pick in the 2021 NBA draft. He also reportedly asked the Golden State Warriors for Andrew Wiggins, James Wiseman, and four first-round picks in exchange for Simmons.
Morey clearly sees Simmons as a top-10 or top-15 asset in the NBA, so he's unlikely to find a trade partner unless he pops a reality pill sometime soon.
Daryl Morey's recent tweet might signal the Sixers' plan to keep Simmons
76ers fans are still holding out hope that Simmons can be moved before the 2021-22 season gets underway. They've seen enough out of the point guard alongside Joel Embiid, and many believe it's time for a new path.
But the 2-1-5 might be stuck with Simmons for a little while longer.
After the Sixers re-signed veteran Danny Green to a two-year contract on Wednesday, Morey sent out a cryptic, late-night tweet that may hint at his offseason plans. The tweet was a simple one — a screenshot from cleaningtheglass.com, an advanced statistical website that can measure and compare the efficiencies of specific five-man lineups in the NBA.
Morey focused in on the points per 100 possessions stat, specifically the differential between offensive points per 100 and defensive points allowed per 100. At the top of the list was the five-man lineup of Simmons, Embiid, Green, Tobias Harris, and Seth Curry, which finished last season with a +15.9 point differential per 100 possessions. No other lineup in the NBA that played more than 600 minutes together had a better differential last season.
What in the world does this all mean?
Feeling a little confused? You're not alone. Let's try to make sense of all this statistical mumbo jumbo.
Morey is a noted analytics nerd as an NBA executive. If the numbers say something is working on the court, he's going to trust them over what his eyes might be seeing. What Morey is saying in his timely tweet is that the Sixers' best five-man lineup was the most efficient group of all the high-volume lineups in the NBA last season. And guess what? All five of those guys will be returning to the team as it stands today.
Philadelphia fans saw Simmons in the playoffs as a gun-shy offensive threat who has no confidence in his shooting stroke and clogs up the offense in the half-court. But Morey sees basketball in numbers and statistics, and they're telling him the five-man lineup he has in place is good enough to win a championship. That, combined with his outrageous trade offers, likely tells us Simmons will be back with the 76ers next season.
There's only one problem with Morey's blueprint.
Numbers can't shoot, either.