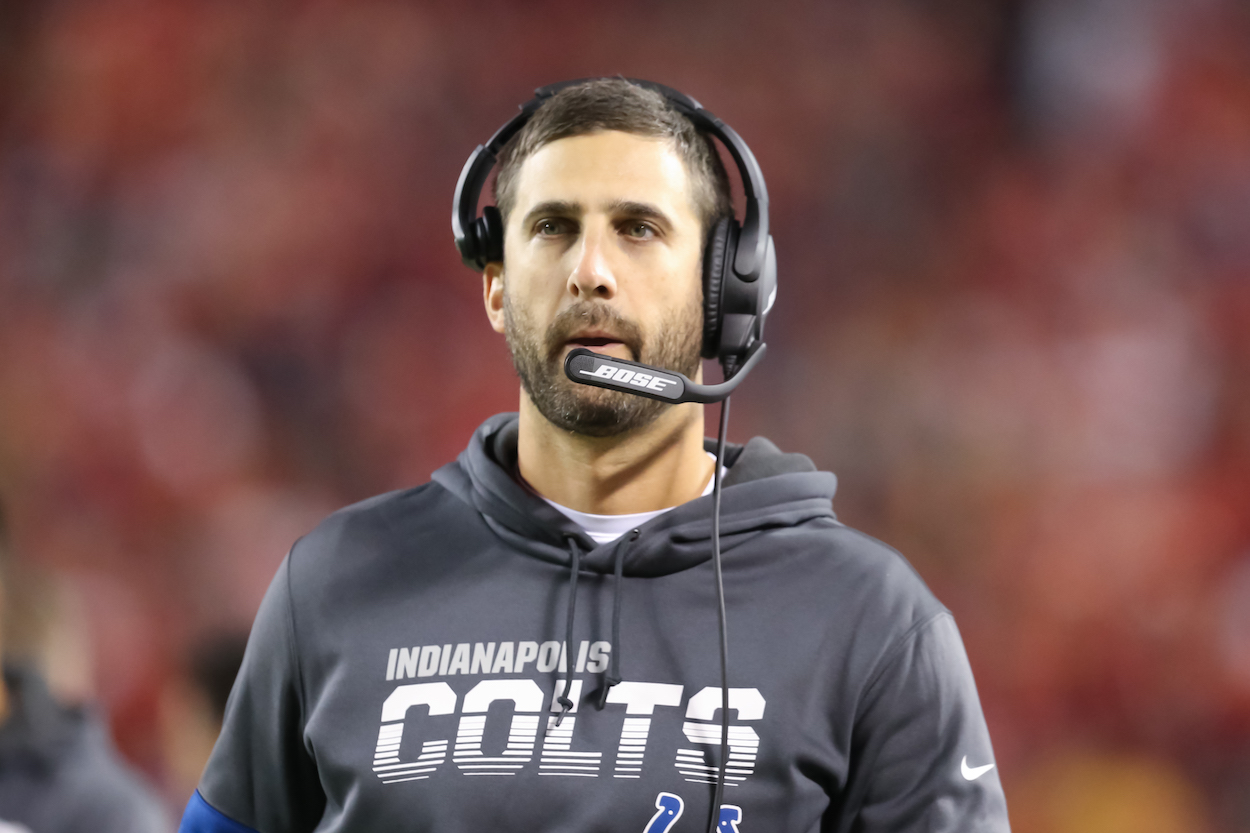 Stephen A. Smith Blasts New Eagles Coach Nick Sirianni for Opening Press Conference and Calls Him a Liar
Stephen A. Smith absolutely lit into new Philadelphia Eagles head coach Nick Sirianni for his introductory press conference and called him a liar.
Stephen A. Smith gets paid big bucks to offer his opinion on ESPN. His takes often escalate quickly, and no one is safe from his critique. On Monday, Smith set his sights on new Philadelphia Eagles head coach Nick Sirianni who was introduced in a press conference on Friday. Smith didn't hold back, criticizing the new Eagles coach for his embarrassing first impression and even called him a liar. 
Nick Sirianni introduced as new Philadelphia Eagles head coach
Nick Sirianni impressed Philadelphia Eagles owner Jeffrey Lurie, who opened his head coaching search with 25 candidates, trying to find a replacement for Super Bowl-winning head coach Doug Pederson. 
After hours interviewing Sirianni, who has been an NFL assistant coach since 2009 and the Indianapolis Colts offensive coordinator the last three seasons, Lurie found his man.
"As soon as you got to spend time with Nick, and we probably spent about, I don't know, 10, 12 hours together over two days," Lurie said on philadelphiaeagles.com. "It became apparent that this is a very special communicator, not just a brilliant football IQ, which was very evident early on as we went through how he gameplans, how he attacks defenses, how he maximizes personnel, not just relying on a scheme but how to each week attack exactly who you're playing, what their strengths and weaknesses are in great detail. Much more than that."
Nick Sirianni doesn't exactly impress in opening press conference
While Jeffrey Lurie lauded Nick Sirianni for his special communication skills, his introductory press conference on Friday left those in the media and anyone else watching puzzled about those skills. His first impression was undeniably a bad one and made headlines for all the wrong reasons. 
Throughout the ten-plus minutes of his opening statement, Sirianni appeared nervous, repeatedly tripping over his own words. He even called Eagles president Don Smolenski by the wrong name. He did perform better answering some of the media's questions, or in multiple cases, dodging them altogether.
In the end, Nick Sirianni's introductory meeting with the media and any subsequent ones to follow will not win any games or lead a team to the Super Bowl. But as the face of the organization, Sirianni's initial introduction and his inability to communicate was troubling on its face because it generated more questions than answers. 
Stephen A. Smith rips new coach
On Monday's edition of First Take, Stephen A. Smith discussed Nick Sirianni and his introductory press conference and not surprisingly, had some pretty harsh words for the new coach's opening performance. 
After suggesting the press conference somewhat reminded him of former New York Jets' head coach Adam Gase and his first media session where Smith thought he was high, the talk show host zeroed in on one particular thing Sirianni said about the team's quarterback situation. 
"I don't know what the hell he was talking about. He was mumbling his words. I agree with my colleague at the Philadelphia Daily News Marcus Hayes where he talked about him lying. You didn't even think about the starting quarterback? The thought never crossed your mind? 
"You interviewed for the Eagles job. You took the Eagles job. Oh, by the way, your former boss at Indianapolis (Frank Reich), who's the head coach there, where was he before? He was in Philadelphia as offensive coordinator-quarterback coach, guiding them to a Super Bowl championship with a backup in Nick Foles. And you take this job after working under him, and it never crossed your mind about whether or not Carson Wentz or Jalen Hurts will be your starter? As Marcus Hayes pointed out, you lied. And Philadelphia — better than most places — has a BS meter they can pick up on it like clockwork. This is a bad start for him."
Nick Sirianni didn't make a good first impression in Philadelphia, which is notorious for being a rough crowd even in the best of circumstances. However, it will all be forgiven and forgotten if he can turn around the Eagles franchise. If not, then his words were just a harbinger of things to come.