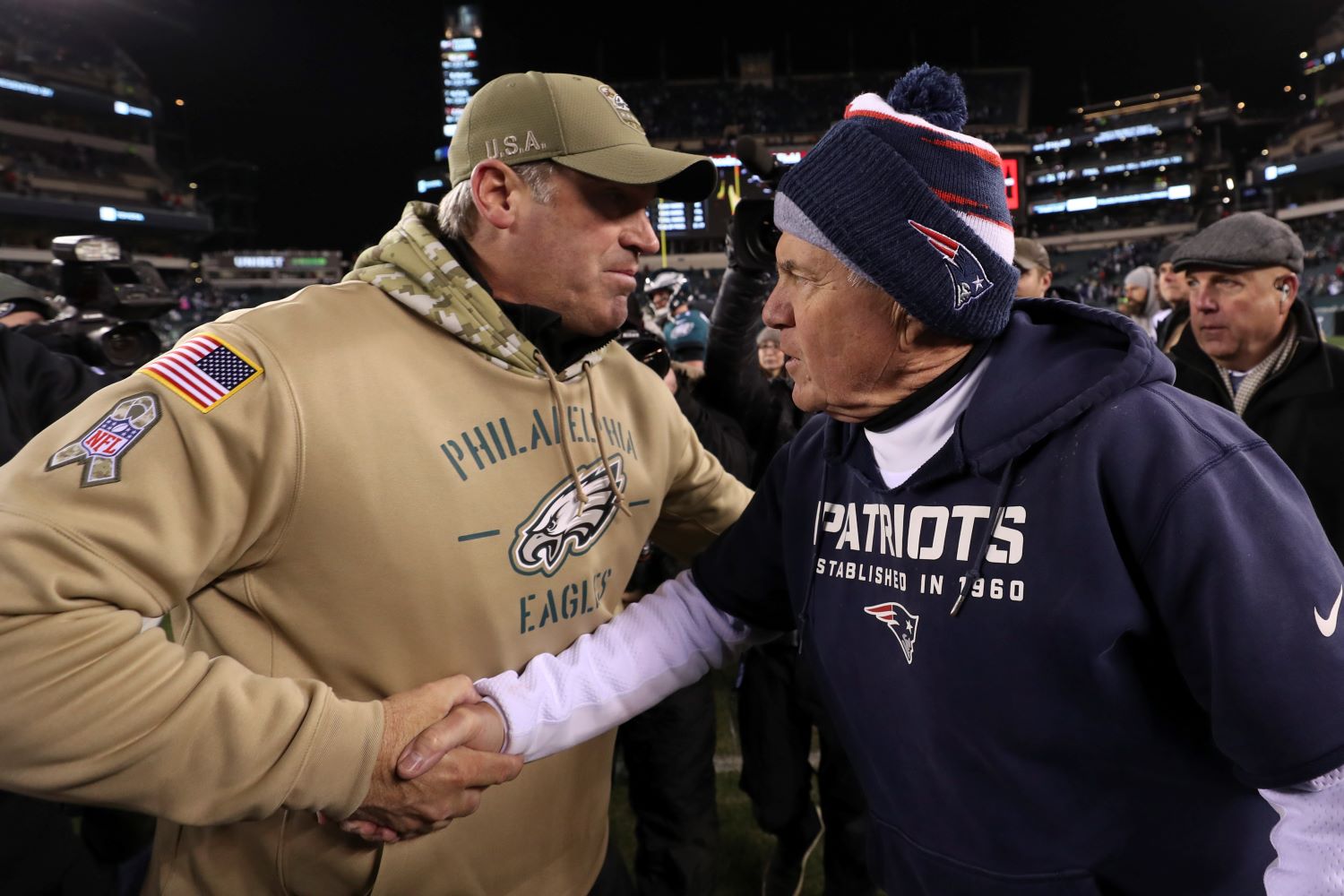 The Philadelphia Eagles Just Saved Bill Belichick From Suffering a Devastating Loss
By hiring Nick Sirianni as their new head coach, the Eagles just saved Bill Belichick and the Patriots from suffering a devastating loss.
Not long ago, Bill Belichick watched the Philadelphia Eagles ruin his team's Super Bowl dream. But on Thursday, the NFC North franchise just saved the New England Patriots head coach from suffering a devastating loss.
Although Belichick doesn't have to replace the most trusted member of his staff, that doesn't mean the Patriots should be feeling confident about the future of the franchise. After all, even if New England still employs one of the best offensive coordinators in the NFL, that won't matter if Belichick doesn't overhaul a unit starving for talent.
Josh McDaniels appeared close to leaving New England (again)
Despite his failed stint with the Denver Broncos, Josh McDaniels has remained in the discussion for other head coaching jobs over the years. However, he inflicted permanent damage to his own reputation by backing out of his commitment to the Indianapolis Colts back in February 2018.
For McDaniels, returning to New England hasn't exactly been the best career move. Although the Patriots went on to win their sixth Super Bowl title, the offense has completely fallen apart ever since Tom Brady hoisted the Lombardi Trophy for the final time in a New England uniform.
Of course, much of that has to do with Bill Belichick failing to provide McDaniels with the ingredients to run a successful offense.
Despite the fact the Patriots finished the 2020 season ranked 27th in both points and total yards, that didn't stop their longtime offensive coordinator from generating interest on the open market. Though the Houston Texans finally said no to a New England employee, the Eagles recently emerged as a potential suitor for McDaniels' services.
It appeared as though Belichick's most trusted assistant coach had at least one foot out the door…until Thursday.
The Eagles just saved Bill Belichick from suffering a devastating loss
Widely respected for his ability as an OC, Josh McDaniels seemed like a logical candidate to take over in Philadelphia. Yet, the Eagles decided to go in a different direction with their latest head-coaching hire.
On Thursday, ESPN's Adam Schefter reported via Twitter that Nick Sirianni will be the new man in charge in Philly. The 39-year-old boasts plenty of NFL experience. Sirianni spent four seasons with the Kansas City Chiefs before taking his talents to the Chargers. Frank Reich hired his former colleague as the Colts' offensive coordinator when he took over in 2018.
Whether the Sirianni hire works out for Philadelphia remains to be seen. He took an unenviable job that includes the Carson Wentz dilemma and a scary salary-cap situation.
But for Bill Belichick, the Sirianni hire represents a major win. Because by passing over McDaniels, the Eagles just saved the Patriots head coach from suffering a devastating loss. For a team that looks poised to experience some significant roster turnover, maintaining continuity at the OC position couldn't be more important. But if the veteran play-caller has any shot of boosting his stock for a future head coaching gig, he needs some serious help from his boss.
The Patriots desperately need to overhaul their inept offense
Josh McDaniels can dial up the perfect play. He can call the right protection. Heck, he might even completely fool a defense with a trick play design. But that won't matter if the Patriots continue to trot out a JV-level offense.
Last season, New England's leading skill players didn't exactly put up mind-blowing numbers…and that's being friendly. Former undrafted free agent Jakobi Meyers led the team with 59 catches for just 724 yards. Damiere Byrd ranked second at the position with 47 receptions for 604 yards and a single touchdown.
Meanwhile, 2019 first-round pick N'Keal Harry did nothing to shed his "draft bust" label. The big-bodied wideout averaged an embarrassing 9.4 yards per catch in 14 games.
As for the tight end position? It was essentially non-existent for the second straight season.
At this point, Bill Belichick needs to completely overhaul a unit that ultimately cost the team multiple victories in 2020. That starts with finding a franchise quarterback via the 2021 NFL draft. New England must identify a long-term solution at the most important position in pro sports if it hopes to avoid falling all the way to the bottom of the AFC East standings.
Plus, the Patriots desperately need starting-caliber players at receiver and tight end. Because without better weapons, whoever lines up under center in 2021 will experience the same struggles Cam Newton did in 2020.
And as we witnessed during New England's disappointing 7-9 season, not even Josh McDaniels and all of his play-calling magic can overcome such an obvious lack of talent.
All statistics courtesy of Pro Football Reference.