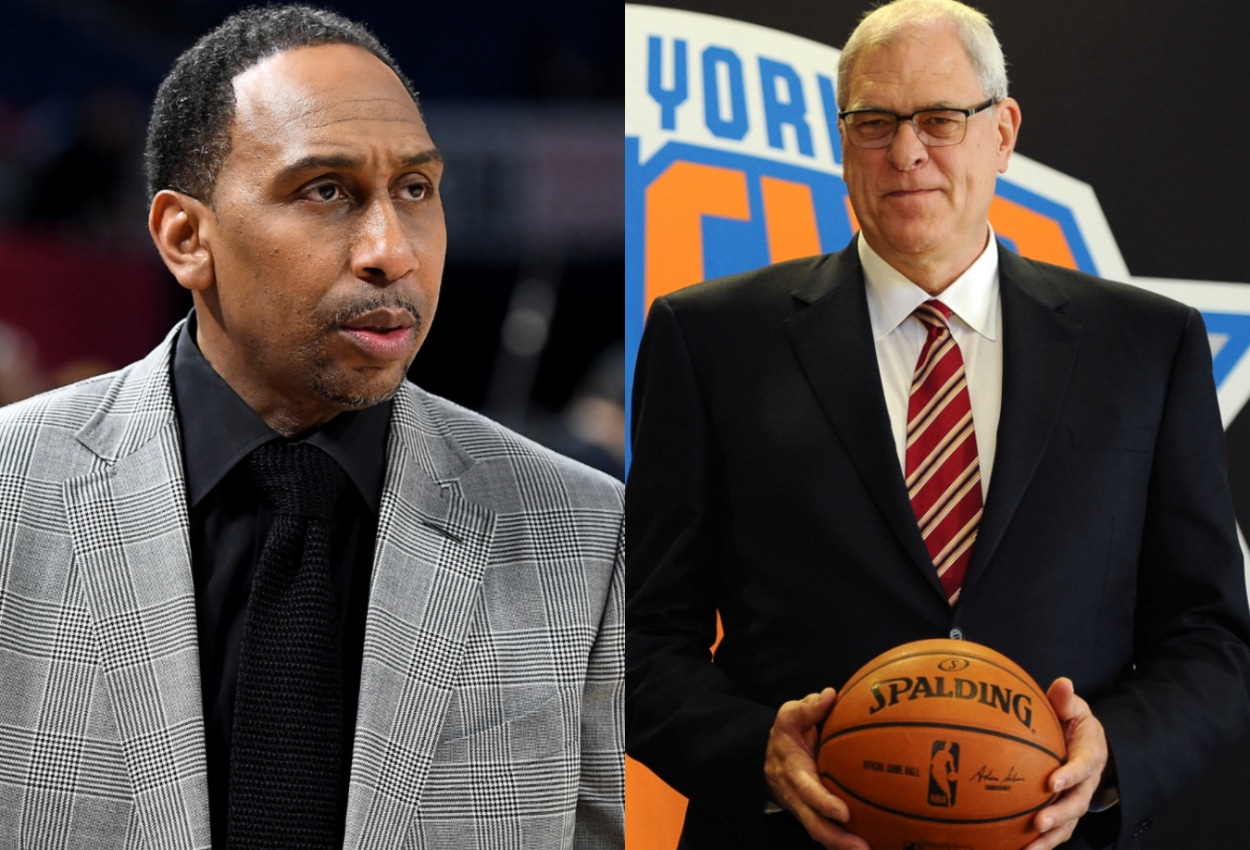 Bitter Stephen A. Smith Blasts Phil Jackson While Discussing Unrealistic Wishes for His New York Knicks
Stephen A. Smith is a massive New York Knicks fan, and the ESPN commentator recently went on a bitter rant about former team president Phil Jackson.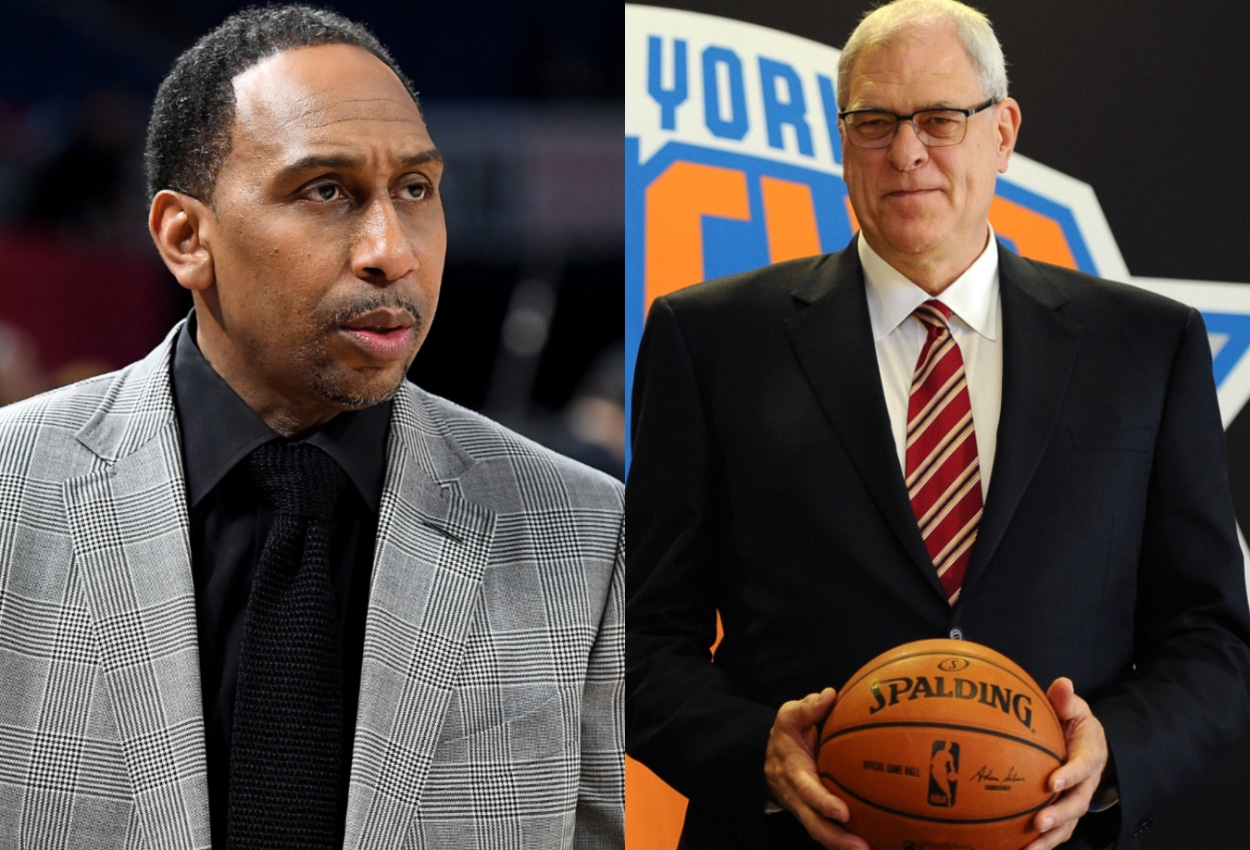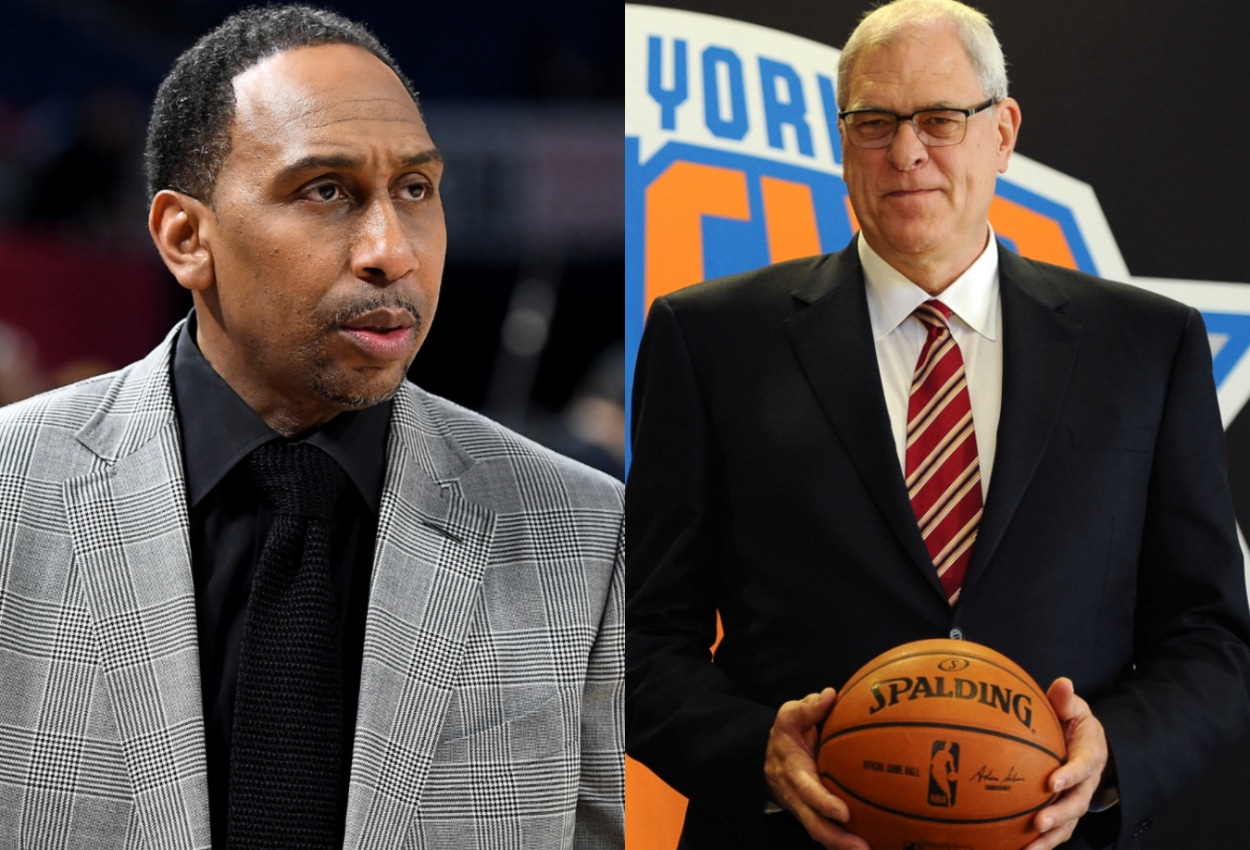 If you have ever watched Stephen A. Smith on ESPN, you likely know one thing (other than the fact that he likes to scream): He's a huge New York Knicks fan.
Despite their consistent mediocrity, Smith has stayed loyal.
And in recent years, the commentator has discussed his negative feelings toward former Knicks president Phil Jackson. In fact, before Game 2 of the 2022 NBA Finals, Smith went off on a bitter rant about Jackson while discussing one (unrealistic) move he hopes his team makes.
Stephen A. Smith went off on a bitter rant about Phil Jackson
Stephen A. Smith and the NBA Countdown crew discussed Quin Snyder's decision to step down as Utah Jazz head coach prior to Game 2 of the NBA Finals on Sunday. He then brought up how he hopes Jazz star Donovan Mitchell now finds a way to join the Knicks.
However, Smith can't seem to let go of the fact that New York had a chance to add Mitchell years ago. Phil Jackson, who won 11 championships as a head coach, was the Knicks' team president from 2014 until 2017. But his time in the front office wasn't nearly as successful as his years on the bench.
The Knicks didn't win more than 32 games in a season with Jackson as president, missing the playoffs each year. He also clashed with star Carmelo Anthony. During the 2017 NBA draft, just days before he and the team mutually agreed to part ways, Jackson played a role in the Knicks selecting Frank Ntilikina No. 8 overall. Ntilikina has never averaged more than 6.3 points in his career.
To get him, they passed on players like Donovan Mitchell, Bam Adebayo, and Jarrett Allen.
"We all know that Phil Jackson – the great Phil Jackson, 11-time champion as coach – should be banned from the city of New York; he should never be allowed in New York again after the atrocity of running the New York Knicks organization," Smith said on ESPN. "This man passed up on Donovan Mitchell to draft Frank Ntilikina. It should never be forgiven. Donovan Mitchell should have been in New York City if Phil Jackson knew what the hell he was doing as an executive."
Smith has a point there. But the Knicks already missed their opportunity. It's hard to imagine Mitchell playing for them anytime soon.
Donovan Mitchell will likely be on the Utah Jazz for years to come
Donovan Mitchell's future has been in question for a while now, but the 25-year-old guard is signed on with the Jazz at least through the 2024-25 season (he has a player option for 2025-26). 
Rumors have connected Mitchell to the Knicks in recent months. However, the Jazz seem committed to building around their star, even despite their head coach's recent departure.
"League sources say multiple teams have called the Jazz to inquire about the trade availability of Mitchell, only to be given a firm no," Tony Jones wrote in The Athletic on June 6. "The Jazz have made it clear they intend on building a roster around Mitchell. The only thing that could possibly pry Mitchell from the Jazz at this point is a monstrous offer. They simply don't have the intention of trading him."
Stephen A. Smith can blame whoever he wants, but that likely won't help the Knicks get Donovan Mitchell now. It appears he will be in Utah for at least a few more years.