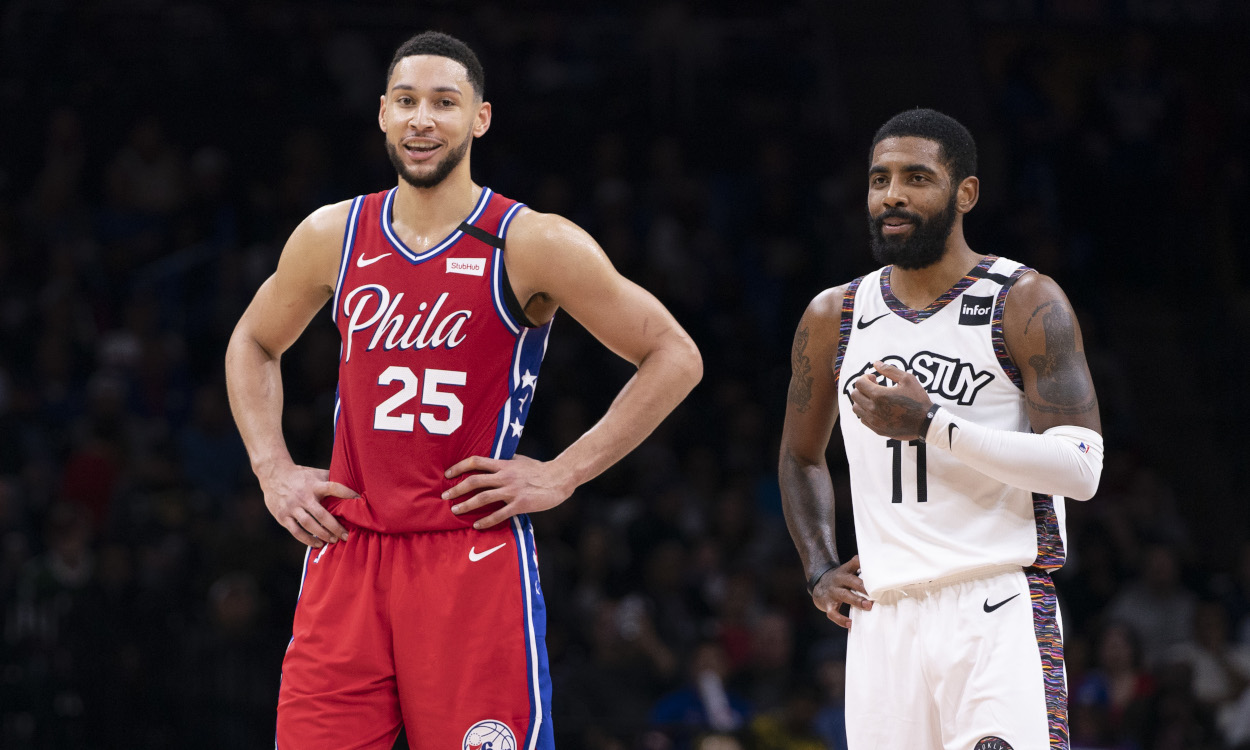 Stephen A. Smith Boldly Asserts That Brooklyn Nets Superstar Kevin Durant Shut Down a Potential Ben Simmons Trade
Stephen A. Smith said the Brooklyn Nets wanted to trade Kyrie Irving for Ben Simmons before Kevin Durant said no. The two came to Brooklyn in July 2019 along with DeAndre Jordan as part of a huge free-agent package.
Kevin Durant undoubtedly yields considerable influence in the Brooklyn Nets organization. In the NBA, the resident superstar always does. But Stephen A. Smith recently said (and then later tried to walk it back) that Durant was directly behind the Nets scrapping talks for a blockbuster trade for embattled Philadelphia 76ers star Ben Simmons. The lone reason was because he didn't want Kyrie Irving included in the deal.
Irving and Durant came to Brooklyn as part of a free-agency extravaganza in July 2019 that included former All-NBA center DeAndre Jordan. The Nets traded Jordan earlier in September. That allowed him to negotiate a buyout with the Detroit Pistons and join the similarly veteran-laden Los Angeles Lakers. However, if Smith's sources are accurate, Brooklyn general manager Sean Marks was never as enamored with Irving as Durant. But signing Kyrie was part of the price of getting KD.
Kevin Durant and Kyrie Irving were always a 2-for-1 deal
The rumors about Kevin Durant and Kyrie Irving looking to team up as free agents in 2019 began well before the 2018–19 season. Jordan was also part of the mix, based on the time the three spent together during the 2016 Olympics in Rio de Janeiro.
The power move by Durant merely continued a trend popularized nearly a decade earlier when LeBron James, Chris Bosh, and Dwyane Wade came together with the Miami Heat. Per Yahoo Sports, that partnership reportedly had its roots at another Olympic Games, the 2008 event in Beijing.
During an appearance on SiriusXM NBA Radio, Smith claimed the Nets only signed Irving because it was the key to getting Durant.
"The Brooklyn Nets were never enamored with taking Kyrie on to begin with," Smith said. "They did it because they knew that's what Kevin Durant wanted. And Kevin Durant is so tight with Kyrie that when Kyrie said, 'Yo, man, Brooklyn's the spot, not the New York Knicks,' KD was like, 'Cool.'"
Essentially, if the Nets want to hold onto Durant, they must keep him happy. That means Irving stays.
Smith floats a Brooklyn Nets-Philadelphia 76ers trade rumor
The Brooklyn Nets are one of the few teams not linked to a potential Simmons trade. But Smith said on ESPN's First Take on Sept. 22 that Brooklyn might have been ready to send Irving to the 76ers to get Simmons.. That is until Durant put his oversized shoe down:
"Here's another thing that could have happened! Kyrie could have ended up in Philly. Sean Marks couldn't do that because KD wasn't having it. KD wasn't having it. KD like, 'Kyrie Irving ain't going no damn place!' Let me tell you something right now, Philadelphia might've said no, but I assure you, I assure you, if it were not for Kevin Durant, the Brooklyn Nets would be interested in making that deal."
However, Smith later took to Twitter in an attempt to walk back his comments, saying he never said a trade offer was made.
Smith didn't indicate a timeframe for that potential trade. But it's no secret the 76ers have wanted to bring in a perimeter shooter to pair with Joel Embiid. Simmons has never been that guy.
But Durant is sold on the idea Irving is crucial to Brooklyn's plans. Enough so that he committed to a long-term extension this offseason to remain with the Nets.
Irving is the crucial piece to a Brooklyn Nets championship, according to Kevin Durant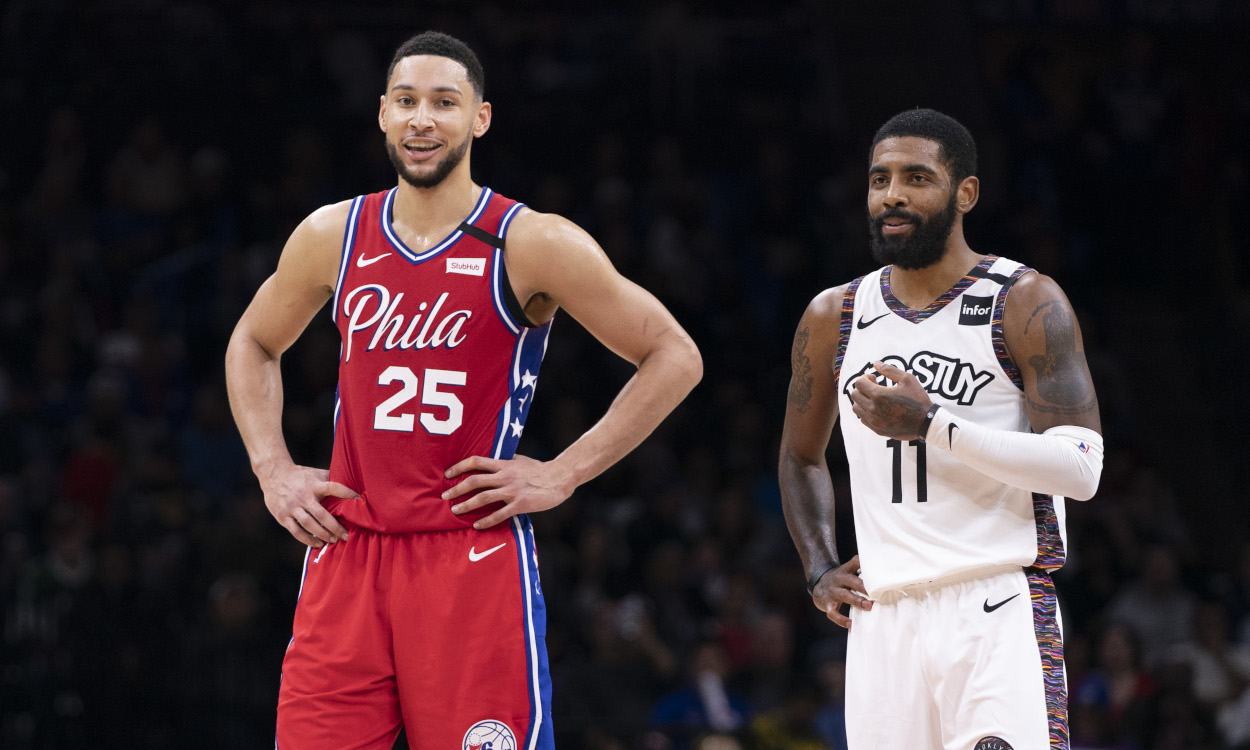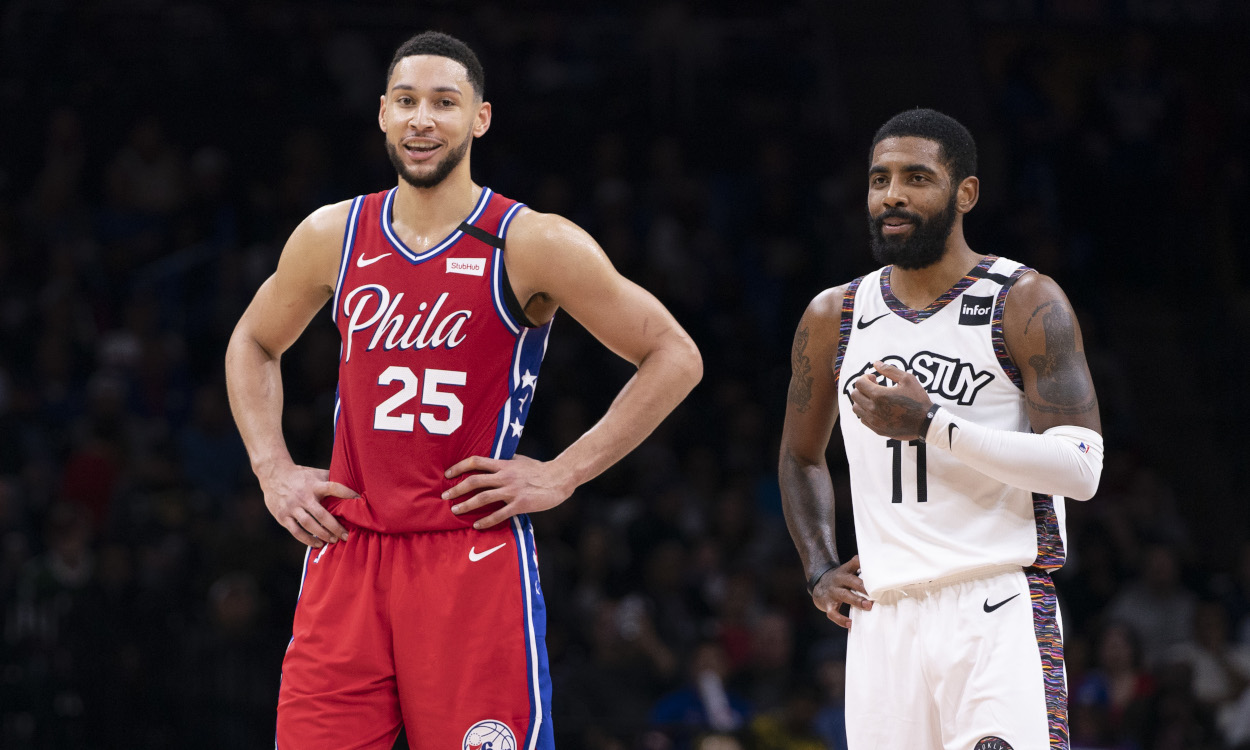 Hall of Fame point guard Isiah Thomas made waves recently when he said the Brooklyn Nets couldn't win a championship without Irving.
Kevin Durant commented on Thomas' assertion on Instagram, per a tweet from Larry Brown Sports' Steve DelVecchio, with a single word: "Fact."
The Nets gave the champion Milwaukee Bucks their most significant challenge during the NBA Playoffs. They pushed the Bucks to overtime of Game 7 in the Eastern Conference semifinals. Durant did the heaviest lifting, carrying Brooklyn through injuries. James Harden missed all but 43 seconds through the first four games of the series. Then Irving went down in the first half of Game 4 and missed the remainder of the series.
Smith summed it up this way.
"In the case of the Brooklyn Nets, Harden and KD would be enough [to win a championship], but KD wouldn't be happy if Kyrie walked away, and it damn sure can't be because the Brooklyn Nets pushed him away," Smith said. "So, it really is in Kyrie's hands."
Kevin Durant believes the Brooklyn Nets must ride with Irving. As the preseason favorites to win their first NBA title, the Nets' hope hinges on that belief.
Like Sportscasting on Facebook. Follow us on Twitter @sportscasting19.