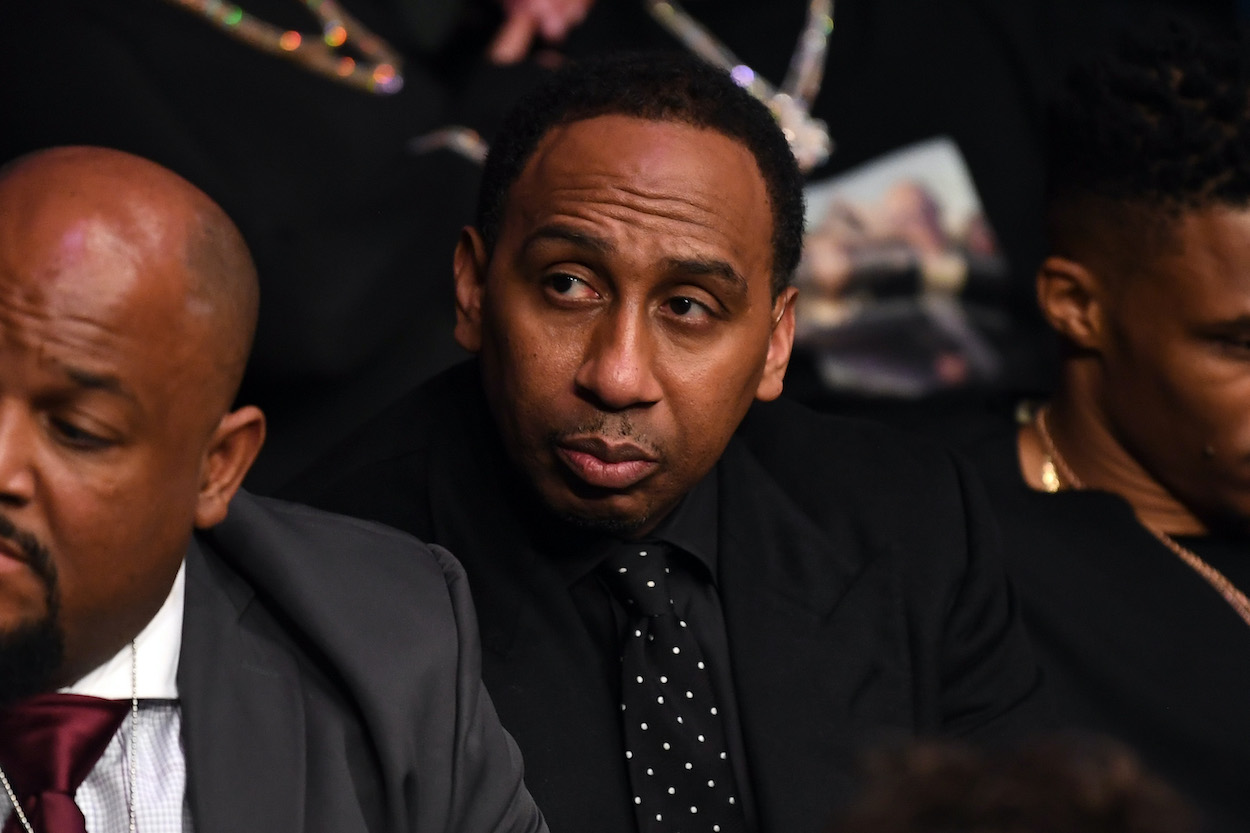 Stephen A. Smith Snubs LeBron James With His Surprising Pick for the Best Player in the NBA
Stephen A. Smith is a famous LeBron James stan, but he believes there's another player who's been the best in the NBA this season.
Famed ESPN personality Stephen A. Smith never wastes an opportunity to deliver a hot take. As the co-host of the ever-popular morning show, First Take, Smith spews daily takes on all different sports for the entire country to hear.
Smith has long claimed LeBron James is the second best player behind only Michael Jordan to ever play in the NBA, but he recently casted a surprising vote for who he thinks is the best player in the league this year.
Stephen A. Smith is a noted LeBron James stan
It's no secret who ESPN personality Stephen A. Smith thinks is the greatest basketball player to ever live. Smith has always maintained that Michael Jordan is the NBA GOAT over LeBron James, but he still has a ton of love for the King.
Although Smith doesn't believe James has passed Jordan as the greatest player of all time, he's admitted that James has established himself as a close second.
"I do think [James is] the second greatest player to have ever lived," Smith said on an episode of First Take in 2019. "I think he's on the Mount Rushmore of basketball. He's absolutely phenomenal. I would remind everybody that I have picked him to be my league MVP this year and the Lakers to win the [NBA championship] because of this man, LeBron James."
Well, he was right about one of those predictions.
Stephen A. Smith says James Harden is the best player in the NBA this season
Stephen A. Smith might have a soft spot for LeBron James, but he has a different vote for the best player in the NBA this year. Smith says that label belongs to James Harden.
"James Harden has been sensational," Smith said on Wednesday's edition of First Take. "…He's played like the best point guard in the game, not to mention the fact that his defense in the post area, showing his strength, he couldn't be pushed around. Just ask Kawhi Leonard how tough he was in the post in terms of defense. James Harden has been nothing short of sensational. He is a league MVP candidate, and even though Joel Embiid is playing lights out… James Harden just simply is James Harden, showing his level of selflessness, and he is leading this team."
Is James Harden really the best in the NBA in 2021?
It's hard to dub James Harden the best player in the NBA this season considering he isn't even a starter on the Eastern Conference All-Star team, but that doesn't exactly tell the whole story.
Harden has been exceptional ever since he got out of the nightmare situation in Houston and joined the Brooklyn Nets in January. He's averaging 25.2 points, 8.5 rebounds, and a league-high 11.6 assists per game with his new team. Harden even leads the Nets in win shares this season despite playing in just 19 of the team's 33 games.
With Kevin Durant and Kyrie Irving rotating in and out of the lineup lately, Harden has led the Nets to seven straight wins. Brooklyn now sits just 0.5 games behind the Philadelphia 76ers for the No. 1 seed in the East, and Harden is the biggest reason why.
All stats courtesy of Basketball Reference