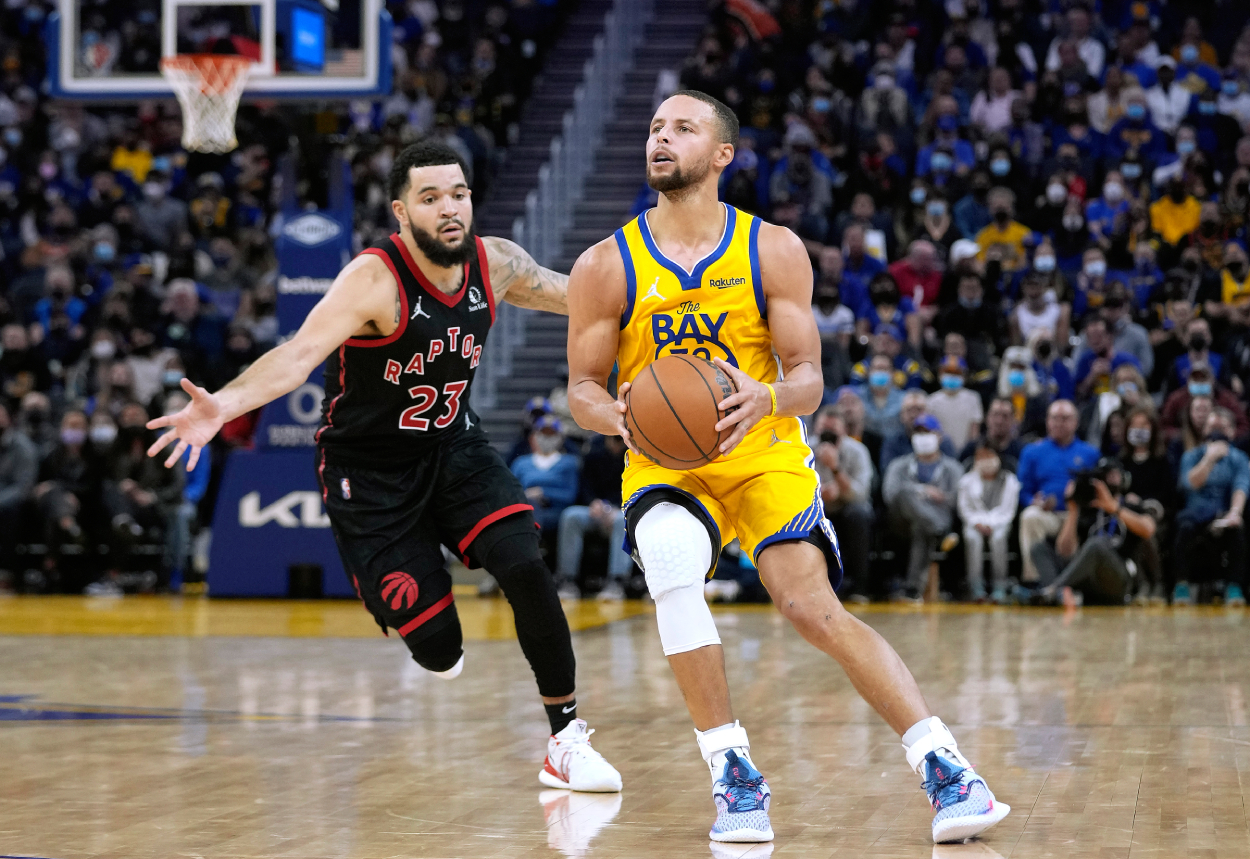 Stephen Curry's Iconic Skill All Started as a College Experiment: 'There's Not That Many Bodies out Here'
Stephen Curry is known for making shots anywhere on an NBA court, but his limitless range began as a college experiment when he was dominating at Davidson.
Not many players enter the NBA and change it, but Stephen Curry has done just that.
Before Steph introduced himself to the league in 2009, 3-point shooting was a nice skill that players could add to their games.
Now, it's a necessity.
Curry is just about automatic from long-range and has become the greatest shooter in NBA history. However, what makes him better than every other 3-point marksman is his limitless range. No matter where the Baby-Faced Assassin is on the court, there's a good chance he can get the ball into the hoop.
But how did the Golden State Warriors star's deep shooting abilities come about? Did he just practice half-court shots as a kid?
It all started in college when he was dominating at Davidson.
Stephen Curry has had limitless range in the NBA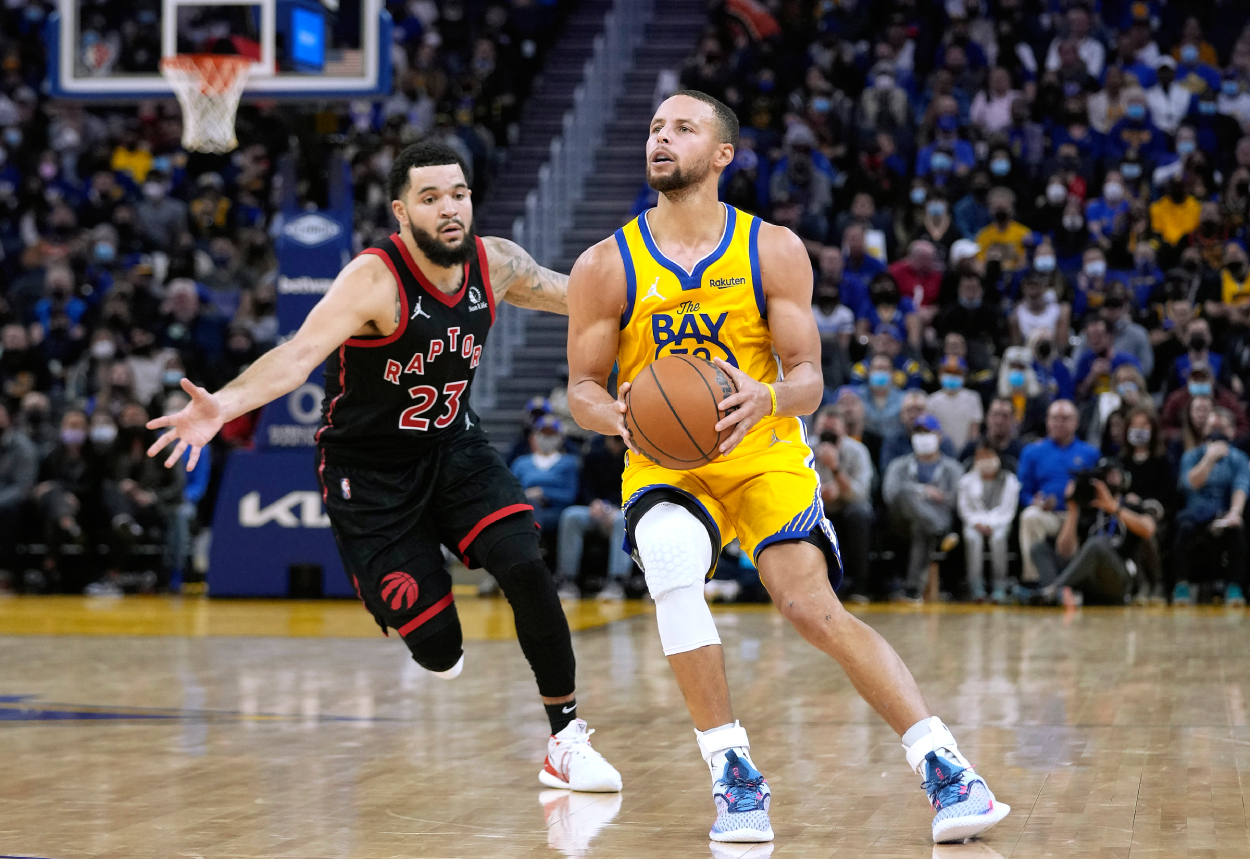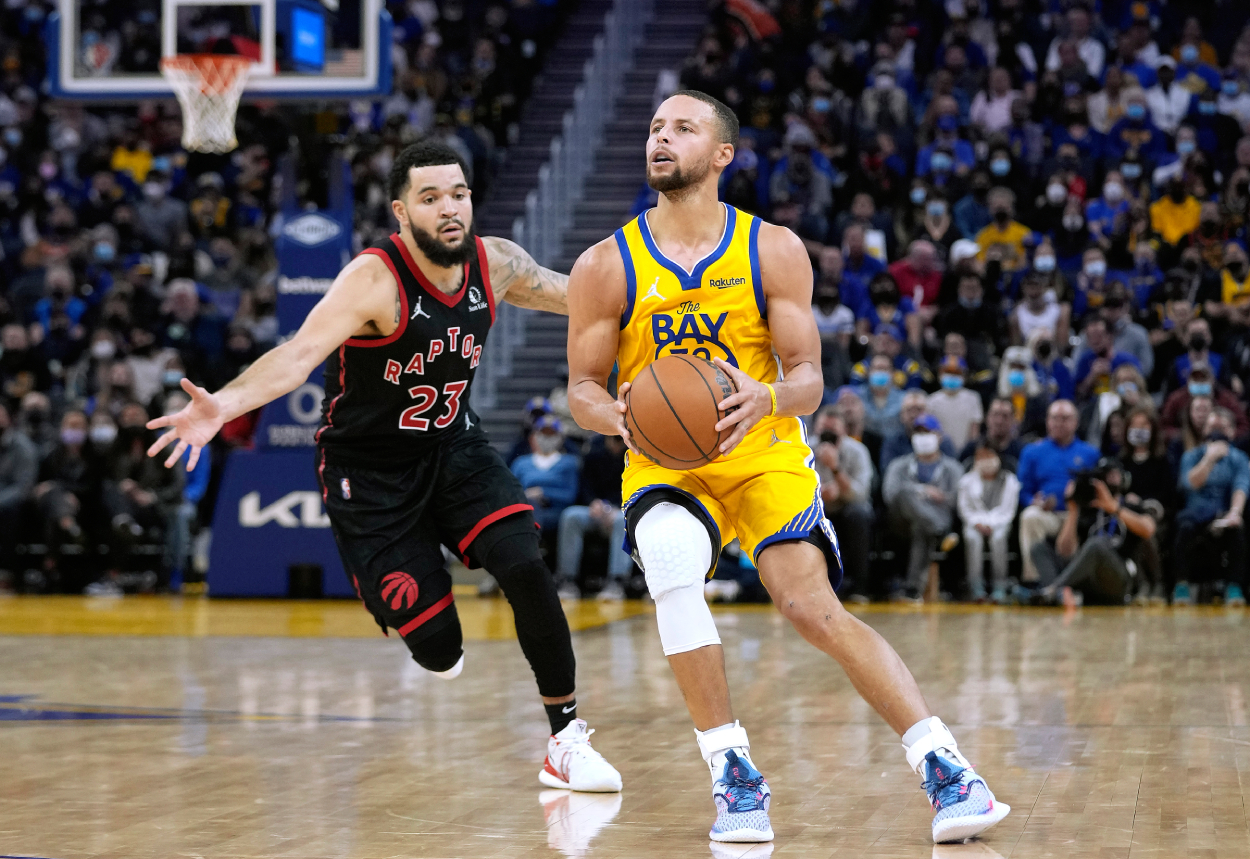 Throughout his NBA career, Stephen Curry has proven he isn't just a typical shooter. He's a shot-maker that can put the ball in the hoop from anywhere on the court.
During his second MVP season in 2015-16, Curry attempted 45 shots from 30-plus feet. He made 46% of them.
That would be an excellent percentage from normal 3-point range.
His deep attempts have just grown since then.
In 2020-21, a season where Curry led the NBA in scoring, he put up 104 shots from 30-plus feet, and he made 39.4% of them. So far in 2021-22, Curry has attempted 35 shots from that range and has made 31.4%.
So, how does that compare to some of the top shooters in the NBA?
Other than Curry and his 12.7 attempts per game, Damian Lillard, Buddy Hield, Fred VanVleet, and Jordan Clarkson put up the most 3-pointers in the league in 2020-21. Lillard was the closest to Curry range-wise, as he made 33.8% of his 127 shots from 30-plus feet. Hield, though, only attempted 16 shots from that deep, while VanVleet only put up 32, and Clarkson seven.
Not many players are in the same stratosphere as Curry, and if they are, he likely inspired them.
Steph's deep attempts began in college
Despite Curry attempting more 30-plus-foot shots now than he did earlier in his career, Steph first started shooting those long-range attempts in college when he was a star at Davidson.
"In college, going into my junior year, it was kind of a reaction to how people were defending me," he said on the Dec. 1 episode of NBA Today. "It's like, 'There's not that many bodies out here. So, maybe I can make it easier on myself if I can knock that down.' But from there, it's just kind of a natural progression of the work that I put in and the creativity that I had to just try stuff."
So, had opposing teams not focused their defensive game plans so heavily on Curry when he was at Davidson, would he have never started shooting his long-range shots? We may never know, but Curry's ability to put the ball in the basket from anywhere on the court is arguably his most iconic skill.
Stephen Curry will soon become the NBA's 3-point king
With all the long-range shots Curry has attempted in his career, the Warriors star is now approaching an all-time NBA record: career 3-pointers made.
Ray Allen currently holds the record with 2,973, but as of Dec. 2, Curry is only 33 makes behind him at 2,940.
"Now that we're under 50, it's like, 'This is a pretty special chase,'" he said on NBA Today. "I remember watching the game when Ray passed Reggie [Miller] and just feeling the emotions of it and understanding how big of a deal it was at that time. Ten, 11 years later, it's me in that conversation. So, it's pretty crazy to think about."
Stephen Curry is a seven-time All-Star, three-time NBA champion, and two-time MVP. But soon enough, he will be the 3-point king.
Stats courtesy of Basketball Reference and NBA.com