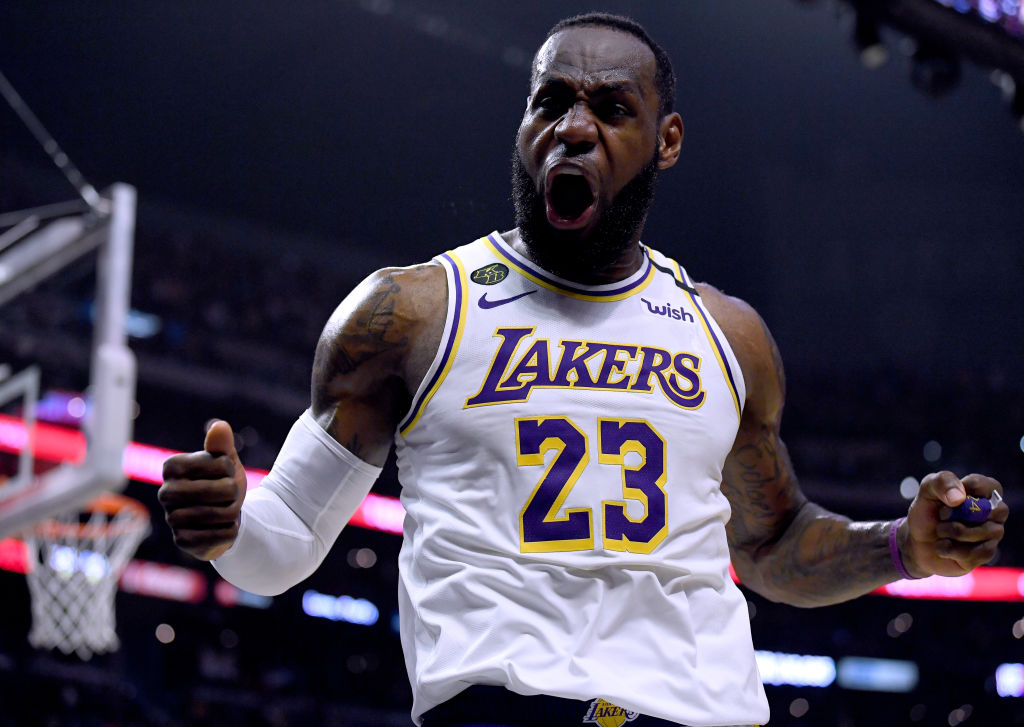 Stephon Marbury Called Out LeBron James For Not Being a 'Real Laker'
Former NBA star Stephon Marbury recently called out four-time Most Valuable Player LeBron James for not being a 'real Laker.'
Before the NBA was shut down due to the coronavirus outbreak, LeBron James, in his second season with the team, had the Los Angeles Lakers in a good position to make a serious run at the franchise's 17th NBA title.
Bringing an NBA championship back to LA would only further LeBron James' legacy, a legacy that already includes three NBA titles, two with the Miami Heat and one with the Cleveland Cavaliers. The Lakers haven't won a title since Kobe Bryant led LA to back-to-back crowns in 2009 and 2010.
Following Kobe's tragic death on January 26, LeBron James spoke on how he wanted to continue Bryant's legacy with the Lakers. That didn't sit well with former NBA star Stephon Marbury, who recently called out James in a podcast interview.
LeBron James and Stephon Marbury were teammates on Team USA in 2004
While never teammates in the NBA, LeBron James and Stephon Marbury were teammates for USA Basketball during the 2004 Summer Olympics in Athens. Marbury, who had been traded to the New York Knicks during the season leading up to the games, had been an NBA All-Star two of the previous four seasons, had become one of the best point guards in the league, averaging 20.2 points and 8.9 assists in 2003-2004. James was just finishing up his rookie year in Cleveland, winning Rookie of the Year honors with 20.9 points, 5.9 assists, and 5.5 rebounds.
Things did not go well for Team USA in Athens. They lost three games, the most in history by an American team, and took home the bronze medal, the first and only time that they haven't won gold since NBA players started competing in the Games in 1992. While Marbury led the team in assists, LeBron mostly rode the bench and it was said that he had a very bad attitude throughout his first run with Team USA.
Marbury doesn't think LeBron is a 'real Laker'
As LeBron James began to build his legacy, Stephon Marbury left the NBA in 2009 but had a career resurgence in China, become one of the biggest basketball stars the country had ever seen. After winning three CBA titles, he retired in 2018, ending a pro career that began in 1996, the same year Kobe Bryant entered the NBA. Marbury was drafted fourth overall and Kobe was taken with the 13th selection.
In a recent appearance on Complex Sports' Load Management podcast, Marbury offered up his thoughts on Kobe but then quickly flipped the conversation and simply went off on LeBron James.
"You don't need to go get guys like LeBron to go speak and talk about what they're going to carry and all of that. He don't need you to carry his legacy. His legacy is already his legacy. You don't do that. Carry your own legacy. Keep it popping and going. You not no real Laker. The real Laker fans are real Laker fans. And real Laker players. So when you hear these guys saying this type of stuff and doing these type of things, I'm wondering what is it for?"

Stephon Marbury on LeBron James
Wow. Those are harsh words, especially when so many people in the Lakers organization were looking to LeBron James for comfort during the Kobe Bryant tragedy. LeBron released a statement a couple of days following the tragedy and also gave a heartfelt speech ahead of the Lakers' first game back after Kobe's passing, which seemed to sit well with most people. Stephon Marbury certainly isn't in that group.
That's not the first time Marbury has called out LeBron
Saying he isn't a "real Laker" isn't the first shot that Stephon Marbury has taken at LeBron James. Soon after LeBron called himself the greatest of all time for beating the 73-9 Golden State Warriors in the 2016 NBA Finals, Marbury went off on an expletive-filled rant, claiming that LeBron couldn't shoot, make a free throw, and got a big head due to the media.
"This is interesting. They really told you you the king. They really, really told you you was the king.

"If you ever, in your life, disrespect Michael Jordan again…you see what's happening right now? This movement is not gonna stop. I don't know what happened when you went to L.A. I think when you went to L.A. they really, really told you, 'Oh, you've arrived, king.'

"What were you thinking? You really, really fell for the okie-doke, man. They tricked you again on ESPN.

"You can't even shoot! You can't teach kids how to play basketball, and shootin' the ball, and don't know to shoot! This is a real basketball player talking, dude. This ain't one of your fans. YOU CAN'T EVEN SHOOT! And you talking about you better than Michael Jordan, you must be outta your mind!"

Stephon Marbury on LeBron James
And there you have it. Stephon Marbury isn't the biggest fan of LeBron James.