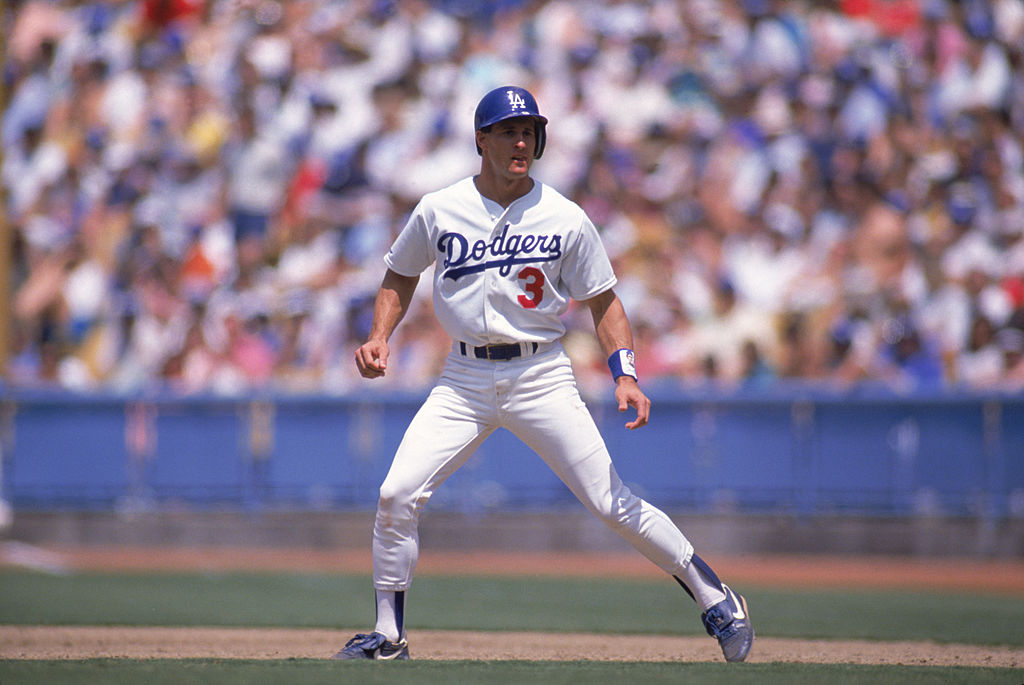 Steve Sax's Final Conversation With Dying Father Cured His Yips
Steve Sax had a successful MLB career despite a brief bout with the yips. His dying father's final words changed Sax's career and his legacy forever.
Steve Sax is one of the greatest Los Angeles Dodgers second basemen in the club's storied history. He earned Rookie of the Year honors, made five All-Star games, and won a pair of World Series rings. Yet, most fans remember Sax for the yips. What most haven't heard is the story how he cured it. It's a sad yet inspiring story. 
Steve Sax becomes an overnight sensation
After a brief call-up in the 1981 season, Steve Sax played his first full season with the LA Dodgers in 1982, and he got off to an impressive start. As a rookie, Sax appeared in 150 games and finished the season with a .282 batting average, 47 RBIs, and 49 stolen bases. He earned a spot in the All-Star game and won National League Rookie of the Year honors.
In Sax's second season, he experienced a sophomore slump of epic proportions. Interestingly, it wasn't at the plate, but in the field. In what should be one of the easiest throws in baseball from second base to first, Sax simply couldn't do it. He got the yips. 
Every time a ball was hit to second base the first part of the 1983 season, Dodgers players, coaches, and fans, all winced. No one, not even Sax, knew where his throw would end up. It became such a running joke fans sitting behind the first base dugout began wearing batting helmets as mock protection.
Sax wasn't laughing. At the All-Star break, he had 26 errors. 
Sax's dying father's final words cured him of the yips
During the All-Star break, Steve Sax said he overcame the yips as a result of the final conversation he had with his dying father. In their discussion, his father first explained to him what was not happening.
Sax's father asked his son several simple questions like if he could drive and if he could speak clearly. When Sax answered affirmatively, his dad had the answer. 
"You don't have a mental block. What you have is a temporary loss of confidence. Once you get your confidence back this thing will go away. And the way you build this up is you do it in practice. You get your confidence back in practice. You develop positive things to do in practice. Your confidence will grow and you take that into the game."

Steve Sax's father
Sax said over the next few days that's exactly what he did working on various drills in practice building up his confidence that he could make the throw from second base to first. His confidence grew with each successful toss. 
"One day this thing was just gone and it never came back. It was the last words my dad ever gave me before he passed away the next day," Sax said.
Sax's successes after the yips
Following the All-Star break, Sax had four errors the rest of the 1983 season. With his fielding issues behind him, he focused on his offensive game and put up another solid performance at the plate with a .281 average with five home runs. He also had 56 stolen bases.
Steve Sax remained in LA five more seasons including the team's World Series title run in 1988. In 1989, Sax signed with the New York Yankees. He excelled in the Bronx. In two out of his three seasons with the Yankees, he led the American League in fielding percentage for second baseman.
Sax split time between the Chicago White Sox and Oakland As over the final three seasons of his career before retiring after the 1994 season. 
He never had another episode of the yips after 1983. Those final words of encouragement from his dying father forever changed Sax's career and his legacy in baseball.