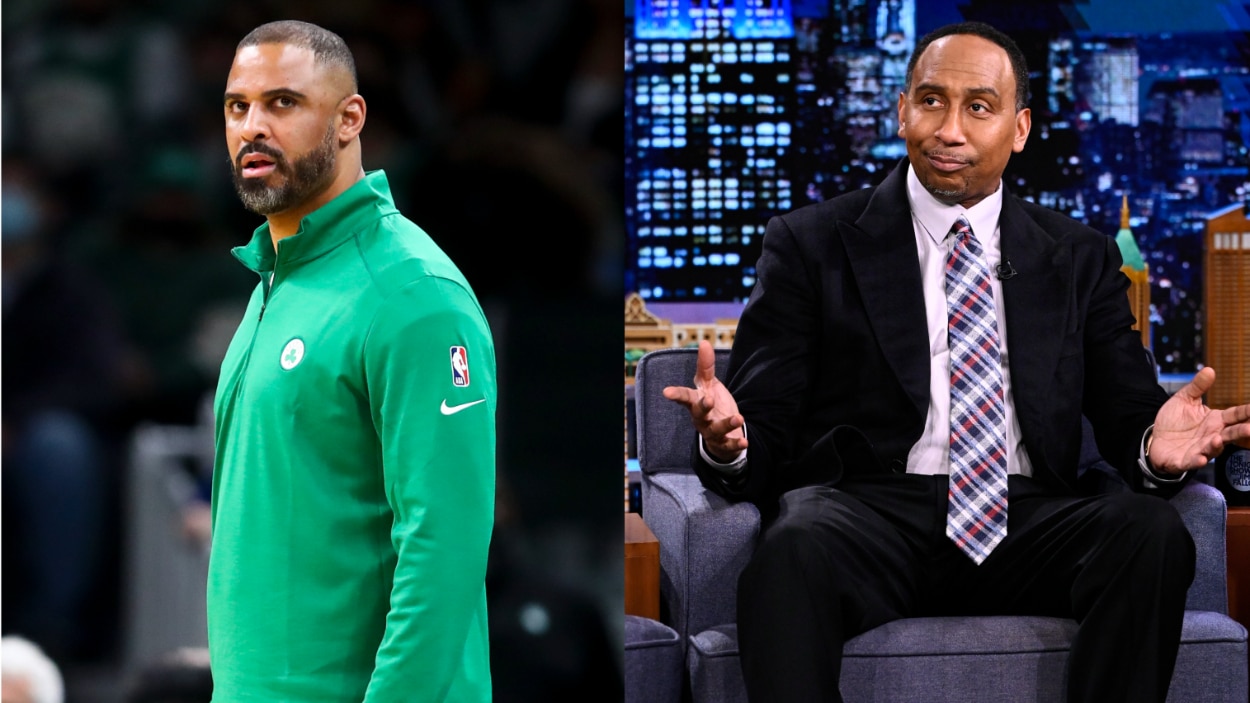 Stephen A. Smith Blames Race for Ime Udoka Scandal
As news continues to come out about the Ime Udoka scandal Stephen A. Smith has head enough and thinks race is playing a major role.
The Boston Celtics suspended and eventually parted ways with former head coach Ime Udoka ahead of the 2022-23 NBA season after news of a scandal that he had a consensual relationship with a team employee. Udoka has since been hired by the Houston Rockets for the 2023-24 campaign, but at least one prominent NBA figure – ESPN's Stephen A. Smith — thinks there was a racial component to his downfall in Boston.
Stephen A. Smith thinks race was a major factor in the Ime Udoka scandal
After news broke (more on that below) that Celtics coach Ime Udoka was facing a year suspension for a consensual relationship with a Celtics employee, all the sports show talking heads chimed in with their takes.
What was Stephen A. Smith's opinion on First Take? The prominent basketball pundit says the whole thing is all about race. Smith went on a rant about the situation:
[Why's] that being done to a brother? Because I got news for you, America. There's plenty of white folks in professional sports that's doing their thing. And I say that not complimentary. I don't see the information out about them. Why we talking about this now? … Ain't none of our damn business unless you fire him. But if you keep him, it's none of our business. It should have never been put out there by the Celtics organization.

Stephen A. Smith on the Ime Udoku scandal
After sharing these thoughts, Smith went after the Celtics organization. Speaking directly to the organization, Stephen A. bellowed, "don't tell me you didn't [leak the story] because you absolutely did it! Because news reporters got it. So, it emanated out of Boston."
This story is just beginning, and with a Black head coach facing an unprecedented suspension for something non-basketball-related, questions of race are going to come up. And that's especially true because it's happening in a city like Boston, which has a complicated history with Black athletes.
How news of the Boston Celtics scandal broke
Late at night on the East Coast on Wednesday, Sept. 21, ESPN's Adrian Wojnarowski broke the news that Boston Celtics head coach Ime Udoka made "an unspecified violation organizational guidelines" and faced a possible "significant suspension."
The story grew from there as Woj continued to report more details. In his next tweet, the reporter revealed, "Ime Udoka's job isn't believed to be in jeopardy, but a suspension is looming."
Around 10:00 am ET, Woj revealed what we currently know as the full story. The Woj Bomb here was, "Boston Celtics coach Ime Udoka is likely facing a suspension for the entire 2022-2023 season for his role in a consensual relationship with a female staff member, sources tell ESPN."
Wojnarowski then shared his story on SportsCenter, discussing how, "in recent days," Celtics executive Brad Stevens found out about the improper relationship" with a female member of the organization. Woj also says that this relationship involving Udoka — who is engaged and has one child with actor Nia Long — led to "a break down in trust, in judgment, in Udoka's leadership, that led to this predicted "unprecedented penalty."
Finally, at approximately 9:30 pm ET on Thursday Sept. 22, the Boston Celtics announced that Ime Udoka is indeed suspended for the entire 2022-23 season, effective immediately, per ESPN.
Parting ways with the Celtics and going to the Rockets
With Ime Udoka suspended, the Celtics promoted assistant coach Joe Mazzulla to the head job on an interim basas. The Celtics started fast with Mazzulla at the helm, jumping out to an 18-4 record in the first month-plus of the 2022-23 NBA season.
The Celtics' winning ways continued under Mazzulla and the team finished second in the Eastern Conference with a 57-25 mark on the season.
Udoka's fate was sealed well before that point, though. The Celtics named Mazzulla the team's full-time head coach on Feb. 16, 2022, ending the former coach's time with the organization. Mazzulla then continued shepherding the Celtics through the playoffs, where they are currently in the Easter Conference Finals down 3-2 to the Miami Heat.
As for Udoka, his exile from NBA basketball didn't last long. On Apr. 25, 2023, the Hoston Rockets hired him as the organization's next head coach. He takes over a team with plenty of young talent and the No. 4 pick in the 2023 NBA Draft. However, the team has yet to find success, finsihing a lowlo 22-60 last season.