Talen Horton-Tucker Trade Rumors: The Lakers Should Refuse to Move THT No Matter How Desperate They are to Make a Splash
The 2021-22 NBA season probably hasn't gone quite as the Los Angeles Lakers envisioned. Instead of playing at the top of the Western Conference, LA finds itself as the No. 6 seed. Head coach Frank Vogel has faced questions about his job status, though Lakers governor Jeanie Buss poured cold water on the idea Vogel could face termination.
Still, a somewhat slow start might motivate LA to make a splash in the trade market. But no matter their motivations, the Lakers cannot trade combo guard Talen Horton-Tucker as part of a win-now move.
Talen Horton-Tucker is one of the only young Lakers under contract for the foreseeable future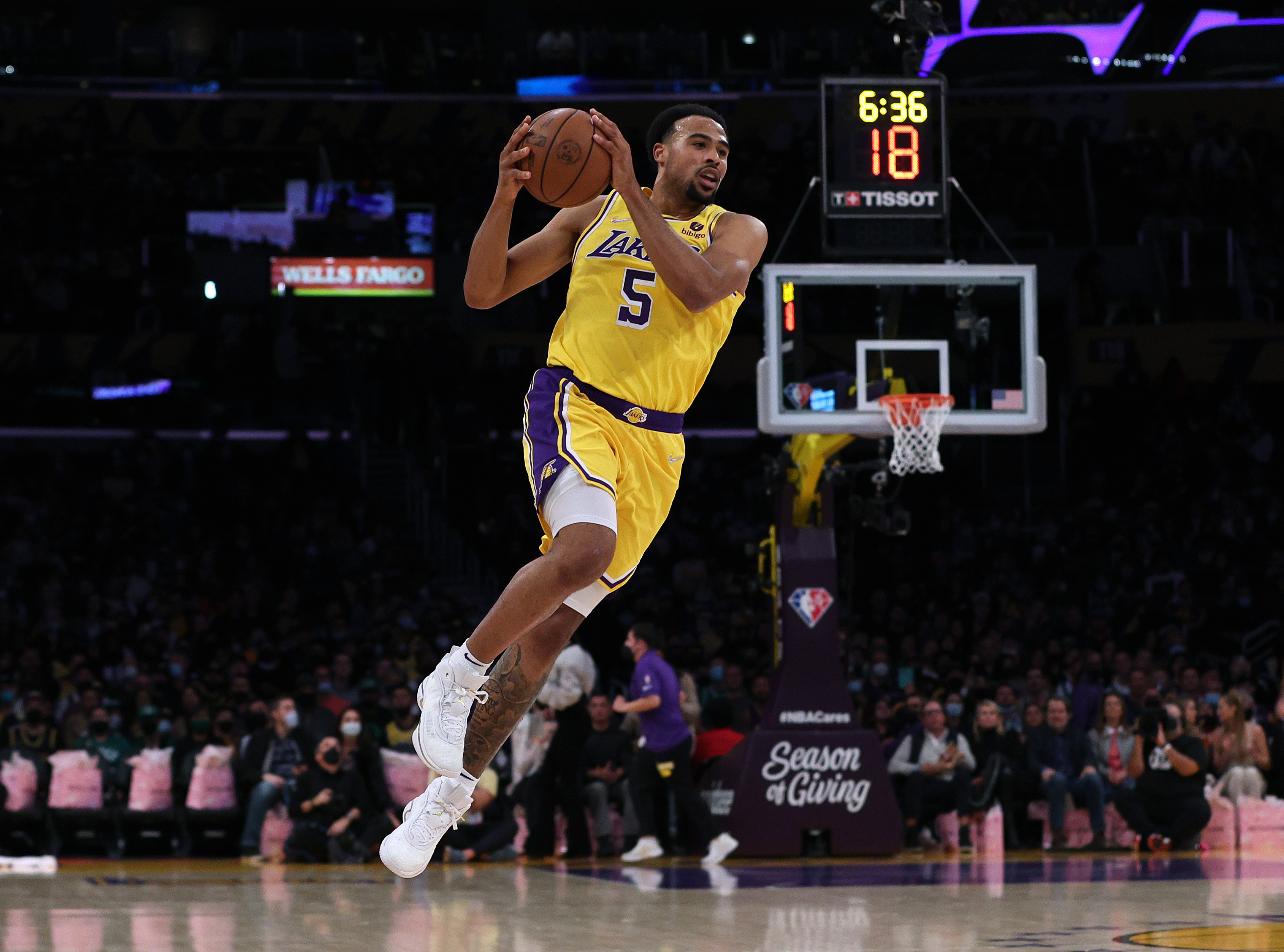 The Lakers committed Talen Horton-Tucker when they inked him to a three-year deal worth nearly $31 million this offseason instead of trying to re-sign Alex Caruso. That move guaranteed LA had at least one building block on a veteran team.
Horton-Tucker only just turned 21 years old, making him the youngest player on LA's roster. The Lakers are still wholly dependent on their superstar trio of LeBron James, Anthony Davis, and Russell Westbrook, but THT has a role to play in the championship pursuit.
The Chicago native is a terrific on-ball defender who bothers ball-handlers with his physical stature and superb length. He can guard multiple positions, affording Vogel options in terms of his rotations.
It's true that THT's offense has seen a decline. Despite averaging more points (11.3), Horton-Tucker is shooting barely above 40% from the floor, mostly because he's shooting just 47.2% on his twos after shooting 52.2% from inside the arc last season.
Still, LA thinks highly of the youngster. Horton-Tucker had been considered for the starting lineup before his preseason thumb injury and has started in 12 of his 15 appearances since returning. He's capable of beating defenders off the dribble and finishing through contact.
Apparently, multiple other squads think highly of THT as well.
Numerous teams are targeting THT in the trade market
Horton-Tucker is reportedly garnering a lot of attention from rival front offices.
Jordan Schultz of Boardroom reported "as many of seven teams" are targeting THT in the trade market. Schultz added it will take "a lot" to get the combo guard.
Then again, recent reports suggest the Lakers are interested in trading for Ben Simmons. They'd almost certainly have to include Horton-Tucker in a package for the Philadelphia 76ers star, both as a young player the Sixers could want in return as well as simply making the money work. Similarly, any attempts to acquire Indiana Pacers center Myles Turner — another player LA has been linked to — could demand THT going the other way.
It could be enticing for the Lakers to ultimately trade Horton-Tucker if they feel they'd be acquiring a legitimate difference-maker who can help them win a title. But the Purple and Gold cannot risk so much on a win-now move.
The Lakers are more reliant on internal improvements
The Lakers might hope to change the course of their season with a single blockbuster move. But the Purple and Gold ultimately must draw from within, rather than moving young assets like THT.
Much of it starts with LeBron James. As of Dec. 14, he's only played 16 games. The Lakers need him to be healthy to get back on track.
A lot of responsibility also falls on Anthony Davis' shoulders. The Brow is averaging 24.0 points, 10.2 rebounds, 3.0 assists, 2.2 blocks, and 1.3 steals, but his inability to shoot the ball somewhat effectively from deep is costing the Lakers and making it harder for him to coexist with Russell Westbrook.
The Lakers can build momentum without making a massive trade. It's too risky to move a potential foundational piece like Horton-Tucker to execute a win-now deal, especially with the Golden State Warriors and Phoenix Suns looking like the most dangerous teams in the NBA.
Stats courtesy of Basketball Reference.