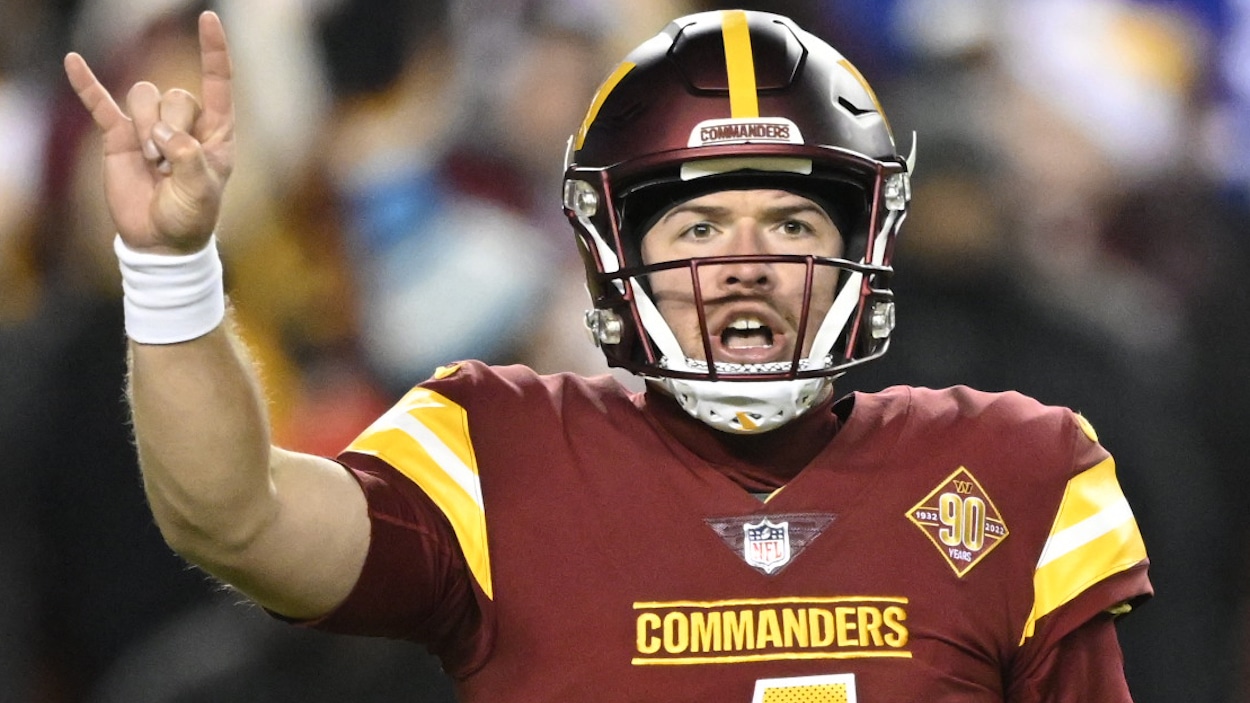 Taylor Heinicke Contract: Where the Commanders QB Ranks Among 2023 Free-Agent Quarterbacks
As the Commanders ponder a new Taylor Heinicke contract ahead of this offseason, we'll look at his deal and the top 2023 free-agent QBs.
At the end of 2019, the Washington Commanders' Taylor Heinicke was a backup quarterback who never got on the field for the St. Louis Battlehawks in the XFL. Just three years later, Heinicke is the starting quarterback on the team in the No. 7 NFC playoff spot. And in just a few short months, the current Taylor Heinicke contract will end, and he will be one of the top free-agent QBs on the market in 2023. It's been a wild ride for the former Old Dominion Monarch. Ahead of a Taylor Heinicke free-agent offseason, let's look at the Commanders QB's NFL contracts, career earnings, and what the top 2023 free-agent quarterbacks class looks like.
Taylor Heinicke contract and career earnings 
As an undrafted free agent coming out of ODU, Taylor Heinicke bounced around the NFL as a backup and practice squad player for the Minnesota Vikings, New England Patriots, Houston Texans, and Carolina Panthers from 2015 to 2018. Those four stops netted Heinicke $1.9 million in salary.
After fading out of the league and joining the XFL — which paid players approximately $1,685 per game (and $2,222 for a win!) — Heinicke got one more shot during the COVID-19-addled season of 2020.
The QB took advantage of his opportunity and burst back onto the NFL scene at the end of the 2020 regular season and in a Wild Card Round duel against Tom Brady in the playoffs. Heinicke was a restricted free agent following the season and got a chance to sign a new deal that would more than triple his career earnings.
During the 2021 offseason, the new Taylor Heinicke contract was a two-year, $4,750,000 pact with a $1,000,000 signing bonus, $1,500,000 guaranteed, and an average annual value (AAV) of $2,375,000 per season. That includes a fascinating incentive that gives him a $125,000 bonus per win, which the QB buys a pair of opponent-colored Jordan sneakers with.
With the bonuses, this latest Taylor Heinicke contract has paid him $5,718,750 over two seasons to bump his career earnings up to $7,625,196.
As Heinicke continues to defy the odds and start in the NFL, he's on track to, once again, quickly double or triple (or even more) his career earnings as an unrestricted 2023 free-agent quarterback.
Top 10 NFL free agent QBs in 2023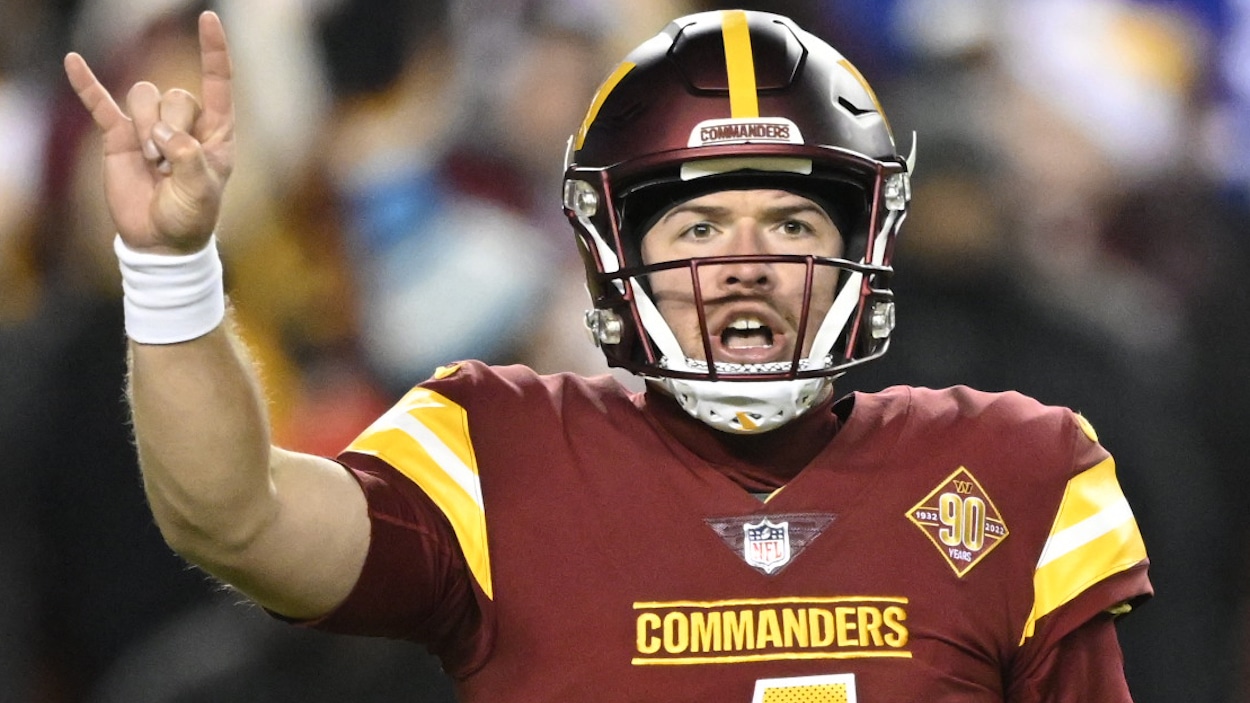 Teams looking for a new quarterback next season will have some interesting options. There is the QB draft class in next year's draft and some 2023 free-agent quarterbacks to choose from.
Giving out a Taylor Heinicke free-agent deal is one option in free agency, but the Commanders QB is the No. 4 signal-caller available on the market. Here are the top 10 2023 free-agent quarterbacks:
Tom Brady
Geno Smith
Jimmy Garoppolo
Taylor Heinicke
Gardner Minshew
Mike White
Daniel Jones
Cooper Rush
Baker Mayfield
Sam Darnold
The one 2023 free-agent quarterback not on this list (who would be No. 1) is Lamar Jackson. The Baltimore Ravens may or may not get a long-term deal done this offseason, but one thing they won't do is let him walk for nothing as a UFA.
Additionally, the Seattle Seahawks will likely re-sign Geno Smith after his Pro Bowl year, and if Tom Brady goes anywhere, there will likely be only one or two teams in the mix. That leaves Garoppolo, Heinicke, and Minshew as the best signal-callers who could hit the open market this summer.