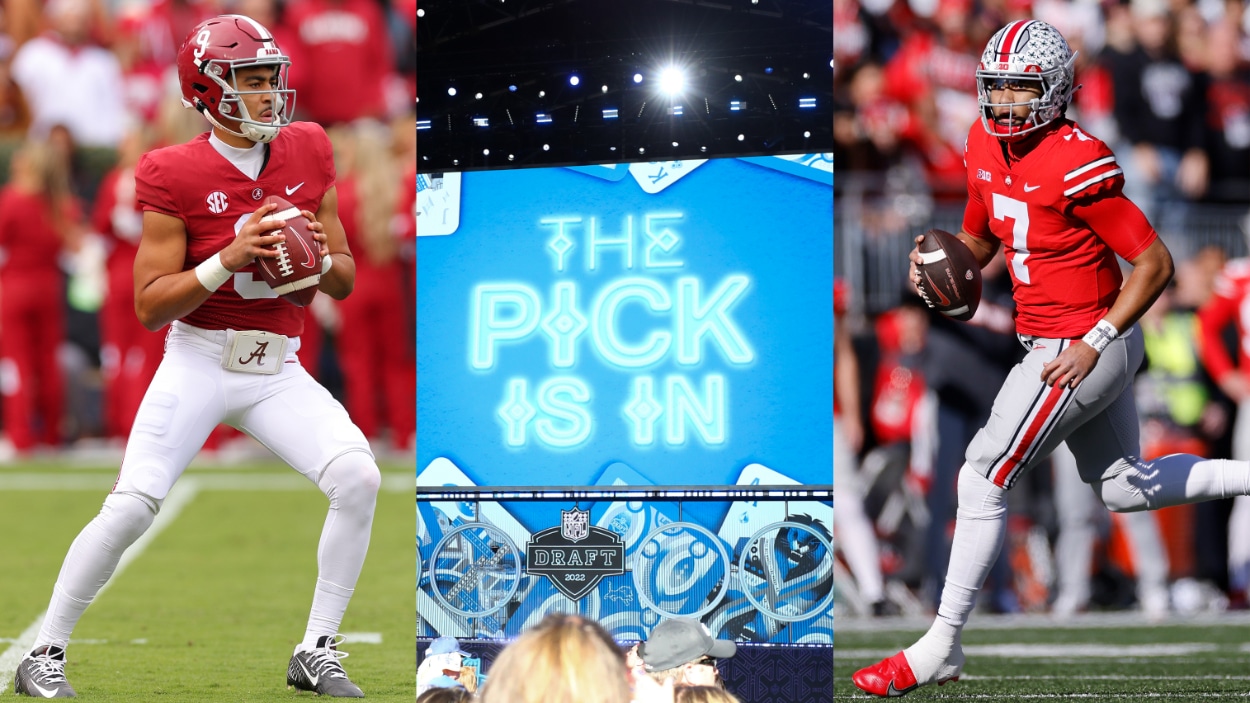 Only 1 QB Goes Top 5 If Current 2023 NFL Draft Order Holds
The NFL draft 2023 QB class is supposed to be better than 2022 but only one quarterback could go in the top five as the order stands now.
Last season we heard that the 2022 crop of quarterbacks in the NFL draft weren't that great. The league was generally uninspired by Kenny Pickett, Malik Willis, Desmond Ridder, Matt Corral, and the rest of the signal-calling bunch in 2022. However, just wait, they said. The NFL Draft 2023 QBs are coming, they said. Those players will be difference-makers, they said. Well, the 2023 NFL Draft is shaping up, and despite last year's expectations, the much-ballyhooed Class of 2023 hasn't quite panned out as expected. And the way things currently look at the top of the draft, only one QB might go in the top five. Let's look at who that is and what the rest of the top five might look like with a mini 2023 mock draft.
Only one team in the top five right now may pick a QB in the NFL Draft 2023
Many of the top quarterback prospects slated for the NFL Draft in 2023 regressed or failed to impress in 2022. This group includes Kentucky's Will Levis, Florida's Anthony Richardson, and Miami's Tyler Van Dyke.
However, the top two QB prospects — Alabama's Bryce Young and Ohio State's CJ Stroud — played well and maintained their status as high first-round picks in the 2023 NFL Draft.
The pre-draft process will start in earnest in early February with the Senior Bowl and continue through the NFL combine in late February and early March. During that period, plenty will change as the stock of top prospects rises and falls.
Right now, though, it looks as though there will only be one QB in the top five of the NFL draft in 2023 if things stay as they are now. And that's not a knock on Young or Stroud. It is simply a quirk of how the draft order is falling at this moment, with three weeks left in the NFL season.
Here are the top five picks and each team's quarterback situation:
1. Texans: Houston absolutely needs a franchise quarterback, and they will take one at the top of the 2023 NFL Draft.
2. Bears: Chicago is all set at QB with Justin Fields, so they will 100% draft the best position player available at this pick.
3. Seahawks (via Broncos): Seattle traded Russell Wilson this offseason for this pick (among others), and everyone laughed at them. Now, Geno Smith is a Pro Bowl QB, Wilson is terrible, and Pete Carroll and company probably won't take a QB at No. 3.
4. Lions (via Rams): LA could really use a QB with this pick, but they have Matthew Stafford (and a Super Bowl) instead. The Lions could go QB with this pick, but as well as Jared Goff has played this season, they could continue to build the roster with blue-chip talent at another position.  
5. Cardinals: Arizona has Kyler Murray, a QB who they just gave a huge extension and is currently recovering from a season-ending knee injury. The organization might wish they could draft a QB here, but they won't.
If this order holds for the next three weeks and this is the order, here is a mini top-five 2023 NFL mock draft to see how it might shake out.
A (still) way-too-early 2023 NFL mock draft – top five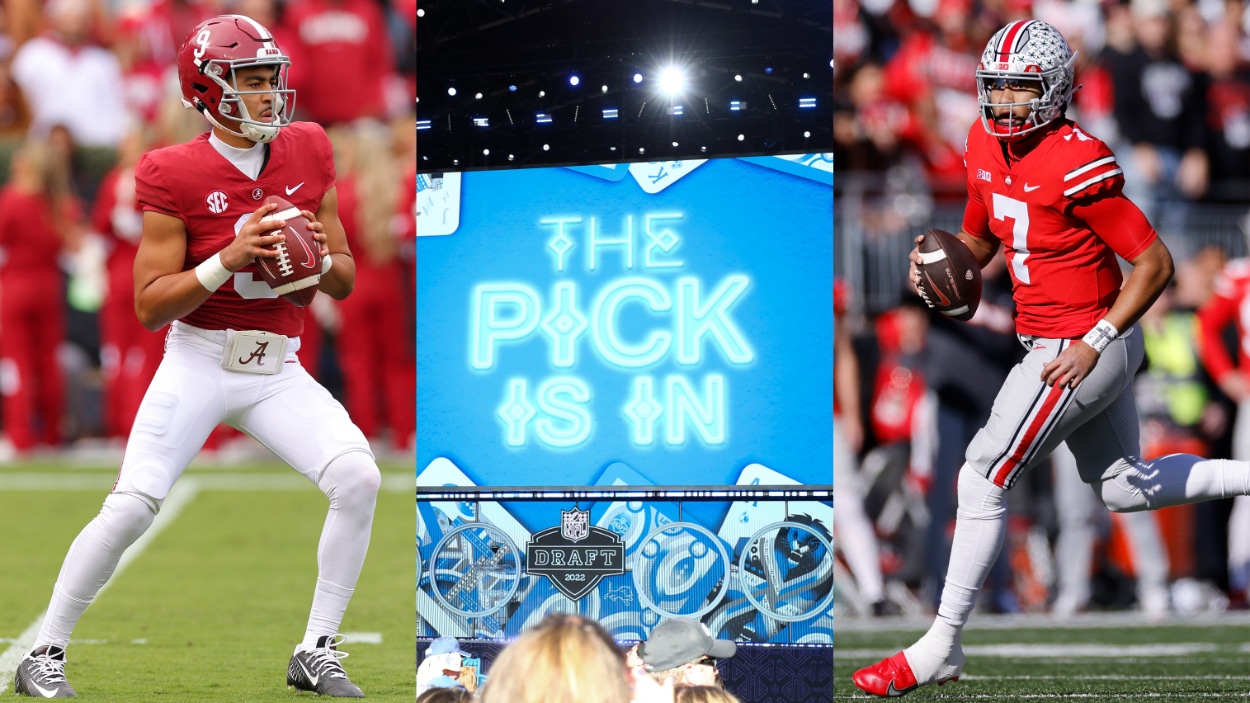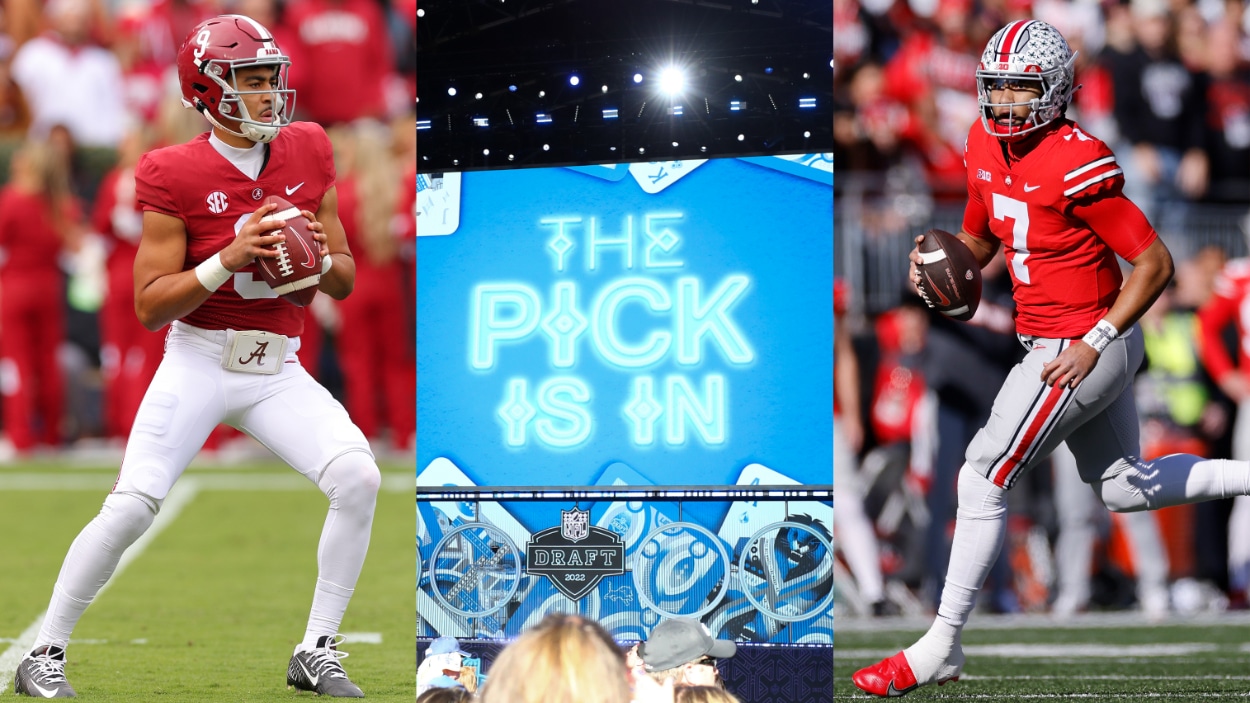 To show how the NFL Draft 2023 top five could go, here is a way-too-early mini-2023 NFL mock draft featuring just the five teams above.
1. Texans: Bryce Young, QB, Alabama
The Texans need a franchise QB, and Bryce Young will likely be the consensus No. 1 pick in the 2023 NFL Draft. The interesting thing to watch will be how the (listed as) 6-foot, 194-pound signal caller measures at the combine and how he tests. The (listed as) 6-foot-3, 218-pound CJ Stroud could overtake Young if the Crimson Tide passer seems too small for the NFL.
2. Bears: Peter Skoronski, OT, Northwestern
The Bears need to help Justin Fields this offseason with pass-catchers and offensive linemen, or they are going to get their franchise QB killed. The best start would be to draft a cornerstone left tackle, and Peter Skoronski from Northwestern is that guy. He's only allowed three sacks in his entire career, which will be music to Fields' ears.
3. Seahawks (via Broncos): Jalen Carter, DT, Georgia
Pete Carroll loves beefy running backs, tall corners, and a good 300-pound DT/DE hybrid. Lucky for him, there is one of those last types who is also one of the best prospects in the NFL draft 2023 class. Jalen Carter is a game-wrecker up front and would fit right in on the Seahawks defense.
4. Lions (via Rams): Will Anderson Jr., OLB, Alabama
The Lions may have got the best pass-rusher in the 2022 NFL Draft at No. 2 with Aidan Hutchinson. This year, they could also have the No. 1 EDGE player fall to them at No. 4 in Alabama's Will Anderson Jr. If this happens, the Hutchinson-Anderson combination will make the Lions D next level.
5. Cardinals: Bijan Robinson, RB, Texas
Texas Longhorns RB Bijan Robinson is the best running back prospect, probably since Saquon Barkley in 2018. Nothing against Robinson's talent, which is fantastic, but taking a running back this high isn't smart. That said, does anything about the Cardinals these days scream "smart?" The answer is no, so the pick is Robinson.
And that is how the NFL draft 2023 top five shakes out, with only one QB drafted (unless the Bears trade out at No. 2).