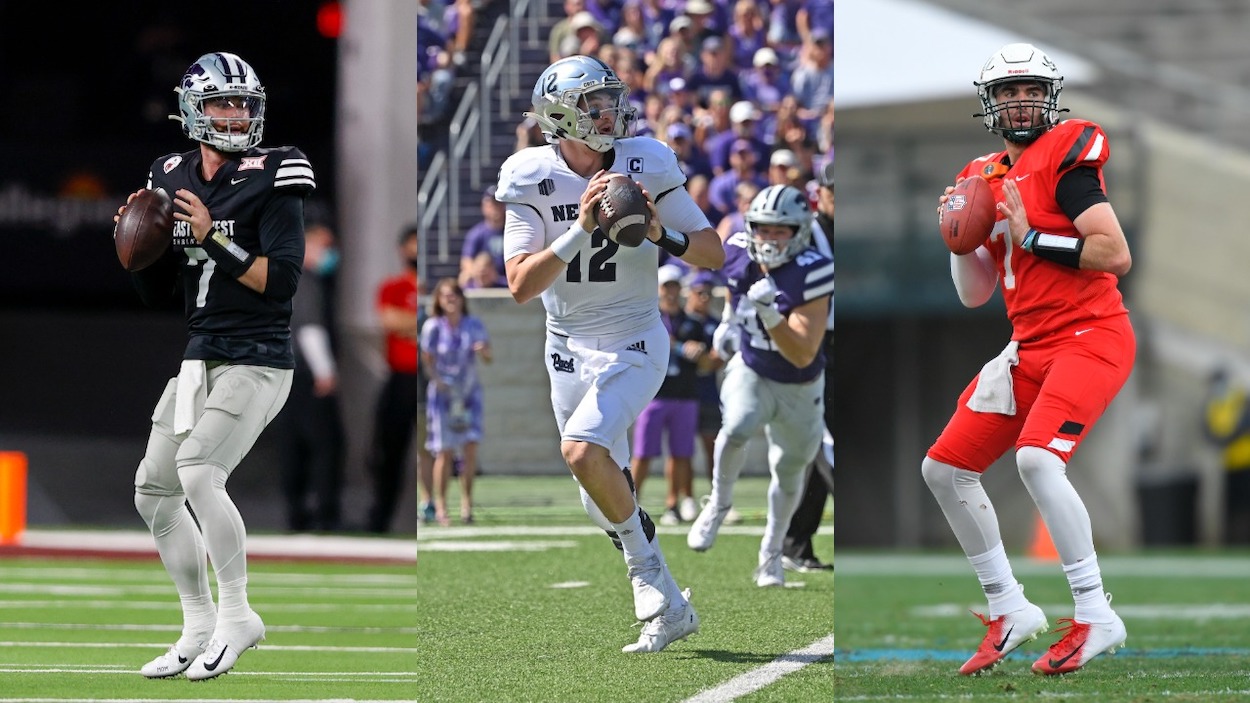 NFL Draft: 4 Sleeper QBs to Watch at the 2022 Draft
In any NFL draft there's a chance that one of the sleeper QBs could become a Super Bowl winner. Here are four to keep an eye on in 2022.
If you are an NFL draft fanatic, you already know everything there is to know about Kenny Pickett and Malik Willis, and Desmond Ridder. However, not all NFL quarterbacks come from the draft's early rounds. Which is why you should always be on the lookout for sleeper QBs.
Russell Wilson (No. 75) went in the third round, and Dak Prescott (No. 135) went in the fourth. Mark Brunell was a fifth-round pick, Mark Rypien was a sixth-rounder, and Ryan Fitzpatrick went in Round 7. Super Bowl-winner Kurt Warner, Tony Romo, and Warren Moon weren't even drafted.
And the greatest sleeper QB of all time, Tom Brady, went No. 199 overall in the sixth round of the 2000 NFL Draft.
These examples (along with plenty of others) should tell you that paying attention to late-round sleeper QBs in the NFL draft is a worthwhile endeavor. To that end, here are four late-round (fourth or later) sleepers you should know ahead of the 2022 NFL Draft.
Carson Strong, Nevada — Projection: Round 4  
Nevada's Carson Strong is a 6-foot-3, 226-pound signal-caller with excellent arm talent, both in terms of strength and accuracy. With the Wolfpack last season, he threw for 4,175 yards with a 70.1% completion rate, 36 touchdowns, and just eight interceptions. Strong's NFL.com scouting report also says that "Scouts rave about his leadership and 'killer instinct.'"
If you think this sounds like a first-round pick and not a sleeper QB, you'd be right, except for one big problem.
Strong has major issues with his knee. Another NFL.com report on the Nevada QB explains that he missed his senior high school football season in California due to "osteochondritis dissecans lesion in his right knee; one of his bones was 70 percent detached from his knee cartilage, and doctors inserted eight biodegradable nails to stabilize it."
Strong has had multiple procedures since, including getting new cartilage from a cadaver. It looks like most NFL team doctors have cleared him for now, but it also seems like no one is sure about the long-term prognosis. Also, his mobility appears like it will be permanently limited.
If Strong's knee holds up, a team could get a massive steal in the middle rounds of the NFL draft. Even if that happens, though, how long that steal will last in the league remains to be seen.
EJ Perry, Brown — Projection: Round 6
Getting deeper into the 2022 NFL Draft on our hunt for sleeper QBs, we find an Ivy League signal-caller billed as "the next Taysom Hill." This pick might be cheating a little, though, because Brown signal-caller EJ Perry is more of a sleeper football player than a sleeper QB.
Perry played well against lower-tier competition in college. The Boston College transfer threw for 3,034 yards last season with a 66.5% completion rate and had 23 TDs to 14 INTs. He has average arm strength and isn't great with accuracy or decision-making. That means he likely will never be an every-week starter for an NFL team.
However, Perry is a solid 6-foot-2, 211-pounds, and ran a 4.65-second 40-yard dash at the combine. He also ran for 1,129 yards in two seasons at Brown. His value to creative offensive coordinators will get him drafted higher than most sleeper QBs in the late rounds.
Skylar Thompson, Kansas State — Projection: Round 6 – 7 
Kansas State quarterback Skylar Thompson was a four-year starter and a three-year team captain for the Wildcats. He threw for 7,124 yards with a 62.4% completion rate, along with tossing 42 TDs and 16 INTs. He capped his career by leading K-State to a big upset over the LSU Tigers in the 2021 Texas Bowl.
Thompson has good (not great) arm talent, athleticism, size, and production. There's nothing about him that is better than the top five passers in this class, but he's just a notch underneath them in most categories with nothing that truly stands out.
A team will take a shot at this sleeper QB in the late rounds because he has the foundation to be an NFL signal-caller. He's just not there yet. A solid base can't be taught, though. With that starting point and some excellent coaching, he could develop into a legit option under center.
Cole Kelley, Southeastern Louisiana — Projection: Round 7 or undrafted free agent
Cole Kelley signed with Arkansas from high school in Louisiana and stayed with the program for two years. In 2019, he transferred to FCS Southeastern Louisiana, where he started for two seasons. Last year, Kelley threw for an incredible 5,24 yards with a 73.6% completion rate, 44 TDs, and 11 INTs. He also scored 16 rushing TDs.
All that is interesting, but the truly fascinating thing about Kelley is that he is 6-foot-7, 249-pounds.
Unlike most extra tall QBs, Kelley has a quick delivery and release, but he can hold the ball for too long. Even so, he looked like an NFL passer in college, albeit against inferior completion. The other thing to consider is that no signal-caller Kelley's size has ever succeeded in the NFL. Joe Flacco and Nick Foles are both 6-foot-6 Super Bowl winners, making them the most successful QBs in this size range. Although, neither were "elite" (Sorry, Joe).
Some team should take Kelley at the end of the draft as a sleeper QB for no other reason than he could be an incredible wrinkle on the goal line or in short-yardage situations. Plus, with some practice and polish, he could become a unique starting signal-caller.
Stats courtesy of Sports Reference and ESPN.com